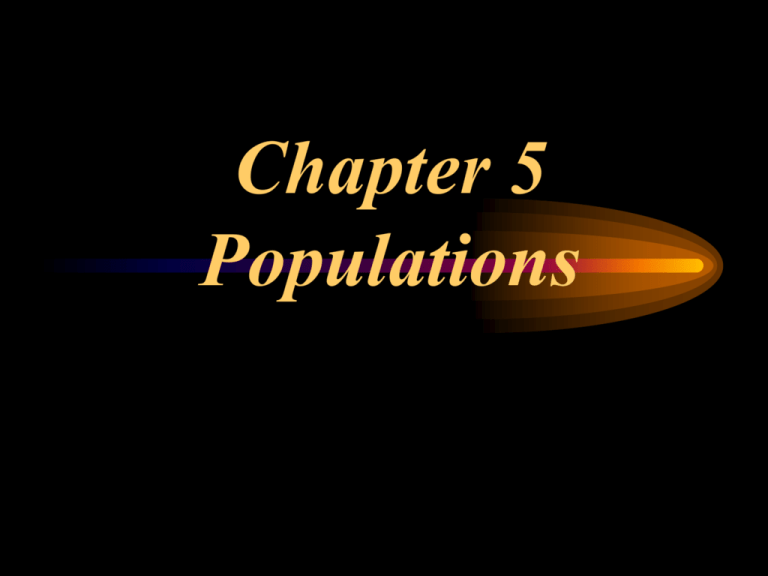 Chapter 5
Populations
Biotic Potential: The size
a population would reach
if all offspring were to
survive and reproduce
• Conditions have to be idealenough food and living space
Population Density- Number
of individuals in an area
• What Determines density
and distribution?
• Geographic
Distribution- range- the
area the population
inhabits
Population Growth
• Affected by
-Birth rate (natality)
-Death rate (mortality)
-Immigration- entering an
area
-Emigration- leaving an
area
Populations increase if
births exceed deaths and
immigration exceeds
emigration
Exponential Growth
• Exponential Growth occurs
when the individuals in a
population increase at a
constant rate
• Look at graph on p.121
-under ideal conditions
-population grows slowly at
first
-rises to an infinitely large
size
-J-shaped curve
Logistic Growth
• Logistic growth occurs when
a population's growth slows
or stops following a period of
exponential growth.
• S-shaped curve-graph levels
off
• Carrying capacity- Usually
population fluctuates
around this point- s-shape
• Look at graph on p. 122
Carrying Capacity
• The number of
individuals an area
can support without
ruining the area.
Limiting Factors
• Something that causes
population growth to
decrease
• Density dependent
• Density independent
Density- Dependent
Factors
• Limit a population when
the number of individuals
reach a certain level
• Competition for food,
water, space, sunlight, etc.
• Predation
• Parasitism + disease
Wolf/Moose graph
Density -Independent
Factors
• Affect all populations
regardless of size
• Weather, natural disasters,
seasonal change, human
interventions (dams,logging,
housing developments)
• Populations usually
decrease dramatically
after such an event
• Can be permanent +
cause extinction
Human Population
Growth
• Slow growth historically
• Now, exponential
growth- 6-7 billion
• Current World Population
• Some countries have higher
growth rates than others
Demographic Transition
• Dramatic change in
birth and death rates
• Nutrition, medicine,
clean water supplies
increase survival rates
• Some countries,
population stabilizes,
but for a while, births
may exceed deaths
Age diagram
• In some cases,
populations may even
decrease- U.S., Japan,
Europe
• Some countries are still
growing exponentially
• Parts of Africa, Mexico,
India
• Many young people, of
an age where they will
still be having children
• 9 billion predicted by 2050
• What will stop/slow the
growth?