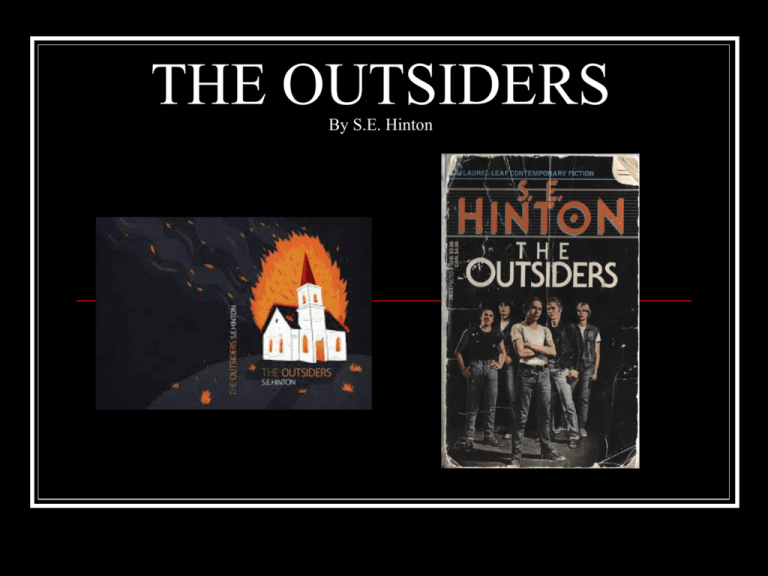 THE OUTSIDERS
By S.E. Hinton
Pre-Reading Questions





How do social groups play a part in school?
How does someone's appearance affect how
others view him or her?
What do you think contributes to violence among
teenagers? What can be done to prevent teen
violence?
How do you define the word "family"? Does a
family mean different things to different people?
Is it acceptable to commit an act of violence
against someone else to protect or get revenge
for someone you love?
CHARACTER LIST
Copy each name, leaving several lines on your paper between
each one.






Ponyboy Curtis
Sodapop Curtis
Darry Curtis
Johnny Cade
Dallas (Dally) Winston
Two-Bit Matthews





Cherry Valance
Bob Sheldon
Marcia
Randy Adderson
Steve Randle
AS YOU READ…


Jot down character traits for each major
character. Include personality, looks,
actions, etc. BE SURE to write page
numbers for future reference.
Note any unfamiliar words or phrases
(including page numbers) so that we may
go over them together.
AFTER YOU READ…
(In at least two paragraphs per day)

JOURNAL RESPONSE



Text to self: How do you relate to what has
happened in the book or to the characters?
Text to text: Have you ever read anything similar
to The Outsiders or similar to the situations or
characters in the book?
Text to world: Do you know of anyone who has
experienced anything similar to events in the
book, or do you know anyone similar to the
characters?