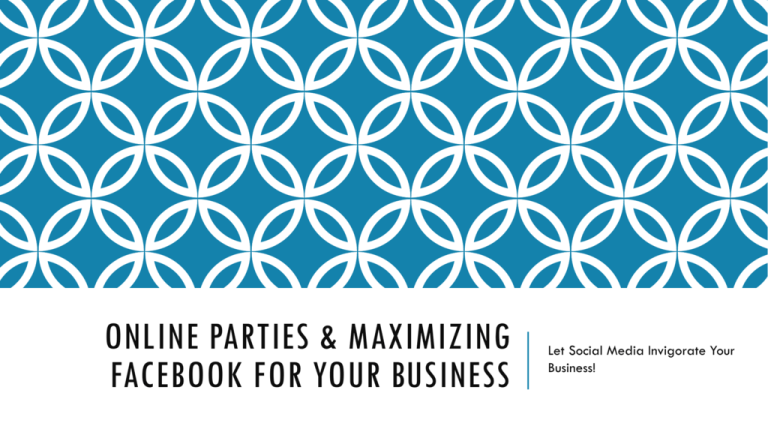 ONLINE PARTIES & MAXIMIZING
FACEBOOK FOR YOUR BUSINESS
Let Social Media Invigorate Your
Business!
THE SAME RULES APPLY
On Facebook the same rules apply to your online interactions as they do for your in-person business. Work full
circle, be attentive, make your customer/hostess feel she is the most important person to you. All of this can be
accomplished online just like we do in-person!
I find the best approach is to try and adapt our best practices for the environment of Facebook. Use similar
scripts to those we use in person or on the phone, just modify them to reflect that you are working virtually. On
Facebook, you can work your business as Mary Kay intended, just in a different format! The key is to give
your customer the personal service and attention that makes what we have to offer so special.
You want to build solid relationships, not just "sell one product", send her hand written notes, samples of things
she has expressed interest in and follow up just as we do with our current customers. Facebook offers you a
place for your customers to interact with you and be able to take full advantage of all you have to offer. This
is a perfect way to engage customers that might otherwise be unwilling to meet in person, hold parties in
person or want to meet you for facials or meetings/events.
Plus, now you can build a customer base and team across the country! In addition to online parties, you can
offer your customers online skincare coaching, color consultations, send her video tutorials, do her "check up
from the neck up"! The possibilities are endless!
START WITH THE SOCIAL MEDIA GUIDELINES
Before you do anything make sure you have read and understand the Social Media
Guidelines on InTouch. It is critical that we follow all of those rules when we are
interacting online. There are some very specific rules about how we interact on
Facebook so make sure you are always referring to those when posting and in setting
up your Facebook business page.
I've found that they are relatively simple but it's important, especially when you are
choosing images to post, that you use the ones from InTouch in Digital Zone or from
your personal website. They also give examples of what you can use in the
"description" portion of your business page. InTouch is a great resource for all kinds
of images, product descriptions, videos and more!
SET UP YOUR FB BUSINESS
PAGE
Step One:
* Go to your personal FB News feed, look on left hand side and scroll
down to "Pages" section. Click on "create page" and follow prompts.
Be sure to refer to Social Media Guidelines when choosing your title,
description, username, header photo etc..
Step Two:
The first thing you want to do is set up your FB
Business Page if you haven't already. You need to
have a place to capture your customers attention in
a permanent fashion.
Every person you are friends with on FB you want to
invite to like this page. Every new friend and
customer you want seeing this page often. It is your
hub for everything you do on FB and you want each
person to see that page as often as possible.
This is the place you want to reflect your online
business presence and is your place to drive people
to your Mary Kay personal website so it should be
dynamic, interesting and ever changing.
* Load your new business page with 10-15 posts so when you invite
people the first time your page looks full and credible when they visit.
Step Three:
* Connect your business page to the Social Publisher on InTouch. This
will allow InTouch to auto post on your wall for you. You don't want this
to be your only posts but it is a nice addition to what you add
personally. To do this go to InTouch, click business tools, click digital
zone, click MaryKay Social Publisher. From there it will walk you through
the process.
Step Four:
* Go to your business page and on the left hand side it says "invite
friends". Add everyone on your friends list. Then invite people via
email that might not be on your friends list. You can cut and paste the
web address at the top of your FB business page and put it in a
personal email to friends, family and customers that may not already be
your friend on FB and email it to them. They can "like" your page even
if they aren't your FB friend. This is a great way to get the chance to
send a friend request to current customers you have not yet connected
with on FB.
TYPES OF POSTS FOR FB
BUSINESS PAGE
I've found that if you include different types of
posts for your page you get more interaction with
your audience. I try to follow a pattern of posting
several different things a couple times a week.
Mary Kay Social Publisher posts for you on
Mondays, Wednesdays and Fridays.
I typically post my personal posts on Tuesdays and
Thursdays. That way there is always at least one
post a day and you are staying visible to your
audience regularly. You don't want too much more
than that or you will flood your audience and they
may turn off notifications for your page, losing you
your audience.
PRODUCT INFORMATION
POSTS
"A DAY IN THE LIFE OF A
MARY KAY CONSULTANT"
POSTS
RECRUITING & BOOKING
POSTS
SHAREABLE
QUOTES/INSPIRATIONAL
POSTS WITH YOUR BUS
INFO EMBEDDED IN PIC
VIDEOS/EDUCATION
POSTS
INCREASING POST VISIBILITY
TYPES OF POSTS MATTER
THE LESS GENERIC THE MORE VISIBLE!
The posts that get seen the most are:
TRICKS & TIPS TO BOOST POSTS
MAKE FB'S ALGORITHMS WORK FOR
YOU!
-Personal Photos
- #usehashtags #hashtagswork
-Product Photos Uploaded From Your Own
Computer
-Comment on your own posts with more
dialogue or web links to your website, a
tutorial, etc…
-Quotes/Images You have Built And
Uploaded
-Videos
-Mashup/Idea Fashion Boards
-Tag friends/customers in comments
-Use www.pixlr.com to build custom
quotes/pics/collages to post on your wall
and in parties.
BUILD FB CUSTOMER BASE
Build up a contact base and warm chatter on
Facebook just like in person. Facebook groups are
the best way to do this. Make a list of all your
interests, then join those groups.
** Enter interests in search bar on top of newsfeed.
** Join Groups
** Interact in Group and Friend every person you
talk to.
** After you friend them send a private message
about something you have connected about and
begin the relationship.
** Once relationship is established invite them to like
your FB Business Page
** After they like the page, wait a day or so then
invite them to host online party.
EVERYONE YOU MEET CAN BECOME A
FACEBOOK FRIEND
** While warm chattering in public, always
ask if you can "friend" them on Facebook.
** Everyone you interact with should be
friended
** Add non personal contacts to a "list" in
your settings, then change your personal
privacy setting to "custom" and exclude your
customer/FB contact list if you want so you
can protect your personal privacy.
INVITE FRIENDS TO HOST
ONLINE PARTY
Once you've friended and established a
relationship with someone you can invite them to
host an online Facebook party.
Things to point out to possible hosts:
** It's easy
** It's fun
** It's a great way to earn hostess credit
** It's private
FB PARTY BOOKING SCRIPT
"Hi___ I have a big favor to ask you! I am in
a booking challenge this week with Mary
Kay and it would help me SO much if you
would be a hostess for an online party for
me! You don't have to do a thing other than
invite your friends once I have your event
page set up! I will give you a gift right away
for booking it with me, plus 50% off an
order, plus another gift once the party ends
based on sales! They are super fun, I think
you would have a blast! Can I set up an
event in your name? Let me know and I'll get
your booking gift out to you right away!"
SET UP YOUR PARTY EVENT PAGE
1.) Go to your main Timeline Page and on left side of screen click
"events"
Create
party
Advertise
Party
Make It
Fun!
Stay Engaged
2.) On next screen click "create"
3.) Enter name of party. I use "Jane Doe's Online Mary Kay
Party!"
4.) Enter Details. I use "It's time to Party!!! Join us for some
fabulous prizes, raffles and of course shopping for your favorite
Mary Kay products! Let's have some fun while helping____earn
some awesome hostess rewards! PLUS anyone that books their own
online party will earn an extra gift for ____AND will receive a
mystery gift from me in addition to their own hostess rewards!
Party ends ____"
5.) Enter Place. I use "Right here! All Online!"
6.) Enter When. Once you enter your start date and time another
box will pop up prompting you to enter the end date/time.
-7.) Pick Privacy Setting. I choose "Guests and Friends"
Coach Your
Hostess
Invite
Your
Hostess
BUILD PARTY PAGE
-Choose and upload a header photo, there are some great options on Digital Zone for this
-Create a main post about the party with link to your website and pin it to top of page. I usually use this as my main
post "Shop Online Right Here! Help ____earn some fabulous hostess rewards while shopping for your FAVORITE Mary
Kay Products! Orders ship immediately so no need to wait for the party to close to get your goodies! Ask me
anything! I'm here to help! Color consultation, skincare advice, gift ideas...I've got ya covered! Check back often for
prizes, raffles, games and specials! Have fun!!
Online Store: www.marykay.com/bswersky"
-After you create that post, click on the little arrow in right hand corner of post and click "pin post". By pinning the
post to the top each guest sees this first, it's a good welcome.
-Post 4-5 posts in the party before inviting Hostess & Guests so there are already some good posts and games when
they enter the first time.
-After finished with above go to right hand corner and invite Hostess to party.
-Once hostess is invited send her a private message saying "Hi ____, the party is all set up and ready to go! You can
go ahead and invite your friends! If you join the party and then look to the right of the party page there is a box
that says add friends...you can invite from there. You can also cut and paste the link below and post it to your main
page to let people know, as well as cut and paste and send it in an email to invite people. The more that come and
order, the more rewards for you! I will post a couple times a day. I've found the more engaged you are as a hostess in
the party, with comments, playing the games, tagging your friends in the comments, the better the parties go and the
better the sales, earning you lots of rewards. It's a ton of fun! Thanks again!"
-Cut and past the link at the top of the party page and include it in the private message to your hostess.
RUNNING YOUR PARTY
ENCOURAGE INTERACTION
** Product Posts
** Tag your hostess in comments and periodically send her
private messages telling her how great it's going and how
much you appreciate her interaction in the party.
** Games
** Tag guests in comments
** Raffles
** Give hints if a game has stalled
** Videos/Tutorials
** Comment with reminders
** Your own favorite products
** Ask questions
** Posts about guests booking their own parties
** Post product links and pics in comments when a
conversation has started
VARY YOUR POSTS
** Posts about the opportunity
** ALWAYS post a "thank you" post when someone orders
with pics of the products they ordered. In the comments of
the thank you post, tag your hostess and the guest that
ordered.
** Send hand written thank you note as well to all guests
that ordered.
BOOK FROM YOUR BOOKINGS
PARTY GUESTS ARE YOUR NEW
LEADS
-Send a friend request to all guests that joined party and
also invite them to "like" your business page.
-If they accept request send a private message thanking
them for attending.
-When party nears close send guests a message asking
them to book their own party. I use this script "Hi ____!!
Hey I wanted to ask if you might be interested in being a
hostess for your own online party?  You don't have to do
anything except invite your FB friends to it once I get it set
up, and for doing it you get a free gift from me as soon as I
post the party, plus 50% off your own order during the
party, plus another free gift from me when it ends based on
the sales. Its super easy, I run them just like I've done ___'s.
You saw how much fun they are! I can set one up for you
this afternoon or later this evening, what is best for you? Let
me know and I will get your thank you gift out to you right
now!"
OFFER SPECIAL SERVICES TO PARTY
GUESTS
-Send them private message asking
about special skincare concerns, if there
are any particular samples they would
be interested in, if they would like a
virtual color consult.
-Offer to send them a "facial in a bag"
-Ask them to register on your personal
website so you can offer them "special
product announcements"
PARTY GAME IDEAS
RAFFLE FOR FREE
LIPSTICK
GUESS THE MOVIE
GAMES
QUESTION GAME
TAG YOUR FRIENDS
WITH LIPSTICK
COLOR THAT
WOULD LOOK
GREAT ON THEM
RAFFLE FOR GIFT
CERTIFICATE
RESOURCES
** Feel free to send me a FB message and I will invite you to a party I am running
currently so you can see the games, posts etc. and you are welcome to cut and paste
my posts, download my pictures, game pics, etc..
** Use Pixlr to build photos, quotes, game pics www.pixlr.com
** For games that are a raffle… You can use a free website called
www.random.org to enter the numbers and it will do a shuffle and give you the
winning number. Take a screenshot of this when done so you can prove it was a fair,
unbiased drawing if anyone asks.
** Digital Zone on InTouch
** Also feel free to take any of my posts from my FB business page as well, you are
welcome to any of the pics/quotes/posts…anything you want!