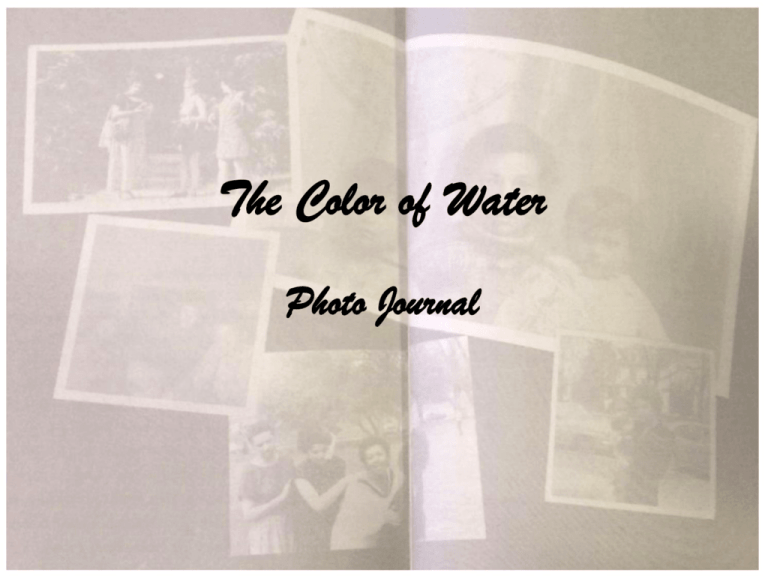 The Color of Water
Photo Journal
Ruth's Family
Zaydeh & Bubeh
Ruth's grandparents.
« I enjoyed my grandparents. They were warm and I loved them the way any grandchild loves a grandparent. »
« I remember Zaydeh well. He had a long beard and was jolly and always seemed to be drinking hot tea out of
a glass »
« Bubeh was a warm, funny woman who spoke no English and was full of life . She was heavy and short… She
was clean as a whistle. »
The Color of water - p 16 & 132 – Kosher & New York
Aunt Laura
Aunt Mary
Hudis oldest sister.
Hudis' middle sister.
« Aunt Laura was the oldest and richest of my mother's sisters, a
meticulous woman and a fabulous dresser who wore white
gloves and beautiful colored dresses. »
« She was an obese woman with a pretty face and she ruled
her whole roost with an iron fist includind her husband,
uncle Isaac. »
The Color of water - p 130– New York
The Color of water - p 169 – Lost in Harlem
Aunt Betsy
The youngest of Hudis sisters.
« Aunt Betts was beautiful, she had long dark hair and dark eyes, dressed fine and took very good care of herself. »
« When I knocked on the door of her apartment, Aunt Betts opened the door, saw who I was, and slammed the door in my
face. »
The Color of water - p 134 & 246– New York & Dennis
Ruth's Family
Hudis Shilsky (Mameh)
Fishel Shilsky (Tateh)
Ruth's father.
Ruth's mother.
« My mother was gentle and meek. She was a quiet woman,
my sweet Mameh »
The Color of water - p 3– Dead
« He was short, dark, hairy and gruff. He wore a white shirt,
black pants and a tallis on his shirtsleeve, and that was like
his uniform»
« I was afraid of Tateh and had no love for him at all »
The Color of water - p 2 & 42– Dead & The old testament
Sam
Ruth's oldest brother.
« Sam was like a shadow. He was short and stocky, with a
heavy head of hair, thick eyebrows, and heavy arms and
legs. »
The Color of water - p 61 – Sam
Gladys (Dee-Dee)
Ruth's young sister.
«She wasn't rebellious like I was. We were like night and day.
She was short and had curly brown hair. Dee-Dee was very
smart. She was the first american in the family while Sam and
I were immigrants. »
The Color of water - p 200 – The promise
Documents worn by all immigrants in Ellis Island
Rachel Deborah Shilsky (Ruth McBride Jordan)
She was born Ruchel Dwajra Zylska in Poland on April 1, 1921 in an Othodox Jewish family. She
became Rachel and after Ruth while living in the United States.
Ruth is the central figure in this book. She is the tough Jewish mother of James and eleven other
children.
She is spiritual, intelligent, determined, practical, and brave. She never looks back. She emphasizes
the importance of work, school, and God. She chose an unconventional life, and succeeded in it.
Married to Andrew Dennis McBride until his death in 1957: 8 children
Married to Hunter Jordan until his death in 1972: 4 children
She created a tribe of 12 children, 23 grandchildren and 5 great-grandchildren.
« Her oddness, her complete nonawareness of what the world thought of her, a nonchalance in
the face of what I perceived to be imminent danger from blacks and whites who disliked her for
being a white person in a black world »
« I asked her if I was black or white. She replied : You are a human being. Educate yourself or
you'll be a nobody! »
« Her moto was : if it doesn't involve your going to school or church, I could care less about it
and my answer is no whatever it is. »
« God is the color of water. Water doesn't have a color. »
The Color of water - p 8, 27, 51 & 92 – The bicycle, The New Testament, Black Power & School
Ruth's Husbands
« She married two extraordinary men and raised twelve very creative and talented children. »
The Color of water - p 274 – Finding Ruthie
Andrew Dennis McBride
Hunter Jordan
« I loved that man more than life itself and at times I
wished the good lord would have taken me instead of
him, because he was a much better person for living than
me. He just just had so much more to give the world than
me. He brought me new life. »
«God the Father watched over me, and sent me your
stepfather, who took over and he saved us and did many,
many things for us. He was a workingman and he was a
good, good man»
The Color of water - p 244 – Dennis
« His name was Hunter Jordan and he raised me as his
own son. He was Daddy »
The Color of water - p 117 & 246 – Daddy & Dennis
Brothers and Sisters
« My brothers and sisters were my best friends… »
« Mommy's children are extraordinary people, most of them leaders in
their own right. All of them have toted me more mental baggage and
dealt with more hardship than thez care to remember, yet thez carry
themselves with a giant measure of dignity, humility, ans humor. Like
any family we have problems but we have always been close.»
« Mommy has created her own nation, a rainbow coalition… »
The Color of water – p65 & 276-277– Brothers and Sisters & Finding Ruthie
« All of my sisters were gentle, naive, talkative, and
curious, which is why Mommy kept them off the street and
away from men at all times. They were all pretty, ranging
from Helen's deep brown skin to Kathy's very light, almost
white skin, and all have long arms, freckles, and dark curly
hair. »
The Color of water - p 71– Brothers and Sisters
Brothers and Sisters
Andrew Dennis McBride
« Dennis was the eldest sibling and the
family pioneer. The heights he has
attained were trumpeted and crowed
about by Mommy in every corner of the
house. Dennis was going to be a doctor.
Dennis was one of the most active civil
rights students the University of
Pennsylvania Medical School had ever
seen »
Rosetta McBride
«From her perch atop her bed – a bed that she shared
with no one – Rosetta sat regally on a throne of bed
pillows, legs crossed Buddha fashion, while drinking ice
water, listening to her favoritepublic radio station,
WBAI, and giving commands all day. Rosetta was the
resident queen of the house.»
The Color of water - p 74– Brothers and Sisters
The Color of water - p 70-71– Brothers and Sisters
William McBride
David McBride
«Mommy was furious that her shy, intellectual
son – she was always so proud of David and
would literally have carried his books to school for
him if he had asked her to – was placed before a
judge.»
The Color of water - p 180 – Lost in Delaware
«My older brother Billy, whose memory would later
servehim well enough to take him trough Yale University
Medical School, marched to the front of the church
wearing suit and tie, faced the congregation, started out
then blanked out completely.»
The Color of water - p 53– The new testament
Died en 2004 at age 56. He had 4 kids.
Brothers and Sisters
Helen McBride-Richter
Richard McBride
«Helen was the most artistic of my sisters. She was slim
with black hair that she wore in a bun, jeans, and a
denim jacket with peace insignias « Stop the war »
buttons, and red, black, and greens liberation patches
sewn on. »
« If they put Jesus in this picture here and He ain't white, and He ain't
black, they should make Him gray. Jesus should be gray »
The Color of water - p 72– Brothers and Sisters
« He got accepted at Music and Art High School in Manhattan and had
reached a point where jazz was the beginning, the end, and the
middle. »
The Color of water - p 51,52 & 53– The new testament
She is married with Dr Gary C Richter and they have 2
daughters : Z Amber and Jade Safia (who died in 2010)
Dorothy McBride-Wesley
James's older sister who became a medical
practice office manager.
Brothers and Sisters
James McBride
« If it's a boy, we'll call him James after my Uncle Jim. And that's how you got named»
« My siblings had already instilled the notion of black pride in me. I would have preferred that Mommy were black. Now, as a
grown man, I feel privileged to have come from two worlds. My view of the world is not merely that of a black man but that of a
black man with something of a Jewish soul.»
« I've been welcomed with open arms by about a dozen relatives since this book was published, many of them white and Jewish.
I'm a better person, a fuller person, for knowing them. »
« As for me I'm proud of my extended family, all of them. Thezy are me and I am them. »
The Color of water - p 70 &292– Dennis & Afterwords
Maried to Stephanie McBride, they have three kids : Jordan, Azure and Nash McBride
Successful writer and musician.
Brothers and Sisters
Kathy Jordan
«I would walk down the street and some big dude I'd
never seen before would say « Yo. How's Kathy? ». I got
my nose nearly broken over Kathy a few times.»
The Color of water - p 71– Brothers and Sisters
Ruth lived with Kathy until the end of his death.
Judy Jordan
« One Sunday morning, my youngest sister Judy, who was
nine and also played piano, was suddenly pressed into
service. »
The Color of water - p 72– Brothers and Sisters
Hunter Jordan
He became a computer consultant.
Henry Jordan
He disliked his mother's cooking but would eat anyway.
He attended North Carolina A&T University.
Family, Friends & others protagonists
Jacqueline Nelson (Jack)
Big Richard
«She was a small, pretty, Christian black woman with
freckles and brown eyes that missed nothing. Beneath
her domestic look was an intelligent, clairvoyant woman
who understood more about me as a mixed child than I
understood about myself.»
«He was tall, thin, chocolate-skinned man with a
mustache, who favored shades, short-sleeved shirts,
shiny shoes, and sharkskin pants, and always held a lit
cigarette between his teeth.»
The Color of water - p 143– Chicken Man
The Color of water - p 144– Chicken Man
Chicken Man
«Chicken Man was a small man with deep, rich, almost copper-toned skin, a wrinkled face, and laughing eyes. He wore an old
fishing hat that seemed to cover his entire face ans plaid pants that left about two inches of sock and four inches of ankle
showing.»
The Color of water - p 145– Chicken Man
Family, Friends & others protagonists
Etta & Nash McBride
«An ancient black woman with a beautiful face who
seemed very confused, walking around in a blue dress
and a fishing pole, the bait, and line dragging down
around her ankles. She didn't seem real to me.»
« God bless you Ruth, because you're our daughter
now. »
The Color of water - p 24 & 247– Black Power & Dennis
Frances Moody Falcone
«I'll never forget Frances for as long as I live. She was
thin, with light brown hair and blue eyes. She was a
quiet gentle person »
« After that trip she and Frances picked up where their
hight school friendship left off and remain close today. »
The Color of water - p 81 & 274– Shul & Finding Ruthie
She died in 2005 and was survived by her husband, their
two sons, five grandchildren and four great-grandchildren
Aunt Candis
«She'd clean the house spotless and cook up these
splendid meals when your stepfather came by, to make
me look good.»
The Color of water – p 256– Dennis
Family, Friends & others protagonists
Peter
David Lee Preston
«He was a tall, handsone young man, dark-skinned with
beautiful teeth and a beautiful smile»
«A tall, thin, handsome dude with a lean face, dark eyes,
and glasses.»
« I loved that boy to death and he loved me »
« From that day to this, Halina Wind's son has been one
of my best friends. »
The Color of water - p 110– Boys
The Color of water - p 279– Epilogue
Rocky
«Rocky was a heavy, well-dressed, light-skinned man
with a deep voice. He was in his fifties.»
« He is a pimp and he is leading you around by the
nose. »
The Color of water - p 173 & 176– Lost in Harlem
Still a journalist and work for the Philadelphia Daily News.