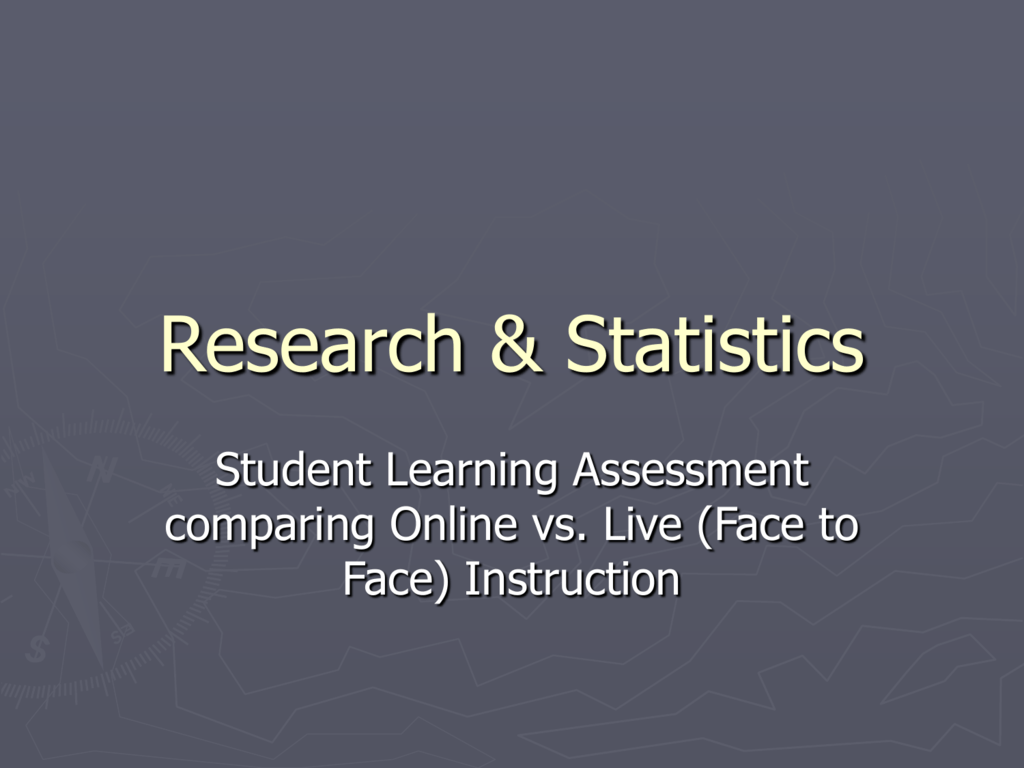 Research & Statistics
Student Learning Assessment
comparing Online vs. Live (Face to
Face) Instruction
A Goal of the Social Work graduate
program
SL Goal 7
The goals of research are to
launch research-practitioners who engage in
lifelong learning based on knowledge and
skills acquired in the MSW program, to
develop methods of evaluating social work
practice and information used in practice,
and to instill more discriminating and critical
consumption of professional knowledge and
research.
Research Sequence
 Composed of Graduate Courses
in:
►Research Methods
►Statistics
(Not Favorite Courses!)
Research Methods Course
►Research
Methods course covers:
 Problem Formulation
 Conceptualization & Operationalization
 Measurement
 Sampling
 Design
 Qualitative methods
Research Methods Course
►Traditionally
course required:
 Midterm
 Final
 Research Proposal
 Was highly stressful for students!
Research Methods
► F2F




course consisted of:
Lecture
Question & Answers
Discussion
Group work applying covered aspect of course
to a real social work problem
Online Research Course
►Frequent
student inquires about online
courses
►Social Work students driving in from all
corners of the state
►Shift from program with primarily full
time students to part-time students
►Students with work or family demands
Online Research Course
►Chose
course very comfortable
with
►Excellent textbook
►Many notes and hand-outs already
developed
Online Research Course
►Progression
from web-enhanced to
total online course
►E-pak
►STaR
Training and Support
Online Research Course
►Taught
live f2f section in addition to
online section
►After f2f class, would tape a videostream of condensed lecture (20 min.)
►Covering important points and explain
difficult material
Online Research Course
►Move
from midterm & finals to
weekly chapter quizzes
►Assessments of articles highlighting
topic being covered that week
►Group discussion of topics
Research Methods Courses
►Research
Proposal
Broken into several components:
 Research idea and bibliography
 Peer review of research idea
 Problem Statement—Lit Review
 Full proposal
 Short presentation
Course comparison
► F2F
 Lecture
 Class hand-outs
 Class discussion
 Group exercises with
real social work
problem
 Tests
► On-line:
 Video-stream
 Handouts and E-pak
material
 Group discussion
 Group exercises with
real social work
problem
 Chapter quizzes
Course comparison
► F2F:
 Assignments
interpreting articles
 Research Proposal in
installments
 Presentation
 Assessment
► On-line:
 Assignments
interpreting articles
 Research Proposal in
installments
 Presentation
 Assessment
Statistics
► Covers
descriptive statistics through
multivariate regression
► Approach is toward understanding and
application of statistics to help understand
real problems rather than formulas and
calculations.
Statistics Teaching Approach
► Lecture
► Textbook
► Class
discussion
► Hand-outs of Statistical Tables
► SPSS and data
Student assignments:
► Chapter
quizzes
► Small group interpretation of tables
► SPSS analysis of data
► Write-ups interpreting SPSS
results and discussing findings
► Write-ups on questions regarding journal
articles
► Final assessment
Actual Course
► Captivate
snip
Final Assessment
► Final
assessment is a critical review of a
journal article
► Students have one week to review and
critique an article assigned by professor
► The assessment results are used for
assessment of entire research sequence
Assessment
► Questions
on Introduction, Method, Results,
and Discussion components of articles
► Assessment data comparing f2f to online
students compiled for 2006 and 2007.
► Data shown here compare f2f to online
sections of this instructor
Introduction
► Clear
Research Question? Hypotheses?
► Appropriate Literature Review?
► Type
► f2f
N
38
► Online 30
Mean
(20)
18.97
18.57
SD
t
p
1.90
2.02
.84 ns
Method
► Sample?
► Type
► F2f
Design? Measures? Procedure?
N
38
► Online 30
Mean
(20)
17.2
15.9
SD
t
p
3.6
3.0
1.63 ns
Results
► Appropriate
Statistics? Interpretations of
analyses? Statistical vs clinical significance?
Type N
► F2f
38
► Online 30
►
Mean
42.21
42.78
SD
7.3
4.8
t
p
-.368 ns
Discussion
► Proper
interpretation and discussion of
findings?
► Type
► F2f
N
38
► Online 30
Mean
(10)
8.98
9.03
SD
2.19
1.71
t
p
-.095 ns
Total Assessment
► Intro,
► Type
► F2f
Method, Results, Discussion
N
38
► Online 30
Mean
(100)
87.41
86.28
SD
9.01
8.42
t
p
.527 ns
Conclusion
► End
of sequence assessment indicates that
graduate students critically evaluate articles
by end of semester
► Analyses indicate no difference in learning
between students in f2f and online course
delivery
Conclusion
► Comparisons
with a f2f section from another
instructor (not shown) found small but
significant differences with BOTH f2f and
online sections of this instructor!
Recommendations
► There
are many valid reasons why students
may prefer online to f2f courses.
► Important
for students to be cognizant of
their learning styles and self direction when
choosing their courses and its delivery
method.