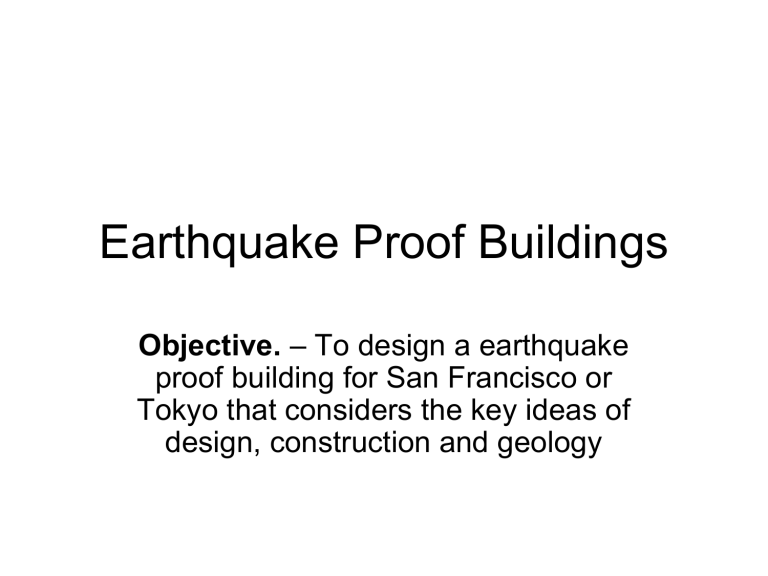 Earthquake Proof Buildings
Objective. – To design a earthquake
proof building for San Francisco or
Tokyo that considers the key ideas of
design, construction and geology
How is this building 'earthquake proof'?
Counter-weighting: Large weights are
placed on top of the building to help counter
the effects of sway when the ground
shakes.
Steel K-bracing: Steel bracing has been
used at the base of the building to help hold
the walls together. When the ground shakes
the walls are more likely to stay held
together by the steel braces, which are lightweight and fairly flexible. The steel bends
with the seismic waves and so is less likely
to break apart.
Geology: The building is built on a hard
rock, through which seismic waves travel
slowly, reducing the shaking to a minimum.
Design, Construction and
Geology
Design:
http://uk.youtube.com/watch?v=LwSikXWcGC4
Construction:
http://uk.youtube.com/watch?v=dddbsODis2M
Geology:
http://www.youtube.com/watch?v=_pWy1e6Q8k
4
Today's Task
• Design a earthquake proof building
• Your building should take into
consideration design, construction and
geology
• Pick between 5-10 characteristics from
the next page
• Draw your building at the centre of your
page.
• Label your building to describe the
characteristics you've chosen and explain
why you've included them.
Pick between 5-10 characteristics
from the list below
Triangular
shape
Square shape
Circular shape
X bracing
Short building
Tall building
Base isolators
K bracing
Counterweights
Steel
Shock
absorbers
Concrete
Fixed base
No bracing
Paper
Wood
Glass
Bricks
Plastic
Tiles
Sand
Soft mud
Hard bedrock
Steep Slope
Flat land
Near a fault
line
Reclaimed
land
Away from a
fault
Peer Assessment
- One positive comment – what did they do
really well?
- One improvement – what could they do
better?
Write your comments on the back of the
page.