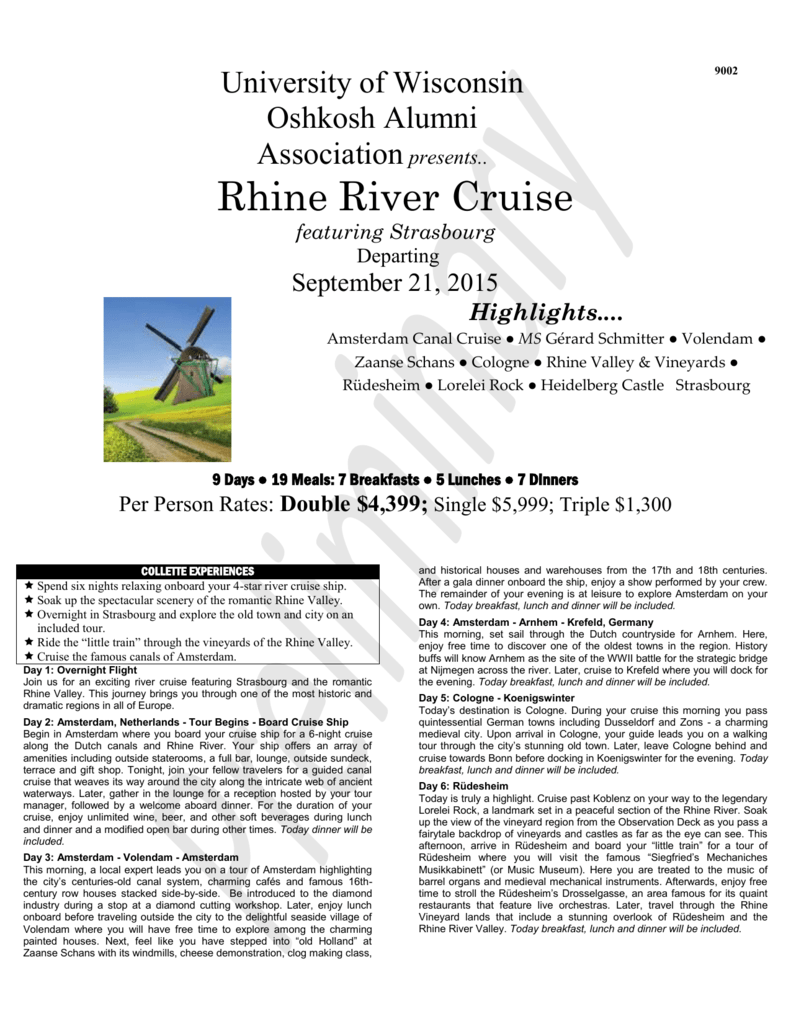 University of Wisconsin
Oshkosh Alumni
Association presents..
9002
Rhine River Cruise
featuring Strasbourg
Departing
September 21, 2015
Highlights....
Amsterdam Canal Cruise ● MS Gérard Schmitter ● Volendam ●
Zaanse Schans ● Cologne ● Rhine Valley & Vineyards ●
Rüdesheim ● Lorelei Rock ● Heidelberg Castle Strasbourg
9 Days ● 19 Meals: 7 Breakfasts ● 5 Lunches ● 7 Dinners
Per Person Rates: Double $4,399; Single $5,999; Triple $1,300
COLLETTE EXPERIENCES
 Spend six nights relaxing onboard your 4-star river cruise ship.
 Soak up the spectacular scenery of the romantic Rhine Valley.
 Overnight in Strasbourg and explore the old town and city on an
included tour.
 Ride the "little train" through the vineyards of the Rhine Valley.
 Cruise the famous canals of Amsterdam.
Day 1: Overnight Flight
Join us for an exciting river cruise featuring Strasbourg and the romantic
Rhine Valley. This journey brings you through one of the most historic and
dramatic regions in all of Europe.
Day 2: Amsterdam, Netherlands - Tour Begins - Board Cruise Ship
Begin in Amsterdam where you board your cruise ship for a 6-night cruise
along the Dutch canals and Rhine River. Your ship offers an array of
amenities including outside staterooms, a full bar, lounge, outside sundeck,
terrace and gift shop. Tonight, join your fellow travelers for a guided canal
cruise that weaves its way around the city along the intricate web of ancient
waterways. Later, gather in the lounge for a reception hosted by your tour
manager, followed by a welcome aboard dinner. For the duration of your
cruise, enjoy unlimited wine, beer, and other soft beverages during lunch
and dinner and a modified open bar during other times. Today dinner will be
included.
Day 3: Amsterdam - Volendam - Amsterdam
This morning, a local expert leads you on a tour of Amsterdam highlighting
the city's centuries-old canal system, charming cafés and famous 16thcentury row houses stacked side-by-side. Be introduced to the diamond
industry during a stop at a diamond cutting workshop. Later, enjoy lunch
onboard before traveling outside the city to the delightful seaside village of
Volendam where you will have free time to explore among the charming
painted houses. Next, feel like you have stepped into "old Holland" at
Zaanse Schans with its windmills, cheese demonstration, clog making class,
and historical houses and warehouses from the 17th and 18th centuries.
After a gala dinner onboard the ship, enjoy a show performed by your crew.
The remainder of your evening is at leisure to explore Amsterdam on your
own. Today breakfast, lunch and dinner will be included.
Day 4: Amsterdam - Arnhem - Krefeld, Germany
This morning, set sail through the Dutch countryside for Arnhem. Here,
enjoy free time to discover one of the oldest towns in the region. History
buffs will know Arnhem as the site of the WWII battle for the strategic bridge
at Nijmegen across the river. Later, cruise to Krefeld where you will dock for
the evening. Today breakfast, lunch and dinner will be included.
Day 5: Cologne - Koenigswinter
Today's destination is Cologne. During your cruise this morning you pass
quintessential German towns including Dusseldorf and Zons - a charming
medieval city. Upon arrival in Cologne, your guide leads you on a walking
tour through the city's stunning old town. Later, leave Cologne behind and
cruise towards Bonn before docking in Koenigswinter for the evening. Today
breakfast, lunch and dinner will be included.
Day 6: Rüdesheim
Today is truly a highlight. Cruise past Koblenz on your way to the legendary
Lorelei Rock, a landmark set in a peaceful section of the Rhine River. Soak
up the view of the vineyard region from the Observation Deck as you pass a
fairytale backdrop of vineyards and castles as far as the eye can see. This
afternoon, arrive in Rüdesheim and board your "little train" for a tour of
Rüdesheim where you will visit the famous "Siegfried's Mechaniches
Musikkabinett" (or Music Museum). Here you are treated to the music of
barrel organs and medieval mechanical instruments. Afterwards, enjoy free
time to stroll the Rüdesheim's Drosselgasse, an area famous for its quaint
restaurants that feature live orchestras. Later, travel through the Rhine
Vineyard lands that include a stunning overlook of Rüdesheim and the
Rhine River Valley. Today breakfast, lunch and dinner will be included.
Day 7: Mannheim - Heidelberg
Today we cruise past the landmark cities of Speyer, Wiesbaden and Worms
before arriving in Mannheim where the ship will dock. After lunch onboard,
depart by coach for Heidelberg Castle where you join a local expert for a
guided tour. Witness the ruins of this majestic Renaissance palace.
Discover the geometric terraces of the Palatinate Gardens and delve into
the history of this stunning structure. Next, travel with your guide into the
historic old town of Heidelberg where you will admire the Neckarmunzplatz
(city square) and Saint-Esprit Church before enjoying time on your own in
this ancient university town. Finally, after this amazing day, return to your
ship to relax while cruising towards Strasbourg. Today breakfast, lunch and
dinner will be included.
Day 8: Strasbourg, France - Disembark Cruise Ship
Early this morning you arrive in Strasbourg to disembark and begin your
stay in the city. Strasbourg, a provincial capital of France, blends centuries
of Roman, French, German and Alsatian influences together, creating a
unique character. Enjoy a guided city tour of the old quarter, "Petite France,"
featuring the Cathedral of Notre Dame. This is considered one of the
noblest achievements of Western architecture. You will have ample free
time to explore the perfectly preserved old town before heading to your
hotel. This evening, join your fellow travelers for a delicious farewell dinner
at one of Strasbourg's traditional restaurants. Today breakfast and dinner
will be included.
Day 9: Strasbourg - Tour Ends
Your tour ends today. Today breakfast will be included.
Experience It! ___________________________________ The Rhine River
To know the Rhine River is to know Europe. Running from the Swiss Alps through Germany, this vital waterway eventually flows into the
North Sea. Historically important and visually stunning, the Rhine provides the perfect 'highway' from which to explore the heart of the Old
World. From your cruise ship (a 4-star hotel that comes along with you) you will see fairytale castles, endless vineyards and ancient cities.
Legendary landmarks like Lorelei Rock, which soars high above the river, complete a perfect picture. Travel from Amsterdam all the way to
Strasbourg in style. Along the way you gain a new perspective that only a river and land travel experience can offer.
Day
Day
Day
1
2–7
8
YOUR ITINERARY AT A GLANCE
Overnight Flight
MS Gérard Schmitter Cruise Ship
Hilton Hotel
On some dates alternate hotels may be used.
Please Note:
Air rate and schedule are applicable for groups of 10 or more traveling on the same
flights and dates.
IMPORTANT RESERVATION INFORMATION
IDENTIFICATION
Passports are required for this tour at your expense. Certain countries require a minimum of 6 months
passport validity from date of return home. You are strongly urged to contact the appropriate consulate for
details. Visit www.travel.state.gov for the U.S. State Department for the latest details about passports and
visa requirements.
IMPORTANT: We recommend that our clients traveling abroad take a photocopy of their passport and
applicable visas. It should be packed separately from your actual passport and visa. We also recommend
leaving a copy at home with your emergency contact.
*Airfare: For your convenience, we offer airfare for purchase with all vacation packages. If you purchase an
air inclusive program, your airfare will be quoted inclusive of all fuel, taxes and fees. Your rates are subject to
change until paid in full. Seats are limited and may not be available on every flight or departure date.
Checked Baggage Charges: Some airlines may impose additional charges if you choose to check any
baggage. Please contact your airline or refer to its website for detailed information regarding your airline's
checked baggage policies.
Cancellation Charges for this tour: After your seat reduction date has passed, a non-refundable deposit will
be retained. For Cancellation between 60-16 days prior to departure: cancellation fee of 30% of total price.
For cancellation between 15-1 days prior to departure: cancellation fee of 50% of total price. For cancellation
on the day of departure and after: 100% of total price. For Ocean Cruises: For cancellation between 90-61
days prior to departure: cancellation fee of 35% of total price. For cancellation between 60-31 days prior to
departure: 60% of total price. 30 or fewer days prior to departure: 100% of total price. For River Cruises:
including Europe, Russia, Egypt and China, 90-61 days prior to departure: cancellation fee of 50% of total
price. For cancellation between 60-31 days prior to departure: cancellation fee of 85% of total price. For
cancellation 30 or fewer days prior to departure: cancellation fee of 100% of total price. For Galapagos and
Antarctica: A cancellation fee of 60% will apply for cancellation between 120-90 days prior to departure; A
cancellation charge of 100% will apply for cancellation less than 90 days prior to departure. Cancellation
protection is highly recommended and must be purchased at time of deposit. Air rates are subject to change
until tour is paid in full. If waivers have not been purchased and a reservation is cancelled for any reason prior
to departure - Air is 100% non-refundable once paid in full. Cancellation charges also apply to reservations
made for "pre" and "post" night accommodations. Payment of a Per Person Waiver Fee guarantees a full
refund of all payments (including deposit), except the Waiver Fee itself, made to Collette for travel
arrangements in case of cancellation of your travel plans for any reason prior to the day of departure. The
Waiver Fee with Air only covers airline tickets you have purchased from Collette. Exception: If you originally
purchased non-refundable airline tickets, the Waiver does not provide a refund for the airline tickets, taxes or
fees, in the event of a cancellation. This air ticket is covered by Collette' travel protection plan under Part B, if
you cancel your trip for covered reasons (see Part B for more details).The Waiver and Insurance does not
cover any single supplement charges which arise from an individual's Traveling companion electing to cancel
for any reason prior to departure. Upon cancellation of transportation or travel services where you, the
customer, are not at fault and have not canceled in violation of the terms and conditions above, you will be
refunded 100%. Please see your sales agent for more information, or review our brochure for details.
Responsibilities: Neither Collette Travel Services, Inc., its affiliated entities and its and their employees,
shareholders, officers, directors, successors, agents, and assigns (collectively "Collette"), own or operate any
person or entity which is to or does provide goods or services for these trips. Because Collette does not
maintain control or operate the personnel, equipment, or operations of the suppliers it uses and as such
Collette assumes no responsibility for and cannot be held liable for any personal injury, death, property
damage or other loss accident, delay, inconvenience, or irregularity which may be occasioned by reason of (1)
any wrongful, negligent, willful or unauthorized acts or omissions on the part of any of the suppliers or other
employees or agents; (2) any defect in or failure of any vehicle, equipment, or instrument owned, operated or
otherwise used by any of these suppliers; or (3) any wrongful, willful or negligent act of or omission on the part
of any other party not under the supervision and control of Collette. Additionally, Collette waives any and all
liability for losses or expenses due to sickness, lack of appropriate medical facilities or practitioners, weather,
strikes, theft or other criminal acts, war, terrorism, computer problems, acts of God, or other such causes. All
services and accommodations are subject to the laws of the country in which they are provided. Collette
reserves the right to make changes in the published itinerary whenever, in their sole judgment, conditions
warrant, or if Collette deems it necessary for the comfort, convenience, or the safety of the tour. Collette
reserves the right to withdraw any tour at any time. Collette reserves the right to decline to accept any person
as a member of the tour, or to require any participant to withdraw from the tour at any time, when such action
is determined by the tour manager to be in the best interests of the health, safety, and general welfare of the
tour group or of the individual participant. Collette does not accept liability for any carrier's cancellation penalty
incurred by the purchase of a non-refundable airline or other ticket to the tour departure city and return or
otherwise. Baggage and personal effects are the sole responsibility of the passenger at all times. Passengers
may be photographed for the promotional purposes of Collette. Payment of the deposit to Collette constitutes
acceptance of these terms and conditions. I agree that any dispute concerning, relating, or referring to this
contract, the brochure or any other literature concerning my trip, or the trip itself, shall be resolved exclusively
by binding arbitration according to the then existing rules of the American Arbitration Association in the State
of Rhode Island. Such proceedings will be governed by and in accordance with substantive Rhode Island law.
The arbitrator and not any federal, state, or local court or agency shall have exclusive authority to resolve any
dispute relating to the interpretation, applicability, enforceability, conscionability, or formation of this contract,
including but not limited to any claim that all or any part of this contract is void or voidable. Explorations is a
brand of Collette Travel Services Inc., a Rhode Island based corporation.
Consumer Protection Plans: Collette Travel Service holds membership in the following highly reputable
industry organizations: the United States Tour Operators Association and the American Society of Travel
Agents. Each association operates a consumer protection plan to cover deposits made by travelers. Full
details are available from the organizations or Collette Travel Service. Collette is pleased to give this additional
protection to our clients. Our California Sellers of Travel registration number is 2006766-20. Our State
of Washington Unified Business Number is 601220855. Our Nevada Sellers of Travel registration
number is 2003-0279.