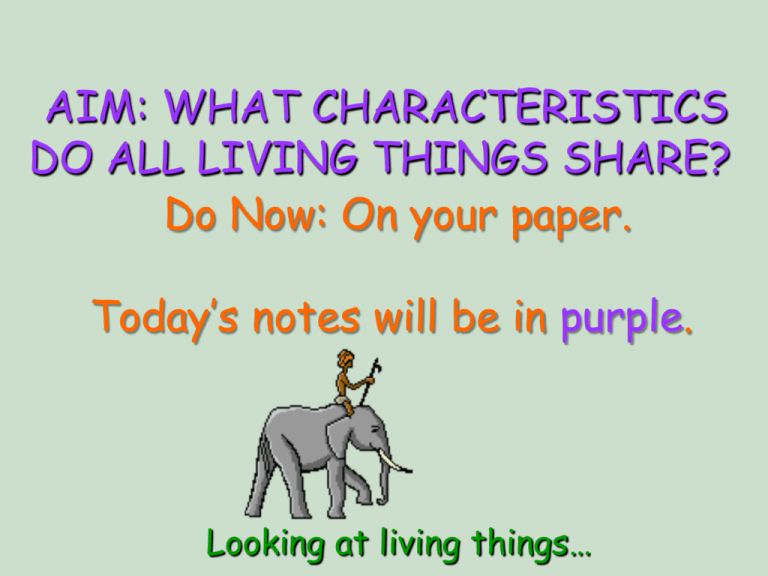 AIM: WHAT CHARACTERISTICS
DO ALL LIVING THINGS SHARE?
Do Now: On your paper.
Today's notes will be in purple.
Looking at living things…
All living things…


All living things must do certain
things in order to maintain
homeostasis (a stable internal
environment)
All the life processes and chemical
reactions living things do are called
metabolism.
Living things



Although all living things look different from
each other, they all have eight things in
common.
These eight things are called life processes.
Something is only alive if it does all eight
processes.
THE EIGHT LIFE
PROCESSES
1
All living things
have Movement
(Transportation)




Animals move their whole
bodies
Complex organisms have a
circulatory system to
carry and exchange
materials.
Transport can also be
defined as the intake and
distribution of material
throughout an organism.
Example: Plants transport
water and food up their
stems and down to the
roots.
2
All living things
undergo
Respiration
(Anaerobic and Aerobic)



All living things
exchange gases with
their environment.
Plants and animals
use the oxygen in
the air to turn food
into energy.
Plants use carbon
dioxide to make
sugars using the
process of
photosynthesis.
3
All living things
are Sensitive



All living things respond
to changes. Living things
notice changes in their
surroundings and react
to them. They do this to
maintain Homeostasis.
Ie. Plants grow towards
the light.
Ie. Animals are sensitive
to many things such as
noise, light and
temperature change.
4
All living things
Grow
(Development)



Babies grow into
adults.
Seedlings grow into
plants.
Living things become
larger and more
complicated as they
grow.
5
All living things
have Organization


Organisms are arranged
into cells, then tissues,
organs and finally organ
systems.
Even cells are organized
by little specialized
individual compartments
called organelles.
6
All living things
need Nutrition
(Heterotrophic and Autotrophic)



Food is used to provide energy.
Green plants make their own
food using sunlight.
Animals eat plants or other
animals.
7
All living things
Excrete
(aka. Excretion)



Waste substances
must be removed
from the all living
things.
Plants and animals
both need to get rid
of waste gas and
water.
If wastes remained
in the body it would
be poisonous.
8
All living things
Reproduce



Humans have babies,
cats produce
kittens, pigeons lay
eggs.
New plants grow
from seeds.
Without
reproduction, a
species would go
extinct (die out).
The eight life processes
1. Movement
2. Respiration
3. Sensitivity
4. Growth
5. Organization
6. Nutrition
7. Excretion
8. Reproduction
Use the first letter from each
process to help you remember them.
Movement
Respiration
Sensitivity
Growth
Organization
Nutrition
Excretion
Reproduction
The eight life processes spell
MRS. GONER
This is MRS GONER !
Can you remember
what each of the
letters in her name
stand for ?
MRS. GONER stands for…








M?
R?
S?
G?
O?
N?
E?
R?








Movement
Respiration
Sensitivity
Growth
Organization
Nutrition
Excretion
Reproduction
Wrap-Up!


Turn to the chapter 1 word wall on page 9.
Record at least two "new to you" words that we used in class today.