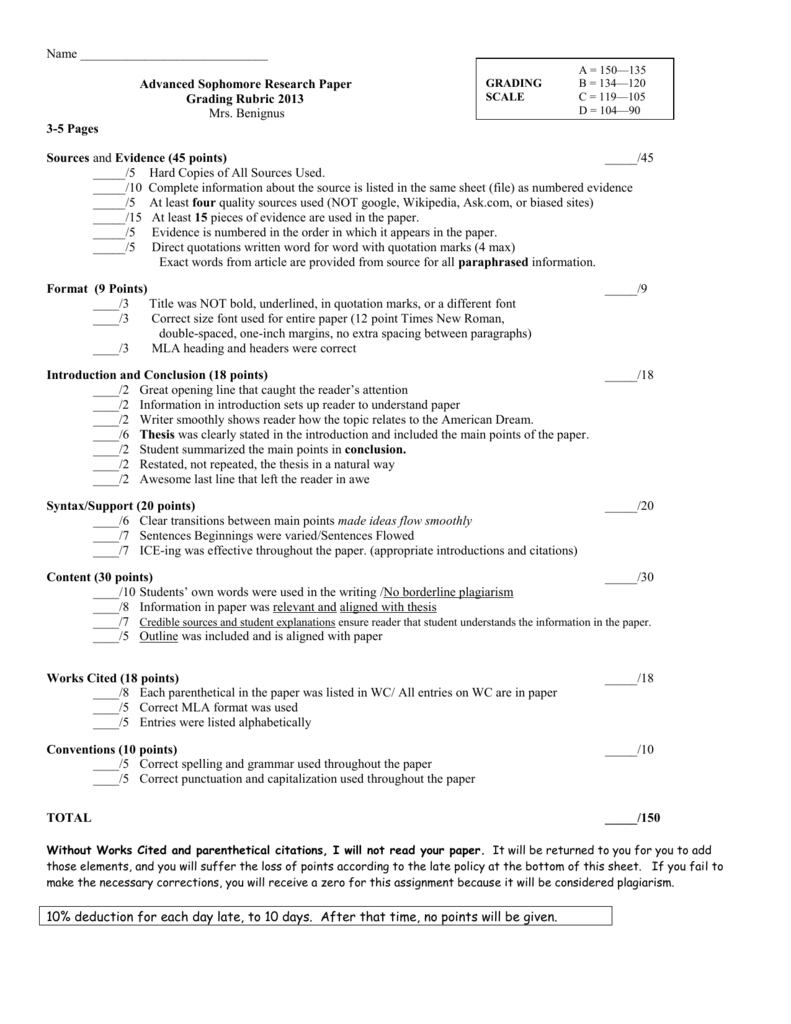 Name _____________________________
Advanced Sophomore Research Paper
Grading Rubric 2013
Mrs. Benignus
GRADING
SCALE
A = 150—135
B = 134—120
C = 119—105
D = 104—90
3-5 Pages 
Sources and Evidence (45 points)
_____/45
_____/5 Hard Copies of All Sources Used.
_____/10 Complete information about the source is listed in the same sheet (file) as numbered evidence
_____/5 At least four quality sources used (NOT google, Wikipedia, Ask.com, or biased sites)
_____/15 At least 15 pieces of evidence are used in the paper.
_____/5 Evidence is numbered in the order in which it appears in the paper.
_____/5 Direct quotations written word for word with quotation marks (4 max)
Exact words from article are provided from source for all paraphrased information.
Format (9 Points)
____/3
Title was NOT bold, underlined, in quotation marks, or a different font
____/3
Correct size font used for entire paper (12 point Times New Roman,
double-spaced, one-inch margins, no extra spacing between paragraphs)
____/3
MLA heading and headers were correct
_____/9
Introduction and Conclusion (18 points)
____/2 Great opening line that caught the reader's attention
____/2 Information in introduction sets up reader to understand paper
____/2 Writer smoothly shows reader how the topic relates to the American Dream.
____/6 Thesis was clearly stated in the introduction and included the main points of the paper.
____/2 Student summarized the main points in conclusion.
____/2 Restated, not repeated, the thesis in a natural way
____/2 Awesome last line that left the reader in awe
_____/18
Syntax/Support (20 points)
____/6 Clear transitions between main points made ideas flow smoothly
____/7 Sentences Beginnings were varied/Sentences Flowed
____/7 ICE-ing was effective throughout the paper. (appropriate introductions and citations)
_____/20
Content (30 points)
_____/30
____/10 Students' own words were used in the writing /No borderline plagiarism
____/8 Information in paper was relevant and aligned with thesis
____/7 Credible sources and student explanations ensure reader that student understands the information in the paper.
____/5 Outline was included and is aligned with paper
Works Cited (18 points)
____/8 Each parenthetical in the paper was listed in WC/ All entries on WC are in paper
____/5 Correct MLA format was used
____/5 Entries were listed alphabetically
_____/18
Conventions (10 points)
____/5 Correct spelling and grammar used throughout the paper
____/5 Correct punctuation and capitalization used throughout the paper
_____/10
TOTAL
_____/150
Without Works Cited and parenthetical citations, I will not read your paper. It will be returned to you for you to add
those elements, and you will suffer the loss of points according to the late policy at the bottom of this sheet. If you fail to
make the necessary corrections, you will receive a zero for this assignment because it will be considered plagiarism.
10% deduction for each day late, to 10 days. After that time, no points will be given.