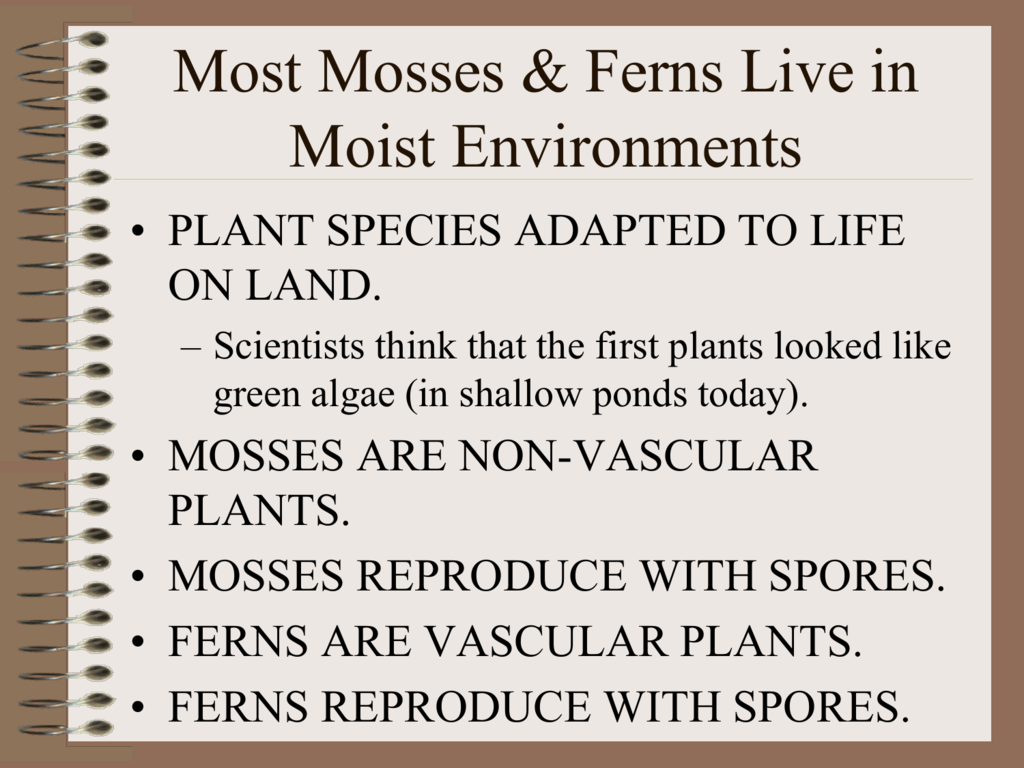 Most Mosses & Ferns Live in
Moist Environments
• PLANT SPECIES ADAPTED TO LIFE
ON LAND.
– Scientists think that the first plants looked like
green algae (in shallow ponds today).
• MOSSES ARE NON-VASCULAR
PLANTS.
• MOSSES REPRODUCE WITH SPORES.
• FERNS ARE VASCULAR PLANTS.
• FERNS REPRODUCE WITH SPORES.
Plant Life Adapted to Land
• First plants needed to get both water and nutrients
from land. (no surrounding water to keep moist or
give support, but plenty of CO2 and sunlight in air).
• Some of first plants were thought to be ancestors of
mosses & ferns.
• Mosses (as well as liverworts & hornworts) are
thought to be descended from first plants to spread
onto bare rock and soil of Earth.
• Ferns (& relatives) are thought to have appeared
later.
Mosses are Non-Vascular Plants
• Each moss cell (like all plant cells) has a thick
wall providing support. Also have storage areas
for water & food (vacuoles).
• Mosses don't grow large but have simple roots,
stems & leaves. Made of tiny, dark green plants.
• Moss is a NON-VASCULAR plant- no vascular
tissue (xylem/phloem). Nutrients & water move
through non-vascular plants body cell by cell (so
its body can only be a few cells thick).
• In the first part of moss reproductive cycle, it
grows and makes male & female structures
needed for sexual reproduction. If good
conditions & enough water, plant enters a sporeproducing stage (second part of cycle).
Mosses Reproduce with Spores
• Mosses, ferns & fungi reproduce via spores
• Spore = single reproductive cell protected by hard
watertight covering. Small and transported through
air (so can grow far away from parent organism).
• A clump of moss (first generation) has both male
and female structures which (at right conditions)
make sperm & eggs; water (perhaps rainwater) is
needed for sperm to swim to eggs
• Fertilized egg grows into stalk with capsule on end
(second generation plant); stalk & capsule grow
from female moss plant & make spores through
meiosis, released into air.
• Moss may reproduce asexually like other plants
too.
Ferns are Vascular Plants
• Tube-like tissue of vascular plants moves water through plant
quickly allowing much growth for bigger size & weight.
• Roots can branch out more to anchor and give more water &
nutrients.
• Stems branch out & more leaves grow so more sugar & other
materials for energy & growth.
• Vascular tissue moves material more easily & gives more
support.
Ferns Reproduce with Spores
• Leaves of ferns are called FRONDS, which have
many spore clusters on their backs.
• Spores fall to ground and grow to size of
thumbnail, making sperm & egg producing parts of
fern plant (first generation of plant); sperm need
water to swim to egg, just like in mosses- so need
lots of water.
• Second generation is the plant with fronds that
grow from fertilized egg. This makes spores,
which spread through air, and if good conditions,
when they land grow into fern plants. This is
sexual reproduction, but like all plants, can also
reproduce asexually too.