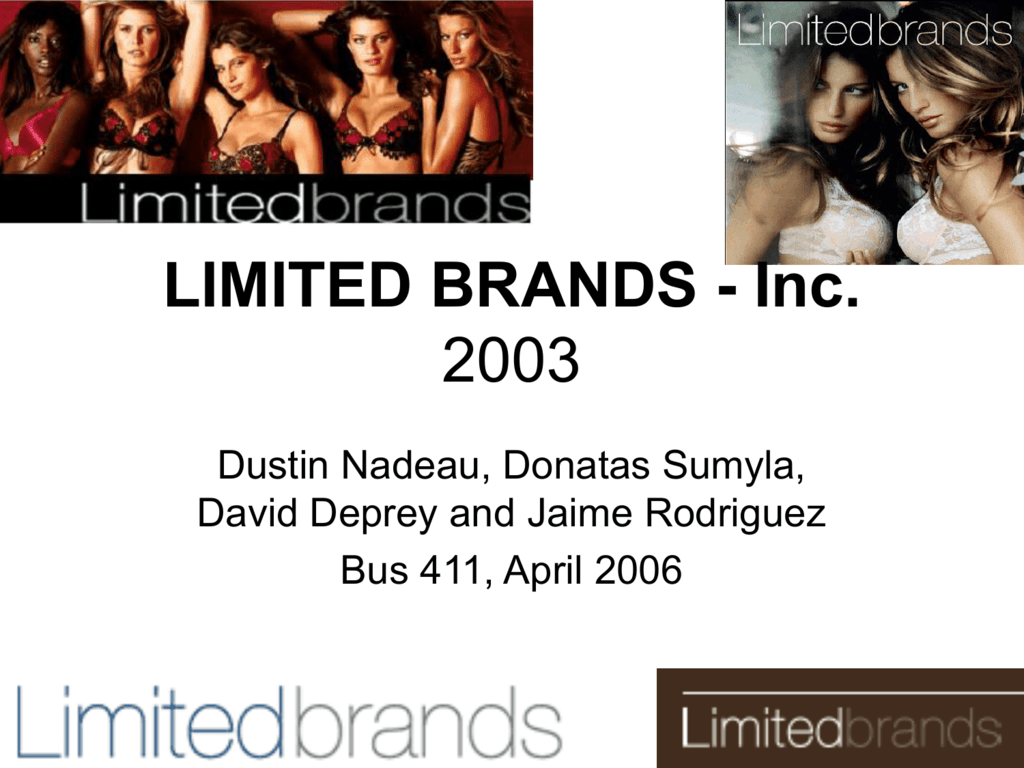 LIMITED BRANDS - Inc.
2003
Dustin Nadeau, Donatas Sumyla,
David Deprey and Jaime Rodriguez
Bus 411, April 2006
Case-Study Overview
•
•
•
•
•
•
Existing Condition
– Limited Brands overview
– Industry overview
History, Key Facts, Goals and
Objectives and Stock Information
Limited Brands Proposed Vision
and Mission
External opportunities and threats
– CPM
– EFE
Financial Ratios
Internal strengths and
weaknesses
– IFE
• Analysis
– SWOT Matrix
– SPACE
– BCG
– IE matrix
– Grand Strategy Matrix
– QSPM
• Possible strategies: Matrix
Analysis
• Decisions
– Strategic implementation
– Long-term and short-term
Actions
• Evaluation Procedure
• Current Update
Limited Brands Overview
• Founded in 1963 by Leslie H. Wexner, Limited Brands, Inc. is a
specialty retail business in the U.S.
• Headquartered in Columbus, Ohio
• Sells women's intimate apparel, personal care and beauty
products, and women's and men's apparel
• 3 segments:
– Victoria's Secret (women's intimate and other apparel,
beauty products, and accessories through retail stores,
catalogue, and e-commerce)
– Bath & Body Works (personal, care, beauty, and home
fragrance products)
– Apparel
• Express stores, which offer women's and men's apparel,
sportswear, and accessories
• Limited stores, a mall-based specialty store retailer of
sportswear for women
Limited Brands Overview
Limited Brands Overview
•
•
•
•
Limited Brands is committed to building a family of the world's best brands
to create sustained growth of shareholder value by focusing its time, talent,
and capital on the highest return opportunities.
At first - a multi-divisional, largely apparel-based, popular-priced retailer
Over the past ten years Limited brands has reinvented itself completely,
becoming a predominantly a personal care, beauty and lingerie company
(Victoria's Secret and Bath & Body Works)
Limited Brands in the past has:
1. Re-visioned the business
2. Sorted the portfolio of businesses, and
3. Re-thought its talent
•
Now they are:
1. Turning to offense, and
2. Applying its specialty retailing skills to deliver high-value, branded, consumer
packaged goods through channels of distribution it controls – stores and direct.
Key facts (2003)
•
•
•
•
•
•
Sector: Services
Industry: Apparel Stores
Full Time Employees: 18,000 (2002)
3,911 Stores (2003)
Net sales 2003 $8.934M
Operating income $963M
History
•
•
•
•
•
•
•
•
•
•
1963 The Limited opens its first store in Kingsdale Mall in Columbus, Ohio
1969 The Limited's first public stock offering is issued over-the-counter.
47,600 shares are offered at $7.25 per share
1982 Victoria's Secret store and catalogue are purchased for $1 million.
1985 One Henri Bendel store is acquired for $10M
1988 25 Abercrombie & Fitch stores and one catalogue are acquired for $46
million
1990 Bath & Body Works opens first store in Boston.
1995 Initial Public Offering of Intimate Brands, Inc. establishes it as a fully
independent company.
1998 50 Bath & Body Works Home stores are converted to The White Barn
Candle Co. stores to begin a home fragrance brand test.
1998 The Limited, Inc. completes split-off of Abercrombie & Fitch.
Victoria's Secret launches e-commerce site www.victoriassecret.com
which has been profitable since day one.
1999 The White Barn Candle Co. is launched by raising an old-fashioned
barn in New York City's Bryant Park.
History
•
2000 Intimate Beauty Corporation and Shiseido Co., Ltd. form joint venture
to develop, market and sell new lines of prestige beauty products for sale in
free-standing stores.
•
2001 Sale of Lane Bryant
Integration of Structure into the Express brand as Express Men's
•
2002 Recombination of Intimate Brands and The Limited, Inc.
The Limited, Inc. changes name to Limited Brands to further
emphasize the Company's commitment to building a family of the world's
best fashion brands
Sale of Lerner New York/New York & Company
•
2003 Sales of remaining interest in Alliance Data Systems
Named the world's most admired specialty retailer by FORTUNE
magazine
Our Brands
• Victoria's Secret Stores
• Victoria's Secret Direct
(Catalogue/E-commerce)
• Victoria's Secret Beauty
• First six stores opened in 1990
• Remodeled in 2002 (wood shelving, redchecked fabric, country atmosphere)
• Website launched in 2002
(www.BathandBodyWorks.com)
• Two new brands in 2003 - "Aromatherapy"
and "True Blue Spa"
• 1,639 stores
Apparel Division
Limited Stores
– Flagship division of the organization
– No online presence (351 stores)
– Focuses on fashion-conscious women who want a "sexy,
sophisticated style"
Express Stores
- Offers cutting-edge style
- Still making the transition to a dualgender brand through remodeling
- 1,031 stores are located primarily in
shopping malls
Other Retail Businesses
• Henri Bendel
– Offers the best in clothing and accessories from international
designers
– Products for "higher income 30-something women"
– The only upscale LB store
• aura science
– LB owns 51% with Japanese cosmetics company
Shiseido
– The product line consists
of different beauty products
Support Businesses
• Limited Logistics Services
• Limited Real Estate
• Limited Design Services
• Limited Brand and Creative Services
• Limited Technology Services
• Mast Industries
Limited Brands, Inc. Stock (LTD)
Information
• Index Membership:
– S&P 100
– S&P 500
– S&P 1500 Super Comp
• Company Type - Public (NYSE: LTD)
• Fiscal Year-End – January
• First IPO: 47,600 stocks @ $7.25 (1969)
• Shares Outstanding: 523M (2003)
• Stock Price:
– Dec. 2003: 18$
– April 20th 2006: 25$
Stock Price Performance
Industry Overview:
Outlet Centers
•
•
•
•
•
•
The world's largest owner and operator of outlet centers is
Baltimore-based Prime Retail Inc. With 50 centers in 26 states, the
company operates outlet shopping space of nearly 14 million
square feet.
Among the most significant finding is the identification of this market
as the fastest-growing segment of the retail industry.
Nation's outlet centers generates close to $ 500 million in sales tax
revenues every year.
65 percent of outlet shoppers are married and 74 percent are
female.
Baby boomers, ranging in age from 25 to 54, make up a large
percentage of outlet center shoppers.
Outlet shoppers:
– 60 percent, report household income between $ 25,000 and $ 75,000
– 23 percent report incomes of less than $ 25,000
– 16 percent boasted incomes of more than $ 75,000.
Stock Info compared to Industry
Compare to Industry (Nov 2002)
Annual Report Statements
"Our brands are about innovation - about
next."
Les Wexner (2002 Annual Report)
"With every major initiative, I ask myself the
same question: 'Is the light worth the
candle?' That is, are the potential rewards
commensurate with the effort? Across a
number of significant efforts this year, the
light was very bright indeed."
Les Wexner (2003 Annual Report)
Leslie Wexner, CEO and Chairman
Goals & Objectives
• Aggressively sort our portfolio and
financially restructure our business
through spins, splits, sell-offs, and store
closings
• With obtained cash from above actions,
continue building our brand recognition
• Our principle goal – increase shareholders
value through a family of the world's best
fashion brands
Vision Statement
• Build a "family of the world's best fashion
brands" (Book, 2004)
• To build a Company of powerful and
differentiated retail brands that maintain
and strengthen our position
as the world's dominant
specialty retailer
(Website, 2006)
Company Values
What are the four company values?
– Doing What is Right
for associates, customers and investors
– Being Inclusive
in our thoughts and behaviors
– Working for the Greater Good
of the enterprise and the communities in
which we operate
– Pursuing Excellence
in all we do
Mission Statement
• Create sustained growth of shareholder value by
focusing its time, talent, and capital on the
highest return opportunities (Book, 2004)
• Limited Brands is committed to building a family
of the world's best fashion brands
offering captivating customer
experiences that drive long-term
loyalty and deliver sustained
growth for our shareholders
(Website, 2006)
External Opportunities and
Threats
OPPORTUNITIES:
THREATS:
- Current 31M of people ages 12-19 is expected
- Large numbers of female baby boomer
consumers began staying away from the stores
entirely or purchasing fewer clothing items
because of lack of products offered
- Female baby boomers place retirement
savings, college tuition, and mortgages at a
higher priority than spending on apparel
- Slow U.S. economy growth in 2003
- Household debt increase to $9B by fall 2003
- The gap between rich and poor continues to
grow
- Industry is risky because in order to gain
competitive advantage you may have to take
gambles (prediction of future trends)
- Competitive sector nationally, regionally, and
locally represented by the department and
specialty stores and mail-order catalogue
businesses
-Disruption of foreign suppliers
-Increasing transportation cost caused by
escalating fuel prices
to increase to a record 34M by 2010
- Teens ages 12-19 spent approx. $200B in 2002
with 1/3 of this spending in fashion
- Female baby boomers needs are not fully
satisfied by retailers and manufacturers of
women's apparel
- General e-commerce sales were up 25% in
2002 with spending at $35.9B, which indicates
that shoppers are willing to make purchases
online
- Increase in time-conscious type of online
consumers because of busy lifestyles
- Increasing acceptance of the casual workplace
trend
- Federal tax cuts might encourage more
consumer spending
-Increase Internet advertising and sales
EFE Matrix
2006 Annual ranking of America's
largest corporations:
Specialty Retailers
Direct Competitors Comparison
(2006)
LTD = Limited Brands Inc
GPS = Gap Inc.
TJX = TJX Companies Inc.
Industry = Apparel Stores
(Source: http://finance.yahoo.com)
Competitive Profile Matrix (CPM)
Internal strengths and weaknesses
STRENGTHS:
WEAKNESSES:
•
•
•
•
•
•
•
•
•
•
Defined company philosophy
which implies continuous
innovations
Strong brand recognition
Victoria's Secret performance
Healthy financial position
Flexible changing strategies
Fast adaptation to emergent
trends, markets, and
environments
Brand building as a model
Location of distribution center
Effective computerized system
•
•
•
•
•
Increased debt results in lower
profits and decline in cash flow
Reduce in selling square footage
of Apparel business group
Large amount of suppliers (2,500)
which means difficulties to ensure
consistent quality and time of
delivery
Uncertainty of consumer
acceptance of the Company's
products
Reliance on foreign sources of
production
Locating stores in close proximity
in malls
IFE Matrix
Key Ratios Evolution
(1999-2003)
Overall Key Ratios (2006)
SWOT Analysis
SPACE Matrix
* Y axis: - Financial Strength:
- Environmental Stability:
* X axis: - Competitive Advantage:
- Industry Strength:
+6
-2
-4
+5
=> Y coordinate:
=> X coordinate:
STRATEGY: AGRESSIVE
BCG Matrix
Victoria's Secret
Bath & Body Works
40
Stars
Question marks
30
20
10
0
1
0.8
0.6
0.4
0.2
0
-10
-20
-30
Cash-Cow
Dogs
-40
Relative Market Share (X)
Industry Sales Growth Rate (%) (Y)
BCG MATRIX
IE Matrix
The Grand Strategy Matrix
Potential
Strategies:
Market development
Market penetration
Product development
Horizontal integration
Divestiture
Matrix Analysis
QSPM
Decisions
• Primary: Long-term Divestiture of the
Apparel business group
• Alternative:
– Horizontal Integration by acquiring small and
emerging competitors in the lingerie and body
care areas
– Product development by introducing new
product lines based on best categories'
performance
Why Divestiture?
• Competition is fierce
• Industry is risky
• Our top two business groups show
significantly better annual results and are
gaining larger market share
• Apparel segment does not fit with the
company's philosophy
Implementation
Actions:
– Short term: First year
•
•
•
•
Shut down unprofitable Apparel stores
Establish closing-down sales in order to get rid of inventory
Use earned cash for product development and horizontal integration
Open up to 15 new Victoria's Secrets and Bath & Body Works stores in most
profitable areas
• Establish a management team which will focus especially on tracing the
divestiture process
• Provide precise information to the media, stockholders, and customers with
the reasons of our decision and future procedures
– Long-term: Next 5 years
• Look for potential buyers
• Contact specialized companies which would professionally manage the
divestiture process
• Use the generated cash to decrease debt and to carry out further
investments
Evaluations
• Apparel's quarterly financial reports
• Sales and profits reports based on individual
Apparel stores
• Frequent divestiture management team's meetings
• Evaluation reports
• Annual survey to assure our brand image is not
damaged
Update: 2004-2006
•
2004
– Predominantly became a personal care, beauty, and lingerie company, over 70%
of sales from these areas (Victoria's Secret and Bath and Body Works)
– C.O. Bigelow rapidly becoming known as, "The best specialty beauty store in the
world."
– Victoria's total U.S. sales is almost as large as the entire lingerie market 10 years
ago.
– Victoria has 5 of the top 20 prestige women's fragrances sold in the U.S.
– New division of Victoria is introduced, "PINK." Will become the second largest
lingerie brand in the U.S., behind Victoria's
•
2005:
– Reorganization into three business groups: lingerie, beauty and personal care,
and apparel.
– Victoria's introduces IPEX wireless bra which is claimed to be the most
supportive ever, provides the most coverage, and minimal padding.
•
2006
– Bath and Body Works is now open 24/7 to suit all of their customers' needs.
– Introduced the Infinity Edge push up bra which has become the most comfortable
push up bra offered.
References
•
•
•
•
•
•
•
•
http://finance.yahoo.com
Limited Brands Inc. Annual Reports
Annual ranking of America's largest corporations, Magazine: Fortune 500
(2006): cnn.money.com
www.hoovers.com
www.bigcharts.com
www.limitedbrands (Investor Relations)
www.businessweek.com
Strategic Management Concepts and Cases; Fred R. David, 10th Ed.
Thank you!
• Questions?
• Comments?