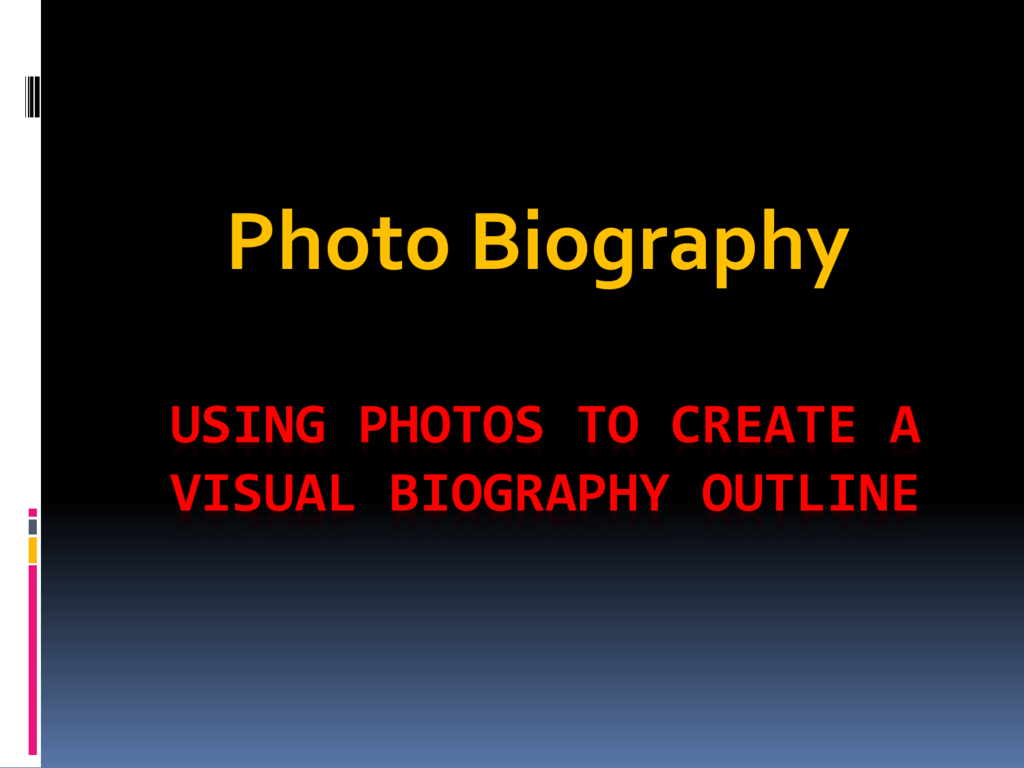 Photo Biography
USING PHOTOS TO CREATE A
VISUAL BIOGRAPHY OUTLINE
Why a Photo Biography?
 Photo images are a type of
language…we can use them to
create messages,
communicate ideas, and
provide support for written
ideas.
Besides, Everyone likes
looking at photos!
Plus…research has proven that we are
more likely to process, remember, and
recall information when it is coupled with
interesting, well-made images that
stimulate our visual thinking! Whew!!!
What is a Visual Biography Outline ?
 A short personal profile created
with a combination of photo
images, basic information, and a
brief narrative about the person.
 Provides a brief introduction, some
basic information about them, and a
brief narrative (story describing) of
that person.
The Assignment
 Select another JHS student…
NOT A MEMBER OF THIS CLASS!
 Conduct a short "bio research
interview."
 Take five (5) photo images for this
Visual Biography Outline
Construct
 An eight (8) slide Visual Biography Outline
PowerPoint.
 First slide must be an intro slide that has
the person's name (first and last) and a
clear, easy-to-view portrait-type image.
 Second and third slides will be a brief
written Bio consisting of their name, birth
date (age); their JHS class; their interests,
activities, and hobbies.
The next four (4) slides will be will contain a
variety of photo images taken by you of your
selected person showing us (the viewers) more
about them.
These photo images should show the person in a
variety of contexts ( situations, surroundings, or
backgrounds) that help us understand more
clearly about them.
Photo images are a type of language…we can
use them to create messages, communicate
ideas, and provide support for written ideas.
The last slide…
 The eighth (8th) slide should be an
image that clearly shows that the
person is a Jeff High student and
contain a text box with their response
to the following question:
The best thing about Jeff High is
the…______________what?
And that is it…simple and easy to do!
A very effective way to obtain 100 of the
500 total points for the 4th 9 week period!
Can be completed in a very short period of
time…some of this can be completed here
in-class…if you are prepared.
Due Date: May 15
Creating a Photo Biography
Using photo images to create
a JHS student bio profile.
Autumn Brown
2017
Meet Autumn Brown!
A 15 year-old sophomore at Jeff High
Is involved in Ap/Honors classes.
Has been a member of the cheer squad
for the past 2 years.
Secretary for the Class of 2017
Autumn is also a Student Council
member and a member of the Anchor
Club.
Autumn's hobbies include photography especially
taking photos of the great outdoors and nature!
She also likes cooking and baking.
Autumn likes reading; her favorite author is
Cassandra Clear
And of course…she LOVES shopping!
She loves Jeff High because of all of the
opportunities available here!
Red
Devil
PRIDE!
The best
thing
about Jeff
High is
our
PRIDE!
Special thanks and a big shout-out to
Autumn Brown for her help with the
creation of this example PowerPoint!
Also…Dylan Thompson and Josh Waddell
for their fabulous photos of Autumn.