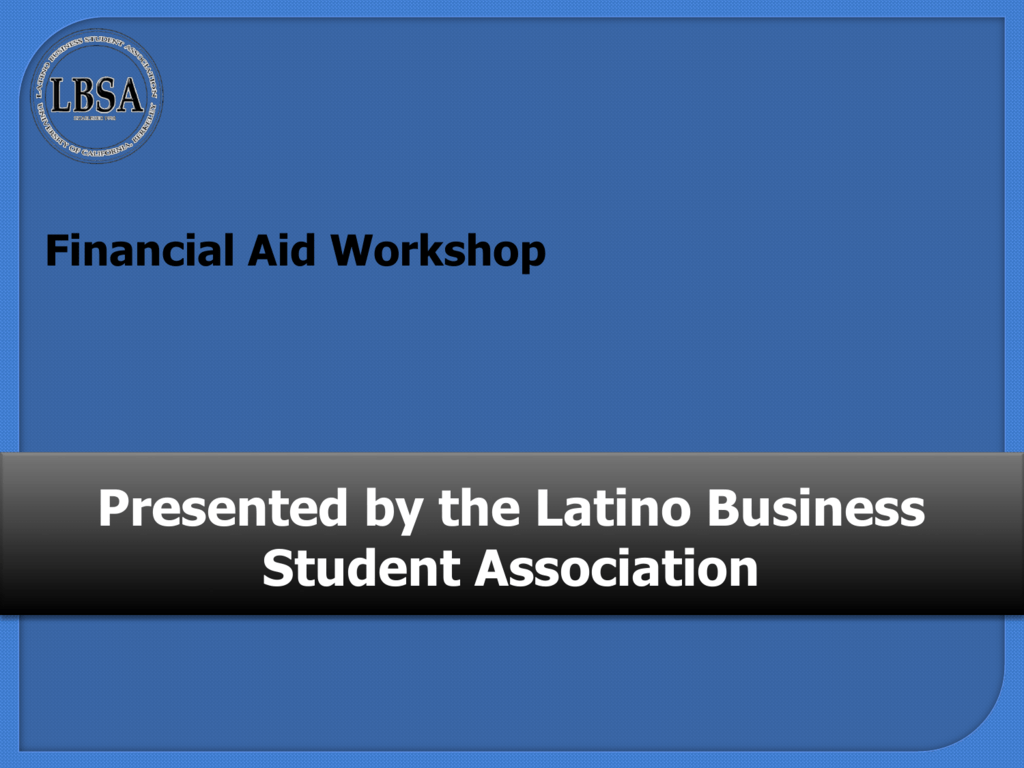 Financial Aid Workshop
Presented by the Latino Business
Student Association


Funds which are available to help pay the cost of higher education
Funds are distributed in the following way:
Free Money
State, Federal, Private or
Institutional Scholarships
Work Study
Offers need based students
the opportunity to work in a
job on or off campus to help
pay their college costs
Loans
Funds available for students
and/or parents which must
be paid back
Federal FAFSA (Universal Application)
State Funding (CAL-GRANT)
Universities/Colleges/Outside Agencies
Money that does not have to be paid back
Scholarships:
Grants:
Awarded on the basis of merit, skill, or a unique
characteristic
Money that does not have to be paid back
Usually awarded on the basis of financial need
Loans:
Money students and parents borrow to help pay
educational expenses
Repayment usually begins after education is
finished
Only borrow what is really needed
Look at loans as an investment in the future
Employment: Allows student to earn money to help pay
educational costs
The GMS Scholarship Award Provides:
• Support for the cost of education by covering unmet need and self-help;
• Graduate school funding for continuing Gates Millennium Scholars in the areas
of computer science, education, engineering, library science, mathematics, public
health or science;
• Leadership development programs with distinctive personal, academic and
professional growth opportunities.
Program Accomplishment:
• Funded more than 13,000 Gates Millennium Scholars since the inception of the
program
• Obtained a 79.9% graduation rate in five years
• Supported Gates Millennium Scholars enrolled in more than 1,500 colleges and
universities
• Graduated over 5,000 Gates Millennium Scholars since the program's inception
• Five year retention rate of 87.7%
Students are eligible to be considered for a GMS scholarship if they are:
• African American, American Indian/Alaska Native, Asian and Pacific
Islander American, or Hispanic American
• Citizen/legal permanent resident of the United States
• GPA of 3.3
• Enrolling for the first-time at a U.S. accredited college or university as a
full-time student
• Leadership, community service, extracurricular or other activities
• Meet the Federal Pell Grant* eligibility criteria
• Submit three forms: 1. Nominee Personal Information Form completed by
the student. 2. Nominator Form completed by an educator familiar with the
student's academic record. #3. Recommender Form completed by a
person familiar with the student's leadership and community service
• The Hispanic Scholarship Fund (HSF) is the nation's leading
Hispanic scholarship organization, providing the Hispanic
community more college scholarships and educational outreach
support than any other organization in the country.
• In its 34 year history, the Hispanic Scholarship Fund has awarded
close to $280M in scholarships to more than 90,000 students in
need.
• Two-thirds of these students were the first in their families to go to
college.
• For the 2008-2009 academic year, 4,600 college bound Hispanic
students were awarded scholarships worth $28M.
• HSF scholars are high achievers and they have or are attending
close to 2,000 of the nation's diverse and academically rigorous
colleges and universities in all 50 states, Puerto Rico, Guam and
the U.S. Virgin Islands. UC Berkeley is one of those too!!
APPLY for FAFSA (Free Application for
Federal Student Aid)
What is FAFSA???
Free Application for Federal Student Aid
determines eligibility for:
•Cal Grants
•Pell Grants
•Fee-waiver (BOG)
•Work Study
•Loans (subsidized and unsubsidized)
www.fafsa.ed.gov
Applying for FAFSA
What do you need??
•Social Security Number
•Driver's License
•Income Tax Returns (If haven't filed
them put estimated amount and GO BACK
and update them once they are filed)
•Create a Pin Number for student
and parent (Same Pin number every
time you apply)
• 30 Minutes
Deadline: March 2nd
Keep a copy for your records!
•Cal Grant A
•Community College Reserve Grant
•California Community College Transfer
Entitlement Cal Grant
•Cal Grant B
What is a Cal Grant?
• Awards that are state funded given to
students to help pay for their college
expenses. These awards do not have to be
paid back.
CAL-GRANT
• Its only available for CALIFORNIA residents
whom are enrolled and attending a college
or university of CALIFORNIA
Federal Grants
Federal Pell Grant:
•You don't have to pay it back!
•Offered to students who have not received their first
Bachelors of Arts
• $400 to $4,500 per year
Cal Grant A
•3.0 GPA, a California resident, must need financial assistance, and be attaining a
first degree
•CSU and UC Schools: up to $5,970 and $12,192 respectively
•Private: up to $9,223 towards tuition and fees
Cal Grant B
•2.0 GPA, a California resident, must need financial assistance, be attaining a first
degree, and first generation to attend college.
First year = 1,473. Additional Years = Cal Grant A + $1,473
•Pays tuition and fees, books, living expenses, and transportation
Cal Grant C
•2.0 GPA, a California resident, must need financial assistance, and be attending
vocational school
•$547 for books, and up to $2,462
• Complete the Free Application for Federal Student Aid (FAFSA
) or California Dream Act Application (beginning in 2013) by
March 2 every year
• Complete the GPA Verification Form: must be certified by the high school
and sent to the California Student Aid Commission
-For high school seniors: check is your school does it for you already
• Have a Social Security number or meet AB540 criteria
• Be enrolled at least half time in college
• If you were home-schooled or attended a charter school you must submit
your ACT, SAT or GED score
• If you have a GED, submit your GED score directly to the California
Student Aid Commission.
Are administered by the college and are for
students with exceptional financial need.
Loans with low interest rates (5%) available
for students who demonstrate financial need
The University or College is the loaner and
you start paying the loan 9 months after you
graduate or end school, which ever comes
first
Amount awarded is based on school's budget
SUBSIDIZED
UNSUBSIDIZED
PAYMENT STARTS 6
MONTHS AFTER THE
LAST DAY OF
ATTENDANCE AND...
PAYMENT STARTS 6 MONTHS
AFTER THE LAST DAY OF
ATTENDANCE BUT...
The federal government pays the
interest on subsidized loans while
you are in school and during the
first six months after you graduate,
withdraw, or enroll less than halftime.
You're responsible for paying
interest that accrues OR let it
accumulate while in college, but
interest will be added to the amount
you borrowed, and future interest
will be based on the NEW higher
loan amount.
•Loans that may be borrowed by parents to pay their
students education if the student is still dependent
and is enrolled in the school at least half-time.
•Loan is based on credit
•Plus Loans are unsubsidized
•PLUS loans have a variable interest rate, with a cap of 9
percent
•Interest starts to accrue immediately, with repayment beginning
within 60 days after the it is fully dispersed
•"Plus" can be defermented while the student is attending school
BUT the interest will accure
•Interest Rate is low
•Interest rates can be
higher than most
educational loans
depending on the
Borrower, credit
history and job
employment
•Eligibility for loan is
based on financial
aid need/cost
•Most private loans
are deferrable but not
all
•Educational loans
go into repayment 6
months after you
graduate or stop
attending school
Loan Type
Loan Fee
In-School
Repay
Perkins
0%
0%
5%
Sub
1.5%
0%
5.6%*
Unsub
1.5%
6.8%
6.8%
PLUS (Direct)
4%
7.9%
7.9%
Interest rates for new loans are reset annually on July 1st
4 Year Universities
Living on
Campus
CSU
UC
Private
TOTAL:
$23,430
$31,700
$40,411
Living with
parents
CSU
UC
Private
TOTAL:
$17,124
$28,600
$35,114
Median Annual Earnings of Adults Age 25 and Over (Full-Time
Workers), 2011
Source: Bureau of Labor Statistics, Current Population Survey, Annual Social and Economic Supplement. Last Modified Date:
March 23, 2012
• The CSU system is
composed of 23
campuses
• Admission offices
use three factors to
determine eligibility
1. Have completed A-G
requirements with a
C or better
2. High School G.P.A
and SAT/ACT scores
3. High school diploma
• The UC system is
composed of 10
campuses
• Requirements
1.Earn a grade point
average (GPA) of 3.0
or better (3.4 if you're a
nonresident) in A-G
classes with no grade
lower than a C.
2. Meet the
examination
requirement by taking
the ACT Plus Writing or
the SAT Reasoning
Test by December of
your Senior year
This process takes time!
Filling out the FAFSA and getting the
required paperwork takes a while so give
yourself PLENTY of time!
Nobody is perfect...
Make copies of all your paperwork, your
Financial Aid information as well as your
Applications for schools.
Try not to worry!
The money IS out there, your job is to
find it!
• Calgrants.org
• Californiacolleges.edu
• Fafsa.ed.gov
• Fastweb.com
• Finaid.org
• Maldef.org
• Scholarshare.com
• Studentaid.ed.gov
Thank you!
We wish you the best in helping your kids
save for college. It's never too early.
-From LBSA to you all
Questions?