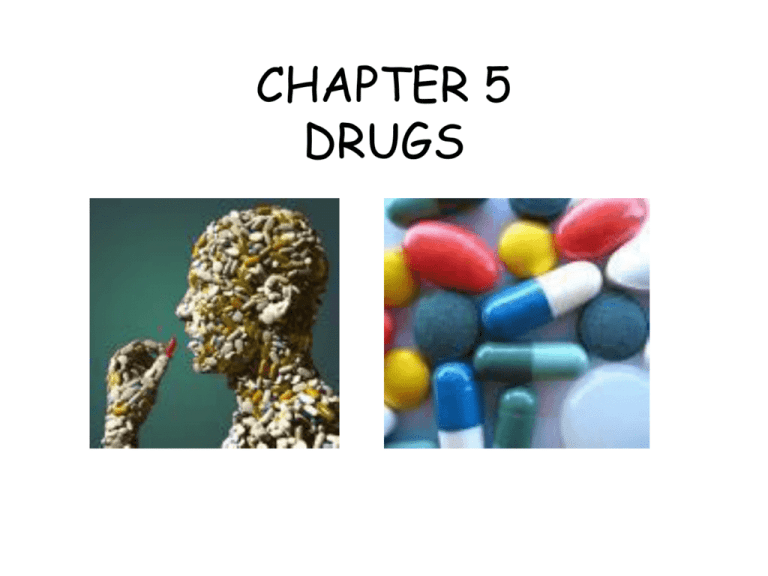 CHAPTER 5
DRUGS
NARCOTICS
• Narcotics are drugs that induce sleep and
relieve pain.
• The term narcotic is used incorrectly
today…for example the cocaine is labeled as
a narcotic but is actually a stimulant
• Marijuana has been classified as narcotic
but is actually a hallucinogen
• OPIATES like Heroin, Morphine, OxyContin,
Methadone and Codeine are narcotic.
OxyContin
What is the difference between
Vicoden, OxyContin, Percocet and
Percodan
• Hydrocodone= Vicoden
• Oxycodone = OxyContin (has one extra
hydroxyl group –OH) Doses start at 10mg80mg
• Percocet= 5mg Oxycodone +
Acetamimophen 325mg
• Percodan= 5mg Oxycodone+ Aspirin
Depressants
• OxyContin
• Oxycodone
vs
vs
Vicoden
Hydrocodone
Depressants
• Depressants depress (slows down) the central
nervous system and reduce pain relieving
stress, anxiety, and fear putting the person at
ease.
•
•
•
•
•
ALCOHOL is the number one used depressant.
Alprazolam (Xanax)
Diazepam (Valium)
Barbiturates (phenobarbital)
**Heroin
Inhalants
• Inhalants such as glue, paint thinner, and
hair spray are also considered
depressants and have the same effect as
alcohol.
Stimulants
• Stimulates elevate the mood, producing feelings of
excitement, feeling good, and euphoria.
• It increases the CNS, pulse and blood pressure
• Stimulants give the user an adrenaline rush often
followed by a crash.
• Heavy use of stimulants result in paranoia, restlessness,
fidgetiness, (constant body movements), apathy,
irritability, and depression.
• The most frequently used stimulant is coffee
with caffeine.
• The most common illegal stimulant is cocaine
and amphetamines.
How much caffeine is in your
drink?
•
•
•
•
•
•
Coke 35mg
Mountain Dew 55mg
Coffee 50-100mg
Red Bull 80mg
Monster 160mg (2)
REDLINE 325mg (2)
No Name: energy drink
• May 5, 2007 pulled from self because name was said to
be immoral and promoted illegal substance abuse.
• Had 240 mg caffeine and 750 mg of taurine (found in
seafood and meat…58mg is the average daily intake)
• Taurine give energy and has many health benefits
Amphetamines
• A group of synthetic stimulants that are
usually called UPPERS or SPEED.
• Used in diet pills
• Hydroxycut with Ephedra
COCAINE
• Erythroxoylon coca – the plant
• Causes a euphoric sensation
• Suppression of hunger, fatigue, and
boredom
Nicotine
• Is also a stimulant
• Found in cigarettes
Hallucinogens
• Hallucinogens alter perceptual functions or
better known as mind-altering drugs.
• There are no legalized hallucinogens as
this type of drug is extremely dangerous
and unpredictable.
• The most frequently used hallucinogens
are LSD and PCP and mushrooms.
• Marijuana is a hallucinogen
Hallucinogens
• Users may experience what is known as a
"good" trip or a "bad" trip.
• A "Bad" trip, which is similar to a panic or anxiety
attack, can result in violent behavior toward
oneself or someone else or the person can
suffer a mental breakdown.
Marijuana
• Marijuana wouldn't cause the gross
hallucinations of hallucinogens or the
adrenaline rush of stimulant, nor the
complete reduction in pain or immense
relaxation of depressants.
Club Drugs
• Synthetic drugs that are often used at
nightclubs, bars and raves (all night dance
parties)
• MDMA- Ecstasy
• *GHB- Gamma Hydrobutyrate
–
(Depressant)
• *Rohyphnol- Roofies (like Xanax/Valium)
• Ketamine (Special K)- horse tranquilzer
• Methamphetamine
* Central nervous system depressants associated
with sexual assault/ rape/ robbery. They are
odorless, colorless, tasteless thus remain
undetected when sipped in a drink
STEROIDS- a class of drugs
Anabolic Steroids
• Anabolic- muscle building
• Performance enhancing
drugs
• Usually given by shots
• Could be used by DR for
growth hormone
treatment or cancer pts
Corticosteriods
• Used to treat an allergic
reaction or inflammatory
issue
• LEGAL
• Can be a shot or pills
• Not used by athletes
Anabolic Steroids
• Synthetic compounds chemically related to
the male sex hormone testosterone that
are used to promote muscle growth
• Could be used by a doctor by Rx for
growth or
Corticosteroids
Drugs closely related to cortisol, a hormone
which is naturally produced in the adrenal cortex
Corticosteroids act on the immune system
by blocking the production of substances
that trigger allergic and inflammatory
actions, (such as prostaglandins).
•
•
•
•
•
•
Corticosteroids include:
Betamethasone (Celestone)
Budesonide (Entocort EC)
Cortisone (Cortone)
Dexamethasone (Decadron)
Triamcinolone (Kenacort, Kenalog)
Hydrocortisone (Cortef)
Methylprednisolone (Medrol)
Prednisolone (Prelone)
Prednisone (Deltasone)
Steroids vs NSAID
• Both used to reduce inflammation
• NSAID= Non-steroidal anti-inflammatory
drugs
• Non-narcotic
• Over-the-counter
• Tylenol= Acetaminophen
• Advil= Ibuprofen
• Bayer= Aspirin (Acetylsalicylic acid)
• Aleve= Naproxen
DO NOT MIX:
• Aleve with Aspirin- anticoagulants
• Tylenol with alcohol (Toxic to liver)
• Overdosing on Tylenol leads to toxicity of the
liver.
• When pregnant, Tylenol can be taken for pain or
fever reducer.
• Aspirin is not used for the flu
• All NSAID can cause stomach reflux or ulcers
• Aleve can make your skin sensitive to sunlight
DEA
Drug Schedule
The DEA categorizes drugs into 5 schedules
Schedule I
• Schedule I drugs have a high tendency for
abuse and have no accepted medical use.
• This schedule includes drugs such as Marijuana,
Heroin, Ecstasy, LSD, and GHB.
• Recent activists have tried to change the
schedule for Marijuana citing the possible
medical benefits of the drug.
• Pharmacies do not sell Schedule I drugs, and
they are not available with a prescription by
physician.
Schedule II
• Schedule II drugs have a high tendency for
abuse, may have an accepted medical use, and
can produce dependency or addiction with
chronic use.
• This schedule includes examples such as
Cocaine, Opium, Morphine, Fentanyl,
Amphetamines, and Methamphetamines.
• Schedule II drugs may be available with a
prescription by a physician, but not all
pharmacies may carry them.
• These drugs require more stringent records and
storage procedures than drugs in Schedules III
and IV.
Schedule III
• Schedule III Drugs
Schedule III drugs have less potential for abuse
or addiction than drugs in the first two schedules
and have a currently accepted medical use.
• Examples of Schedule III drugs include Anabolic
steroids, Codeine, Ketamine, Hydrocodone with
Aspirin, and Hydrocodone with Acetaminophen.
• Schedule III drugs may be available with a
prescription, but not all pharmacies may carry
them.
Schedule IV
• Schedule IV drugs have a low potential for
abuse, have a currently accepted medical use,
has a low chance for addiction or limited
addictive properties.
• Examples of Schedule IV drugs include Valium,
Xanax, Phenobarbital, and Rohypnol (commonly
known as the "date rape" drug).
• These drugs may be available with a
prescription, but not all pharmacies may carry
them.
Schedule V
• Schedule V drugs have a lower chance of abuse
than Schedule IV drugs, have a currently
accepted medical use in the US, and lesser
chance or side effects of dependence compared
to Schedule IV drugs.
• This schedule includes such drugs as cough
suppressants with Codeine.
• Schedule V drugs are regulated but generally do
not require a prescription.