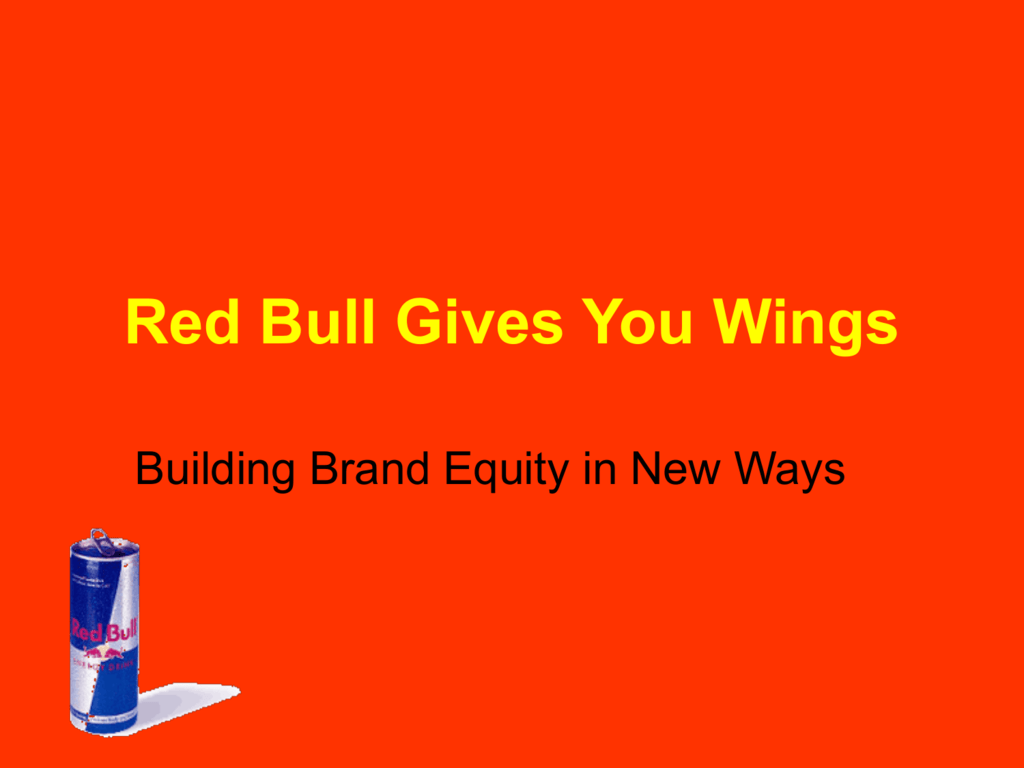 Red Bull Gives You Wings
Building Brand Equity in New Ways
The Product Launch
• 1987 Austria & gradual European roll
out.
• By 1997 Red Bull was available in 25
markets globally
• Red Bull maintained its energy drink
market share lead in every mature
market
Designing the Product
• Invented the "functional energy"
beverage category
• Claims
– Improved physical endurance
– Stimulates metabolism and helps
eliminates waste substances
– Improves overall feeling of well being
– Improves reaction speed and concentration
– Increases mental alertness
Packaging, Positioning &
Price
• Red Bull logo – silver can; only buy singles
• Revitalizes body and mind – any occasion
where you need a lift
• Early adopters – truck drivers, students,
clubbers and ravers (mixer)
• Premium pricing strategy – 10% greater than
most expensive competitor ($1.99 – 3.00 per
can)
Marketing Red Bull
• Product trial is KEY
• Word of mouth (testimonials from peers)
• Event sponsorships, athlete endorsers,
sampling, POP's and some electronic media
• Mystification of Red Bull
• Market entry: in shops, clubs, bars – cultural
elite and opinion leaders; available to action
sports athletes, entertainment celebrities &
hip urbanites.
Marketing Red Bull
• After "premarketing" to build excitement, then
expand presence – WOM still the driver
• Mass market via supermarkets is last step
• Other premarketing activities: extreme
sporting event sponsorship and TV where RB
not yet available.
• Brand ambassadors
Marketing Red Bull
• Did not define a specific demographic or
psychographics – base segments on need
• Mature markets – 14-19 age and 20-29 age
• Advertising – adult cartoon with famous
characters; communicated product benefits
w/o psychological results
• Advertising – adopted globally
• Sampling is the key to product trial - usage
Marketing Red Bull
• Branded Mini Cooper
• Student brand managers for campus
• Events – Red Bull Soapbox Race, Flying Day,
Snowthrill, Cliff Diving World Tour
• Sports marketing – action sports
• POPs – miniature glass refrigerators and
visible aluminum window stickers
• Used "cells" in the US – Ca was first
Competition
• UK – Virgin dt; AB – 180; Coke – Burn;
Pepsi – SoBe Adrenaline Rush and
Mountain Dew Amp and host of the
brands
• Competition varies by country
• No competitor has more market share
Challenges
• What are Red Bull's sources of brand
equity?
• How can Red Bull maintain their
marketing momentum?
• Is this a "fleeting product"? If so, then
what?