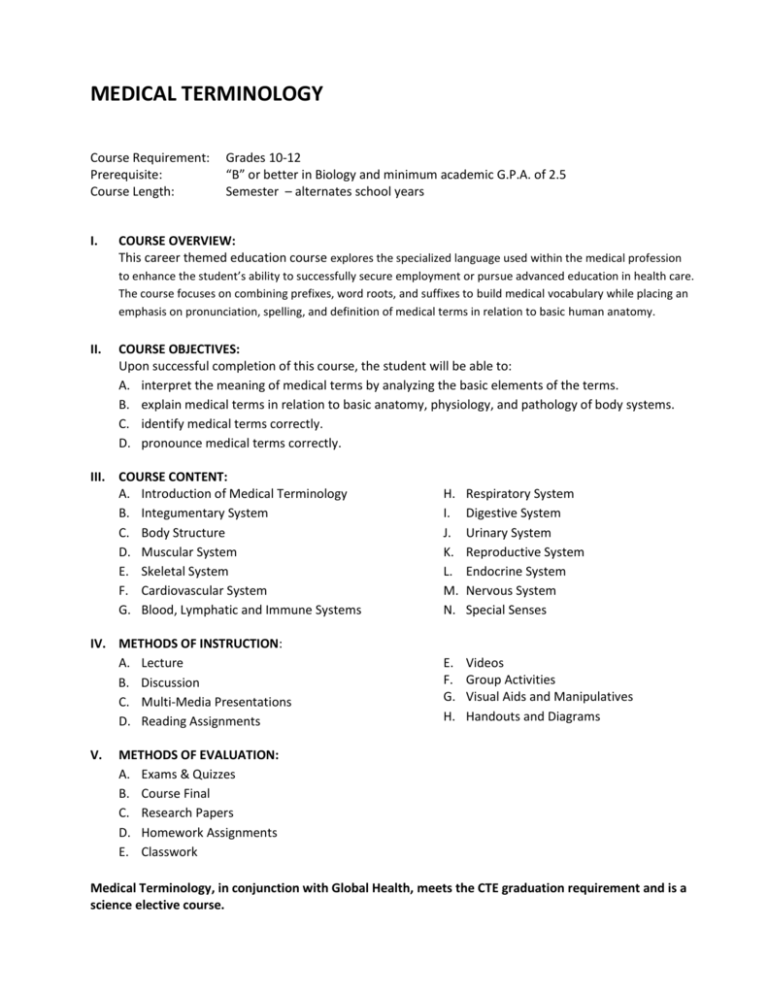 MEDICAL TERMINOLOGY
Course Requirement:
Prerequisite:
Course Length:
I.
Grades 10-12
"B" or better in Biology and minimum academic G.P.A. of 2.5
Semester – alternates school years
COURSE OVERVIEW:
This career themed education course explores the specialized language used within the medical profession
to enhance the student's ability to successfully secure employment or pursue advanced education in health care.
The course focuses on combining prefixes, word roots, and suffixes to build medical vocabulary while placing an
emphasis on pronunciation, spelling, and definition of medical terms in relation to basic human anatomy.
II.
COURSE OBJECTIVES:
Upon successful completion of this course, the student will be able to:
A. interpret the meaning of medical terms by analyzing the basic elements of the terms.
B. explain medical terms in relation to basic anatomy, physiology, and pathology of body systems.
C. identify medical terms correctly.
D. pronounce medical terms correctly.
III. COURSE CONTENT:
A. Introduction of Medical Terminology
B. Integumentary System
C. Body Structure
D. Muscular System
E. Skeletal System
F. Cardiovascular System
G. Blood, Lymphatic and Immune Systems
H.
I.
J.
K.
L.
M.
N.
Respiratory System
Digestive System
Urinary System
Reproductive System
Endocrine System
Nervous System
Special Senses
IV. METHODS OF INSTRUCTION:
A. Lecture
B. Discussion
C. Multi-Media Presentations
D. Reading Assignments
E.
F.
G.
H.
Videos
Group Activities
Visual Aids and Manipulatives
Handouts and Diagrams
V.
METHODS OF EVALUATION:
A. Exams & Quizzes
B. Course Final
C. Research Papers
D. Homework Assignments
E. Classwork
Medical Terminology, in conjunction with Global Health, meets the CTE graduation requirement and is a
science elective course.