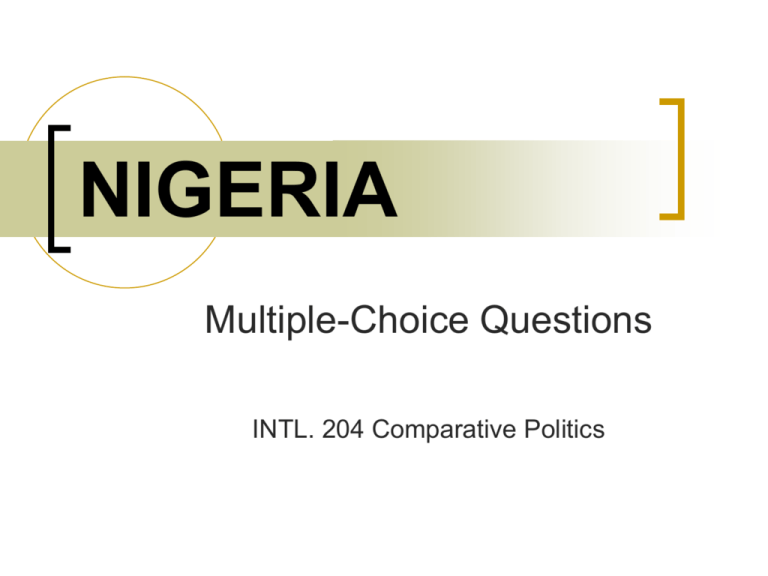 NIGERIA
Multiple-Choice Questions
INTL. 204 Comparative Politics
Question 1:

Between 1805 and 1960, the colonial
rulers of Nigeria were
a.
French
Portuguese
British
German
b.
c.
d.
Question 2:

In the 16th and 17th century, the
major source of export income was
a.
Cotton
Cocoa
Slaves
Peanuts
b.
c.
d.
Question 3:

The strategy of "indirect rule"
a.
Supported the rule of traditional leaders
Meant that only British military noncommissioned officers were in charge
Allowed for the development of indigenous
political parties
Allowed intervention into everyday life by
the colonizers
b.
c.
d.
Question 4:

The "dependency ratio" is a measure of
a.
The proportion of non-working population to
working population
The proportion of individuals on government
welfare to those not on government welfare
The degree to which the country is dependent on
foreign aid
A measure designed to indicate dependency on
foreign imports vs. exports
b.
c.
d.
Question 5:

Petroleum production began to be a
significant export earning in
a.
the 1950s
the 1960s
the 1970s
the 1980s
b.
c.
d.
Question 6:

Oil revenues accrue to
a.
private companies
foreign companies
region where the oil is produced
the state of Nigeria
b.
c.
d.
Question 7:

Which groups have most influence on
the Nigerian state?
a.
associational groups
nonassociational groups
religious and ethnic groups
institutional groups
b.
c.
d.
Question 8:

Multiple ethnic identities have had
a.
A fragmenting effect on political structure
A unifying effect given the consensus on
ideology
No effect whatsoever
Increasingly less influence in Nigerian
politics
b.
c.
d.
Question 9:

Where the south is generally a mixture of
indigenous religions and Christianity, the
north is primarily
a.
Islamic
Catholic
Animist
Hindu
b.
c.
d.
Question 10:

The Biafran War took place in
a.
1948
1954
1967
1983
b.
c.
d.
Question 11:

Another word for clientelism is
a.
Business associate
Patronage
Corruption
Accountability
b.
c.
d.
Question 12:

The official language of Nigeria is
a.
Hausa-Fulani
French
English
There is no official language
b.
c.
d.
Question 13:

Nigerian federalism is supported
largely by
a.
Control over petroleum revenues
Federal military and police units
Consensus of the ethnic groups
Adherence to Constitutional principles
b.
c.
d.
Question 14:

The organizational base of most
political parties is
a.
the family and community
religious factions
labor unions
ethnic and regional
b.
c.
d.
Question 15:

ECOWAS is a regional organization
that is active
a.
as a political organization
in support of the development of free
trade zones
as a regional security organization
All of the above
b.
c.
d.