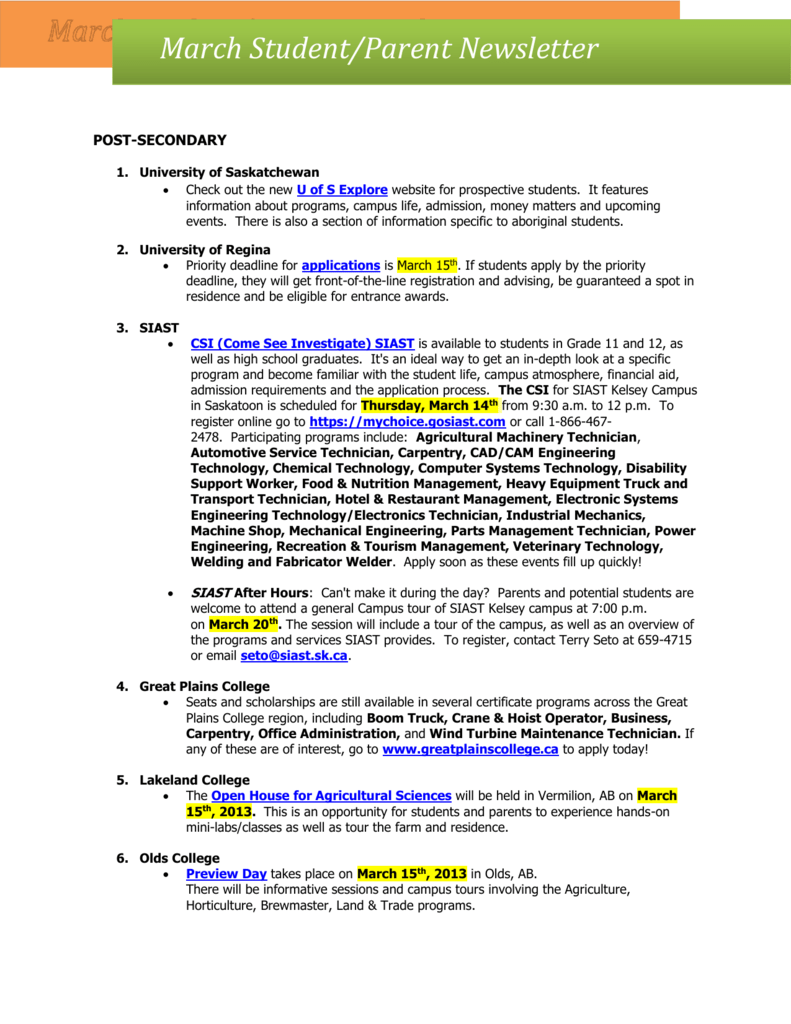 March Student/Parent Newsletter
POST-SECONDARY
1. University of Saskatchewan
 Check out the new U of S Explore website for prospective students. It features
information about programs, campus life, admission, money matters and upcoming
events. There is also a section of information specific to aboriginal students.
2. University of Regina
 Priority deadline for applications is March 15th. If students apply by the priority
deadline, they will get front-of-the-line registration and advising, be guaranteed a spot in
residence and be eligible for entrance awards.
3. SIAST
 CSI (Come See Investigate) SIAST is available to students in Grade 11 and 12, as
well as high school graduates. It's an ideal way to get an in-depth look at a specific
program and become familiar with the student life, campus atmosphere, financial aid,
admission requirements and the application process. The CSI for SIAST Kelsey Campus
in Saskatoon is scheduled for Thursday, March 14th from 9:30 a.m. to 12 p.m. To
register online go to https://mychoice.gosiast.com or call 1-866-4672478. Participating programs include: Agricultural Machinery Technician,
Automotive Service Technician, Carpentry, CAD/CAM Engineering
Technology, Chemical Technology, Computer Systems Technology, Disability
Support Worker, Food & Nutrition Management, Heavy Equipment Truck and
Transport Technician, Hotel & Restaurant Management, Electronic Systems
Engineering Technology/Electronics Technician, Industrial Mechanics,
Machine Shop, Mechanical Engineering, Parts Management Technician, Power
Engineering, Recreation & Tourism Management, Veterinary Technology,
Welding and Fabricator Welder. Apply soon as these events fill up quickly!

SIAST After Hours: Can't make it during the day? Parents and potential students are
welcome to attend a general Campus tour of SIAST Kelsey campus at 7:00 p.m.
on March 20th. The session will include a tour of the campus, as well as an overview of
the programs and services SIAST provides. To register, contact Terry Seto at 659-4715
or email [email protected]
4. Great Plains College
 Seats and scholarships are still available in several certificate programs across the Great
Plains College region, including Boom Truck, Crane & Hoist Operator, Business,
Carpentry, Office Administration, and Wind Turbine Maintenance Technician. If
any of these are of interest, go to www.greatplainscollege.ca to apply today!
5. Lakeland College
 The Open House for Agricultural Sciences will be held in Vermilion, AB on March
15th, 2013. This is an opportunity for students and parents to experience hands-on
mini-labs/classes as well as tour the farm and residence.
6. Olds College
 Preview Day takes place on March 15th, 2013 in Olds, AB.
There will be informative sessions and campus tours involving the Agriculture,
Horticulture, Brewmaster, Land & Trade programs.
7. Centre for Arts & Technology (Kelowna, Fredericton & Halifax campuses)

Interested in digital arts and technical training? Program offerings include: 2D
Animation & Digital Art, Animation for Game, Film & Visual Effects, Audio Engineering &
Production, Electronic Music & Production, Studio Production, Digital Filmmaking, Digital
Fusion Filmmaking, Digital Photography, Event & Promotions Management, Fashion
Design & Merchandising, Graphic Design & Web Development, Graphic & Digital Design,
Interior Design and Network Security Specialist/Administrator.
8. Regional Colleges

SaskColleges.ca is a website that provides access to information about each of the
seven Saskatchewan Regional Colleges. These colleges often offer SIAST and university
courses in addition to a wide range of other programming.
SCHOLARSHIPS
1. Please note that the 2013 Entrance Award Competition for the University of Regina has
extended the application deadline to March 20, 2013. While it is ideal for students to have a
U of R ID number when they register on SAMS (the new Student Award Management
System), it is not a requirement. However, students must have applied for admission to be
eligible for consideration. Contact the Student Awards and Financial Aid office at 306-585-5556 or
[email protected] if you have any questions.
2. The Oddfellows and Rebekahs of Saskatchewan sponsor $1,000 bursaries for students
deemed most worthy and in need of financial assistance. The bursary must be used in the year
it is awarded and the deadline to apply is March 22, 2013. Students must have an average of
at least 75% in Grade 11 and 12 to qualify. The application forms contain additional eligibility
criteria and are available from Karen Erickson at [email protected] or (306) 3742065.
3.
Every year, SaskTel awards scholarships of $3,000 to students attending post-secondary
institutions in Saskatchewan who are studying in a field directly related to
telecommunications. To be eligible, students must (i) be Saskatchewan residents, (ii) be enrolled
or plan to enrol in full-time studies (for at least 8 months) at a post-secondary educational
institution in Saskatchewan, (iii) be enrolled in a degree, diploma, or certificate program directly
related to telecommunications (programs may include Computer Science, Engineering (electrical,
electronic, computer, software, telecommunications), Accounting, and Business Administration;
and (iv) have a minimum 75% average in most recent educational standing. The deadline for
applications is March 31, 2013.
4. Hy-Tech Drilling Scholarships are awarded to students in Saskatoon & surrounding area who
are leaders and role models in their schools and communities. They offer 3 different $1,000
scholarships to support students who demonstrate a balanced lifestyle and commitment to a
post-secondary education which will enhance their opportunity to develop innovative
solutions. The scholarships include: (1) "Mechanical Mind" (Trade School) -- students pursuing
an educational path in welding, machining, or mechanics will be considered priority applicants;
(2) "Left Lateral Leap" -- students pursuing an educational path which emphasizes innovative
thinking will be considered priority applicants; and (3) "The Creative Arts" -- geared to students
pursuing a full-time post-secondary education within a Creative Arts discipline, but students
pursuing an education in Jazz Band will be considered priority applicants. While there are priority
applicants for each scholarship, general admission students are also encouraged to apply. The
deadline for applications is April 30, 2013. Application forms are available from your Career
Guidance counsellor. You can also contact [email protected] or call 306-683-0303.
5. Great Grade 11 marks are worth a lot when you apply to Lakeland College. Students in
Grade 12 who had a Grade 11 average of 85% or higher have already won a $1,500 to $3,500
scholarship towards their tuition for: Accounting Technician, Agribusiness, Business, Educational
Assistant, Environmental Sciences and University Transfer. Students must apply for admission by
June 30, 2013 in order to cash in!
6. The CMA High School Scholarship of $1,000 is available to one graduating high school
student who is entering an accounting program at the University of Regina or the University of
Saskatchewan. To apply, applicants should send a letter of application to the CMA office by July
31, 2013, along with a 250 word essay explaining why they have chosen to pursue a career in
accounting. The scholarship will be awarded to the student with the highest GPA in Grade 12.
7. The Wayne Eger ESL Scholarship fund of $1000 will be provided annually to a student who is
a recent immigrant or refugee, is a Saskatchewan resident and is enrolled or about to be enrolled
in a provincially recognized post-secondary institution or enrolled to take PLAR exams which will
further their education or professional development. The applicant has to demonstrate financial
need.
8. Saskatchewan students can apply for a $200 bursary to cover the cost for safety training through
the Saskatchewan Safety Council Early Safety Training Program. Eligible youth will complete
four courses: WHMIS, Standard First Aid &CPR, OHS and an elective course.
9. Looking for information about student loans, grants and estimated costs of post-secondary
education? Check out CanLearn for a wealth of information. Saskatchewan student loan
applications will be available in June.
TRADES INFORMATION
1. Skills Work! A Conference for Young Women will be held at Mount Royal Collegiate in
Saskatoon on April 26, 2013. Female students from Grade 9 to 12 will have the opportunity to
meet women who love their trades and technology careers, network with other Grade 9 to 12
women, participate in a team engineering activity, learn about apprenticeship and view the Skills
Canada Competition. The deadline for applications is April 1st. For more information contact
[email protected]
CAREERS & CAREER EVENTS
1. Spotlight on Careers is a series of tours to businesses and educational institutions where each
"Spotlight" highlights a career providing students, primarily in Grades 11 and 12, exposure to a
multitude of career possibilities. Students have until March 7th to apply online for one of the
following Spotlights:




March 19, 2013: Veterinary, Veterinary Technology and related careers (SIAST Vet Tech
program, U of S Veterinary program, and Central Animal Hospital)
March 19, 2013: Computer Science and Technologies (SIAST Computer Technology program,
U of S Computer Science program, ZU Communications)
March 20, 2013: Engineering and related careers (SIAST Engineering programs, Saskatoon
Light and Power and Environmental Services, current Engineering student)
March 20, 2013: Hairstyling and Esthetics (Marca College, Spa Academy, Professional
Hairstylist)
2. The 21st-century Canadian forest products industry, with the help of the Government of Canada, has
launched a resource tool which provides information on the industry, current and available career
opportunities across Canada, and career descriptions for the most in-demand careers in the industry. Go
to The Greenest Workforce to learn more, including salary expectations, educational requirements for
the most high-demand jobs in the industry and more.
OTHER OPPORTUNITIES
1. Grade 11 and 12 students: The NSCF (National Student Commonwealth Forum) is a weeklong forum of discussion, brainstorming, role-playing and learning. Delegates will learn about different
cultures, countries, institutions and contemporary issues all set in the backdrop of the University of
Ottawa and Parliament Hill. NSCF is based around the Commonwealth, its member states, its structure
and its values. This year the NSCF will be held from May 5th to May 10th, 2013 in
Ottawa, Ontario. The cost is $280 and applications will be accepted until March 15th. This is an
excellent program and is a great opportunity for students to meet other like-minded individuals from
across the country.
2. Duke of Edinburgh participants: The provincial association has an adventurous
journey scheduled for March 15-17, 2013 at the Saskaire Outdoor Education Center near Arcola,
SK. The weekend will include sleeping outdoors overnight, snowshoeing & winter shelter
building. Email [email protected] or call 1-866-319-3853 if you are interested. This is a
great opportunity to complete the adventurous journey portion of your Duke of Edinburgh Award -- while
preliminary training would need to be completed prior to the weekend, this would count as a practice or
qualifying journey for the Bronze Level or as practice for Silver and Gold candidates.
3. The Alberta College of Art & Design provides a unique Pre-College Program as a concentrated
introduction to post-secondary art and design studies. It is a fully credited ACAD First Year Studies
elective that immerses high school students in post-secondary learning in art and design. The program
mirrors contemporary art + design practice and simulates the pace and expectations of college
experience. It is structured to prepare students for a successful transition into post-secondary education.
This year, the program will run from July 8 - August 2 at Alberta College of Art + Design in Calgary,
Alberta. It is open to high school students who have completed grade 11 or 12 and includes four full
weeks of intense studio instruction, field trips, social events, evening activities, an individual portfolio
review and final exhibition. Each year, ACAD offers full and partial bursaries to financially
challenged students and those Bursaries are applied to the course fee which includes all supplies and
activities fees. The deadline for the ACAD Pre-College Program President's Fund Bursaries is April 30,
2013. Contact [email protected] if you require further information.
4. If you are an Aboriginal youth, and are interested in a challenging summer experience that delivers
hands-on skills development, encourages teamwork, provides physical fitness and promotes cultural
awareness, then Bold Eagle is the program for you! It is a unique summer employment program that
combines Aboriginal culture and teachings with military training. It's a challenging, yet rewarding
opportunity that helps to develop self-confidence, self-discipline, teamwork, time management, respect
and fitness. The program will be held in Wainwright, AB from July 8 to August 16,
2013. The deadline to apply is April 30, 2013.
5. Students on Ice is thrilled to announce the launch of the 2013 Antarctic Leacross Scholarships!
These scholarships are available for female Canadian high school students between the ages 14-18
to participate in the upcoming expedition to Antarctica in December of this year. Five fully-funded
scholarships (worth over $13,000) are being made available this year through the generous support of
the Leacross Foundation. This expedition represents a once-in-a lifetime opportunity for youth to expand
their knowledge of the polar region and to gain a global perspective on the Antarctic, its wonders, and its
present and future challenges. Applications are due May 1st, 2013 and winners will be announced
June 1st. Do not hesitate to contact SOI at [email protected] or call 1-866-336-6423
toll free if you have any questions.
6. Relevance Magazine 2013 is now available online. This valuable resource includes a Saskatchewan
job chart with job descriptions, average incomes, training and education routes and the long-term
employment prospects.
7. Interested in exploring a career in the aviation industry? The SAC (Saskatchewan Aviation
Council) has great information about a large number of aviation-related careers and training programs
based in Saskatoon.