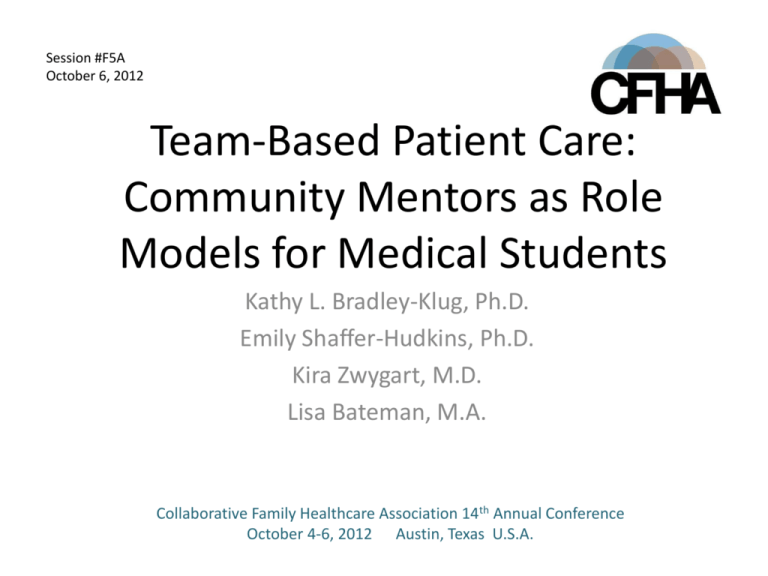 Session #F5A
October 6, 2012
Team-Based Patient Care:
Community Mentors as Role
Models for Medical Students
Kathy L. Bradley-Klug, Ph.D.
Emily Shaffer-Hudkins, Ph.D.
Kira Zwygart, M.D.
Lisa Bateman, M.A.
Collaborative Family Healthcare Association 14th Annual Conference
October 4-6, 2012 Austin, Texas U.S.A.
Faculty Disclosure
We have not had any relevant financial relationships
during the past 12 months.
Objectives
• Identify the critical components of a community based
mentoring curriculum designed to improve patient care
• Describe the importance of interdisciplinary
collaboration in the development of this training
curriculum
• Discuss the importance of action research skills in
training medical students for community based,
collaborative healthcare practice
• Understand the outcomes of this curriculum to date and
engage in a discussion of "lessons learned" for future
development of training in integrated care
Learning Assessment
A learning assessment is required for CE credit.
Attention Presenters:
Please incorporate audience interaction through a
brief Question & Answer period during or at the
conclusion of your presentation.
This component MUST be done in lieu of a written
pre- or post-test based on your learning objectives to satisfy
accreditation requirements.
Presentation Outline
• Background of the SELECT program
• The Community-Based Clinical Mentoring
(CCM) experience
• CCM content and clinical activities
• Team-based observation and interview
• Action research project
• Assessment of the CCM experience
The SELECT MD Program
Scholarly Excellence, Leadership Experiences, Collaborative Training
• Partnership between the University of South Florida
& Lehigh Valley Health Network
The SELECT MD Program
• Focus on Health Systems, Leadership and
Patient-Centered Care
• Admissions based on leadership potential and
emotional competencies
• Various didactic and clinical experiences
• Prologue, Professional Development Coaching,
Doctoring, Community-Based Clinical Mentoring,
and Summer Immersion
Basis for the SELECT Community-Based
Clinical Mentoring Experience
• Medical students often lack understanding of
team-based patient care, including conceptual
understanding of
–
–
–
–
–
Patient Centered Medical Home (PCMH)
Care of individuals with chronic health conditions
Positive psychology
Quality of life concepts
Public Health model
The SELECT Community-Based Clinical
Mentoring (CCM) Experience
• Pairs of students are assigned to clinical
mentors in interdisciplinary care teams within
Florida communities
• Visits to a patient's home or workplace helps
students to appreciate how quality of life is
affected by health status
• Action research projects developed in
collaboration with the community care team
Goals of the CCM Experience
1.
2.
3.
4.
5.
6.
7.
Demonstrate knowledge and assessment skills related
to the concept of positive psychology
Gain understanding of the quality of life concept as it
applies to patients and their families
Learn and apply the public health model
Develop communication and collaboration skills to
work effectively across disciplines
Understand clinical care models
Understand how to facilitate values based, patientcentered care at the interpersonal level
Demonstrate knowledge of action research through
direct application
Examples of CCM Objectives
• Understand how patients perceive health, quality
of life, and their impact on disease
• Actively participate in a clinical program that
incorporates a team-based approach to medical
care or a Patient Centered Medical Home
• Develop communication skills aimed at effective
collaboration across interprofessional systems and
disciplines
• Create interpersonal strategies to facilitate
improved care of patients
Student Participants
• 19 SELECT students (1st year medical students)
Community Participants
• Clinical preceptors in the community who
exemplify interdisciplinary and team-based care
• A pair of students is assigned to each site to observe
all facets of care
• Each student pair visits a patient outside of the clinic
(e.g., at patient's home, workplace, community
activity)
• Students represent an extension of the care
team
• Gain insight into how health/illness impacts a
patient's life outside of the clinical setting
Clinical Preceptor Sites: Examples
•Complex Chronic Pediatric Center at St. Joseph's
Children's Hospital
•Dunedin Primary Care
•Neonatal Intensive Care Unit (NICU) at Tampa
General Hospital
•Turley Family Health Center (BayCare, Morton
Plant Mease Hospital)
•USF Parkinson's Disease & Movement Disorders
Center Byrd Alzheimer's Institute
Student CCM Activities
• Assessment of communication among their
clinical team and development of ideas to
improve team practices
• Assessment of quality of life and/or positive
psychology constructs among their patients
• Discussion of the above findings within small
groups in class
• Completion of action research projects
developed in collaboration with their clinical
preceptors
Team Communication Interview
•SELECT CCM: Evaluating Communication
Aspects of Teamwork in Healthcare
•10-item observation tool followed by an interview
with one or more team members
•How does communication typically occur within the
team?
•What are your team's strengths regarding
communication?
•What do you see as limitations regarding optimal
communication in the team?
•What could be done differently to improve
communication in this team?
Team Communication Interview
• When you think about ideas for future direction of the
practice and/or changes to current systems, how does
communication among team members play a role?
• How would you describe the support you give one
another on this team?
• Who comprises the team, in your eyes? Is there anyone
who isn't currently on the team but who you think could
play a valuable role?
• Is there anything we haven't discussed about
communication in your team that would be important for
me to know?
Action Research Project
Purpose:
To develop a project focused on improving community
practices at your community preceptor site using CCM goals
and objectives
Process:
Plan: Work with your community preceptor to identify an
issue or area in need of empirical investigation
Act: Assess the current situation and develop applied
strategies to address the identified issue
Share: Use data to demonstrate effectiveness of applied
strategies
Reflect: Consider implications, limitations, and develop a
plan for continued improvement
Examples of Completed Projects
• End of Visit Care and Its Effect on Patient
Compliance
• Explorations of Team-Based Communication
• Multidisciplinary Care & Parkinson's: Miracle or
Mess?
• Proactively Preparing Interns for their NICU
Rotation
• There is No 'I' in Team: A Quality-Improvement
Survey
• USF Healthy Weight Clinic Intake Form
Evaluation of CCM Competencies
• Case presentation in Doctoring
• Emphasis on prevention and quality of life in
history-taking and plan of care
• Action research project poster exhibit
• Evaluation by patients, community preceptors,
and USF faculty
• Culminating case study integrating all CCM
goals
Evaluation of CCM Action Research Projects
• Rubric with competencies for each phase of
action research and presentation quality
• Each competency assessed from 0 (component
is absent) to 4 (exemplary)
• Examples of competencies:
• Issue or area of need being addressed reflects one or
more of the CCM objectives
• Appropriate tools or measures are used to assess the
current situation, with justification for their selection
provided
• The implications of the findings to the field (both with
respect to practice and future action research) are stated
CCM Program Assessment
• Faculty Feedback
• Doctoring faculty
• Professional Development coaches
• Student Feedback
• End of year student survey
• Focus groups on patient-centered care and
team-based practice
Mid-Year Student Feedback
"The one-on-one mentoring with faculty. It means a lot to
have the guidance and support of a successful faculty
member as part of our curriculum. It makes me a better
student."
"My favorite part of the SELECT program is the focus on
patient-centered care. I feel that it is essential to get to
know your patients on a more personal level rather than
viewing them as a list of signs and symptoms. The
SELECT program teaches you to ways to foster these
relationships with your patients and brings light to its
importance in providing the highest quality care."
End of Year Student Focus Groups
•Describe how your impression of the impact of a
chronic health condition has developed this past year
•Home visits showed the importance of having a support
system
•Understanding non-compliance as needing selfempowerment
•It's about working with patients not working at them
•Describe how your interactional style may have
developed in the way that you approach and
communicate with other medical professionals
•Learned to value other positions
•Know when to step back
•It's toxic to the team environment to think you can't learn
from others
Feedback for further development of CCM
•Overall, students were 'moderately satisfied' to
'very satisfied' with the CCM experience.
•The most beneficial aspects of the CCM experience
•Seeing how a strong interprofessional team interacts
•Having the opportunity to interview patients
•The home visit with patients and families
•The most challenging aspects of CCM:
•Desire to have more time at the clinic site
•Logistics of travel to and from sites
•Site-specific limitations
End of Year Student Feedback
"SELECT does not create students in some image of
what a leader should be, it provides the guidance and
support to find and follow your own passions in
medicine."
"I would say the SELECT program is putting an
emphasis on the factors that separate great physicians
from simply competent physicians."
"You learn the ins and outs of healthcare with a strong
emphasis for leading healthcare change."
End of Year Student Feedback
"Seeing how a strong interprofessional team
interacts while at the same time trying to maintain
the status quo. It showed the difficult uphill battle
ahead of us for changing minds and behaviors in
order to improve quality of care."
Questions?
SELECT Community-Based Clinical Mentoring is made possible through
"Bringing Science Home," a Patterson Foundation grant to the University of
South Florida to transform how societies and individuals manage chronic disease.
Special Thanks to the Bringing Science Home CCM Team:
Kira Zwygart, M.D.
Kathy Bradley-Klug, Ph.D.
Allesa English, M.D., Pharm.D.
Emily Shaffer-Hudkins, Ph.D.
Lisa Bateman, M.A.
Dawn Schocken, M.P.H.
Jennifer Hart, M.Ed.
Contact Information:
http://health.usf.edu/medicine/select/index.htm
Allesa English, M.D., Pharm.D.
Director, SELECT Preclinical Curriculum
Office of Educational Affairs
USF Morsani College of Medicine
813-396-9459
[email protected]
.
Session Evaluation
Please complete and return the
evaluation form to the classroom monitor
before leaving this session.
Thank you!