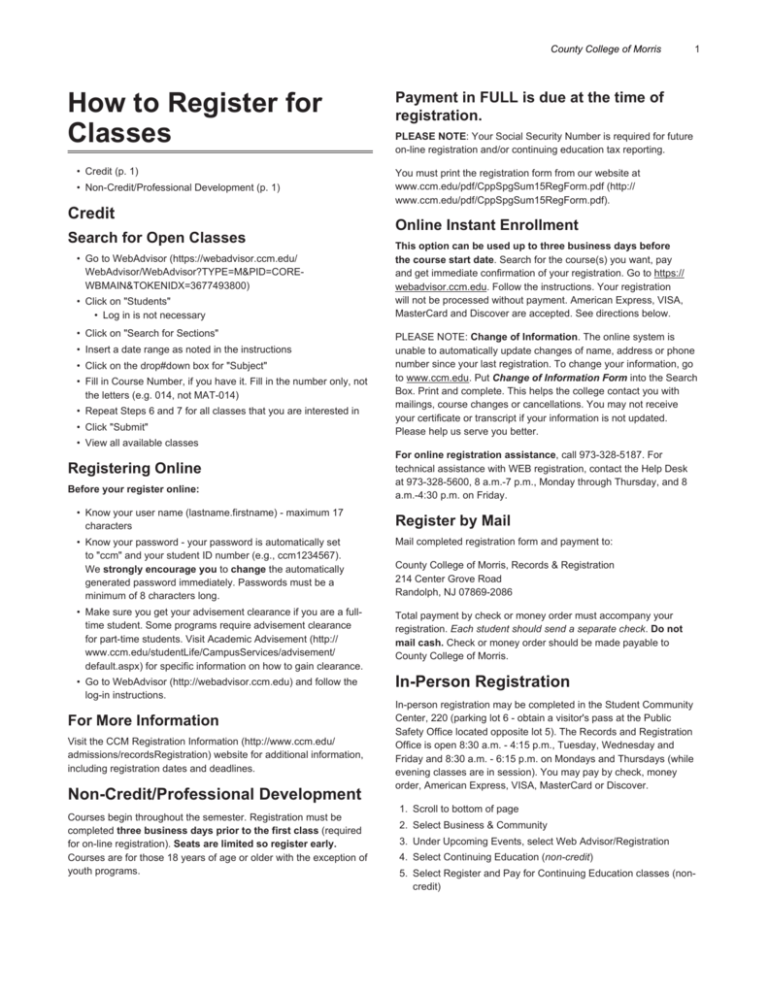 County College of Morris
How to Register for
Classes
• Credit (p. 1)
• Non-Credit/Professional Development (p. 1)
Credit
Search for Open Classes
• Go to WebAdvisor (https://webadvisor.ccm.edu/
WebAdvisor/WebAdvisor?TYPE=M&PID=COREWBMAIN&TOKENIDX=3677493800)
• Click on "Students"
• Log in is not necessary
• Click on "Search for Sections"
• Insert a date range as noted in the instructions
• Click on the drop#down box for "Subject"
• Fill in Course Number, if you have it. Fill in the number only, not
the letters (e.g. 014, not MAT-014)
• Repeat Steps 6 and 7 for all classes that you are interested in
• Click "Submit"
1
Payment in FULL is due at the time of
registration.
PLEASE NOTE: Your Social Security Number is required for future
on-line registration and/or continuing education tax reporting.
You must print the registration form from our website at
www.ccm.edu/pdf/CppSpgSum15RegForm.pdf (http://
www.ccm.edu/pdf/CppSpgSum15RegForm.pdf).
Online Instant Enrollment
This option can be used up to three business days before
the course start date. Search for the course(s) you want, pay
and get immediate confirmation of your registration. Go to https://
webadvisor.ccm.edu. Follow the instructions. Your registration
will not be processed without payment. American Express, VISA,
MasterCard and Discover are accepted. See directions below.
PLEASE NOTE: Change of Information. The online system is
unable to automatically update changes of name, address or phone
number since your last registration. To change your information, go
to www.ccm.edu. Put Change of Information Form into the Search
Box. Print and complete. This helps the college contact you with
mailings, course changes or cancellations. You may not receive
your certificate or transcript if your information is not updated.
Please help us serve you better.
• View all available classes
Registering Online
Before your register online:
• Know your user name (lastname.firstname) - maximum 17
characters
For online registration assistance, call 973-328-5187. For
technical assistance with WEB registration, contact the Help Desk
at 973-328-5600, 8 a.m.-7 p.m., Monday through Thursday, and 8
a.m.-4:30 p.m. on Friday.
Register by Mail
• Know your password - your password is automatically set
to "ccm" and your student ID number (e.g., ccm1234567).
We strongly encourage you to change the automatically
generated password immediately. Passwords must be a
minimum of 8 characters long.
Mail completed registration form and payment to:
• Make sure you get your advisement clearance if you are a fulltime student. Some programs require advisement clearance
for part-time students. Visit Academic Advisement (http://
www.ccm.edu/studentLife/CampusServices/advisement/
default.aspx) for specific information on how to gain clearance.
Total payment by check or money order must accompany your
registration. Each student should send a separate check. Do not
mail cash. Check or money order should be made payable to
County College of Morris.
• Go to WebAdvisor (http://webadvisor.ccm.edu) and follow the
log-in instructions.
In-Person Registration
For More Information
Visit the CCM Registration Information (http://www.ccm.edu/
admissions/recordsRegistration) website for additional information,
including registration dates and deadlines.
Non-Credit/Professional Development
Courses begin throughout the semester. Registration must be
completed three business days prior to the first class (required
for on-line registration). Seats are limited so register early.
Courses are for those 18 years of age or older with the exception of
youth programs.
County College of Morris, Records & Registration
214 Center Grove Road
Randolph, NJ 07869-2086
In-person registration may be completed in the Student Community
Center, 220 (parking lot 6 - obtain a visitor's pass at the Public
Safety Office located opposite lot 5). The Records and Registration
Office is open 8:30 a.m. - 4:15 p.m., Tuesday, Wednesday and
Friday and 8:30 a.m. - 6:15 p.m. on Mondays and Thursdays (while
evening classes are in session). You may pay by check, money
order, American Express, VISA, MasterCard or Discover.
1. Scroll to bottom of page
2. Select Business & Community
3. Under Upcoming Events, select Web Advisor/Registration
4. Select Continuing Education (non-credit)
5. Select Register and Pay for Continuing Education classes (noncredit)
2
How to Register for Classes
6. Enter only the course code number (example 48200) then
submit
7. Enter all required information and submit (if registering a child,
use child's name and social security number)
8. Enter credit card information
a. Credit card number no spaces or dashes
b. Expiration date, month/year
c. Name on credit card - This can be different from the
student's name
d. Email address - Please verify accuracy. Confirmation of
payment will be sent to this address
9. Click Submit
10. Print the confirmation page for your records
For More Information
Email [email protected] or call 973-328-5187.