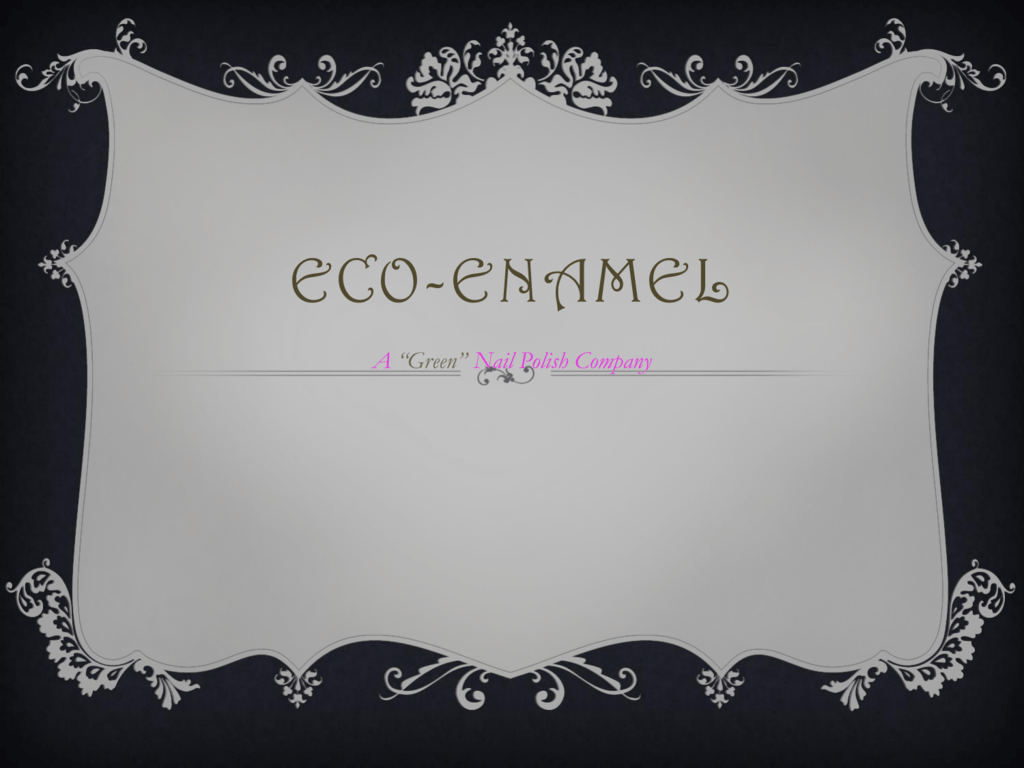 ECO-ENAMEL
A "Green" Nail Polish Company
MISSION STATEMENT
"Eco-Enamel seeks to provide stylish and trendy nail
polish that is created with environmentally friendly
products. We believe that our nail polish should be
moderately priced and high in quality. Our goal is to
become well known throughout the nation and to
accessible to not only exclusive Hollywood clients but to
everyone in general. We want people to recognize our
company as a green company and a cosmetic leader
through business growth and annual increase in profits."
THE TEAM
•
Jade Huger-Sanders
•
•
•
Fashion Marketing
Virtual Enterprise
•
Shared experience in:
•
•
Lisa Kucharczk
•
•
Keyboarding
Applications
International Business
•
International Careers
Computer Information
Systems
AP Environmental
OUR PRODUCT
 Nail polish
• Long-lasting
• Natural ingredients
• No carcinogens
• Large range of colors
 Acetone
 Brushes
MARKET SUMMARY
Sales
Skin Care
Color Cosmetics
Fragrance
Body and Bath
Men's Line
Total
Growth
$5,551
$6,173
$3,345
$3,498
$1,478
$20,045
Market Share
3.40%
28.00%
8.90%
31.00%
1.40%
17.00%
7.50%
17.00%
-2.50%
7.00%
6.60%
100.00%
DISTRIBUTION
 Prestige - department and specialty stores
• (Macy's, Neiman-Marcus, Fred Segal and Sephora)
 Broad - mass merchandisers, cosmetic discounters, drug stores, food
stores and wholesale clubs
• (Costco, Sam's Club, etc.)
 Alternate - direct sales
• (Avon, Mary Kay)
 Specialty - Spas and Salons
• (Body Shop, Bath and Body Works)
THE INDUSTRY
Customers
Competition
 MAC
 Women ages 15-64
 China Glaze
 Careers devoid of manual
 Chanel
labor
 Essie
 OPI
• Middle class or high
income
 Post-Industrialists
FIVE-YEAR PLAN
How should we expand our business
(other products? exportation?)
RESOURCE REQUIREMENTS
 List requirements for the following resources:
•
•
•
•
•
•
•
Personnel
Technology
Finances
Distribution
Promotion
Products
Services
RISKS AND REWARDS
 Summarize the risks of the proposed project and how they will be
addressed.
 Estimate expected rewards, particularly if you are seeking funding.
KEY ISSUES
 Near term
• Identify key decisions and issues that need immediate or near-term
resolution.
• State consequences of decision postponement.
 Long term
• Identify issues needing long-term resolution.
• State consequences of decision postponement.
 If you are seeking funding, be specific about any issues that
require financial resources for resolution.