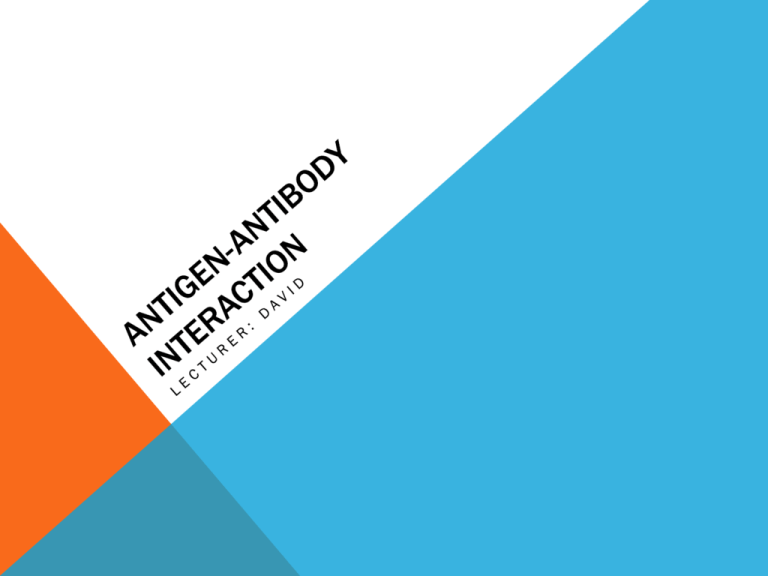 OBJECTIVES
INNATE VERSUS ADAPTIVE RESPONSE
I N N AT E
ADAPTIVE
•
•
•
•
•
•
ANTIBODY STRUCTURE
WHAT IS AN ANTIBODY??
BUT WHAT IS AN ANTIGEN???
•
SUMMARY
ANTIBODY FUNCTIONS
•
•
•
•
NEUTRALIZATION
OPSONIZATION
COMPLEMENT
AGGLUTINATION
•
•
•
•
ABO BLOOD GROUPS
THERE ARE LOTS OF TYPES OF ANTIBODIES
•
•
•
•
•
IgG
IgA
IgM
IgE
IgD
OBJECTIVES
QUESTION
Which immunoglobulin can cross the placenta?
ANSWER
IgG
QUESTION
If you mix a person with type A blood and anti-A antibodies, will agglutination occur?
ANSWER
Yes
QUESTION
What is the difference between neutralization and opsonization?
ANSWER
Neutralization – antibody binds a toxin and makes it harmless
Opsonization – antibody binds an antigen and targets it for phagocytosis
LAB TODAY
•
Today you will be simulating the Ouchterlony test.
•
This test is performed on an agar plate
•
Antigen and antibodies are placed in well and allowed to diffuse.
•
If an interaction occurs between an antibody/antigen, then a white line appears.