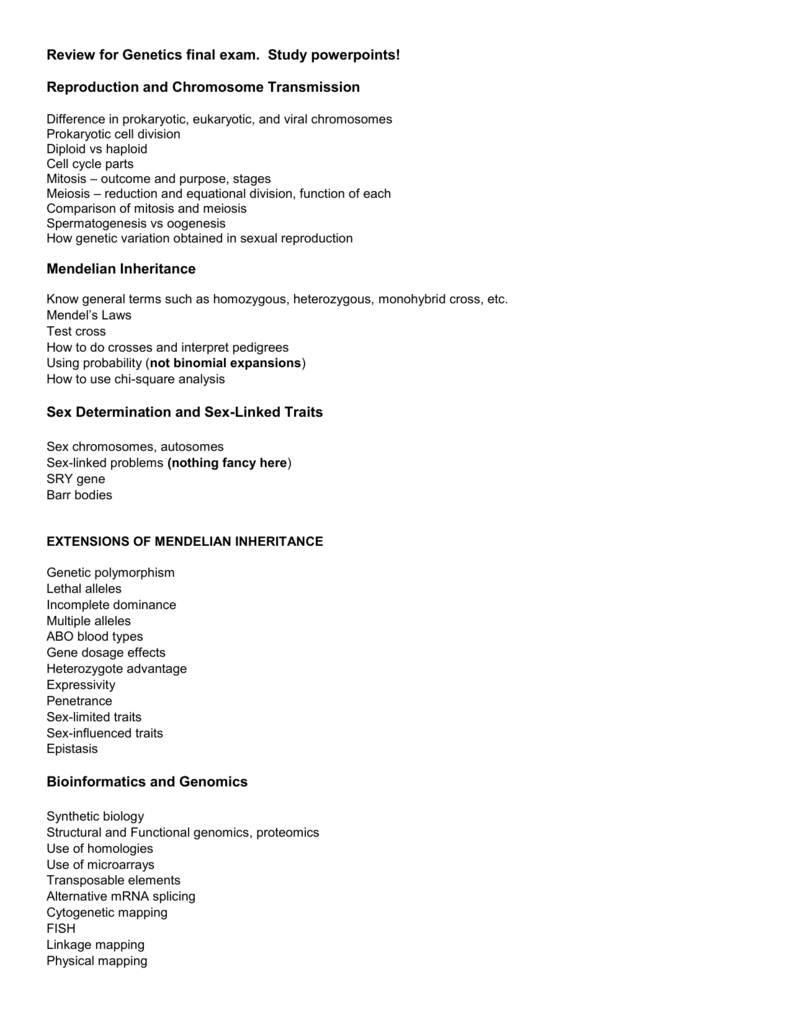 Review for Genetics final exam. Study powerpoints!
Reproduction and Chromosome Transmission
Difference in prokaryotic, eukaryotic, and viral chromosomes
Prokaryotic cell division
Diploid vs haploid
Cell cycle parts
Mitosis – outcome and purpose, stages
Meiosis – reduction and equational division, function of each
Comparison of mitosis and meiosis
Spermatogenesis vs oogenesis
How genetic variation obtained in sexual reproduction
Mendelian Inheritance
Know general terms such as homozygous, heterozygous, monohybrid cross, etc.
Mendel's Laws
Test cross
How to do crosses and interpret pedigrees
Using probability (not binomial expansions)
How to use chi-square analysis
Sex Determination and Sex-Linked Traits
Sex chromosomes, autosomes
Sex-linked problems (nothing fancy here)
SRY gene
Barr bodies
EXTENSIONS OF MENDELIAN INHERITANCE
Genetic polymorphism
Lethal alleles
Incomplete dominance
Multiple alleles
ABO blood types
Gene dosage effects
Heterozygote advantage
Expressivity
Penetrance
Sex-limited traits
Sex-influenced traits
Epistasis
Bioinformatics and Genomics
Synthetic biology
Structural and Functional genomics, proteomics
Use of homologies
Use of microarrays
Transposable elements
Alternative mRNA splicing
Cytogenetic mapping
FISH
Linkage mapping
Physical mapping
Restriction enzymes
Molecular markers such as RFLPs, microsatellites, SNPs
Haplotypes
Contigs in physical mapping
LINKAGE AND GENETIC MAPPING IN EUKARYOTES
How linkage determined from crossing-over recomb data
How to map genes based on recomb data
NO trihybrid stuff
MEDICAL GENETICS AND CANCER
Pedigree analysis (again)
Heterogeneity
Genetic testing types
Genetic screening
Terms related to cancer – ie metastatic, malignant, angiogenesis, etc
Tumor-suppressor genes
You should remember most of this from the last test.