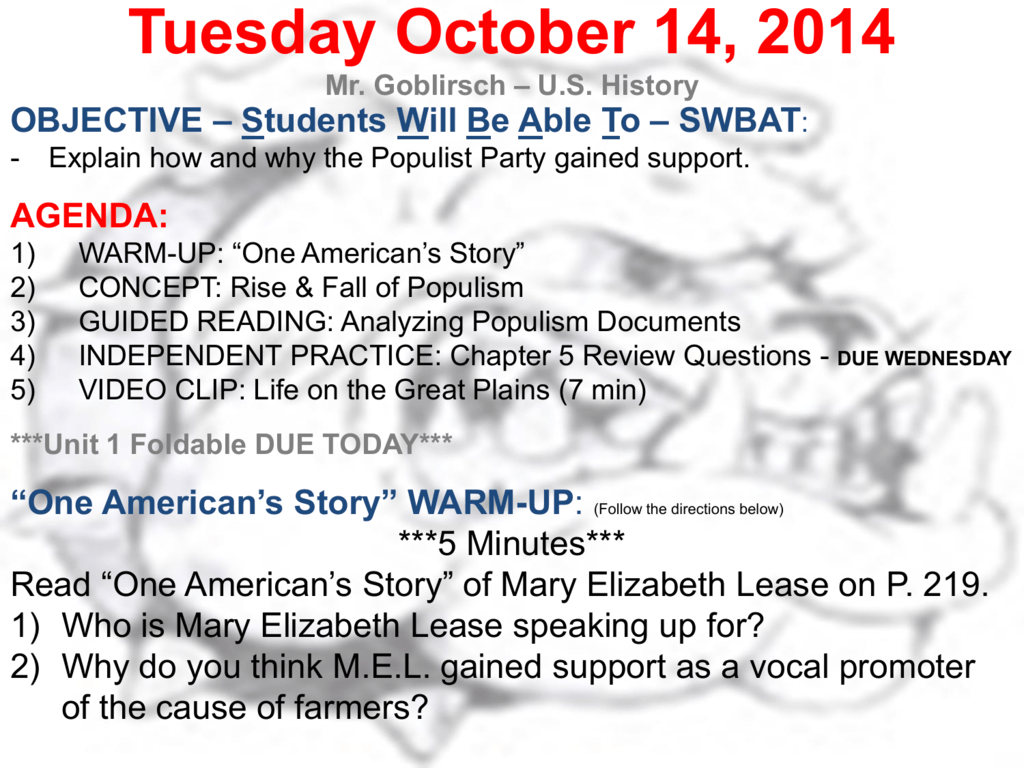 Tuesday October 14, 2014
Mr. Goblirsch – U.S. History
OBJECTIVE – Students Will Be Able To – SWBAT:
-
Explain how and why the Populist Party gained support.
AGENDA:
1)
2)
3)
4)
5)
WARM-UP: "One American's Story"
CONCEPT: Rise & Fall of Populism
GUIDED READING: Analyzing Populism Documents
INDEPENDENT PRACTICE: Chapter 5 Review Questions - DUE WEDNESDAY
VIDEO CLIP: Life on the Great Plains (7 min)
***Unit 1 Foldable DUE TODAY***
"One American's Story" WARM-UP: (Follow the directions below)
***5 Minutes***
Read "One American's Story" of Mary Elizabeth Lease on P. 219.
1) Who is Mary Elizabeth Lease speaking up for?
2) Why do you think M.E.L. gained support as a vocal promoter
of the cause of farmers?
The Rise and Fall of the
Populist Party
1867-1896
Farmers' Problems
• Crop prices fell
• Farmers had no cash, went
further into debt, and their lenders
foreclosed on their mortgages
• The railroad companies charged
outrageous prices to ship crops
(no regulation!)
3
ECONOMIC DISTRESS
HITS FARMERS
 Between 1867 and
1887 the price of a
bushel of wheat
fell from $2.00 to
68 cents
 Railroads
conspired to keep
transport costs
artificially high
 Farmers got
caught in a cycle
of debt
Farmers' Demands
• Regulate the railroad companies (Stop
them from charging such high rates)
• Make cash more available (back the dollar
with silver, not gold, so dollar would be
worth less)
• Constitutional demands: single term for
President and Vice-President, secret ballot,
popular election of Senators
• To get industrial workers to support them:
8-hour workday, restrict immigration
5
Different Groups Representing
Farmers' Interests
• 1867: The Patrons of Husbandry
(The Grange)
• 1880s: Farmers' Alliance and
Colored Farmers' National Alliance
• 1892: Birth of the Populist, or
People's Party
6
POPULIST REFORMS
 Proposed economic
reforms included:
–
–
–
–
increase of money supply
a rise in crop prices
lower taxes
a federal loan program
 Proposed political
reforms included:
– direct election of senators
– single terms for presidents
 Populists also called for:
– 8-hour workday
– reduced immigration
1892 Presidential Election: Populist
candidate won over a million votes!
8
THE PANIC OF 1893
 Nationwide economic
problems took center
stage in America in
1893
 Railroads went
bankrupt, the stock
market lost value,
15,000 businesses
and 500 banks
collapsed,
 3 million people lost
their jobs – putting
THE STOCK MARKET
unemployment at 20%
CRASHED IN 1893
1896 Election
Democrats – 1890s
• Southerners
• Wealthy farmers
• Supported low tariffs
(wanted other
countries to buy their
crops)
Republicans – 1890s
• Northerners
• Wealthy business
men (connected to
the railroad)
• Southern African
Americans (poor
farmers)
• Supported high tariffs
(didn't want to
compete with other
countries' products)
10
1896 Election
Populists decide to improve their
chances by supporting the
Democratic candidate, William
Jennings Bryan, who agreed to
support the silver-backed dollar.
11
1896 Presidential Election: Bryan loses
but carries most of the South and West
12
Central Historical Question
Why did the Populist Party attract
millions of supporters?
GUIDED READING
1) Sourcing: Who wrote this? When?
2) Contextualization: What was going
on for farmers at the time?
Central Historical Question
Why did the Populist Party attract
millions of supporters?
THE END OF POPULISM
 With McKinley's
election victory,
Populism collapsed,
burying the hopes of
the farmer
 Populism left two
important legacies: 1)
A message that the
downtrodden can
organize and be heard
and 2) An agenda of
reforms, many of which
would be enacted in
THE PEOPLE'S PARTY WAS
the 20th century
SHORT-LIVED BUT LEFT AN
IMPORTANT LEGACY
Ch 5 Review Questions
DIRECTIONS: Use your notes and textbook to answer the following
questions on a separate piece of paper. DO NOT WRITE DOWN
THE QUESTION. Answer them in complete sentences.
1.Conflicts between Native Americans and the United States were
largely over what? (Ch 5 Sec 1 P. 203)
2.What impact did the railroads have on the West?
(Ch 5 Sec 2 P. 215)
3.In what ways did the government encourage settlement on the
Great Plains? (Ch 5 Sec 2 P. 215)
4.How did new inventions and the Morrill Act change farming on
the Great Plains? (Ch 5 Sec 2 P. 217)
5.Why did farmers think that an increased money supply would
help solve their economic problems? (Ch 5 Sec 3 P. 220)
6.What reforms did the Populist party want to implement?
(Ch 5 Sec 3 P. 221)
7.On P. 220, Answer Analyzing Political Cartoons Question #1.
8.On P. 220, Answer Analyzing Political Cartoons Question #2.