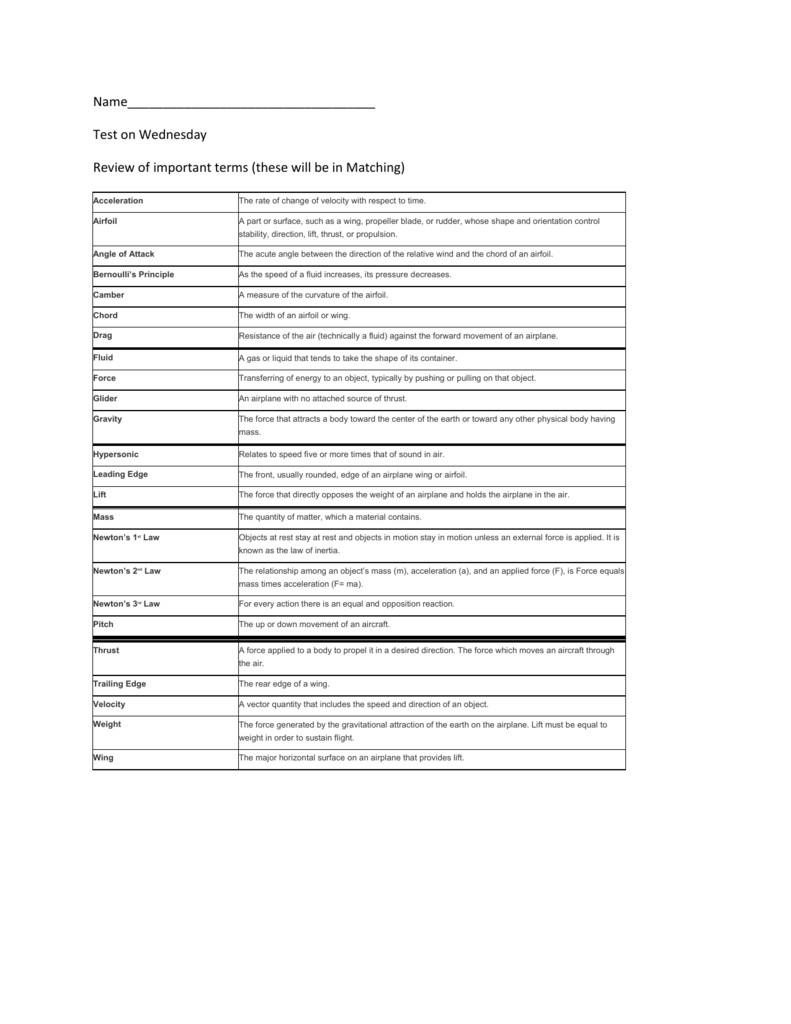 Name___________________________________
Test on Wednesday
Review of important terms (these will be in Matching)
Acceleration
The rate of change of velocity with respect to time.
Airfoil
A part or surface, such as a wing, propeller blade, or rudder, whose shape and orientation control
stability, direction, lift, thrust, or propulsion.
Angle of Attack
The acute angle between the direction of the relative wind and the chord of an airfoil.
Bernoulli's Principle
As the speed of a fluid increases, its pressure decreases.
Camber
A measure of the curvature of the airfoil.
Chord
The width of an airfoil or wing.
Drag
Resistance of the air (technically a fluid) against the forward movement of an airplane.
Fluid
A gas or liquid that tends to take the shape of its container.
Force
Transferring of energy to an object, typically by pushing or pulling on that object.
Glider
An airplane with no attached source of thrust.
Gravity
The force that attracts a body toward the center of the earth or toward any other physical body having
mass.
Hypersonic
Relates to speed five or more times that of sound in air.
Leading Edge
The front, usually rounded, edge of an airplane wing or airfoil.
Lift
The force that directly opposes the weight of an airplane and holds the airplane in the air.
Mass
The quantity of matter, which a material contains.
Newton's 1st Law
Objects at rest stay at rest and objects in motion stay in motion unless an external force is applied. It is
known as the law of inertia.
Newton's 2 Law
nd
The relationship among an object's mass (m), acceleration (a), and an applied force (F), is Force equals
mass times acceleration (F= ma).
Newton's 3 Law
For every action there is an equal and opposition reaction.
Pitch
The up or down movement of an aircraft.
Thrust
A force applied to a body to propel it in a desired direction. The force which moves an aircraft through
rd
the air.
Trailing Edge
The rear edge of a wing.
Velocity
A vector quantity that includes the speed and direction of an object.
Weight
The force generated by the gravitational attraction of the earth on the airplane. Lift must be equal to
weight in order to sustain flight.
Wing
The major horizontal surface on an airplane that provides lift.
(you will have to label this diagram)
You will need to be able to do Newton's Second Law Equations
F=ma
a =f/m m=f/a
Let's practice some problems:
1.
The unbalanced force required to accelerate a 2.0 kg mass at 4.0 m/s2 is
2. A force of 10. N applied to a given mass accelerates it at 1.0 m/s2. Calculate the mass of the
object.
3. A certain net force causes a 10. kg mass to accelerate at 20. m/s2. What is the mass of the
object?
4. A mass of 10 kg has a force of 120 N at what acceleration?