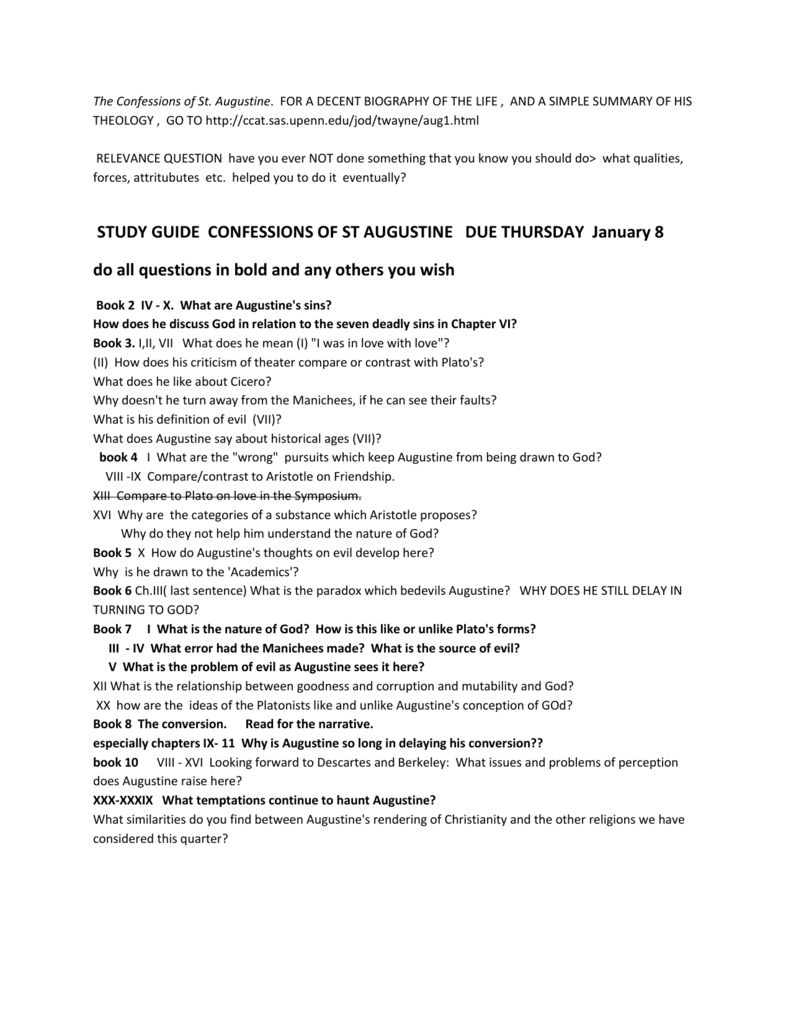 The Confessions of St. Augustine. FOR A DECENT BIOGRAPHY OF THE LIFE , AND A SIMPLE SUMMARY OF HIS
THEOLOGY , GO TO http://ccat.sas.upenn.edu/jod/twayne/aug1.html
RELEVANCE QUESTION have you ever NOT done something that you know you should do> what qualities,
forces, attritubutes etc. helped you to do it eventually?
STUDY GUIDE CONFESSIONS OF ST AUGUSTINE DUE THURSDAY January 8
do all questions in bold and any others you wish
Book 2 IV - X. What are Augustine's sins?
How does he discuss God in relation to the seven deadly sins in Chapter VI?
Book 3. I,II, VII What does he mean (I) "I was in love with love"?
(II) How does his criticism of theater compare or contrast with Plato's?
What does he like about Cicero?
Why doesn't he turn away from the Manichees, if he can see their faults?
What is his definition of evil (VII)?
What does Augustine say about historical ages (VII)?
book 4 I What are the "wrong" pursuits which keep Augustine from being drawn to God?
VIII -IX Compare/contrast to Aristotle on Friendship.
XIII Compare to Plato on love in the Symposium.
XVI Why are the categories of a substance which Aristotle proposes?
Why do they not help him understand the nature of God?
Book 5 X How do Augustine's thoughts on evil develop here?
Why is he drawn to the 'Academics'?
Book 6 Ch.III( last sentence) What is the paradox which bedevils Augustine? WHY DOES HE STILL DELAY IN
TURNING TO GOD?
Book 7 I What is the nature of God? How is this like or unlike Plato's forms?
III - IV What error had the Manichees made? What is the source of evil?
V What is the problem of evil as Augustine sees it here?
XII What is the relationship between goodness and corruption and mutability and God?
XX how are the ideas of the Platonists like and unlike Augustine's conception of GOd?
Book 8 The conversion. Read for the narrative.
especially chapters IX- 11 Why is Augustine so long in delaying his conversion??
book 10 VIII - XVI Looking forward to Descartes and Berkeley: What issues and problems of perception
does Augustine raise here?
XXX-XXXIX What temptations continue to haunt Augustine?
What similarities do you find between Augustine's rendering of Christianity and the other religions we have
considered this quarter?