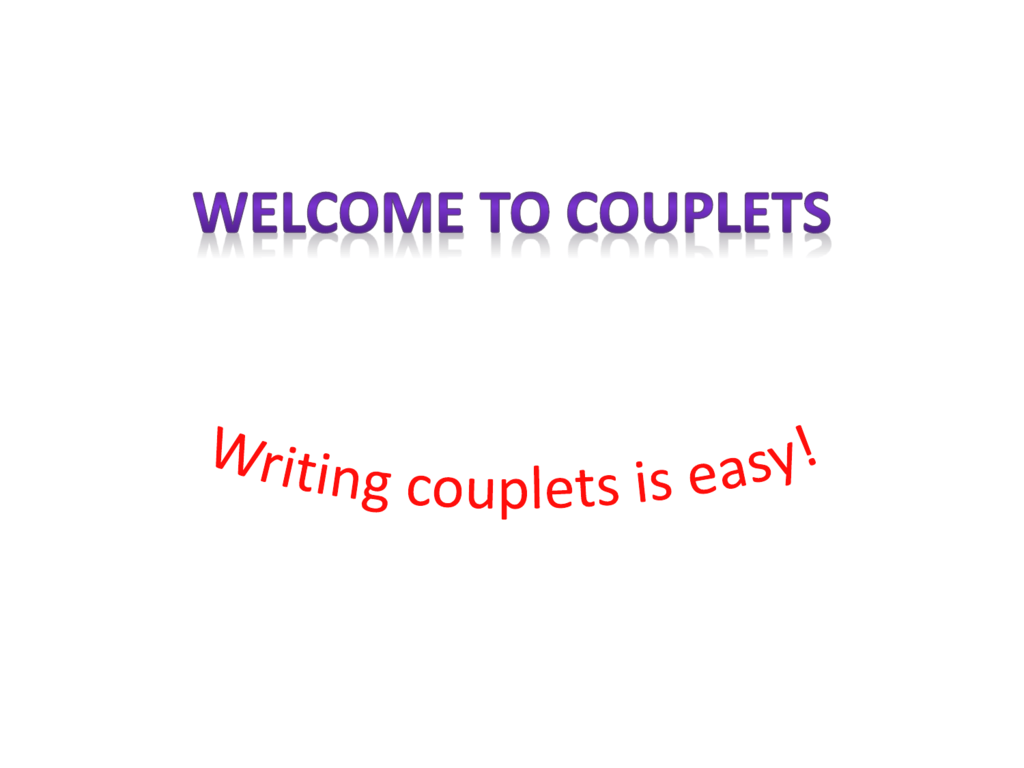 I had a pet cat,
But not a pet bat!
A couplet poem can be as short as one stanza – 2 lines
It can be two stanzas – 4 lines, three stanzas – 6 lines
or
Can be as many stanzas as you want!
The rhyming scheme of a couplet is:
AA, BB, CC, DD and so on.
• For instance:
Cat
Bat
Bark
Dark
Flight
Night
• Place a space between every two rhyming
lines, creating a two line stanza.
I had a pet cat,
But not a pet bat!
It will not bark,
In the dark.
And not take flight,
In the night!
•
•
•
•
•
Pets/Animals
Holidays
Love
Freedom
Nature
• Whatever you want!
Don't forget to title your poem!
• Informs the reader
• Clue to the topic or main idea
• Can set the tone and mood
• As in any writing, TONE is very important and
is achieved by using specific vocabulary.
• If you want your writing to be silly, use
humorous vocabulary.
• If you want your poem to be suspenseful or
scary, use words that will surprise the reader.
•
•
•
•
•
•
•
Write a minimum of a 4 stanza (8) line poem
Topic – Halloween
Title it
Must use vocabulary that sets a tone.
Use proper format
Punctuation
Make sure it makes sense!