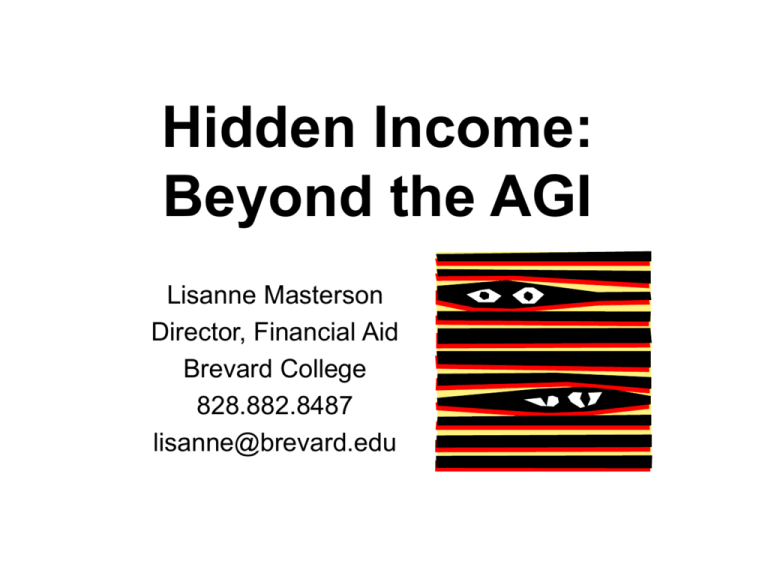 Hidden Income:
Beyond the AGI
Lisanne Masterson
Director, Financial Aid
Brevard College
828.882.8487
lisanne@brevard.edu
Session Objectives
• Who, What, Why, How & When
–
–
–
–
Institutional Methodology
Purpose
Policies & Procedures
Income vs. Assets
• Documents
–
–
–
–
Tax Returns
Depreciation
Passive vs. Non-passive Loss
Business Balance Sheet & Statement of Owner's
Equity
First Things First
• Verification
– Includes reconciling conflicting information
• Professional Judgment
– Special Circumstances
• Institutional Methodology
Who, What, Why, How & When
• Why make these changes
• Write policies and procedures
to match your purpose
• Used only for calculating an EFC
using Institutional Methodology
• Reviewing income, assets or both?
Purpose (Why?)
• What is your purpose in calculating
an Institutional Methodology?
– Limited resources, equity….
• Are you looking for just hidden
income or personal "choices"?
Institutional Methodology
• Remember, this is not "verification" &
does not change federal eligibility
• Institutional policy backed by research
• Calculate internally or externally?
• The key is P&P & consistency
Policies & Procedures (What & How)
• Type of changes you will make
– Income
– Assets
• Who will make the changes
• What process will you use to make
changes
• How/will the student be notified
• Consistency
Federal Tax Return
• Line items with potential "hidden income"
–
–
–
–
–
8a: Interest Income (Schedule B)
9a: Dividend Income (Schedule B)
12: Business Income (Schedule C)
13: Capital Gain/Loss (Schedule D)
17: Rental Real Estate, Royalties,
Partnerships, S Corps, Trusts (Schedule E)
– 21: Other Income (Foreign Income Exclusion)
• Personal "Choices" – Schedule A
Supplemental Schedules
• Not required for verification
• If you have them, you must
resolve conflicting information
• They may help in making professional judgment
decisions, as well as finding hidden income
Schedules A & B
• Schedule A – Itemized Deductions
• Medical/Dental Expenses
• Home Mortgage Interest
• Gifts to Charity
• Schedule B – Interest & Dividends
• 1040 or 1040A, Lines 8a/8b & 9a/9b
• 1099-INT; 1099-DIV
• Asset
Business Financial Statements
• Income Statement
– Revenue – Expenses = Net Income
• Statement of Owner's Equity
–
–
–
–
Beginning Capital
Net Income
Withdrawals
Ending Capital
• Balance Sheet
– Assets =
– Liabilities + Owner's Equity
Schedule C
• Profit/Loss From Sole Proprietorship
• Distinguish Between "Paper" Losses and Actual
Losses (i.e. Depreciation – Part 2, Line 13)
• Request Business Financial Statements
• Net Profit/Loss, Line 31 =>
1040, Line 12
Schedule D
• Capital Gain/Loss
Distinguish Between "Paper" Losses and
Actual Losses (i.e. Passive vs.Nonpassive Income)
Actual Gain/Loss Within That Calendar
Year?
Schedule E
• Supplemental Income/Loss
• Part 1, Rental Real Estate
– Are there any assets?
– Depreciation
• Parts 2 & 3, Income/Loss
from Partnerships, S Corps,
Estates & Trusts
» NOT income/wages
» Non-passive Loss, Schedule K-1
Schedule E
• Partnerships & S Corporations
– No tax at entity level but tax at partners' level
• Form 1065 – US Return of Partnership
Income) =>
Schedule K-1 =>
Schedule E =>
1040 Line 17
Income/Tax Form/Documents
Finances
1040
Documentation
Employment
Wages
Sole-Proprietorship
Line 7
Schedule C
W-2 Form
Accounting Books
Trade/Business
Partnership
S Corp
Schedule E
Schedule E
K-1 of Form 1065
K-1 of Form 1120S
Investment Income
Interest/Dividend
Capital Gains
Rentals/Royalties
Trust Funds
Schedule B
Schedule D
Schedule E
Schedule E
Form 1099 INT/DIV
Form 1099-B
Accounting Books
K-1 of Form 1041
Income/Tax Form/Documents
Retirement Funds
Pension/Sharing Plans
IRA
Non-Qual. Compensation
Line 16
Line 15
Line 7 or 16
Form 1099R, Broker/Bank
Broker/Bank
W-2, 1099-B, Broker/Bank
Education Funds
Hope/Lifetime Learning
Qualified Tuition
Line 49
N/A
Form 1098-T
Broker/Bank
Personal Expenses
Medical
Student Loan Interest
Mortgage
State Income Tax
Property Tax
Schedule A
Line 33
Schedule A
Schedule A
Schedule A
Bank
Lender statement
Form 1098
W-2, Bank
Tax Assessment statement
QUESTIONS!