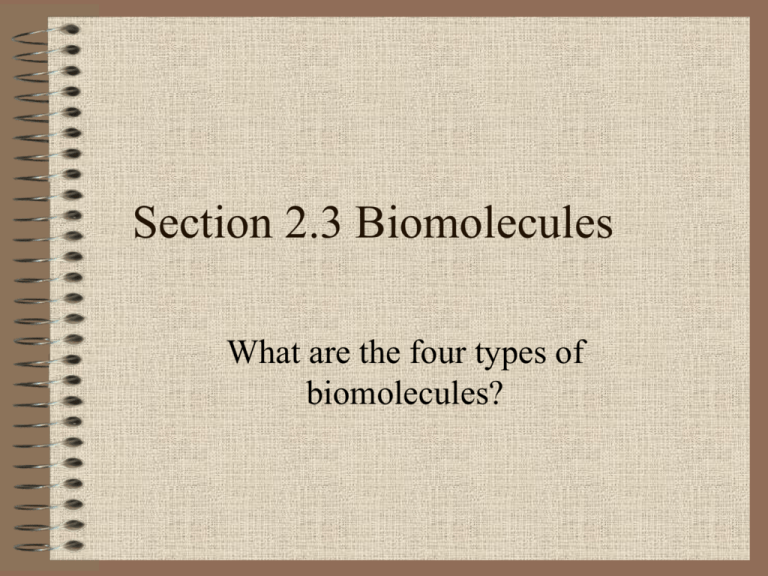 Section 2.3 Biomolecules
What are the four types of
biomolecules?
Today you will:
• Learn about each type of biomolecule
• Learn how to test for the presence of each
biomolecule in different food substances.
Questions to discuss
• In this lab you will put different food
sources in a test tube to test for the
presence of various macromolecules. Why
will one of your test tubes be filled with
distilled water?
• What is the dependent variable? What is
the independent variable?
Biomolecules
• Molecules are either inorganic compounds
or organic compounds
– Organic-has carbon
– Inorganic-no carbon
• Why is carbon so special?
– It can form 4 bonds with other atoms. It loves
to COVALENTLY BOND!
– It can form single, double, and triple bonds.
Biomolecules
• There are 4 types of
biomolecules in our bodies
–
–
–
–
Carbohydrates
Lipids (fats)
Proteins
Nucleic acid (DNA)
• These are large molecules
(polymer) that are made up of
smaller building blocks
(monomers)
• Polymers are made of
monomers.
• http://www.phschool.com/scie
nce/biology_place/biocoach/bi
oprop/monomers.html
Proteins
• Elements: C, H, O, N, or S (sulfur)
• Structure: look for N or S
• What do they do-THEY DO A LOT!
–
–
–
–
–
Hemoglobin in your blood that carries oxygen
Muscles, tendons, hair
Defend body from microorganisms
Control chemical reactions-enzymes
Carry out almost all of the body's everyday functions
• Building block-amino acids
Testing for proteins
• You will use a biuret
reagent
• It will turn a blue
violet color in the
presence of a protein.
• You will add each
substance to a test
tube and then add a
few drops of biuret
reagent.
Carbohydrates
• Elements-C, H, O
• Function: Main source
of energy, gives plants
tough structure
• Examples: sugars and
starches, glycogen,
sucrose, glucose,
cellulose (END IN ose)
• Shape-rings connected
• Building Blockmonosaccharide or simple
sugars (glucose)
Different types of carbohydrates
• Based on size
– Monosaccharide-one sugar
• MONO MEANS ONE
– Disaccharide-two sugars
• DI MEANS TWO
– Polysaccharide-many
sugars (2 OR MORE)
• Cellulose-makes plants
have a rigid structure
• Glycogen-animal starch
Two carbohydrate tests-starch
and simple sugars
• Starch
– Iodine will turn black or
purple in the presence of
starch
• Benedict's solution
– Add substances to tube
with benedict's solution
– Heat for 3 to 5 minutes to
look for color change
– The redder the more simple
sugar (glucose) present
– Will form a percipitate
• Not a polymer
Lipids (Fats)
– Why? Does not have the
same unit repeating over
and over
• Elements-C, H, O
• Has the most energy but
we can't consume tons of
fat; part of membranes;
insulation
• Structure-long chain of
carbons attached
• Examples: cholesterol,
wax, steroids, oils
• Building Block-fatty
acids and glycerol
Saturated vs. Unsaturated
• Saturated-bad for you;
causes cholesterol
problems, clogged
arteries; solid at room
temperature; lard
• Unsaturated-liquid at
room temperature; not as
bad for you; olive oil,
canola oil, peanut oil
• Trans fat-type of
unsaturated; causes
coronary heart disease
2 ways to test for lipids
• Brown paper bag
– Substance will
leave an oil spot if
present
• Sudan 4 test
– Substance will turn
red
Nucleic Acids
• Tell your cells how to
function
• Contains the genetic
information
• DNA (deoxyribose
sugar) and RNA
(ribose sugar)
• Elements: C, H, O,
N, P
• We talk about these a TON
second semester! So you only
need to know these points.