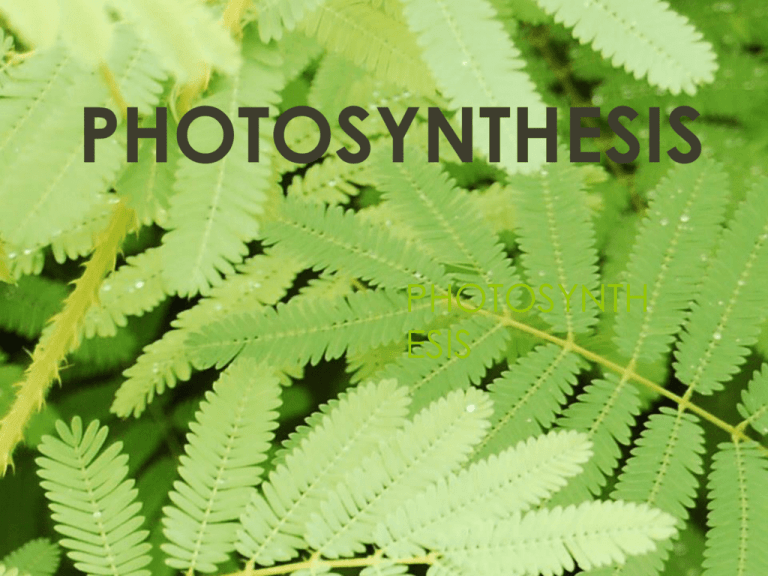 PHOTOSYNTHESIS
PHOTOSYNTH
ESIS
Energy
Forms of Energy
Photosynthesis requires LIGHT
Energy
AND CONVERTS LIGHT TO
 Chemical/compounds
the bonds.
contain energy in
CELLULAR ENERGY
 Chemical
energy created to make
glucose in photosynthesis from ATP and
NADPH+
ENERGY OF LIGHT
 Visible
Light – ROYGBIV
 Some absorbed by pigments in
plants
 Chlorophyll main pigment – found in
the thylakoids
ABSORPTION OF LIGHT
QUESTIONS
 WHY
ARE PLANTS GREEN?
 WHAT
WOULD HAPPEN TO A PLANT PLACE
UNDER YELLOW LIGHT?
 WHAT WAVELENGTH TO PLANTS GROW
BEST?
PHOTOSYNTHESIS
From the
atmosphere
From
Soiltranspiration
BECOMES
BIOMASS OF PLANT OR
USED FOR ENERGY IN
CELLULAR RESPIRATION
SUN POWERS THE ECOSYSTEM
Two reactions of
photosynthesis
Light
dependent
reaction
Calvin cycle (sometimes
called light-independent
reaction)
ORGANELLE OF
PHOTOSYNTHESIS
Light dependent reaction
 Inside
the thylakoid – contain
photosynthetic pigments –main
chlorophyll.
 INPUT: WATER AND LIGHT
 OUTPUTS: OXYGEN (WASTE) AND HIGH
ENERGY COMPOUNDS – ATP AND
NADPH+
 Energy will be used in the Calvin Cycle
CALVIN CYCLE HAPPENS
IN THE STROMA
(AQUEOUS)
INPUT: ATP AND NADPH+
(ENERGY), AND CARBON
DIOXIDE
OUTPUT- GLUCOSE
 What
are the reactants of the light
independent reaction? Products?
 What about the Calvin cycle?