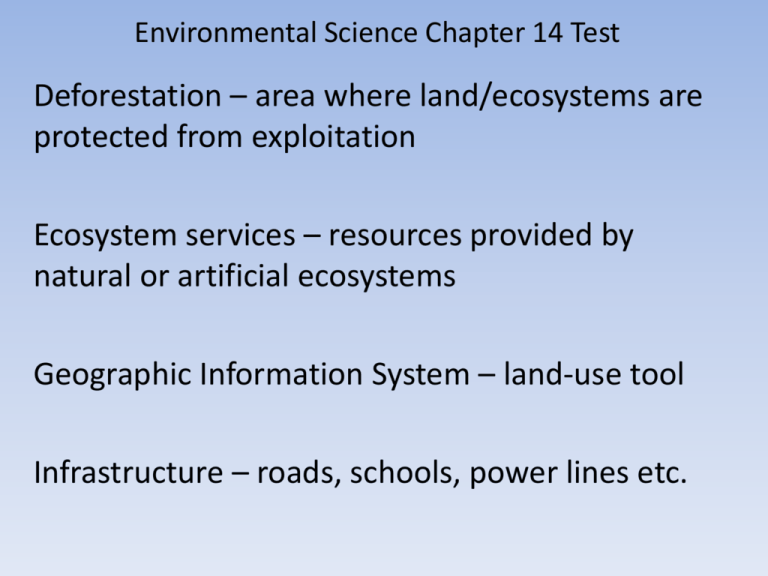 Environmental Science Chapter 14 Test
Deforestation – area where land/ecosystems are
protected from exploitation
Ecosystem services – resources provided by
natural or artificial ecosystems
Geographic Information System – land-use tool
Infrastructure – roads, schools, power lines etc.
Environmental Science Chapter 14 Test
Overgrazing – excessive use of a grazing area
Selective cutting – certain trees removed only
Urban area – 2500 people or more (most Americans live here)
Urban crisis – rapid growth, cities cannot provide service for all
citizens
Urban sprawl – rapid expansion into countryside
Wilderness area – land/ecosystems protected from exploitation
Environmental Science Chapter 14 Test
An example of land used as a protected area to
preserve the scenery and ecosystems is the Grand
Canyon.
National Farmland Protection Program - protect
farmland from being developed.
Cutting only mature or medium-sized trees allows
forests to recover from tree harvesting.
Range improvement – eliminate invasive plants and
replace with native plants.
Environmental Science Chapter 14 Test
Rural areas - produce the resources
Heat islands produce increased precipititation
Open spaces in cities
-lower summer temperatures
-absorb carbon dioxide
-filter pollutants from air and water
Environmental Science Chapter 14 Test
Inadequate urban infrastructures
-traffic jams, substandard housing
Clear-cutting of forests
-advantages – less expensive than selective
-disadvantages – destroys habitats, soil erosion
Environmental Science Chapter 14 Test
Rangeland
-well managed = limited grazing animals
= watering areas provided
= native plants growing
-poorly managed = overgrazed, too many animals
= grass killed, land becomes bare
= erosion occurs
= nonnative plants move in
= can no longer support grazing
Environmental Science Chapter 14 Test
Essay – Answer all 3 parts!
Consider the statement "National Parks
should be closed to motor vehicles." List both the
advantages and disadvantages of this plan. Then
give your own opinion – would you support the
banning of motor vehicles from National Parks?