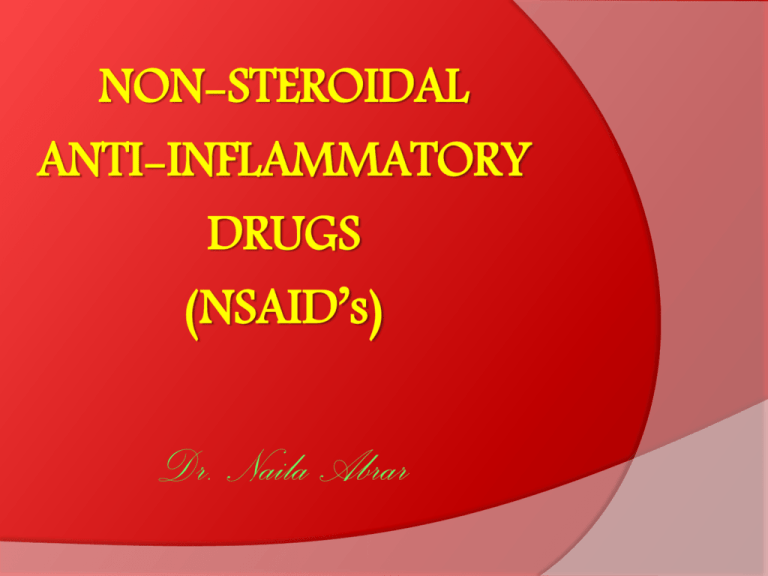 NON-STEROIDAL
ANTI-INFLAMMATORY
DRUGS
(NSAID's)
Dr. Naila Abrar
LEARNING OBJECTIVES
After this session, you should be able to:





recall the pathophysiology of inflammatory
response;
classify NSAID's;
know the common features of NSAID's;
describe mechanism of action of NSAID's; and
discuss pharmacokinetic features, mechanism
of action, pharmacological effects, adverse
effects and clinical pharmacology of aspirin.
THE INFLAMMATORY RESPONSE
 Immune response
 INFLAMMATION
 Normal / Abnormal





Calor
Dolor
Rubor
Tumor
Loss of function
FUNCTIONS OF COX
COX-1



Constitutively
expressed
Housekeeping
functions
Present in every organ
stomach, intestine,
kidney, platelets,
vascular endothelium
COX-2

Inducible

Inflammatory &
neoplastic sites
Also present in kidney,
uterus. ovary brain,
small intestine

PGE2
Protection
of GI
mucosa
Temperature
homeostasis
: Mediator
of fever
PGI2
(prostacyclin)
Vasodilation
Inhibit
platelet
aggregation
Vasodilation
Renin
release &
natriuresis
Contraction
of uterus
Lower
threshold of
nociceptors
Lower
threshold of
nociceptors
PGF2
Uterine
function,
labor
Bronchoconstriction
PGD2
Regulation
of sleep
wake cycle
Bronchocontriction
Vasodilation
TXA2
Vasoconstriction
Platelet
aggregation
Bronchoconstrictio
n
Mechanisms associated with
peripheral sensitization to pain
PAIN: an unpleasant sensory or emotional experience
2 clinical states of pain:

Physiological (nociceptive) pain  direct
stimulation of nociceptors

Neuropathic (intractable) pain  result
from injury to the peripheral or central
nervous system that causes permanent
changes in circuit sensitivity and CNS
connections
PERIPHERAL SENSITIZATION TO PAIN
CGRP
CGRP
Gate Control Hypothesis:
 Interneurons activated by
Ab fibers act as a gate,
controlling primarily the
transmission of pain stimuli
conveyed by C fibers to
higher centers.
 Rubbing the skin near the
site of injury to feel better
 Transcutaneous electrical
nerve stimulation (TENS)
 Dorsal column stimulation
 Acupuncture
ANALGESICS
1)
2)
3)
4)
Act at the site of injury and decrease
the pain associated with an
inflammatory reaction (e.g. NSAIDs)
Alter nerve conduction (e.g. local
anesthetics): block action potentials by
blocking Na channels
Modify transmission in the dorsal horn
(e.g. opioids)
Affect the central component and the
emotional aspects of pain (e.g. opioids,
antidepressant)
SITE OF ACTION
Sensation of pain
NSAID's
Signal transmitted via spinothalamic
pathways to contralateral thalamus &
cortex
Activation of AMP receptors in dorsal
horn of SC
Increased sensitivity of peripheral
nociceptors
Local release of inflammatory mediators
Injury
WHO Analgesic 'Ladder'
Severe
Moderate
Mild
Step 3
Strong opioids (e.g., morphine)
with or without non-opioids
Step 2
Weak opioids (e.g., codeine)
with or without non-opioids
Step 1
Non- opioids (e.g., NSAIDs,
Acetaminophen)
CLASSIFICATION (chemical)
SALICYLIC ACID DERIVATIVES







Aspirin
Sodium salicylate
Methyl salicylate
Choline salicylate
Magnesium salicylate
Diflunisal
Benorylate
CLASSIFICATION (contd.)
PARA-AMINO PHENOL DERIVATIVE

Paracetamol
ACETIC ACID DERIVATIVES
Indomethacin
 Diclofenac
 Etodolac
 Sulindac
 Ketorolac
 Tolmetin


Nabumetone
CLASSIFICATION (contd.)
FENAMIC ACID DERIVATIVES

Mefenamic acid, meclofenamate sodium
PROPIONIC ACID DERIVATIVES

Ibuprofen, naproxen, fenbufen, fenoprofen,
flurbiprofen, ketoprofen
ENOLIC ACID DERIVATIVES

Piroxicam, meloxicam (oxicams),
CLASSIFICATION (contd.)
PYRAZOLON DERIVATIVES

Phenylbutazone, azapropazone,
oxyphenbutazone
COX 2 SELECTIVE

Celecoxib, etoricoxib, rolicoxib,
lumaricoxib, valdecoxib,
PROPERTIES OF NSAID's
Common general properties
Common mechanism of action
(cyclooxygenase inhibition)
 Common therapeutic indications
 Common adverse effects
 Different pharmacokinetics and potency
 Different chemical families
 Different selectivity's to COX I and II



Similarities more striking than differences
General properties in common:
Organic acids EXCEPT nabumetone
 Well absorbed
 Strongly protein bound
 Highly metabolized
 Renal excretion mainly
 Varying enterohepatic circulation
 Distributed in synovial fluid

MECHANISM OF ACTION
Membrane phospholipids
Corticosteroids
Phospholipase
Arachidonic acid
COX
Lipoxygenase
Leukotienes
Prostaglandins
Thromboxane
NSAIDS
Prostacyclin
ADVERSE EFFECTS OF NSAID'S
CNS
2. CVS
3. GIT
4. HEMATOLOGIC
5. HEPATIC
6. PULMONARY
7. RASHES
8. RENAL
1.
Aspirin
(Acetylsalicylic acid; ASA)
Willow bark- Salicin
 Synthesized in 1853
 Organic acid
 Ester of acetic acid

COOH
OOCCH3
HISTORY





Salicylic acid-natural product, present in the bark
of willow and poplar trees
18th century – Salicin - oxidized to Salicylic acid
In 1828 a Swizz pharmacist, Lowig, distilled
meadowsweet flowers and got salicylaldehyde
1897, a chemist at the Bayer Company worked on
acetylsalicylic acid effect profile to improve
adverse
The name Aspirin was coined by adding an a for
acetyl to spirin from the name of the plant
meadowsweet (Spiraea ulmaria) from which
salicylic acid was first isolated
Pharmacokinetics
Rapidly absorbed from stomach and upper
small intestine
 Hydrolyzed to acetic acid and salicylate by
esterases in tissue and blood
 Bound to albumin
 ZERO ORDER KINETICS
 Conjugated in liver and cleared by kidney
 Excretion: 25 % excreted unchanged & 75 %
as metabolites in urine ,enhanced by
ALKALINIZATION
 t1/2 15mins but antiplatelet action 8-10 days

Mechanism of Action
 Inhibits both COX-I and COX-II
 Anti-inflammatory
 Analgesic
 Antipyretic
 Aspirin irreversibly inhibits
platelet COX
 Anti-platelet effect (lasts 8-10
days)
Anti –inflammatory effect
Inhibits PG synthesis at the periphery
 Inhibition of granulocytes adherence to
damaged vasculature
 Stabilizes lysosomes
 Inhibit migration of polymorphs and
macrophages at site of inflammation
 Interferes with chemical mediators of
kalikrein system
 Inhibition of antibody production
Analgesic Effect



Reduces mild to moderate pain of varying
cause
(pain
of
musculoskeletal
structures) relieved better than of visceral
origin
Mainly acts at periphery at nociceptive
level so effective in pain associated with
inflammation (pain of muscular, vascular
& dental origin, postpartum states,
arthritis & bursitis is relieved)
Also inhibits pain stimuli at a sub-cortical
level
Antipyretic
Aspirin reduces only elevated
temperature & has no effect on normal
temperature
 Aspirin resets the temperature regulating
centre to normal by inhibition of PGE2
synthesis
 Blocks the action of IL-1 released from
macrophages by action of bacterial
endotoxins / inflammation
 Vasodilatation of superficial blood vessels
causing inc. dissipation of heat

Antiplatelet effect




Aspirin in small doses decreases platelet
aggregation by suppressing the synthesis
of thromboxane A2
It irreversibly acetylates the COX
Effect lasts for 8 – 10 days till new platelets
are regenerated
High doses suppress prostacyclins also &
platelet inhibitory effect is lost
Effect on GIT
a.
b.
Vomiting-- Stimulation of CTZ
Dose related gastric ulceration &
hemorrhage, due to inhibition of protective
PGI2




Ischemia of gastric mucosa
Increased gastric acid secretion
Inhibition of gastric mucous secretion
Misoprostol –may prevent GI ulceration
Other effects
 Uricosuric action: In high doses above 4 gms
 CVS
a)
b)
c)
d)
In therapeutic doses, no effect
In large doses--- Peripheral vasodilatation
In toxic doses--- Vasomotor paralysis
Edema , HTN in pts with activated reninangiotensin sytem
 Respiration:
a)
b)
c)
In therapeutic doses, Increased depth of resp.
In large doses-Compensated resp. alkalosis
In toxic doses - Uncompensated resp. acidosis
Renal
 Nephropathy
 Pregnancy
 Prolongation of gestation & inhibition of
labor
 Hypersensitivity (not immunologic but
due to PG inhibition)

DOSAGE
Analgesic –antipyretic effect :324
to1000 mg 4-6 hourly
 Antiplatelet effect: Prevention of stroke
and MI 75-150 mg inhibits platelet
aggregation
 Anti-inflammatory effect: 3-4gm/d
 Acute rheumatic fever, 0.9-1.2 g every 4
hourly max of 8 gm

THERAPEUTICS USES OF ASPIRIN
ANALGESIA (moderate dose)
Aspirin is one of the most frequently used
analgesic
 For mild to moderate pain
 Severe pain is not controlled by aspirin
a. Used alone in pain like:
 Headache, myalgia, arthralgia, neuralgia,
osteomyelitis,
osteoarthritis,
toothache,
dysmenorrhea
b. With opioids – synergistic action
 In pain of cancer metastases in bone
 Post operative pain-  requirement of opioids

ANTI-INFLAMMATORY (in large doses)
 Rheumatoid arthritis
 Acute rheumatic fever along ē benzyl
penicillin
ANTI-PYRETIC
 All fevers but not effective in raised body
temp. due to heat stroke or malignancy
AS ANTI-PLATELET (in low doses 75 –
300mg/day)
 For TIA & cerebrovascular stroke
 Prophylaxis of unstable angina, MI
 Thrombosis after coronary artery by
pass grafting
URICOSURIC AGENT (large doses >4 gm /d)
CLOSURE OF PDA
LOWERS INCIDENCE OF COLON CANCER
Niacin- flushing
Bartter syndrome
Astringent action to remove warts, corns
Methylsalicylate (oil of wintergreen)
Systemic mastocycosis
ADVERSE EFFECTS OF ASPIRIN
1.
Gastric upsets:

Erosive gastritis & Gastric ulceration
 Hematemesis
 Melena
 Occult Blood In stool


Dyspepsia and heart burn
Nausea & vomiting
2) Effects on CNS
Salicylism:
 (In large doses): Tinnitis, deafness, dimness
of vision, dizziness, ataxia, mental confusion,
vertigo, nausea & vomiting, sweating, thirst
 (In Toxic Doses): Hyperpyrexia, CV collapse,
convulsions, ketosis, coma
3) Related to Kidney:

Analgesic Nephropathy
4. Respiratory system

Hyperventilation –respiratory alkalosis

Compensated respiratory alkalosis (high doses)

Respiratory acidosis

Uncompensated metabolic acidosis (toxic doses)
5. Blood

Hypoprothrombinaemia

Increase bleeding tendency
6. Allergic / Hypersensitivity Reactions

Bronchospasm

Urticaria

Rhinitis

Hay Fever
Aspirin Toxicity
Salicylism
 Neurological effects
 Acid-base balance & electrolytes
 CV effects
 Metabolic effects
Management of aspirin/salicylate
overdose toxicity/poisoning
Gastric lavage
Activated charcoal
Correct fluid, electrolyte & acid base balance
Maintain high urine out put
Keep airway patent
 Body temp. by cold sponging
Vit. K I/V to correct hypopthrombinemia
Diazepam I/V for convulsions
Promote excretion of salicylates by NaHCO3 I/V to
alkalinize urine ,maintain pH at 8.0
1. Hemodialysis in pts. with severe acidosis & coma
1.
2.
3.
4.
5.
6.
7.
8.
9.
DRUG INTERACTIONS
Concomitant NSAID's & low dose aspirin
 ACE inhibitors
 Warfarin
 Sulfonylurea hypoglycemics
 Methotrexate

DICLOFENAC
Phenylacetic acid derivative
 More selective for COX-2
 Short t1/2
 Combinations are available (+ misoprostol)
 150 mg/d impair renal blood flow & GFR
 GI ulceration less frequent
 Elevation of serum aminotransferases
Preparations: eye drops, topical gel, suppository
Dose: 50-75mg qid

IBUPROFEN







Phenylpropionic acid derivative
Anti inflammatory effect start at 2400 mg/dl
(equivalent to 4gm aspirin anti-inflammatory
effect)
Lower dose has analgesic effect
Closure of patent ductus arteriosus in preterm
infants
Less decrease in urine output, less fluid retention
Decreases antiplatelet effect of aspirin
Oral I/V, topical
INDOMETHACIN









Indole derivative
Potent non-selective COX inhibitor and may also
inhibit phospholipase A and C
Reduce neutrophil migration and decrease T-cell and
B-cell proliferation
Effective in joint pain, swelling & tenderness
Gout
Accelerate closure of patent ductus arteriosus
Relaxes smooth muscles
Pancreatitis, frontal headache
t1/2 prolonged by probenicid
ACETAMINOPHEN




Active metabolite of phenacetin
Weak COX-I and COX-2 inhibitor
Inhibits COX-3
No significant anti-inflammatory effects
Pharmacokinetics:
Peak blood level is reached in 30-60 min
Metabolized by hepatic microsomal enzymes
and form acetaminophen sulfate and
glucronide
 N-acetyl-p-benzo-quinoneimine(NAPQI)Toxic to liver and kidneys


Indications
325 – 1000mg (total dose not > 4000mg)
 Headache, myalgia, postpartum pain
 In rheumatoid arthritis with antiinflammatory agent
 Preferred to aspirin in peptic ulcer, in
children with viral infections

Adverse effects
Mild increase in hepatic enzymes
Dizziness, excitement & disorientation at larger
doses
 Toxic dose: 10-15gm
 20-25 gm potentially fatal (? tablets)
 NAPQI reacts with sulfhydryl gps in GSH normally
& then excreted as mercapturic acid in urine but
in toxic dose GSH is depleted and toxic metabolite
accumulates
Treatment
 Supportive therapy
 N-Acetylcysteine


COX-2 SELECTIVE INHIBITORS
Celecoxib, rofecoxib, valdecoxib,
parecoxib, etoricoxib, lumaricixib
 Inhibit prostaglandin synthesis by the
COX-2 isozyme
 Analgesic, antipyretic and anti
inflammatory effects
 No effect on platelet aggregation
 No cardioprotective effect

CELECOXIB
Highly selective COX- 2 inhibitor
 Half life is 11 hrs
 Metabolized mainly in the liver
 Effective in rheumatoid arthritis and
osteoarthritis
 Less production of peptic ulcer
 Inhibit COX 2 mediated prostacyclin
synthesis in vascular endotheliumplatelet aggregation

Differences
Non-selective vs COX 2 Selective




Lesser GI adverse effects
No impact on platelet aggregation
Increased risk of thrombotic events;MI
& stroke
Increased likelihood for hypertension
& edema
Thank U!