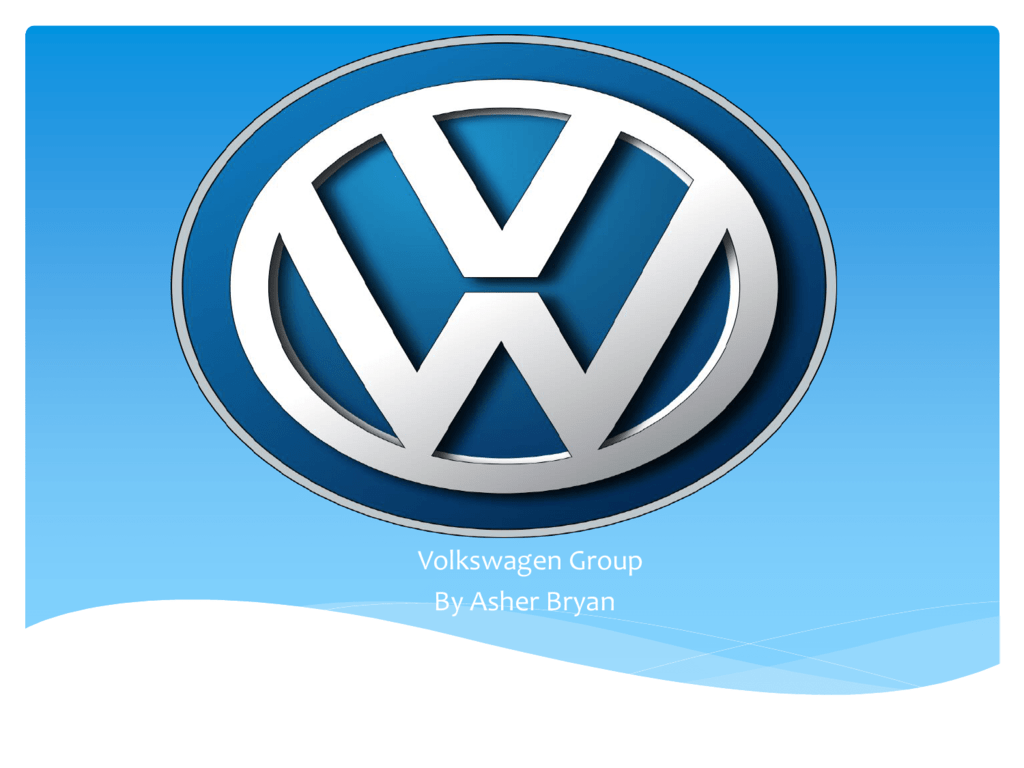 Volkswagen Group
By Asher Bryan
Company Background
Volkswagens is a German corporation that produces passenger cars,
commercial vehicles, and motorcycles. Volkswagen Group owns 13
vehicle brands which include Audi, Volkswagen, Bentley, Porsche,
Skoda, Lamborghini, MAN, Scania and motorcycle brand Ducati.
The Group's goal is to offer attractive, safe and environmentally
sound vehicles which can compete in an increasingly tough market
and set world standards in their respective class. Their mission is to
provide excellent business to serve the good of the people.
Case Overview
As of September 18th, Volkswagen
was accused of installing defeat
systems to cheat emissions test. The
defeat system used falsified emission
test that detected when they were being
tested, and changed the performance
accordingly to improve results.
8 Programing Steps
Situation- the US Environmental Protection Agency revealed
that Volkswagen has been using defeat systems to passed
emissions test for 6 years for approximately 11 million cars.
Objective- to win back public trust
Audience-consumers of VW owned vehicles
Strategy-set out a five-point plan with a promise to put
customers affected by the scandal at its heart while the
company seeks to change its mindset and culture.
Tactics-recall on cars , offer cash incentives to customers and
dealerships starting on January 8th, hotline for recalls.
Calendar- September – current
Budget- 20 billion dollars
Evaluation- the resignation and replacement of CEO Martin
Winterkorn, and a 30-percent drop in the company's stock
prices.
SWOT Analysis
Strengths
●Top performing cars
Weakness
● Brand image loss
● Company Credibility
●Quality Cars
Opportunities
● Increasing Demand for Fuel Efficient Vehicles
● Growth Potential in hybrid vehicles in
international countries
●The opportunity to rebuild the company
Threats
● Environment protection regulations
●Other hybrid making vehicle brands
●Rising raw material prices
Traditional Media
Non-Traditional Media
Critiquing the case
How would you change the research, strategies, tactics
and approach to make it more successful?
Given what actually happened, how would you move
forward?
Discussion Questions
With the information revealed about Volkswagen, would you still buy
cars from their brands?
Why do you think Volkswagen put defeat systems inside select cars and
not all cars?
Do you think that VW will ever bounce back from this crisis?
References
Hotten, Russel. "Volkswagen: The Scandal Explained - BBC News." BBC News.
N.p., 4 Nov. 2015. Web. 20 Nov. 2015.
Monica, Paul. "Volkswagen Stock Has Plunged 50%. Will It Ever
Recover?" CNNMoney. Cable News Network, 24 Sept. 2015. Web. 20 Nov.
2015.
Blance, Gec. "THE VOLKSWAGEN EMISSIONS SCANDAL." Gec Risk
Advisory.N.p., 23 Sept. 2015. Web. 20 Nov. 2015.
Staff, Warc."VW Vows to Win Back Public Trust." VW Vows to Win Back Public
Trust.N.p., 30 Oct. 2015. Web. 20 Nov. 2015.
Davis, Jenn. "The Implosion of a Brand: A Social Media Analysis of the
Volkswagen Emissions Scandal." Marketing Tech News.N.p., 17 Nov. 2015.
Web. 20 Nov. 2015.