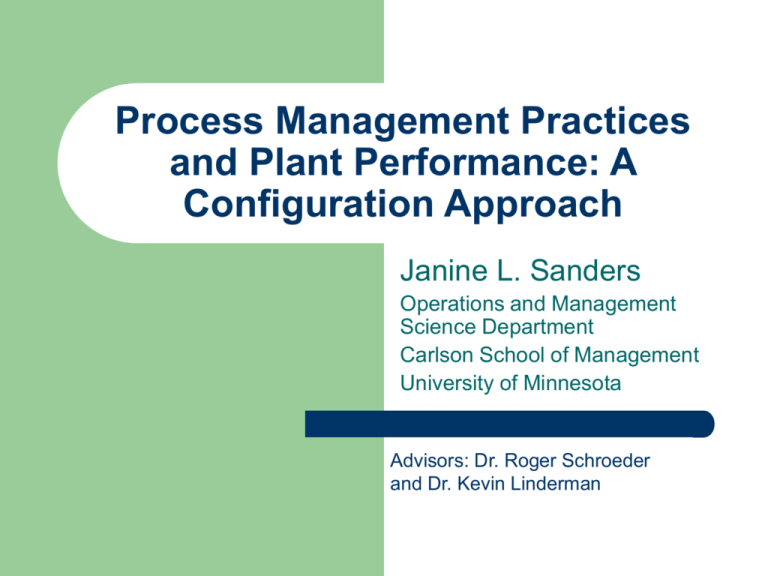 Process Management Practices
and Plant Performance: A
Configuration Approach
Janine L. Sanders
Operations and Management
Science Department
Carlson School of Management
University of Minnesota
Advisors: Dr. Roger Schroeder
and Dr. Kevin Linderman
Motivation
Practical


Increased emphasis on process management in
organizations
Several drivers for adoption
i.e., Customer requirement, Strategic, Imitation

Some organizations will fail for a variety of reasons
–
–
Mismatch with strategy, structure, culture
Lack of top management support
Motivation
Research


Institutional forces strong influence on other
manufacturing practices
Process management practices impact on
performance inconsistent
–
–
Limited studies specifically on process management
practices
Numerous definitions and measures
Research Questions

How do institutional forces affect the degree
of use of process management practices?

When is process management practices
beneficial to an organization? Are there
specific configurations of external and
internal organization components that align
with process management practices to yield
better plant performance?
Literature Review

Process Management as an element of TQM
(Flynn et al.,1995; Anderson et al.,1995; Powell, 1995; Choi
and Eboch, 1998; Rungtusanatham et al., 1998, 2005;
Samson and Terziovski, 1999)

Process Management Practices
(Ahire and Dreyfus, 2000; Ittner and Larcker, 1997)

Process Management and Strategy
(Benner and Tushman, 2002, 2003; Sousa and Voss, 2001)
Definition and Context

Process Management Practices
–
–

The tools and techniques used to manage processes that
create customer value, organizational value, and/or support
key business operations
Three types of practices: map, improve, and control
Context: Shop-floor level manufacturing
processes
Institutional affect


Institutional theory
Types of forces
–
–
–
–
–
Industry
Country
Competitive Intensity
Customer driven
Government regulations
P1: Institutional forces, such as industry, country,
competition, customer demands, and regulatory
requirements, will influence the use of process
management practices.
Configuration Approach

Configuration Theory
(Miller, 1987; Meyer et al., 1993; Doty et al., 1993; Dess et al.,
1993; Drazin and Van de Ven, 1985)

Elements for Configuration (Miles and Snow,
1978)
–
–
–
–
Environment
Strategy
Structure
Process Management Practices
Configuration Model
Ideal
Organization
Types
Prospector
Defender
Analyzer
Alignment
(Ideal organization
type fit with process
management
practices)
Degree of use of
Process
Management
Practices
Plant
Competitive
Performance
Table 2: Organizational Types Configurations
Dimension
Prospector
Defender
Analyzer
Uncertainty
H
L
M
Complexity
H
L
M
Hierarchical levels
L
H
M
Centralization of
Authority
L
H
M
Formalization
L
H
M
Functional
Interdependence
M
L
H
ENVIRONMENT
STRUCTURE
STRATEGY

Narrow market, Cost
leader
Broad markets, First
mover


Mixed market, Follower
Quality Values and
principles
M
H
H
Process Management
Practices
L
H
M
H=high, M=medium, L=low
Configuration Propositions
P2: There is a difference in the level of use of process
management practices between Prospectors, Defenders, and
Analyzers. Defenders use process management practices
the most, while Prospectors use them the least.
P3: The alignment between organization type and use of
process management practices is positively associated with
plant performance.
P4: There is no difference in plant performance when there is a
high degree of alignment between organization type and
process management practices.
Research Methodology

Sample
–
–
–


Measures
Classification Methods
–
–
–

N=189
Automotive, electronics, and machinery industries
Japan, Sweden, Finland, Korea, Germany, USA
Interval scaling
Calibration sample
Expert panel
SEM and Multivariate Techniques
Conclusion

Potential Contributions
–
–

Potential Limitations
–
–
–

Identify important institutional factors
Further understand impact of context
Missing measures for some variables
Configuration Development
Classification Method
Future Research
–
–
Other manufacturing practices
Service organizations and transactional processes
Thank you!