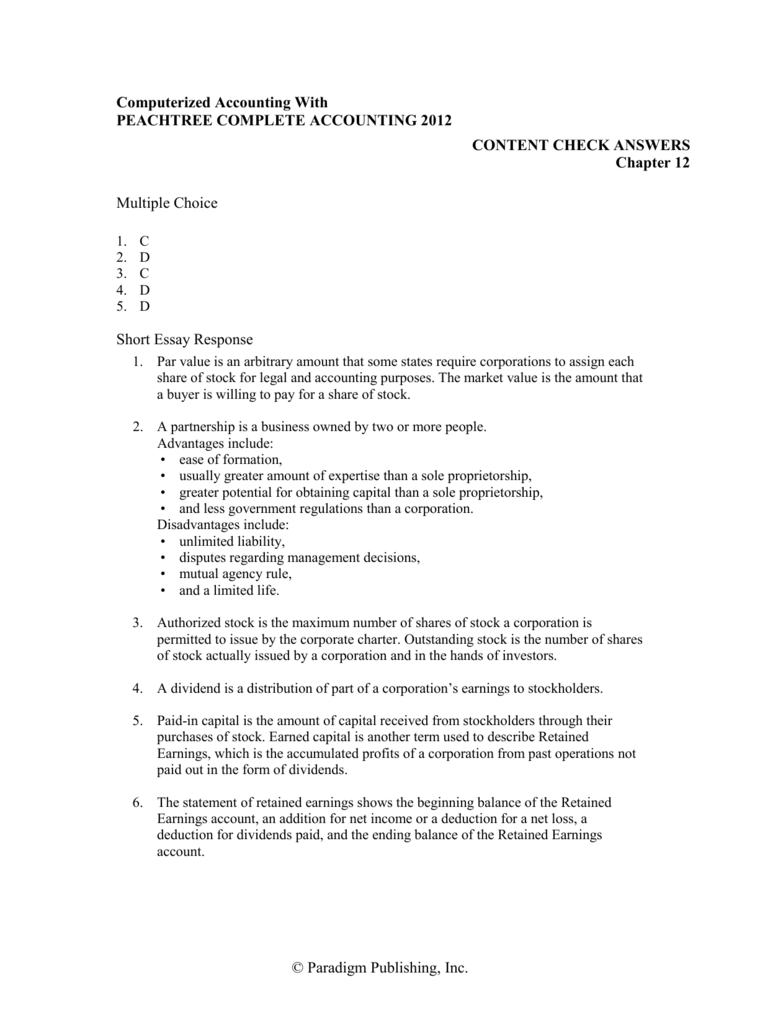 Computerized Accounting With
PEACHTREE COMPLETE ACCOUNTING 2012
CONTENT CHECK ANSWERS
Chapter 12
Multiple Choice
1.
2.
3.
4.
5.
C
D
C
D
D
Short Essay Response
1. Par value is an arbitrary amount that some states require corporations to assign each
share of stock for legal and accounting purposes. The market value is the amount that
a buyer is willing to pay for a share of stock.
2. A partnership is a business owned by two or more people.
Advantages include:
• ease of formation,
• usually greater amount of expertise than a sole proprietorship,
• greater potential for obtaining capital than a sole proprietorship,
• and less government regulations than a corporation.
Disadvantages include:
• unlimited liability,
• disputes regarding management decisions,
• mutual agency rule,
• and a limited life.
3. Authorized stock is the maximum number of shares of stock a corporation is
permitted to issue by the corporate charter. Outstanding stock is the number of shares
of stock actually issued by a corporation and in the hands of investors.
4. A dividend is a distribution of part of a corporation's earnings to stockholders.
5. Paid-in capital is the amount of capital received from stockholders through their
purchases of stock. Earned capital is another term used to describe Retained
Earnings, which is the accumulated profits of a corporation from past operations not
paid out in the form of dividends.
6. The statement of retained earnings shows the beginning balance of the Retained
Earnings account, an addition for net income or a deduction for a net loss, a
deduction for dividends paid, and the ending balance of the Retained Earnings
account.
© Paradigm Publishing, Inc.