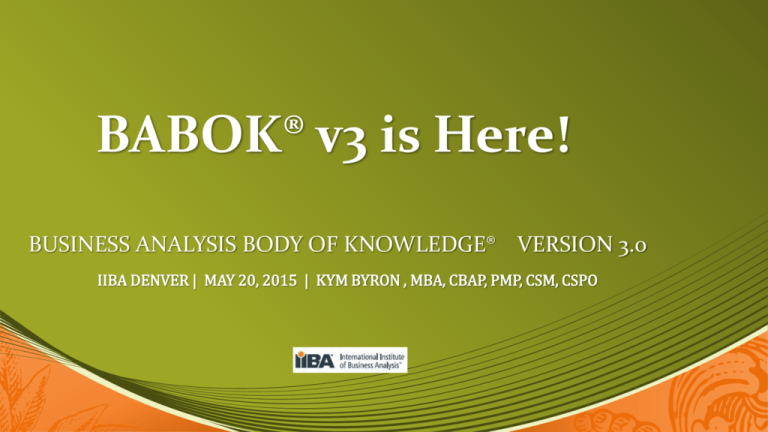 BABOK® v3 is Here!
BUSINESS ANALYSIS BODY OF KNOWLEDGE® VERSION 3.0
IIBA DENVER | MAY 20, 2015 | KYM BYRON , MBA, CBAP, PMP, CSM, CSPO
What's New/Different/Updated in 3.0
• Key Concepts
• Business Analysis Core Concept Model™ (BACCM™)
• Perspectives
• Updated Knowledge Areas
• Updated Task Structure
• Updated Underlying Competencies
• New and updated Techniques
Key Concepts
• Business Analysis Core Concept Model™ (BACCM™)
• Key Terms
• Requirements Classification Schema
• Stakeholders
• Requirements and Design
Business Analysis Core Concept Model™
• Change – the act of transformation in response to a need
• Need – a problem or opportunity to be addressed
• Solution – a specific way of satisfying a need(s) in a context
• Stakeholder (same 11 as in v2.0) – a group or individual with a
relationship to the change, the need, or the solution
• Value – the worth, importance, or usefulness of something to a
stakeholder within a context
• Context – the circumstances that influence, are influenced by, and
provide understanding of the change
Within each KA description there are examples of how the core concepts may be
used and/or applied during the tasks within the KA. If any of the core concepts
experience a change, it should cause us to re-evaluate these core concepts and
their relationships to value delivery.
Key Terms
WHAT IS BUSINESS
ANALYSIS?
• Business analysis is the
practice of enabling change in
an enterprise by defining
needs and recommending
solutions that deliver value to
stakeholders.
WHO IS A BUSINESS
ANALYST?
• Any person performs business
analysis tasks described in the
BABOK® Guide, no matter
their job title or organizational
role.
Key Terms
BUSINESS ANALYSIS
INFORMATION
• Broad and diverse sets of
information that business
analysts analyze, transform,
and report. It is information
of any kind – at any level of
detail – that is used as an input
to, or is an output of, business
analysis work
DESIGN
• A design is a usable
representation of a solution.
Design focuses on
understanding of value might
be realized by a solution if it is
built.
Key Terms
ENTERPRISE
• An enterprise is a system of
one or more organizations and
the solutions they use to
pursue a shared set of common
goals.
ORGANIZATION
• An autonomous group of
people under the management
of a single individual or board,
that works toward common
goals and objectives.
Key Terms
PLAN
• A plan is a proposal for doing
or achieving something. Plans
describe a set of events, the
dependencies among the
events, the expected sequence,
the schedule, the results or
outcomes, the materials or
resources needed, and the
stakeholders involved.
REQUIREMENT
• A requirement is a usable
representation of a need.
Requirements Classification Schema
• Business Requirements
• Stakeholder Requirements
• Solution Requirements
• Functional Requirements
• Non-Functional (or Quality of Service)
Requirements
• Transition Requirements
Stakeholders
• Business Analyst
• Customer
• Domain SME
• Sponsor
• Project Manager
• Operational Support
• End User
• User
• Implementation SME
• Tester
• Supplier
Requirements and Design
• Requirements focus on the need
• Design focuses on the solution
Perspectives
Used within business analysis work to provide focus to tasks
and techniques specific to the context of the initiatives. Most
initiatives are likely to engage one or more perspectives.
• Agile
• Business Intelligence
• Information Technology
• Business Architecture
• Business Process Management
Perspectives Structure
• Change Scope – what parts of the enterprise the change
encompasses when viewed from this perspective and to what extent
it impacts the objectives and operations of the enterprise . Also –
type of problems solved, solutions considered, approach, and value
• Business Analysis Scope – describes key stakeholders and the BA
role within the initiative. Also defines likely outcomes of BA work
• Methodologies, Approaches and Techniques – specific to those
that are unique to each perspective
• Underlying Competencies – those that are most prevalent to that
perspective
• Impact on Knowledge Areas– describes how knowledge areas are
applied or modified. Also explains how specific activities within a
perspective are mapped to tasks
Updated (from 2.0) Task Structure
V 2.0
• Purpose
V 3.0
• Purpose
• Description
• Description
• Inputs
• Inputs
• Elements
• Elements
• Techniques
• Guidelines and Tools
• Stakeholders
• Techniques
• Outputs
• Stakeholders
• Outputs
Knowledge Areas
• Business Analysis Planning and Monitoring
• Elicitation and Collaboration
• Requirements Life Cycle Management
• Strategy Analysis
• Requirements Analysis and Design Definition
• Solution Evaluation
Business Analysis Planning and Monitoring
• Renamed Tasks
• One new Task
• Elements moved around within the KA
Version 3 continues to address the BA role in defining the work and
approach for the initiative.
Elicitation and Collaboration (2.0  Elicitation)
• More guidance for practitioners
• Unplanned Elicitation
• BA information referenced throughout (not just requirements as the
object of elicitation
• One renamed task
• One new task
The focus remains similar but has expanded to include the new topic of
Collaboration.
Requirements Life Cycle Management
(2.0  Requirements Management and Communication)
• Communication activities now in Elicitation and Collaboration KA
• Requirements  Business Analysis Information
Updated to recognize the fact that requirements have their own life cycle and
Requirements management is an ongoing activity.
Strategy Analysis (2.0  Enterprise Analysis)
• Expanded purpose and a new name
• Strategy Analysis is broader
Not only involves the upfront work, but current state research, defining
the future (desired) state, developing the change strategy to achieve the
desired business outcomes and assess the risks inherent in the change
Strategy.
Requirements Analysis and Design Definition
(2.0  Requirements Analysis)
• BAs have involvement with design activities
• Incorporates Tasks from 2.0 KA Solution Assessment and Validation
Activities involved with the proposed solution are part of this KA.
Solution Evaluation
(2.0  Solution Assessment and Validation)
• More focus on evaluating solutions (less on implementation)
• Is value being delivered by a solution?
• Anything hindering the organization from receiving full value
from a solution?
Underlying Competencies
• Analytical Thinking and Problem Solving
• Behavioral Characteristics
• Creative Thinking
• Ethics
• Decision Making
• Personal Accountability
• Learning
• Trustworthiness
• Problem Solving
• Systems Thinking
• Conceptual Thinking
• Visual Thinking
Underlying Competencies
• Business Knowledge
• Communication Skills
• Business Acumen
• Verbal Communication
• Industry Knowledge
• Non-Verbal Communication
• Organization Knowledge
• Written Communication
• Solution Knowledge
• Listening
• Methodology Knowledge
Underlying Competencies
• Interaction Skills
• Tools and Technology
• Facilitation
• Office Productivity Tools & Technology
• Leadership and Influencing
• Business Analysis Tools & Technology
• Teamwork
• Communication Tools & Technology
• Negotiation and Conflict Resolution
• Teaching
Techniques (* updated; italics new)
• Acceptance and Evaluation Criteria
• Data Mining
• Backlog Management
• Data Modelling
• Balanced Scorecard
• Decision Analysis
• Benchmarking and Market Analysis*
• Brainstorming
• Business Capability Analysis
• Business Cases
• Business Model Canvas
• Business Rules Analysis
• Decision Modelling
• Document Analysis
• Estimation
• Financial Analysis
• Focus Groups
• Collaborative Games
• Functional Decomposition
• Concept Modelling
• Glossary*
• Data Dictionary*
• Interface Analysis
• Data Flow Diagrams
• Interviews
Techniques
• Item Tracking
• Roles and Permissions Matrix
• Lessons Learned
• Root Cause Analysis
• Metrics and Key Performance
Indicators
• Scope Modeling
• Mind Mapping
• Non-Functional Requirements
Analysis
• Sequence Diagrams
• Stakeholder List, Map, or Personas
• Survey or Questionnaire
• Observation
• SWOT Analysis
• Organizational Modelling
• Use Cases and Scenarios
• Process Modeling
• User Stories
• Prototyping
• Vendor Assessment
• Reviews
• Workshops
• Risk Analysis and Management
Happy Reading!