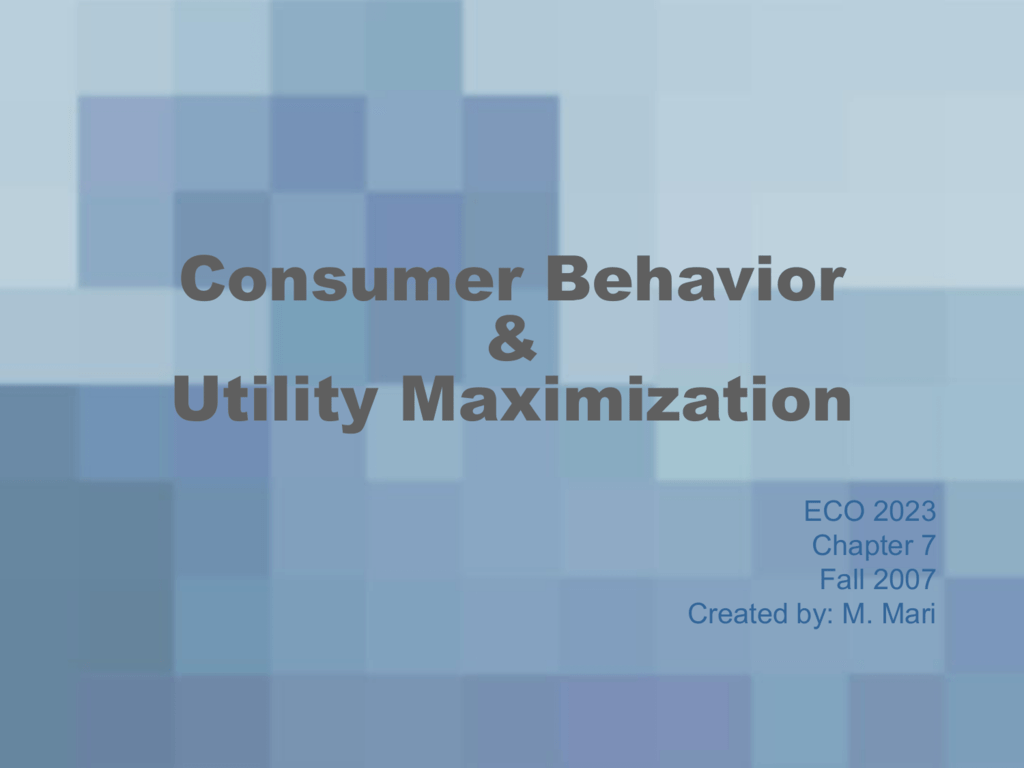 Consumer Behavior
&
Utility Maximization
ECO 2023
Chapter 7
Fall 2007
Created by: M. Mari
Terminology
• Utility – the satisfaction or enjoyment that
you receive from a choice or consumption
of a good
– subjective
• Total utility – total amount of satisfaction or
pleasure from consuming some specific
quantity of a good
• Marginal utility – the extra utility from
consuming one more unit of the good
Utility Analysis
• Utility
– Satisfaction or enjoyment from an
action
– Subjective
– Depends on tastes
– Economists assumes simply that
tastes are given and are relatively
stable
Law of Diminishing
Marginal Utility
The law states:
that as a consumer
consumes more units of
product, the marginal or
additional utility that he or
she will receive from the
product declines
Graphically
Utility increases as consumption increases
until it reaches a maximum and begins to
drop.
Total
Utility
Units
consumed
Law of Diminishing
Marginal Utility
• Explains why the demand curve for a
given product slopes downward.
• If successive units of a good yield
smaller and smaller amounts of
marginal, or extra, utility, then the
consumer will buy additional units of
a product only if its price falls.
Theory of Consumer
Behavior
• The law of diminishing marginal
utility explains how consumers
allocate their money incomes
among the many goods and
services available for purchase.
Consumer Choice and
Budget Constraint
– A typical consumer's situation has the
following dimensions
• Rational behavior
• Preferences – clear cut preferences for
certain of the goods and services that are
available in the market
• Budget constraint – consumer has a fixed or
limited amount of money income
• Prices
– Different individuals will choose different
mixes of goods and services that most
satisfy him or her
Utility Maximizing
Rule:
• To maximize satisfaction, the
consumer should allocate his or
her money income so that the
last dollar spent on each product
yield the same amount of extra
utility
Example
• Product A: Price = $1
• Product B: Price = $2
Units
Marginal
Utility
(units)
MU/P
Marginal
Utility
MU/P
1
10
10
24
12
2
8
8
20
10
3
7
7
18
9
4
6
6
16
8
5
5
5
12
6
6
4
4
6
3
7
3
3
4
2
Income and
Substitution Effects
• Income Effect: is the impact that a change
in the price of a product has on a
consumer's real income and consequently
on the quantity demanded of the good
• Substitution Effect: is the impact that a
change in a product's price has on its
relative expensiveness and consequently
on the quantity of the good demanded.
• The income and substitution effect
combine to increase a consumer's ability
and willingness to buy more a specific
good when price falls.