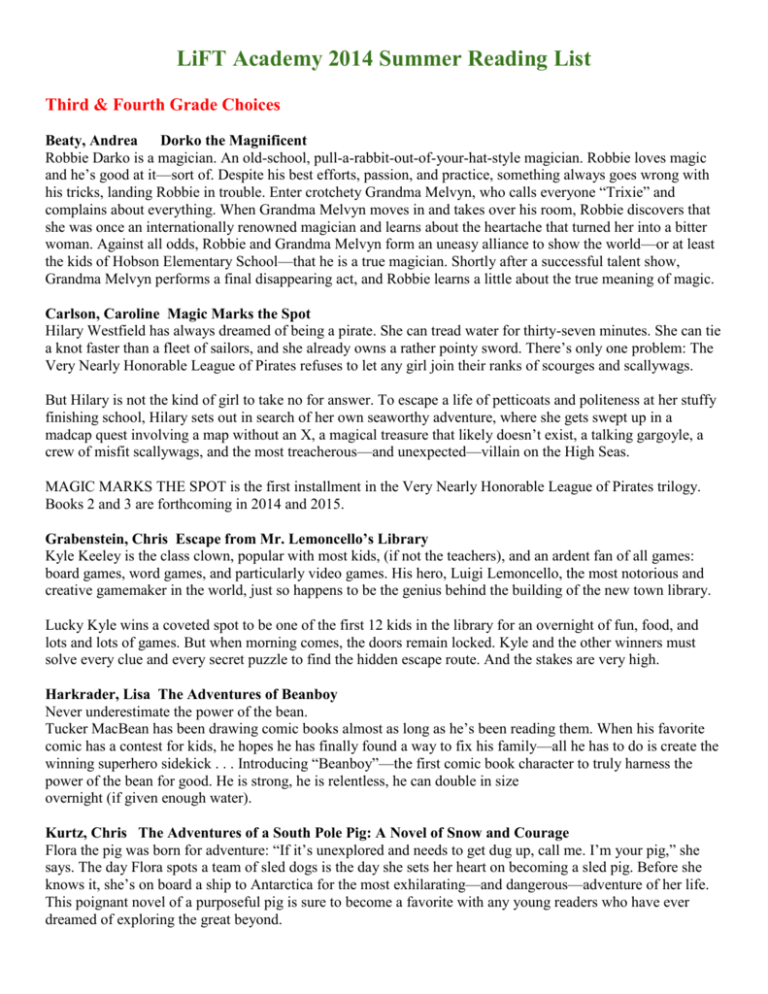 LiFT Academy 2014 Summer Reading List
Third & Fourth Grade Choices
Beaty, Andrea
Dorko the Magnificent
Robbie Darko is a magician. An old-school, pull-a-rabbit-out-of-your-hat-style magician. Robbie loves magic
and he's good at it—sort of. Despite his best efforts, passion, and practice, something always goes wrong with
his tricks, landing Robbie in trouble. Enter crotchety Grandma Melvyn, who calls everyone "Trixie" and
complains about everything. When Grandma Melvyn moves in and takes over his room, Robbie discovers that
she was once an internationally renowned magician and learns about the heartache that turned her into a bitter
woman. Against all odds, Robbie and Grandma Melvyn form an uneasy alliance to show the world—or at least
the kids of Hobson Elementary School—that he is a true magician. Shortly after a successful talent show,
Grandma Melvyn performs a final disappearing act, and Robbie learns a little about the true meaning of magic.
Carlson, Caroline Magic Marks the Spot
Hilary Westfield has always dreamed of being a pirate. She can tread water for thirty-seven minutes. She can tie
a knot faster than a fleet of sailors, and she already owns a rather pointy sword. There's only one problem: The
Very Nearly Honorable League of Pirates refuses to let any girl join their ranks of scourges and scallywags.
But Hilary is not the kind of girl to take no for answer. To escape a life of petticoats and politeness at her stuffy
finishing school, Hilary sets out in search of her own seaworthy adventure, where she gets swept up in a
madcap quest involving a map without an X, a magical treasure that likely doesn't exist, a talking gargoyle, a
crew of misfit scallywags, and the most treacherous—and unexpected—villain on the High Seas.
MAGIC MARKS THE SPOT is the first installment in the Very Nearly Honorable League of Pirates trilogy.
Books 2 and 3 are forthcoming in 2014 and 2015.
Grabenstein, Chris Escape from Mr. Lemoncello's Library
Kyle Keeley is the class clown, popular with most kids, (if not the teachers), and an ardent fan of all games:
board games, word games, and particularly video games. His hero, Luigi Lemoncello, the most notorious and
creative gamemaker in the world, just so happens to be the genius behind the building of the new town library.
Lucky Kyle wins a coveted spot to be one of the first 12 kids in the library for an overnight of fun, food, and
lots and lots of games. But when morning comes, the doors remain locked. Kyle and the other winners must
solve every clue and every secret puzzle to find the hidden escape route. And the stakes are very high.
Harkrader, Lisa The Adventures of Beanboy
Never underestimate the power of the bean.
Tucker MacBean has been drawing comic books almost as long as he's been reading them. When his favorite
comic has a contest for kids, he hopes he has finally found a way to fix his family—all he has to do is create the
winning superhero sidekick . . . Introducing "Beanboy"—the first comic book character to truly harness the
power of the bean for good. He is strong, he is relentless, he can double in size
overnight (if given enough water).
Kurtz, Chris The Adventures of a South Pole Pig: A Novel of Snow and Courage
Flora the pig was born for adventure: "If it's unexplored and needs to get dug up, call me. I'm your pig," she
says. The day Flora spots a team of sled dogs is the day she sets her heart on becoming a sled pig. Before she
knows it, she's on board a ship to Antarctica for the most exhilarating—and dangerous—adventure of her life.
This poignant novel of a purposeful pig is sure to become a favorite with any young readers who have ever
dreamed of exploring the great beyond.
Lee, Jenny Elvis and the Underdogs
From Jenny Lee, writer on the Disney Channel show Shake It Up!, the number-one-rated kids' show in the
country, this feel-good middle-grade novel is about a sickly boy whose life is turned upside down when he gets
a therapy dog . . . who can talk!
Benji Wendell Barnsworth is a small ten-year-old boy with a big personality. Born premature, Benji is sickly,
accident-prone, and at the hospital so often he even has his own punch card. So when Benji wakes up one day
from a particularly bad spell, his doctors take the radical step of suggesting he get a therapy dog. But when a
massive crate arrives at Benji's house, out walks a two-hundred-pound Newfoundland who can talk! And boy, is
he bossy.
Messner, Kate Capture the Flag
A stolen flag, a secret society, and three complete strangers . . .
Anna, José, and Henry have never met, but they have more in common than they realize. Snowed in together at
a chaotic Washington, DC, airport, they encounter a mysterious tattooed man, a flamboyant politician, and a
rambunctious poodle named for an ancient king. Even stranger, news stations everywhere have just announced
that the famous flag that inspired "The Star-Spangled Banner" has been stolen! Anna, certain that the culprits
must be snowed in, too, recruits Henry and José to help find the thieves and bring them to justice.
But when accusations start flying, they soon realize there's even more than a national treasure at stake. With
unexpected enemies lurking around every corner, will the trio solve the heist before the flag is lost forever?
Paley, Jane Hooper Finds a Family: A Hurricane Katrina Dog's Survival Tale
He's endearing.
He's funny.
He's a survivor.
Here comes Hooper, one plucky, spunky dog whose warm spirit and goofy personality are irresistible. Hooper
tells his own dramatic rescue tale after being left homeless in the wake of Hurricane Katrina and taking a daring
trip from New Orleans to New York to meet his new family. He tells of the terrifying force of Katrina, his trials
in the shelter, and being the new dog on the block in a city far from home. As Hooper struggles to find his
place, he learns to overcome his fear of water and faces down feisty squirrels as well as the resident bully and
top dog in his new neighborhood.
Perl, Erica When Life Gives You O.J.
For years, 10-year-old Zelly Fried has tried to convince her parents to let her have a dog. After all, practically
everyone in Vermont owns a dog, and it sure could go a long way helping Zelly fit in since moving there from
Brooklyn. But when her eccentric grandfather Ace hatches a ridiculous plan involving a "practice dog" named
O.J., Zelly's not so sure how far she's willing to go to win a dog of her own. Is Ace's plan so crazy it just might
work . . . or is it just plain crazy?
Pogue, David Abby Carnelia's One & Only Magical Power
One day, Abby Carnelia, ordinary sixth grader, realizes she has a magical power. Okay, it's not a fancy one (she
can make a hard-boiled egg spin by tugging on her ears). But it's the only one she has, and it's enough to launch
her into an adventure where she meets a host of kids with similarly silly powers, becomes a potential guinea pig
for a drug company, and hatches a daring plan for escape.
Probst, Jeff Stranded
A family vacation becomes a game of survival!
It was supposed to be a vacation--and a chance to get to know each other better. But when a massive storm sets
in without warning, four kids are shipwrecked alone on a rocky jungle island in the middle of the South Pacific.
No adults. No instructions. Nobody to rely on but themselves. Can they make it home alive?
A week ago, the biggest challenge Vanessa, Buzz, Carter, and Jane had was learning to live as a new blended
family. Now the four siblings must find a way to work together if they're going to make it off the island. But
first they've got to learn to survive one another.
Selfors, Suzanne
The Sasquatch Escape
When Ben Silverstein is sent to the rundown town of Buttonville to spend the summer with his grandfather, he's
certain it will be the most boring vacation ever. That is, until his grandfather's cat brings home what looks like .
. . a baby dragon?
Amazed, Ben enlists the help of Pearl Petal, a local girl with an eye for adventure. They take the wounded
dragon to the only veterinarian's office in town -- Dr. Woo's Worm Hospital. But as Ben and Pearl discover
once they are inside, Dr. Woo's isn't a worm hospital at all -- it's actually a secret hospital for imaginary
creatures.
After Ben accidentally leaves the hospital's front door unlocked, a rather large, rather stinky, andveryhairy beast
escapes into Buttonville. Ben and Pearl are tasked with retrieving the runaway creature, and what started out as
an ordinary summer becomes the story of a lifetime.
Shurtliff, Liesl Rump: The True Story of Rumpelstiltskin
In a magic kingdom where your name is your destiny, 12-year-old Rump is the butt of everyone's joke. But
when he finds an old spinning wheel, his luck seems to change. Rump discovers he has a gift for spinning straw
into gold. His best friend, Red Riding Hood, warns him that magic is dangerous, and she's right. With each
thread he spins, he weaves himself deeper into a curse.
To break the spell, Rump must go on a perilous quest, fighting off pixies, trolls, poison apples, and a wickedly
foolish queen. The odds are against him, but with courage and friendship—and a cheeky sense of humor—he
just might triumph in the end.
Tooke, Wes King of the Mound: My Summer with Satchel Paige
When Nick is released from the hospital after suffering from polio, he is sure that his father will never look at
him in the same way again. Once the best pitcher in youth league, Nick now walks with a limp and is dependent
on a heavy leg brace. He isn't sure he will ever return to the mound, never mind be the star he once was.
When Nick starts working for Mr. Churchill, the owner of the semiprofessional team Nick's dad plays for, he
meets Satchel Paige, arguably the best pitcher in the world. Not allowed in the major leagues because of his
skin color, Satchel teaches Nick that some things can be overcome with hard work and dedication, and that just
because you're down, you are most certainly not out.
As Satchel and his unique teammates barnstorm toward a national baseball tournament, Nick wonders if he can
really overcome what seems like the impossible and pitch again.
Vande Velde, Vivian 8 Class Pets + 1 Squirrel Divided by 1 Dog = Chaos
Twitch, the school yard squirrel, has really gotten himself into a bind this time. While trying to escape from a
hungry owl, he roused the principal's dog and got chased into the school. Now he's locked in for a dangerous
and disastrous night. Can Green Eggs and Hamster, Sweetie the library rat, and the other school pets save
Twitch from the crazed dog, Cuddles? In this uproarious chapter book, a group of small animals manages to
turn an elementary school into a real zoo.
Fifth Grade Choices
Atkinson, E.J. I, Emma Freke.
"I, Emma Freke, am not a freak. Or maybe I am. I just don't know." What's in a name? I, Emma Freke is a
charming search-for-identity story about Emma―the only "normal" member of her quirky family. Her flighty,
New Age mom seems to barely have time for a daughter, especially one who annoyingly spoils her mom's
youthful facade. Emma's well-meaning grandpa is clueless. And her only friends are the local librarian and a
precocious 10-year old adopted by the two old ladies next door. Smart, shy, and nearly six feet tall, Emma
struggles to fit in at school, so she jumps at the opportunity to "home school" until that too turns into another of
mom's half-baked ideas. The real crisis comes when she gets an invitation to The Freke Family Reunion, and
her fellow Frekes aren't at all what she expects. While Emma desperately tries to find her niche, she discovers
that perhaps it's better to be her own "freak" than someone else's Freke. (Lexile 750)
Black, Holly. Doll Bones
Zach, Poppy, and Alice have been friends for ever. They love playing with their action figure toys imagining a
magical world of adventure and heroism. But disaster strikes when, without warning, Zach's father throws out
all his toys, declaring he's too old for them. Zach is furious, confused and embarrassed, deciding that the only
way to cope is to stop playing . . . and stop being friends with Poppy and Alice. But one night the girls pay Zach
a visit and tell him about a series of mysterious occurrences. Poppy swears that she is now being haunted by a
china doll – who claims that it is made from the ground-up bones of a murdered girl. They must return the doll
to where the girl lived and bury it. Otherwise, the three children will be cursed for eternity. (Lexile 840)
Bodeen, S.A. The Raft
Robie is an experienced traveler. She's taken the flight from Honolulu to the Midway Atoll, a group of Pacific
islands where her parents live, many times. When she has to get to Midway in a hurry after a visit with her aunt
in Hawaii, she gets on the next cargo flight at the last minute. She knows the pilot, but on this flight there's a
new co-pilot named Max. All systems are go until a storm hits during the flight. The only passenger, Robie
doesn't panic until the engine suddenly cuts out, and Max shouts at her to put on a life jacket. They are over
miles of Pacific Ocean, and she sees Max struggle with a raft. (Lexile 680)
Jacobson, Jennifer. Small as an Elephant
Ever since Jack can remember his mom has been unpredictable, sometimes loving and fun, other times caught
in a whirlwind of energy and "spinning" wildly until it's over. But Jack never thought his mom would take off
during the night and leave him at a campground in Acadia National Park with no way to reach her and barely
enough money for food. Any other kid would report his mom gone, but Jack knows by now that he needs to
figure things out for himself - starting with how to get from the backwoods of Maine to his home in Boston
before DSS catches on. With nothing but a small toy elephant to keep him company, Jack begins the long
journey south; a journey that will test his wits and his loyalties - and his trust that he may be part of a larger
herd after all. (Lexile 790)
Klise, Kate. Homesick
Benny's parents are splitting up. His mom leaves home after a fight about a mysterious splinter that is rumored
to be part of an important relic. Benny's dad has always liked clutter, but now, he begins hoarding everything
from pizza boxes to old motorcycle parts. As his house grows more cluttered and his father grows more distant,
Benny tries to sort out whether he can change anything at all. Meanwhile, a local teacher enters their quiet
Missouri town in America's Most Charming Small Town contest, and the pressure is on to clean up the area,
especially Benny's ramshackle of a house, before the out-of-town guests arrive. (Lexile 860)
Levine, Kristin. The Lions of Little Rock
Twelve-year-old Marlee doesn't have many friends until she meets Liz, the new girl at school. Liz is bold and
brave and always knows the right thing to say, especially to Sally, the resident mean girl. Liz even helps Marlee
overcome her greatest fear - speaking, which Marlee never does outside her family. But then Liz is gone,
replaced by the rumor that she was a Negro girl passing as white. But Marlee decides that doesn't matter. Liz is
her best friend. And to stay friends, Marlee and Liz are willing to take on integration and the dangers their
friendship could bring to both their families. (Lexile 630)
McNeal, Tom. Far Far Away
It says quite a lot about Jeremy Johnson Johnson that the strangest thing about him isn't even the fact his mother
and father both had the same last name. Jeremy once admitted he's able to hear voices, and the townspeople of
Never Better have treated him like an outsider since. After his mother left, his father became a recluse, and it's
been up to Jeremy to support the family. But it hasn't been up to Jeremy alone. The truth is, Jeremy can hear
voices. Or, specifically, one voice: the voice of the ghost of Jacob Grimm, one half of the infamous writing duo,
The Brothers Grimm. Jacob watches over Jeremy, protecting him from an unknown dark evil whispered about
in the space between this world and the next. But when the provocative local girl Ginger Boultinghouse takes an
interest in Jeremy (and his unique abilities), a grim chain of events is put into motion. And as anyone familiar
with the Grimm Brothers know, not all fairy tales have happy endings. (Lexile 790)
Meloy, Maile. The Apothecary
It's 1952 and the Scott family has just moved from Los Angeles to London. Here, fourteen-year-old Janie meets
a mysterious apothecary and his son, Benjamin Burrows—a fascinating boy who's not afraid to stand up to
authority and dreams of becoming a spy. When Benjamin's father is kidnapped, Janie and Benjamin must
uncover the secrets of the apothecary's sacred book, the Pharmacopoeia, in order to find him, all while keeping
it out of the hands of their enemies—Russian spies in possession of nuclear weapons. Discovering and testing
potions they never believed could exist, Janie and Benjamin embark on a dangerous race to save the apothecary
and prevent impending disaster. (Lexile 740)
Poblocki, Dan. The Ghosts of Graylock
Does an abandoned asylum hold the key to a frightful haunting? Everyone's heard the stories about Graylock
Hall. It was meant to be a place of healing - a hospital where children and teenagers with mental disorders
would be cared for and perhaps even cured. But something went wrong. Several young patients died under
mysterious circumstances. Eventually, the hospital was shut down, the building abandoned and left to rot deep
in the woods. As the new kid in town, Neil Cady wants to see Graylock for himself. Especially since rumor has
it that the building is haunted. He's got fresh batteries in his flashlight, a camera to document the adventure, and
a new best friend watching his back. Neil might think he's prepared for what he'll find in the dark and decrepit
asylum. But he's certainly not prepared for what follows him home. Scary, suspenseful, and surprising, Dan
Poblocki's latest ghost story will keep you turning pages deep into the dead of night! (Lexile 690)
Ponti, James. Dead City
Most kids have enough to deal with between school, homework, extracurricular activities, and friends, but
Molly Bigelow isn't your typical tween. By day, Molly attends MIST—the Metropolitan Institute of Science
and Technology—but it's what she's learning outside of school that sets her apart from her classmates. Molly is
a zombie hunter, just like her mother. This, however, is news to Molly. Now she must come to terms with not
only the idea that zombies exist, but also that they're everywhere, and it's her job to help police them and keep
the peace. Sure, she'd like to be a regular kid, but "regular" just isn't possible when it turns out the most revered
(or feared, depending on your perspective) zombie hunter in the history of New York City is your mother. It
seems Molly's got some legendary footsteps to follow. (Lexile 720)
Riley, James. Half Upon a Time
Life's no fairy tale for Jack. After all, his father's been missing ever since that incident with the beanstalk and
the giant, and his grandfather keeps pushing him to get out and find a princess to rescue. Who'd want to rescue a
snobby, entitled princess anyway? Especially one that falls out of the sky wearing a shirt that says "Punk
Princess," and still denies she's royalty. In fact, May doesn't even believe in magic. Yeah, what's that about?
May does need help though - a huntsman is chasing her, her grandmother has been kidnapped, and Jack thinks
it's all because of the Wicked Queen . . . mostly because May's grandmother might just be the long-lost Snow
White. Jack and May's thrillingly hilarious adventure combines all the classic stories—fractured as a broken
magic mirror—into the first of an epic new series of novels for the ages. (Lexile 820)
Wells, Robinson. Variant
Benson Fisher thought that a scholarship to Maxfield Academy would be the ticket out of his dead-end life. He
was wrong. Now he's trapped in a school that's surrounded by a razor-wire fence. A school where video
cameras monitor his every move. Where there are no adults. Where the kids have split into groups in order to
survive. Where breaking the rules equals death. But when Benson stumbles upon the school's real secret, he
realizes that playing by the rules could spell a fate worse than death, and that escape—his only real hope for
survival—may be impossible. (Lexile 640)
Sixth Grade Choices Some book annotations are from Amazon, and those that are noted with a 12 + are
books that are better suited for teens.
Anderson, Laurie Halse. Chains
Set in New York City at the beginning of the American Revolution, Chains addresses the price of freedom both
for a nation and for individuals. Isabel tells the story of her life as a slave. She was sold with her five-year-old
sister to a cruel Loyalist family even though the girls were to be free upon the death of their former owner. She
has hopes of finding a way to freedom and becomes a spy for the rebels, but she soon realizes that it is difficult
to trust anyone. She chooses to find someone to help her no matter which side he or she is on. With short
chapters, each beginning with a historical quote, this fast-paced novel reveals the heartache and struggles of a
country and slave fighting for freedom. The characters are well developed, and the situations are realistic.
Bachman, Stefan. The Peculiar
Don't get yourself noticed and you won't get yourself hanged. In the faery slums of Bath, Bartholomew and his
little sister Hettie live by these words. Bartholomew and Hettie are Peculiars, and neither faeries nor humans
want anything to do with them. But when Peculiars start showing up in London murdered and covered with red
tattoos, Bartholomew breaks all the rules and gets himself noticed. Full of magic, dazzling inventions, and
intriguing characters such as Mr. Jelliby and Lord Lickerish, this story of friendship, bravery, and nonstop
action adventure was hailed by best-selling author Christopher Paolini as "swift, strong, and entertaining.
Highly recommended."
Bradley, Alan. The Sweetness at the Bottom of the Pie ( A Flavia De Luce Mystery Series)
Eleven-year old Flavia De Luce is an aspiring chemist with a passion for poison. She loves nothing better than
solving a good murder mystery and taunting her older sisters. It is the summer of 1950 – and at the once-grand
mansion of Buckshaw, young Flavia is intrigued by a series of inexplicable events: A dead bird is found on the
doorstep, a postage stamp bizarrely pinned to its beak. Then, hours later, Flavia finds a man lying in the
cucumber patch and watches him as he takes his dying breath. For Flavia, who is both appalled and delighted,
life begins in earnest when murder comes to Buckshaw. "I wish I could say I was afraid, but I wasn't. Quite the
contrary. This was by far the most interesting thing that had ever happened to me in my entire life." The story is
clever and humorous with characters you will truly love.
Brink, Ryrie Carol. Caddie Woodlawn
Caddie Woodlawn is a real adventurer. She'd rather hunt than sew and plow than bake, and tries to beat her
brother's dares every chance she gets. Caddie is friends with Indians, who scare most of the neighbors -neighbors who, like her mother and sisters, don't understand her at all. Caddie is brave, and her story is special
because it's based on the life and memories of Carol Ryrie Brink's grandmother, the real Caddie Woodlawn. Her
spirit and sense of fun have made this book a classic that readers have taken to their hearts for more than
seventy years.
Chima, Williams Cinda. The Demon King (Seven Realms)
One day Han Alister catches three young wizards setting fire to the sacred mountain of Hanalea. Han takes an
amulet away from Micah Bayar, son of the High Wizard, to ensure the boy won't use it against him. The amulet
once belonged to the Demon King, who nearly destroyed the world a millennium ago. With a magical piece so
powerful at stake, Han knows that the Bayars will stop at nothing to get it back. Meanwhile, Princess Raisa
ana'Marianna has her own battle to fight. She's just returned to court after three years of riding and hunting with
her father's family. Raia aspires to be like Hanalea, the legendary warrior queen who killed the Demon King and
saved the world. But it seems that her mother has other plans for her-plans that include a suitor who goes
against everything the Queendom stands for.
Clayton, Emma. The Roar (Book 1)
In a bleak future, humans use terrible chemicals to fight The Animal Plague that causes all of the world's
animals to go rabid and renders most of the planet uninhabitable. The population now cowers in overcrowded
walled cities. Mika, twelve, and his parents live in London in terrible conditions. His twin, Ellie, supposedly
drowned a year earlier, but Mika is convinced that she still lives. He's right. The story begins with Ellie and a
tiny monkey named Puck fleeing a spaceship in a stolen Pod Fighter. Sadly, their attempt to escape is foiled by
the evil Mal Gorman, who has a plan to co-opt the entire first generation of children born after the Plague and
make them into an army for his own nefarious purposes. And Gorman has special plans for kids like Mika and
Ellie, whose mutations give them unique abilities. To save his sister, Mika will have to win a contest involving
simulator battle games and many deadly challenges, using abilities he never knew he had. The story starts fast
and never slows down. While the bad guys are a bit stereotypical, the good guys are interesting and realistic.
There's a touch of the supernatural, some interesting philosophical questions, and a cliffhanger ending that will
leave readers hungry for more.
Cooper, Susan. The Dark Is Rising (The Dark is Rising Sequence)
On the Midwinter Day that is his eleventh birthday, Will Stanton discovers a special gift - that he is the last of
the Old Ones, immortals dedicated to keeping the world from domination by the forces of evil, the Dark. At
once, he is plunged into a quest for the six magical Signs that will one day aid the Old Ones in the final battle
between the Dark and the Light. And for the twelve days of Christmas, while the Dark is rising, life for Will is
full of wonder, terror, and delight.
DuPrau, Jeanne. The City of Ember (Books of Ember)
In the year 241, twelve-year old Lina trades jobs on Assignment Day to be a Messenger to run to new places in
her decaying but beloved city. But when the storerooms run out of food and the lights begin to fail, it's up to her
and her friend Doon to decipher the fragments of an ancient parchment and find a way out of Ember.
Farmer, Nancy. The Sea of Trolls (Sea of Trolls Trilogy)
This is an epic fantasy-adventure story with big Vikings and bigger trolls. At the heart of the story is a small
Saxon boy named Jack who's never been much good at anything until the Bard of his medieval village makes
him an apprentice mage. Just as Jack is learning to tap into and control his power, he is kidnapped along with
his little sister Lucy and taken to the court of King Ivar the Boneless and his troll Queen Frith. When one of
Jack's spells goes awry and causes Queen Frith's hair to fall out, he is sent on a dangerous quest across the Sea
of Trolls to make things right or suffer the consequences. There are plenty of troll-bears, giant spiders, and
dragons along with history, mythology, and humor to keep all readers satisfied and hungering for the sequel.
Forde, Jasper. The Last Dragonslayer
In the good old days, magic was indispensable. But now magic is fading: Drain cleaner is cheaper than a spell,
and magic carpets are used for pizza delivery. Fifteen-year-old Jennifer Strange runs Kazam, an employment
agency for magicians—but it's hard to stay in business when magic is drying up. And then the visions start,
predicting the death of the world's last dragon at the hands of an unnamed Dragonslayer. If the visions are true,
everything will change for Kazam—and for Jennifer.
Flanagan, John. The Outcasts: Brotherband Chronicles (Book 1)
They are outcasts. Hal, Stig, and the others - they are the boys the others want no part of. Skandians, as any
reader of Ranger's Apprentice could tell you, are known for their size and strength. Not these boys. Yet that
doesn't mean they don't have skills. And courage - which they will need every ounce of to do battle at sea
against the other bands, the Wolves and the Sharks, in the ultimate race. The icy waters make for a treacherous
playing field . . . especially when not everyone thinks of it as playing. John Flanagan, author of the international
phenomenon Ranger's Apprentice, creates a new cast of characters to populate his world of Skandians and
Araluens, a world millions of young readers around the world have come to know and admire. Full of seafaring
adventures and epic battles, Book 1 of The Brotherband Chronicles is sure to thrill readers of Ranger's
Apprentice while enticing a whole new generation just now discovering the books.
Flavin, Teresa. The Blackhope Enigma
An ancient painting, a magical labyrinth, and skeletons found in a locked room.
For centuries, Blackhope Tower has been shrouded in intrigue, centering on a labyrinth and painting in the
Mariner's Chamber. When fourteen-year-old Sunni Forrest visits the tower and sees her step-brother, Dean,
disappear, seemingly into the painting itself, she must find him and risk being drawn into the heart of the
Blackhope enigma. This action-packed debut follows Dean, Sunni, and her friend Blaise on a journey to the
heart of an age-old mystery.
Forman, M. L. Slathbog's Gold (Adventurers Wanted Series)
The sign is small, tucked into the corner of Mr. Clutter's bookshop window: Adventurers Wanted. Apply
Within. No one but fifteen-year-old Alex Taylor even seems to notice it is there. And for Alex, who has wished
for a change in his life, it is an irresistible invitation. Upon entering Mr. Clutter's shop, Alex is swept away to a
faraway land filled with heroic warriors, mysterious elves, and hard-working dwarves. Alex becomes the eighth
man in a band of adventurers seeking the lair of Slathbog the Red an evil dragon with a legendary treasure.
Along the way, Alex and his new friends must battle dangerous trolls and bandits, face undead wraiths, and
seek the wisdom of the Oracle in her White Tower. Alex's adventure takes him to distant and exotic lands
where he learns about courage, integrity, honor, and most important, friendship.
Haddix, Peterson Margaret. Found (The Missing Series)
A plane appeared out of nowhere carrying thirty-six babies. As soon as they were taken off the plane, it
disappeared. Thirteen years later, two of those children are receiving sinister messages, and they begin to
investigate their past. Their quest to discover where they really came from leads them to a conspiracy that
reaches from the far past to the distant future—and will take them hurtling through time.
Hale, Shannon. The Goose Girl
Anidori-Kiladra Talianna Isilee, Crown Princess of Kildenree, spends the first years of her life under her aunt's
guidance learning to communicate with animals. As she grows up Ani develops the skills of animal speech, but
is never comfortable speaking with people, so when her silver-tongued lady-in-waiting leads a mutiny during
Ani's journey to be married in a foreign land, Ani is helpless and cannot persuade anyone to assist her.
Becoming a goose girl for the king, Ani eventually uses her own special, nearly magical powers to find her way
to her true destiny. Shannon Hale has woven an incredible, original and magical tale of a girl who must find her
own unusual talents before she can become queen of the people she has made her own.
Hiaasen, Carl. Chomp
Wahoo Cray lives in a zoo. His father is an animal wrangler, so he's grown up with all manner of gators, snakes,
parrots, rats, monkeys, and snappers in his backyard. The critters, he can handle. His father is the unpredictable
one. When his dad takes a job with a reality TV show called Expedition Survival!, Wahoo figures he'll have to
do a bit of wrangling himself—to keep his dad from killing Derek Badger, the show's inept and egotistical star,
before the shoot is over. But the job keeps getting more complicated. Derek Badger foolishly believes his own
PR and insists on using wild animals for his stunts. And Wahoo's acquired a shadow named Tuna—a girl who's
sporting a shiner courtesy of her father and needs a place to hide out. They've only been on location in the
Everglades for a day before Derek gets bitten by a bat and goes missing in a storm.
Search parties head out and promptly get lost themselves. And then Tuna's dad shows up with a gun. It's
anyone's guess who will actually survive Expedition Survival. . .
Kelly, Jacqueline. The Evolution of Calpurnia Tate
Calpurnia Virginia Tate is eleven years old in 1899 when she wonders why the yellow grasshoppers in her
Texas backyard are so much bigger than the green ones. With a little help from her notoriously cantankerous
grandfather, an avid naturalist, she figures out that the green grasshoppers are easier to see against the yellow
grass, so they are eaten before they can get any larger. As Callie explores the natural world around her, she
develops a close relationship with her grandfather, navigates the dangers of living with six brothers, and comes
up against just what it means to be a girl at the turn of the century. Debut author Jacqueline Kelly deftly brings
Callie and her family to life, capturing a year of growing up with unique sensitivity and a wry wit. The
Evolution of Calpurnia Tate is a 2010 Newbery Honor Book and the winner of the 2010 Bank Street - Josette
Frank Award.
Krumwiede, Lana. Freakling
A thrilling, fast-paced dystopian novel about the dangers of unchecked power and the dilemmas facing a boy
torn between two ways of life.
In twelve-year-old Taemon's city, everyone has a power called psi — the ability to move and manipulate
objects with their minds. When Taemon loses his psi in a traumatic accident, he must hide his lack of power by
any means possible. But a humiliating incident at a sports tournament exposes his disability, and Taemon is
exiled to the powerless colony. The "dud farm" is not what Taemon expected, though: people are kind and open,
and they actually seem to enjoy using their hands to work and play and even comfort their children. Taemon
adjusts to his new life quickly, making friends and finding unconditional acceptance. But gradually he discovers
that for all its openness, there are mysteries at the colony, too — dangerous secrets that would give unchecked
power to psi wielders if discovered. When Taemon unwittingly leaks one of these secrets, will he have the
courage to repair the damage — even if it means returning to the city and facing the very people who exiled
him?
Lupica, Mike. True Legend
There's a reason teammates call him "True." Because for basketball phenom Drew Robinson, there is nothing
more true than his talent on the court. It's the kind that comes along once in a generation and is loaded with
perks--and with problems. Before long, True buys into his own hype, much to the chagrin of his mother, who
wants to keep her boy's head grounded--and suddenly trouble has a way of finding him. That is, until a washedup former playground legend steps back onto the court and takes True under his wing.
Meloy, Maile. The Apothecary
It's 1952 and the Scott family has just moved from Los Angeles to London. Here, fourteen-year-old Janie meets
a mysterious apothecary and his son, Benjamin Burrows - a fascinating boy who's not afraid to stand up to
authority and dreams of becoming a spy. When Benjamin's father is kidnapped, Janie and Benjamin must
uncover the secrets of the apothecary's sacred book, the Pharmacopoeia, in order to find him, all while keeping
it out of the hands of their enemies - Russian spies in possession of nuclear weapons. Discovering and testing
potions they never believed could exist, Janie and Benjamin embark on a dangerous race to save the apothecary
and prevent impending disaster.
Messenger, Shannon. Keeper of the Lost Cities (Series)
In this riveting debut, a telepathic girl must figure out why she is the key to her brand-new world—before the
wrong person finds the answer first. Twelve-year-old Sophie has never quite fit into her life. She's skipped
multiple grades and doesn't really connect with the older kids at school, but she's not comfortable with her
family, either. The reason? Sophie's a Telepath, someone who can read minds. No one knows her secret—at
least, that's what she thinks. But the day Sophie meets Fitz, a mysterious (and adorable) boy, she learns she's
not alone. He's a Telepath too, and it turns out the reason she has never felt at home is that, well…she isn't. Fitz
opens Sophie's eyes to a shocking truth, and she is forced to leave behind her family for a new life in a place
that is vastly different from what she has ever known. But Sophie still has secrets, and they're buried deep in
her memory for good reason: The answers are dangerous and in high-demand. What is her true identity, and
why was she hidden among humans? The truth could mean life or death—and time is running out.
Neff, H. Henry. The Hound of Rowan (Tapestry series)
Max McDaniels lives a quiet life in the suburbs of Chicago until the day he stumbles upon a mysterious Celtic
tapestry. Many strange people are interested in Max and his tapestry, and his discovery will lead him to Rowan
Academy, a secret school where great things await him. But dark things are waiting, too. When Max learns that
priceless artworks and other gifted children are disappearing from around the globe, he finds himself in the
crossfire of an ancient struggle between good and evil. If you love the Harry Potter books, you will enjoy this
one!
Park, Sue Linda. A Long Walk to Water: Based on a True Story
The New York Times bestseller A Long Walk to Water begins as two stories, told in alternating sections, about
two eleven-year-olds in Sudan, a girl in 2008 and a boy in 1985. The girl, Nya, is fetching water from a pond
that is two hours' walk from her home: she makes two trips to the pond every day. The boy, Salva, becomes one
of the "lost boys" of Sudan, refugees who cover the African continent on foot as they search for their families
and for a safe place to stay. Enduring every hardship from loneliness to attack by armed rebels to contact with
killer lions and crocodiles, Salva is a survivor, and his story goes on to intersect with Nya's in an astonishing
and moving way.
Reeve, Philip. Fever Crumb (Trilogy)
Fever Crumb is a girl who has been adopted and raised by Dr. Crumb, a member of the order of Engineers,
where she serves as apprentice. In a time and place where women are not seen as reasonable creatures, Fever is
an anomaly, the only female to serve in the order. Soon though, she must say goodbye to Dr. Crumb-nearly the
only person she's ever known-to assist archeologist Kit Solent on a top-secret project. As her work begins,
Fever is plagued by memories that are not her own and Kit seems to have a particular interest in finding out
what they are.
Sanderson, Brandon. The Rithmatist Ages 12+
More than anything, Joel wants to be a Rithmatist. Chosen by the Master in a mysterious inception ceremony,
Rithmatists have the power to infuse life into two-dimensional figures known as Chalklings. Rithmatists are
humanity's only defense
against the Wild Chalklings—merciless creatures that leave mangled corpses in their wake. Having nearly
overrun the territory of Nebrask, the Wild Chalklings now threaten all of the American Isles. As the son of a
lowly chalkmaker at Armedius Academy, Joel can only watch as Rithmatist students study the magical art that
he would do anything to practice. Then students start disappearing—kidnapped from their rooms at night,
leaving trails of blood. Assigned to help the professor who is investigating the crimes, Joel and his friend
Melody find themselves on the trail of an unexpected discovery—one that will change Rithmatics—and their
world—forever.
Schlitz, Laura Amy. Splendors and Glooms
The master puppeteer, Gaspare Grisini, is so expert at manipulating his stringed puppets that they appear alive.
Clara Wintermute, the only child of a wealthy doctor, is spellbound by Grisini's act and invites him to entertain
at her birthday party. Seeing his chance to make a fortune, Grisini accepts and makes a splendidly gaudy
entrance with caravan, puppets, and his two orphaned assistants. Lizzie Rose and Parsefall are dazzled by the
Wintermute home. Clara seems to have everything they lack — adoring parents, warmth, and plenty to eat. In
fact, Clara's life is shadowed by grief, guilt, and secrets. When Clara vanishes that night, suspicion of
kidnapping falls upon the puppeteer and, by association, Lizzie Rose and Parsefall. As they seek to puzzle out
Clara's whereabouts, Lizzie and Parse uncover Grisini's criminal past and wake up to his evil intentions.
Fleeing London, they find themselves caught in a trap set by Grisini's ancient rival, a witch with a deadly
inheritance to shed before it's too late.
Scott, Michael. The Alchemyst: The Secrets of the Immortal Nicholas Flamel (Series) Ages 12+
He holds the secret that can end the world. The truth: Nicholas Flamel was born in Paris on September 28,
1330. Nearly 700 years later, he is acknowledged as the greatest Alchemyst of his day. It is said that he
discovered the secret of eternal life.The records show that he died in 1418. But his tomb is empty. The legend:
Nicholas Flamel lives. But only because he has been making the elixir of life for centuries. The secret of eternal
life is hidden within the book he protects—the Book of Abraham the Mage. It's the most powerful book that has
ever existed. In the wrong hands, it will destroy the world. That's exactly what Dr. John Dee plans to do when
he steals it. Humankind won't know what's happening until it's too late. And if the prophecy is right, Sophie and
Josh Newman are the only ones with the power to save the world as we know it. Sometimes legends are true.
And Sophie and Josh Newman are about to find themselves in the middle of the greatest legend of all time.
Sloan Goldberg, Holly. Counting by 7s
In the tradition of Out of My Mind, Wonder, and Mockingbird, this is an intensely moving middle grade novel
about being an outsider, coping with loss, and discovering
the true meaning of family. Willow Chance is a twelve-year-old genius, obsessed with nature and diagnosing
medical conditions, who finds it comforting to count by 7s. It has never been easy for her to connect with
anyone other than her adoptive parents, but that hasn't kept her from leading a quietly happy life . . . until now.
Suddenly Willow's world is tragically changed when her parents both die in a car crash, leaving her alone in a
baffling world. The triumph of this book is that it is not a tragedy. This extraordinarily odd, but extraordinarily
endearing, girl manages to push through her grief. Her journey to find a fascinatingly diverse and fully
believable surrogate family is a joy and a revelation to read.
Smith, Roland. Peak
The only thing you'll find on the summit of Mount Everest is a divine view. The things that really matter lie far
below. – Peak Marcello
After fourteen-year-old Peak Marcello is arrested for scaling a New York City skyscraper, he's left with two
choices: wither away in Juvenile Detention or go live with his long-lost father, who runs a climbing company in
Thailand. But Peak quickly learns that his father's renewed interest in him has strings attached. Bigstrings. As
owner of Peak Expeditions, he wants his son to be the youngest person to reach the Everest summit--and his
motives are selfish at best. Even so, for a climbing addict like Peak, tackling Everest is the challenge of a
lifetime. But it's also one that could cost him his life.
Turnage, Sheila, Three Times Lucky
A hilarious Southern debut with the kind of characters you meet once in a lifetime.
Rising sixth grader Miss Moses LoBeau lives in the small town of Tupelo Landing, NC, where everyone's
business is fair game and no secret is sacred. She washed ashore in a hurricane eleven years ago, and she's been
making waves ever since. Although Mo hopes someday to find her "upstream mother," she's found a home with
the Colonel--a café owner with a forgotten past of his own--and Miss Lana, the fabulous café hostess. She will
protect those she loves with every bit of her strong will and tough attitude. So when a lawman comes to town
asking about a murder, Mo and her best friend, Dale
Earnhardt Johnson III, set out to uncover the truth in hopes of saving the only family Mo has ever known. Full
of wisdom, humor, and grit, this timeless yarn will melt the heart of even the sternest Yankee.
Valente, M. Catherynne. The Girl Who Circumnavigated Fairyland in a Ship of Her Own Making (Series)
"One of the most extraordinary works of fantasy, for adults or children, published so far this century."—Time
magazine, on the Fairyland series
Twelve-year-old September lives in Omaha, and used to have an ordinary life, until her father went to war and
her mother went to work. One day, September is met at her kitchen window by a Green Wind (taking the form
of a gentleman in a green jacket), who invites her on an adventure, implying that her help is needed in
Fairyland. The new Marquess is unpredictable and fickle, and also not much older than September. Only
September can retrieve a talisman the Marquess wants from the enchanted woods, and if she doesn't . . . then the
Marquess will make life impossible for the inhabitants of Fairyland. September is already making new friends,
including a book-loving Wyvern and a mysterious boy named Saturday.
Westerfeld, Scott. Leviathan (Trilogy) Ages 12+
It is the cusp of World War I. The Austro-Hungarians and Germans have their Clankers, steam-driven iron
machines loaded with guns and ammunition. The British Darwinists employ genetically fabricated animals as
their weaponry. Their Leviathan is a whale airship, and the most masterful beast in the British fleet. Aleksandar
Ferdinand, a Clanker, and Deryn Sharp, a Darwinist, are on opposite sides of the war. But their paths cross in
the most unexpected way, taking them both aboard the Leviathan on a fantastical, around-the-world
adventure….One that will change both their lives forever.
Wiles, Deborah. Countdown (Trilogy)
In 1962 as eleven-year old Franny Chapman deals with drama at home and with her best friend, she tries to
understand the larger problems in the world after President Kennedy announced that Russia is sending nuclear
missiles to Cuba. This book is considered a docu-novel featuring historic quotations and photographs centered
around the early sixties.
Wood, Maryrose. The Mysterious Howling (The Incorrigible Children of Ashton Place Book 1)
Jane Eyre meets Lemony Snicket in this smart, surprising satire of a 19th-century English governess story. A
witty omniscient narrator speaks directly to modern readers and follows 15-year-old Penelope, recent graduate
of the Swanburne Academy for Poor Bright Females, to British country manor Ashton Place, where conniving
Lord Fredrick has discovered three wild children apparently raised by wolves while hunting in his vast forest
property. To Lord Fredrick, who's named them Alexander, Beowulf, and Cassiopeia Incorrigible, the children
are trophies and property ("Finder's keepers, what?"); to young Lady Constance they're savage nuisances who
howl, chase squirrels, and gnaw on shoes. Enter Penelope Lumley, charged with taming them in time for a
Christmas party, and bolstered by her top-notch classical education and an endless supply of platitudes from
Agatha Swanburne.
Seventh Grade Choices Some book annotations are from Amazon, and those that are noted with a 12 + are
books that are better suited for teens.
Berry, Julie. The Amaranth Enchantment
When a mysterious piece of jewelry and a strange visitor arrive in the jewelry shop where she works for her evil
aunt, Lucinda's course takes a surprising turn. With the help of the Amaranth Witch, a young (and harmless)
con-artist, and a prince, Lucinda uncovers secrets about her own royal past. A strong seller in hardcover, this
original fairy tale marks an exciting debut from a lyrical new voice.
Bradbury, Ray. Fahrenheit 451 (published as a shorter novel The Fireman 1951) 12+
A bookburner official in a future fascist state finds out books are a vital part of a culture he never knew. He
clandestinely pursues reading, until he is betrayed.
Clare, Cassandra. City of Bones (1st in the series) 12+
When fifteen-year-old Clary Fray heads out to the Pandemonium Club in New York City, she hardly expects to
witness a murder—much less a murder committed by three teenagers covered with strange tattoos and
brandishing bizarre weapons. Then the body disappears into thin air. It's hard to call the police when the
murderers are invisible to everyone else and when there is nothing—not even a smear of blood—to show that a
boy has died. Or was he a boy? This is Clary's first meeting with the Shadowhunters, warriors dedicated to
ridding the earth of demons. It's also her first encounter with Jace, a Shadowhunter who looks a little like an
angel and acts a lot like a jerk. Within twenty-four hours Clary is pulled into Jace's world with a vengeance,
when her mother disappears and Clary herself is attacked by a demon. But why would demons be interested in
ordinary mundanes like Clary and her mother? And how did Clary suddenly get the Sight? The Shadowhunters
would like to know.
Bacigalupi, Paolo. Ship Breaker 12+
In a futuristic world near a drowned New Orleans, teenager Nailer scavenges copper wiring from grounded oil
tankers for a living. When he finds a beached clipper ship with a girl in the wreckage, he has to decide if he
should strip the ship for its wealth or rescue the girl.
Bray, Libba. A Great and Terrible Beauty (1st in the series)12+
After the suspicious death of her mother in 1895, sixteen-year-old Gemma returns to England after many years
in India to attend a finishing school where she becomes aware of her magical powers and ability to see into the
spirit world. (Sequels: Rebel Angels, The Sweet Far Thing)
Carriger, Gail. Curtsies & Conspiracies (Sequel to Etiquette & Espionage)12+
In her alternate England of 1851, fifteen-year-old Sophronia tries to uncover who is behind a plot to control a
prototype that has the potential to alter human and supernatural travel, and to learn what role Mademoiselle
Geraldine's academy for young spies plays in the affair.
Charbonneau, Joelle. Independent Study (2nd in The Testing series)12+
In the series debut The Testing, sixteen-year-old Cia Vale was chosen by the United Commonwealth
government as one of the best and brightest graduates of all the colonies . . . a promising leader in the effort to
revitalize postwar civilization. In Independent Study, Cia is a freshman at the University in Tosu City with her
hometown sweetheart, Tomas—and though the government has tried to erase her memory of the brutal horrors
of The Testing, Cia remembers. Her attempts to expose the ugly truth behind the government's murderous
programs put her—and her loved ones—in a world of danger. But the future of the Commonwealth depends on
her.
Clare, Cassandra. Clockwork Princess (3rd in the Infernal Devices series)12+
When seventeen-year-old orphaned shapechanger Tessa Gray is kidnapped by the villainous Mortmain in his
final bid for power, the London Institute rallies to save her but is beset by danger and betrayal at every turn.
Compestine, Ying Chang. Revolution is Not a Dinner Party
Starting in 1972 when she is nine years old, Ling, the daughter of two doctors, struggles to make sense of the
communists' Cultural Revolution which empties stores of food, homes of appliances deemed "bourgeois," and
people of laughter.
Condie, Ally. Matched (1st in the series)12+
Cassia has always trusted the Society to make the right choices for her: what to read, what to watch, and what to
believe. So when Xander's face appears on-screen at her Matching ceremony, Cassia knows he is her ideal mate
. . . until she sees Ky Markham's face flash for an instant before the screen fades to black. The Society tells her
it's a glitch, a rare malfunction, and that she should focus on the happy life she's destined to lead with Xander.
But Cassia can't stop thinking about Ky, and as they slowly fall in love, Cassia begins to doubt the Society's
infallibility and is faced with an impossible choice: between Xander and Ky, between the only life she's known,
and a path that no one else has dared to follow.
Curtis, Christopher. Bucking the Sarge12+
Deeply involved in his cold and manipulative mother's shady business dealings in Flint, Michigan, fourteenyear-old Luther keeps a sense of humor while running the Happy Neighbor Group Home For Men, all the while
dreaming of going to college and becoming a philosopher.
Dashner, James. The Maze Runner (1st in the series)
Thomas wakes up in an elevator, remembering nothing but his own name. He emerges into a world of about
sixty teen boys who have learned to survive in a completely enclosed environment subsisting on their own
agriculture and supplies from below. A new boy arrives every thirty days. The original group has been in "the
glade" for two years trying to find a way to escape through a maze that surrounds their living space. They have
begun to give up hope. Then a comatose girl arrives with a strange note, and their world begins to change.
There are some great, fast-paced action scenes, particularly those involving the nightmarish Grievers who
plague the boys. Thomas is a likable protagonist who uses the information available to him and his relationships
(including his ties to the girl, Teresa) to lead the Gladers.
Dashner, James. The Eye of Minds (1st in Morality Doctrine series)12+
Michael is a skilled Internet gamer in a world of advanced technology. When a cyber-terrorist begins to threaten
players, Michael is called upon to seek him and his secrets out.
Deuker, Carl. Gym Candy12+
Running back Mick Johnson has dreams: dreams of cutting back, finding the hole, breaking into the open, and
running free with nothing but green grass ahead. He has dreams of winning and of being the best. But football is
a cruel sport. It requires power, grace, speed, quickness, and knowledge of the game. It takes luck, too. One
crazy bounce can turn a likely victory into sudden defeat. What elite athlete wouldn't look for an edge? A way
to make him bigger, stronger, faster? This novel explores the dark corners of the heart of a young football
player as he struggles for success under the always glaring—and often unforgiving—stadium lights.
Erskine, Kathryn. Seeing Red
When twelve-year-old Frederick "Red" Porter's father dies in 1972, his mother wants to sell their automobile
repair shop and move her two sons back to Ohio. But Red is desperate to stop the sale even if it means
unearthing some dark family secrets in a Virginia rife with racial tensions.
Farmer, Nancy. House of the Scorpion (1st in the series)
Fields of white opium poppies stretch away over the hills, and uniformed workers bend over the rows
harvesting the juice. This is the empire of Matteo Alacran, a feudal drug lord, in the country of Opium which
lies between the United States and Aztlan, formerly Mexico. Field work or any menial tasks, are done by
"eejits," humans in whose brains computer chips have been installed to insure docility. Alacran, or El Patron,
has lived 140 years with the help of transplants from a series of clones, a common practice among rich men in
this world. The intelligence of clones is usually destroyed at birth, but Matt, the latest of Alacran's doubles, has
been spared because he belongs to El Patron. Gradually he realizes the fate that is in store for him, and with the
help of Tam Lin, his bluff and kind Scottish bodyguard, he escapes to Aztlan. There he and other "lost children"
are trapped in a more subtle kind of slavery before Matt can return to Opium to take his rightful place and
transform his country.
Feinstein, John. Last Shot (1st of 5 in the Final Four Mystery series)
After winning a basketball-reporting contest, eighth graders Stevie and Susan are sent to cover the Final Four
tournament where they discover that a talented player is being blackmailed into throwing the final game.
Flanagan, John. The Royal Ranger (last book in the Ranger's Apprentice series)
Taking place at least sixteen years after the original eleven volumes of the Ranger's Apprentice series, this
sequel sees Will training fifteen-year-old Maddie, the first girl to become a ranger's apprentice. Though
accustomed to a life of privilege, she learns to set aside her old ways in order to develop her skills, her wits, and
her courage.
Fleming, Candace. Amelia Lost: The Life and Disappearance of Amelia Earhart
This book traces the life of female aviator Amelia Earhart from her childhood to her final flight, discusses the
extensive search for her and her missing plane, and includes photographs, maps, handwritten notes by Amelia,
and sidebars.
Frederick, Shane. Football: The Math of the Game
Photographs and text look at how various mathematical concepts apply to the game of football.
Gowans, Jacob. Psion Beta
Sammy, a fourteen-year-old fugitive, accidentally discovers he has the powers of a Psion. Plucked off the
streets, he is thrust into the rigorously-disciplined environment of Psion Beta headquarters. As a new Beta,
Sammy must hone his newfound abilities using holographic fighting simulations, stealth training missions, and
complex war games. His fellow trainees are other kids competing to prove their worth so they can graduate and
contribute to the war effort. But the stifling competition at headquarters isolates Sammy from his peers.
Learning to use his incredible powers is difficult enough, but when things go horribly wrong on a routine
training mission, he must rely on the other Betas to stay alive. The Silent War is at a tipping point; even one boy
can be the difference. But to do so, he must survive.
Green, John. The Fault In Our Stars
Sixteen-year-old Hazel, a stage IV thyroid cancer patient, has accepted her terminal diagnosis until a chance
meeting with a boy at a cancer support group forces her to reexamine her perspective on love, loss, and life.
Green, Tim. Baseball Great
All twelve-year-old Josh wants to do is play baseball but when his father, a minor league pitcher, signs him up
for a youth championship team, Josh finds himself embroiled in a situation with potentially illegal
consequences.
Haddix, Margaret. Game Changer 12+
While playing in the championship softball game, star pitcher KT Sutton blacks out and awakes to a changed
world where the roles of academics and sports at her middle school have flipped making talented athletes, such
as KT, outcasts and
brainy nerds popular.
Haddix, Margaret. Uprising
In 1927 at the urging of twenty-one-year-old Harriet, Mrs. Livingston reluctantly recalls her experiences at the
Triangle Shirtwaist factory, including miserable working conditions that led to a strike and then the fire that
took the lives of her two best friends, when Harriet, the boss's daughter, was only five years old.
Hale, Marian. Dark Water Rising
While salvaging and rebuilding in the aftermath of the Galveston flood of 1900, sixteen-year-old Seth proves
himself in a way that his previous efforts never could, but he still must face his father man-to-man.
Hale, Shannon. Ever After High: The Storybook of Legends
At Ever After High, a boarding school for the sons and daughters of famous fairy-tale characters, students
Apple White and Raven Queen face the moment when they must choose whether to follow their destinies or
change them.
Hamilton, Bethany. Soul Surfer : A True Story of Faith, Family, and Fighting to Get Back on the Board
Bethany Hamilton shares the story of her lifelong love of surfing and tells how she was able to recover and
return to competition with the help of her family, friends, and faith after losing her arm in a shark attack at the
age of thirteen.
Healey, Karen. When We Wake 12+
In 2027, sixteen-year-old Tegan is just like every other girl--playing the guitar, falling in love, and protesting
with friends the wrongs of the world. But then Tegan dies, waking up 100 years in the future as the unknowing
first government guinea pig or be cryogenically frozen and successfully revived. Appalling secrets about her
new world come to light, and Tegan must choose to either keep her head down or fight for a better future.
Higgins, Joanna. Waiting for the Queen
In 1793, fifteen-year-old Eugenie de la Roque, her family, and other nobles barely escape the French
Revolution and arrive in Pennsylvania, where homesick young Hannah Kimbrell, a Shaker, is among those
charged with preparing New France for the aristocrats' arrival.
Hillenbrand, Laura. Unbroken
A biography of Olympic runner and World War II bombardier, Louis Zamperini, who had been rambunctious in
childhood before succeeding in track and eventually serving in the military, which led to a trial in which he was
forced to find a way to survive in the open ocean after being shot down.
Huxley, Aldous. Brave New World 12+
Bernard Marx becomes a citizen in an utopian World-State where babies are born in laboratories, there is no
violence, all citizens take drugs for depression, and contentment overrides the free will of the populace, and
presents the social climate in 1958, and the threats against personal freedoms that seemed to be precursors to the
novel's empty civilization.
Johnson, Elana. Possession
In this fantasy novel, Vi knows the Rule: Girls don't walk with boys, and they never even think about kissing
them. But no one makes Vi want to break the Rules more than Zenn…and since the Thinkers have chosen him
as Vi's future match, how much trouble can one kiss cause? The Thinkers may have brainwashed the rest of the
population, but Vi is determined to think for herself. But the Thinkers are unusually persuasive, and they're set
on convincing Vi to become one of them...starting by brainwashing Zenn. This is a game of control or be
controlled. And Vi has no choice but to play.
L'Amour, Louis. To The Far Blue Mountains
An unforgettable tale of a man who, after returning to his homeland, discovers that finding his way back to
America may be impossible. Barnabas Sackett was leaving England to make his fortune in the New World. But
as he settled his affairs, he learned that a royal warrant had been sworn out against him and that men were
searching for him in every port. At issue were some rare gold coins Sackett had sold to finance his first trip to
the Americas—coins believed to be part of a great treasure lost by King John years before. Believing that
Sackett possesses the rest of the treasure, Queen Bess will stop at nothing to find him. If he's caught, not only
will his dream of a life in America be lost, but he will be brutally tortured and put to death on the gallows.
L'Engle, Madeleine. A Wrinkle in Time
Meg Murry and her friends become involved with unearthly strangers and a search for her father, who has
disappeared while engaged in secret work for the government.
Lane, Andrew. Firestorm (and) Black Ice
Young Sherlock's friend and her father have vanished. Their house looks as if nobody has ever lived in it; the
neighbors claim never to have heard of them. Only the budding detective Sherlock can untangle the mind
bending -- and dangerous -- puzzles that ensnare his friends. Think you know Sherlock Holmes? Think again!
Lieb, Josh. I Am a Genius of Unspeakable Evil and I Want to Be Your Class President 12+
Twelve-year-old evil genius, Oliver, uses his great brain to become the third richest person in the world and
finds that overthrowing foreign dictators is easier than getting the kids in his middle school to vote him class
president.
Lore, Pittacus. I Am Number Four (Any in the series)
John Smith has just arrived in Paradise, Ohio, just another stop in a string of small towns where the fifteen-yearold has been hiding out from the Mogadorians. Those terrifying aliens are hellbent on destroying him and the
other nine Loric children who have sought refuge on Earth. The Mogadorians are picking off the surviving kids
in numerical order. The first three are dead and John's number is up. Will his Legacies, his defining
superpowers, develop in time for him to fight against the enemy?
Lupica, Mike. QB 1
Jake Cullen, fourteen, lives in the shadows of his father and older brother until he becomes the starting
quarterback for the high school football team and finally has his chance to shine.
MacHale, D.J. Sylo
Pemberwick Island, Maine, is occupied by a Navy section called SYLO who claim a virus has been unleashed,
but Tucker Pierce, who has seen strange aircraft and experienced the power of the Ruby, realizes something else
is going on.
Marmell, Ari. Thief's Covenant: A Widdershins Adventure
Once she was Adrienne Satti. An orphan of Davillon, she had somehow escaped destitution and climbed to the
ranks of the city's aristocracy in a rags-to-riches story straight from an ancient fairy tale. Until one horrid night,
when a conspiracy of forces—human and other—stole it all away in a flurry of blood and murder. Today she is
Widdershins, a thief making her way through Davillon's underbelly with a sharp blade, a sharper wit, and the
mystical aid of Olgun, a foreign god with no other worshippers but Widdershins herself. But now, in the midst
of Davillon's political turmoil, an array of hands are once again rising up against her, prepared to tear down all
that she's built. The City Guard wants her in prison. Members of her own Guild want her dead. And something
horrid, something dark, something ancient is reaching out for her, a past that refuses to let her go.
Martel, Yann. Life of Pi
The precocious son of a zookeeper, sixteen-year-old Pi Patel is raised in Pondicherry, India, where he tries on
various faiths for size attracting "religions the way a dog attracts fleas." Planning a move to Canada, his father
packs up the family and their menagerie, and they hitch a ride on an enormous freighter. After a harrowing
shipwreck, Pi finds himself adrift in the Pacific Ocean, trapped on a 26-foot lifeboat with a wounded zebra, a
spotted hyena, a seasick orangutan, and a 450-pound Bengal tiger named Richard Parker. After much gore and
infighting, Pi and Richard Parker remain the boat's sole passengers, drifting for 227 days through shark-infested
waters while fighting hunger, the elements, and an overactive imagination.
McNeal, Tom. Far Far Away 12+
When Jeremy Johnson Johnson's strange ability to speak to the ghost of Jacob Grimm draws the interest of his
classmate, Ginger Boltinghouse, the two find themselves at the center of a series of disappearances in their
hometown.
Meyer, Melissa. Cinder
Cinder, a gifted mechanic, is a cyborg. She's a second-class citizen with a mysterious past, reviled by her
stepmother and blamed for her stepsister's illness. But when her life becomes intertwined with the handsome
Prince Kai's, she suddenly finds herself at the center of an intergalactic struggle and a forbidden attraction.
Caught between duty and freedom, loyalty and betrayal, she must uncover secrets about her past in order to
protect her world's future.
Mosley, Walter. 47
Number 47, a fourteen-year-old slave boy growing up under the watchful eye of a brutal master in 1832, meets
the mysterious Tall John, who introduces him to a magical science and also teaches him the meaning of
freedom.
Mulligan, Andy. Trash
Fourteen-year-olds Raphael and Gardo team up with a younger boy, Rat, to figure out the mysteries surrounding
a bag Raphael finds during their daily life of sorting through trash in a third-world country's dump.
Neff, Henry H. The Hound of Rowan: Book One of The Tapestry
Max McDaniels lives a quiet life in the suburbs of Chicago until the day he stumbles upon a mysterious Celtic
tapestry. Many strange people are interested in Max and his tapestry. His discovery leads him to Rowan
Academy, a secret school where great things await him. But dark things are waiting, too. When Max learns that
priceless artworks and gifted children are disappearing, he finds himself in the crossfire of an ancient struggle
between good and evil. To survive, he'll have to rely on a network of agents and mystics, the genius of his
roommate, and the frightening power awakening within him.
Nielsen, Jennifer. The False Prince (1st in Ascendance Trilogy)
In the country of Carthya, a devious nobleman engages four orphans in a brutal competition to be selected to
impersonate the king's long-missing son in an effort to avoid a civil war. (Sequels: The Runaway King and The
Shadow Throne)
Oliver, Lauren. Requiem (3rd in the Delirium series)
Now an active member of the resistance, Lena has transformed. The nascent rebellion that was underway in
Pandemonium has ignited into an all-out revolution in Requiem, and Lena is at the center of the fight. After
rescuing Julian from a death sentence, Lena and her friends fled to the Wilds. But the Wilds are no longer a safe
haven. Pockets of rebellion have opened throughout the country, and the government cannot deny the existence
of Invalids. Regulators infiltrate the borderlands to stamp out the rebels.
Osborne, William. Hitler's Secret 12+
In June 1941, Otto and Leni, two young refugees from the Nazis living in England, are sent on a secret mission
to Bavaria to extract a young girl attending a summer camp, and who may hold the key to the war.
Paolini, Christopher. Eragon (1st in the Inheritance Cycle series)
Fifteen-year-old Eragon believes that he is merely a poor farm boy—until his destiny as a Dragon Rider is
revealed. Gifted with only an ancient sword, a loyal dragon, and sage advice from an old storyteller, Eragon is
soon swept into a dangerous tapestry of magic, glory, and power. Now his choices could save—or destroy—the
Empire.
Park, Linda Sue. A Long Walk to Water
When the Sudanese civil war reaches his village in 1985, eleven-year-old Salva becomes separated from his
family and must walk with other Dinka tribe members through southern Sudan, Ethiopia, and Kenya in search
of safe haven. Based on
the life of Salva Dut, who, after immigrating to America in 1996, began a project to dig water wells in Sudan.
Patterson, James. The Angel Experiment
Fourteen-year-old Maximum Ride, better known as Max, knows what it's like to soar above the world. She and
all the members of the "flock"--Fang, Iggy, Nudge, Gasman, and Angel--are just like ordinary kids--only they
have wings and can fly. It may seem like a dream come true to some, but their lives can morph into a living
nightmare at any time.
Paul Evans, Richard. Michael Vey: The Prisoner of Cell 25
To everyone at Meridian High School, Michael Vey is an ordinary fourteen-year-old boy. In fact, the only thing
that seems to set him apart is the fact that he has Tourette's syndrome. But Michael is anything but ordinary.
Michael has special powers. Electric powers. Michael thinks he's unique until he discovers that a cheerleader
named Taylor also has special powers. With the help of Michael's friend, Ostin, the three of them set out to
discover how Michael and Taylor ended up this way, but their investigation brings them to the attention of a
powerful group who wants to control the electric children – and through them the world.
Philbin, Joanna. The Daughters Take the Stage (4th in The Daughters series)
Fourteen-year-old Hudson is a gifted singer/songwriter like her mother, pop sensation Holla Jones, but while
working on her debut album, Hudson struggles to convince her mother that she would rather stick with her own,
intimate style than follow her mother's path to fame.
Price, Lisa. Starters
"Readers who have been waiting for a worthy successor to Suzanne Collins' The Hunger Games will find it
here. Dystopian sci-fi at its best, Starters is a terrific series kick off with a didn't-see-that-coming conclusion
that will leave readers on the edges of their seats . . ." raves the Los Angeles Times. In the future, teens rent their
bodies to seniors who want to be young again. One girl discovers her renter plans to do more than party--her
body will commit murder, if her mind can't stop it. Sixteen-year-old Callie lost her parents when the genocide
spore wiped out everyone except those who were vaccinated first--the very young and very old. With no
grandparents to claim Callie and her little brother, they go on the run, living as squatters, and fighting off
unclaimed renegades who would kill for a cookie. Hope comes via Prime Destinations, run by a mysterious
figure known only as The Old Man. He hires teens to rent their bodies to seniors, known as enders, who get to
be young again. Callie's neurochip malfunctions and she wakes up in the life of her rich renter, living in her
mansion, driving her cars, even dating Blake, the grandson of a senator. It's a fairy-tale new life...until she
uncovers the Body Bank's horrible plan.
Ralston, Aron. Between a Rock and a Hard Place (127 Hours)
The author recounts his harrowing experience of being trapped for six days in Blue John Canyon in Utah and
having to amputate his own right arm in order to save his life.
Rhodes-Courter, Ashley. Three Little Words
Ashley Rhodes-Courter spent nine years of her life in fourteen different foster homes. As her mother spirals out
of control, Ashley is left clinging to an unpredictable, dissolving relationship, all the while getting pulled deeper
and deeper into the foster care system. Painful memories of being taken away from her home quickly become
consumed by real-life horrors, where Ashley is juggled between caseworkers, shuffled from school to school,
and forced to endure manipulative, humiliating treatment from a very abusive foster family. In this inspiring,
unforgettable memoir, Ashley finds the courage to succeed -- and in doing so, discovers the power of her own
voice.
Roth, Veronica. Divergent (1st in the series)
In Beatrice Prior's dystopian Chicago world, society is divided into five factions, each dedicated to the
cultivation of a particular virtue—Candor (the honest), Abnegation (the selfless), Dauntless (the brave), Amity
(the peaceful), and Erudite (the intelligent). On an appointed day of every year, all sixteen-year-olds must select
the faction to which they will devote the rest of their lives. For Beatrice, the decision is between staying with
her family and being who she really is—she can't have both. So she makes a choice that surprises everyone,
including herself. (Insurgent and Allegiant are the second and third in the series).
Safran Foer, Jonathan. Extremely Loud and Incredibly Close
Oskar Schell is not your average nine-year-old. A budding inventor, he spends his time imagining wonderful
creations. He also collects random photographs for his scrapbook and sends letters to scientists. When his father
dies in the World Trade Center collapse, Oskar shifts his boundless energy to a quest for answers. He finds a
key hidden in his father's things that doesn't fit any lock in their New York City apartment; its container is
labeled "Black." Using flawless kid logic, Oskar sets out to speak to everyone in New York City with the last
name of Black. A retired journalist, who keeps a card catalog with entries for everyone he's ever met, is just one
of the colorful characters the boy meets.
Saint-Exupéry, Antoine de. The Little Prince
An aviator whose plane is forced down in the Sahara Desert encounters a little prince from a small planet who
relates his adventures in seeking the secret of what is important in life.
Smith, Patrick D. A Land Remembered
The story opens in 1858, when Tobias MacIvey arrives in the Florida wilderness to start a new life with his wife
and infant son and ends two generations later with Solomon MacIvey, who realizes that the land has been
exploited far beyond human need. The sweeping story that emerges is a rich, rugged Florida history featuring a
memorable cast of crusty, indomitable Crackers battling wild animals, rustlers, Confederate deserters,
mosquitoes, starvation, hurricanes, and freezes to carve a kingdom out of a swamp.
Stiefvater, Maggie. The Scorpio Races
It happens at the start of every November: the Scorpio Races. Riders attempt to keep hold of their water horses
long enough to make it to the finish line. Some riders live. Others die. At age nineteen, Sean Kendrick is the
returning champion. He is a young man of few words, and if he has any fears, he keeps them buried deep, where
no one else can see them. Puck Connolly is different. She never meant to ride in the Scorpio Races. But fate
hasn't given her much of a choice. So she enters the competition -- the first girl ever to do so. She is in no way
prepared for what is going to happen.
Stockett, Kathryn. The Help
The Help is about a young white woman in the early 1960s in Mississippi who becomes interested in the plight
of the black maids who work for the white families. She writes their stories about mistreatment, abuse, and
heartbreaks of working in white families' homes, all just before the Civil Rights revolution. Even though there
are deep and realistic moments in the book, the characters bring a light and funny approach to this serious part
of American history.
Swift, Jonathan. Gulliver's Travels
The unusual voyages of Englishman Lemuel Gulliver carry him to such strange locales as Lilliput, where the
inhabitants are six inches tall; Brobdingnag, a land of giants; an island of sorcerers; and a nation ruled by
horses.
Vance, Alexander. The Heartbreak Messenger
Quentin thinks delivering break-up messages will be a great way to earn extra money, but he starts to question
his service when he realizes how complicated emotions can be.
Yang, Gene. American Born Chinese 12+
Alternates three interrelated stories about the problems of young Chinese Americans trying to participate in the
popular culture. This is a graphic novel.
Zink, Michelle. Prophecy of the Sisters
An ancient prophecy divides two sisters--one good, one evil. Who will prevail?
Twin sisters Lia and Alice Milthorpe have just become orphans. They have also become enemies. As they
discover their roles in a prophecy that has turned generations of sisters against each other, they find themselves
entangled in a mystery that involves a tattoo-like mark, their parents' deaths, a boy, a book, and a lifetime of
secrets.
Eighth Grade
Adams, Douglas. The Hitchhiker's Guide to the Galaxy
Aimed squarely at readers who possess off-the-wall senses-of-humor, The Hitchhiker's Guide to the Galaxy is
the tale of Arthur Dent, who is taken on the journey of a lifetime after Earth is destroyed by aliens to make way
for a space highway. The adjectives wacky, hilarious, unbelievable, and unique have been aptly applied to this
science fiction classic. If you enjoy this book, there are four other volumes in the saga!
Adams, Richard. Watership Down
When Fiver has a premonition that disaster is coming, he convinces his brother and a
small band of fellow rabbits to leave their warren in hopes of finding a safe, new home. Homeric in scope, the
rabbits' adventures in their perilous journey to Watership Down inspired a sequel, a movie, and a television
show. The saga of their courage and survival in the face of adversity is considered—and rightly so—a
contemporary classic.
Alcott, Louisa May. Little Women
When their father leaves them to treat wounded soldiers in the Civil War, the four March sisters and their
mother must learn to fend for themselves during a very uncertain period in time. Little Women focuses on the
lives and loves, the dreams and heartaches of Meg, Jo, Beth, and Amy, and has rightfully earned its place as one
of the most popular pieces of American fiction. Louisa May Alcott's Little Men is also recommended.
Anderson, Laurie Halse. Twisted
Tyler Miller is socially invisible until he spray paints some attention-getting graffiti on a school wall. Forced to
work fixing the school's roof over the summer, Tyler develops muscles and a new attitude, which attracts the
attention of popular girl Bethany Millbury, the daughter of Tyler's dad's boss. After Tyler is implicated in a
drunken crime, things come to a head at school and at home and Tyler is forced to make some life-changing
decisions. Humorous, frank, emotional, realistic, and tightly paced, Twisted will appeal to readers of both
genders. Also recommended are Anderson's Wintergirls and Speak.
Angelou, Maya. I Know Why the Caged Bird Sings
This is a powerful and challenging autobiography of an African-American writer who moves beyond great
difficulties and finds her voice through determination of spirit. Although this book contains mature subject
matter, the grace and directness with which Angelou's story is recounted makes it one of the most inspiring and
moving autobiographies ever written.
Anonymous. Go Ask Alice
This diary of a fifteen-year-old drug addict is as powerful now as when it was first published in 1971. Although
some charges have been levied against the book, saying that this "true" diary is fictional in some parts, the
narrator's downward spiral into a life of drugs remains moving.
Auel, Jean M. The Clan of the Cave Bear
The Clan of the Cave Bear is the first in a series entitled Earth's Children and takes place almost 35,000 years
ago. The saga begins when a powerful earthquake orphans Ayla, a blonde, blue-eyed young girl who is seen as
an outsider by the foreign tribe into which she is adopted. With the love of the Clan's medicine woman, Ayla
grows into a determined, spirited young woman and becomes a force that has the power to divide the tribe into
which she was brought.
Austen, Jane. Pride and Prejudice
When bachelors Mr. Bingley and Mr. Darcy arrive in town, Mrs. Bennett hopes that wedding bells will soon
ring for at least one of her five single daughters. This comedy of manners, indisputably Austen's masterpiece,
follows the travails of the sisters' quest for love. Northanger Abbey, Sense and Sensibility, and Emma are
other popular Jane Austen novels.
Bakis, Kirsten. Lives of the Monster Dogs
This completely original story concerns a group of talking "monster dogs" that have been isolated for over 100
years in the town in which they were created by humans. When these wealthy and elegant canine hybrids are
forced to move into contemporary New York City, not only is their adjustment difficult but also a mysterious
illness threatens the species with extinction. A very odd and challenging read!
Beah, Ishmael. A Long Way Gone
The memoir of a twelve-year-old boy soldier in Sierra Leone, A Long Way Gone tells Beah's story of being
recruited into the national army to fight rebels during his country's civil war in the 1990s. The subject matter is
frank and provocative, but Beah's narrative masterfully presents his struggle of finding his way back to
normalcy after years of senseless violence and loss.
Benchley, Peter. Jaws
This is the book that made millions of readers afraid to venture into the water! Jaws is a terror-filled novel of
suspense that far surpasses the horror of the blockbuster film—a difficult feat. Benchley's descriptions of the
small town police chief who battles the Great White shark terrorizing his town at the height of tourist season
never lets up. This is an engaging and compelling read, especially on the beach….
Bradbury, Ray. Something Wicked This Way Comes
When Cooger & Dark's Pandemonium Shadow Show arrives in town one October night, two thirteen-year-old
boys find themselves in a battle between good and evil in an effort to save their souls. A compelling thriller.
Other recommended Bradbury titles are Dandelion Wine, The Martian Chronicles, The Illustrated Man, and
The October County.
Bradley, Marion Zimmer. The Mists of Avalon
The Arthurian epic is told through the eyes of the women involved in the story of Camelot. This popular
retelling of one of the world's most famous legends will appeal to any who likes adventure.
Bronte, Charlotte. Jane Eyre
Young Jane's spirit refuses to be cowed by the harsh treatment of her bullying aunt and cousins, so she relishes
the idea of being sent away to Lowood. School life, however, is as austere as it had been with her relations, but
Jane manages to succeed and become a teacher herself. When she leaves Lowood to become governess at
Thornfield Hall, she meets the brooding and enigmatic Edward Rochester, the master of the house and keeper of
dark secrets. Her search for happiness is once again tested but far beyond anything she has experienced before.
This book hasn't been out of print since it was first published in 1847 and continues to resonate with readers as
much now as it did then. This is a challenging but satisfying story for rising readers.
Burnett, Frances Hodgson. The Secret Garden
Orphaned and sent to live with her uncle in his manor on the moors, Mary Lennox is a lonely and unhappy
child. A meeting with Dickon, her servant's brother, begins her adventure, and it is through their friendship and
her relationship with her troubled cousin Colin that she begins to learn about herself. All of their lives begin to
change when Mary discovers the door to a mysterious secret garden.
Buzbee, Lewis. The Haunting of Charles Dickens
Literary giant Charles Dickens teams up with young Meg Pickel in search of Meg's lost brother. As the pair
wanders the fog-enshrouded streets of Victorian London, they meet many dangerous and mysterious characters
in their quest to solve the riddle of the boy's disappearance.
Card, Orson Scott. Ender's Game
This wonderfully intense, fast-paced science fiction story concerns Earth's battle against hostile aliens. In order
to stave off extinction, government agencies breed child geniuses and train them in the art of warfare. When
young Andrew "Ender" Wiggin is chosen to lead the battle, he realizes that saving all he loves comes with a
heavy cost.
Christie, Agatha. And Then There Were None (AKA Ten Little Indians)
One of the mystery queen's most popular tales, And Then There Were None concerns a group of strangers who
are lured to a secluded island to answer for past crimes. Guests mysteriously die in accordance with a nursery
rhyme found in the house, and as tension mounts, readers are treated to "the most baffling mystery Agatha
Christie has ever written" (The New York Times). This story solidified Christie's reputation as a superb mystery
writer and was even turned into a play. These are some of Agatha Christie's other recommended books: Murder
on the Orient Express, Death on the Nile, and The Murder at the Vicarage.
Cisneros, Sandra. House on Mango Street
A highly effective semi-autobiographical story about a young Hispanic girl's desire to flee her poverty-stricken
neighborhood in Chicago. Told through a series of vignettes—short, descriptive passages that are almost
photographic in nature—Cisneros prose/verse beautifully captures Esperanza's longing to become a strong and
independent woman who dares to dream and live life on her own terms.
Collins, Suzanne. The Hunger Games/Catching Fire/Mockingjay
If you're among the handful of people who still haven't read these books about a young girl's fight against her
country's corrupt and evil ruler, summer is a perfect time to become caught up in these compelling stories. All
three novels deserve the high praise they received!
Cormier, Robert. The Chocolate War
Jerry Renault is a freshman in high school and eager fit in. When he takes a stand against selling chocolates in
the school's fundraiser, however, he quickly becomes a target of the mighty Vigils, the gang that runs the
hallways of the private Catholic school. Controversial since its publication (it was turned down by numerous
publishing houses), The Chocolate War examines conformity, peer pressure, and rebellion. Other recommended
Robert Cormier titles are Beyond the Chocolate War and I Am the Cheese.
Crichton, Michael. Jurassic Park
Bioengineers have discovered a way to bring dinosaurs back to life and have stocked a massive theme park with
fifteen different types of the creatures for the public's delight; however, as is often the case in science fiction
novels, there is a terrible price to pay for playing God. As entertaining as the movie is, it doesn't hold a candle
to the thrills and chills found within the book. Other Michael Crichton stories that may pique interest are The
Great Train Robbery, The Lost World (Jurassic Park sequel), Timeline, Sphere, Congo, and The Andromeda
Strain.
Danforth, Emily M. The Miseducation of Cameron Post
When Cameron's parents are suddenly killed, her first feeling is one of relief—that they won't discover she is
attracted to another girl. After their funeral, she is sent to live with her strict aunt in Miles, Montana—a town in
which it's necessary to fit in and not make waves. When Cameron begins a friendship with a charming girl
named Coley Taylor—a girl who accepts Cameron for who she is—Cameron's austere aunt takes drastic
actions in order to "fix" her niece. Heralded as one of the best coming-of-age stories in decades, The
Miseducation of Cameron Post is about having the courage to live life on one's own terms.
Dickens, Charles. Great Expectations
Young Pip is apprenticed to a blacksmith but has dreams of becoming a gentleman. The journey from his poor
town to London society is teeming with memorable characters, including the malevolent Magwitch and the
vengeful Miss Havisham, who uses her adopted daughter to ensnare and hurt Pip. Dickens's witty dialogue,
evocative descriptions, and powerful insights into the human condition were never better. This story about the
personal cost of one's aspirations is rousing, heartbreaking, funny, and completely satisfying.
Doyle, Arthur Conan. The Adventures of Sherlock Holmes
This book contains the first stories to feature the intrepid Detective Holmes and his crime-solving partner,
Doctor Watson. Set against the late-nineteenth/early- twentieth century streets of London and the foggy hills
and mysterious towns of the English countryside, these tales have thrilled mystery readers for over one hundred
years. "The Adventure of the Blue Carbuncle" and "The Red-headed League" are but two of the stories
contained within.
Fiennes, William. The Snow Geese: A Story of Home
The Snow Geese is a captivating story of a young Englishman who travels to Texas in order to follow a
migrating band of geese on a journey 3,000 miles north to Baffin Island.
Finney, Jack. Time and Again
Protagonist Simon Morley is enlisted by the government to hypnotize himself back to 1880s New York in order
to solve a mystery. He is successful in his attempt to time travel, but when he return to present day, he knows he
must go back again in order to safeguard someone loves...and his very own future existence. A modern classic.
George, Jean Craighead. My Side of the Mountain
Fifteen-year-old Sam Gribley has had enough of life with his large family, so he sets out on his own and make a
new life for himself in the Catskill Mountains of Upstate New York. After securing a home in a hollow tree and
two companions (a falcon and a weasel), Sam has to learn to feed and protect himself, especially when a terrible
blizzard hits the mountain. This wonderful adventure story spawned two sequels.
Grahame-Smith, Seth. Abraham Lincoln: Vampire Hunter
A spine-tingling mash-up of American history and vampire horror, this book gives great insight into the Civil
War and Lincoln's accomplishments one minute and then scares readers the next as venerable Honest Abe slays
creatures of the night while forging a path to the White House.
Green John. The Fault in Our Stars
Despite the fact that Hazel Lancaster has received good news—her cancer is in remission—her case is terminal.
Into her life, however, comes an incredible young man named Augustus Waters, who teaches Hazel about
possibilities she never dreamed possible. This beautifully written novel is so much more than a book about
cancer; it's a book about learning to accept life and love and everything the world has to offer. The story is so
compelling it became a bestseller upon publication and has already been optioned as a movie. Highly
recommended.
Herriot, James. All Creatures Great and Small
All Creatures Great and Small is the first volume in a series about a veterinarian in rural Yorkshire, England,
who travels the countryside, tending to sick animals…no matter how great or small. This charming story is told
with humor, compassion, and love.
Higson, Charlie. The Enemy
The market has recently been flooded with books about zombies, but this story deserves attention. After a
mysterious illness turns anyone over sixteen-years-old into zombies, a band of young teens come together to
fight for survival in a world nothing like they've ever known. Fast-paced and clever, by the author of the
"Young Bond" series, this book will keep readers eagerly turning its pages. A prequel called The Dead and the
sequel called The Fear are also available.
Hinton, S.E. The Outsiders
Reading this book, or any of Hinton's others, is almost a rite-of-passage for teen readers. The Outsiders
concerns the rivalry between the poor but proud "greasers" and their rivals, the privileged "socs." Written by
the author when she was only 16-years-old, this story speaks candidly to anyone who has ever felt as if he or
she didn't belong. Three other highly recommended Hinton titles are That Was Then, This Is Now; Rumble
Fish; and Tex.
Hornby, Nick. Slam
When high school student Sam discovers his former girlfriend is pregnant, he suddenly faces a terrifying future
of shattered dreams and needs to turn to a trusted friend for advice. Naturally, he seeks the wisdom of
skateboarding pro Tony Hawk, the hero on his bedroom poster. This is much more than a book about teen
pregnancy; it's a tale of how growth often occurs when one is confronted by overwhelming situations. About a
Boy is another highly recommended book by this author.
Junger, Sebastian. The Perfect Storm
A nonfiction book about what happened to a number of ships that were caught in one of the deadliest storms
ever experienced at sea.
Keller, Helen. The Story of My Life
Helen Keller writes about her upbringing as a deaf-blind child who, with the help of teacher Annie Sullivan,
was able to make sense of the world around her, graduate Radcliffe College, and find great success in the face
of almost insurmountable odds. One of the most inspiring tales of all time.
King, Stephen. 'Salem's Lot
King's second published novel is the story of a group of survivors battling their town's infestation of vampires.
Unlike the vampires in many recent offerings, there is nothing romantic or sensitive about these creatures. One
of the most effective pieces of horror fiction ever written, King's story is as much about the secrets and
anxieties that live among us during the day as it is about the fear that grabs hold when night descends. Also
consider these books by Stephen King: Carrie, The Eyes of the Dragon, and The Dark Tower (series).
Krakauer, Jon. Into Thin Air: A Personal Account of the Mount Everest Disaster
This nonfiction story by a man who survived the disaster is a moving account of the deadly storm that hit Mount
Everest in 1996. Another fascinating, true-life story by Jon Krakauer's is Into the Wild.
Lawrence, Iain. The Wreckers
Set in 1799 on an isolated section of the Cornwall coast, The Wreckers concerns a town that lures ships onto
dangerous shore in order to profit from the disasters...that is, as long as there are no survivors. When young
John Spencer is found alive after his boat founders upon the rocks, he needs all his wits to evade the local
villagers who see his survival as an impediment to their way-of-life.
Lord, Walter. A Night to Remember
This nonfiction account of the sinking of Titanic is still among the most compelling books about the doomed
ocean liner. Lord interviewed numerous survivors of the tragedy and wove their stories into the narrative,
creating a "you were there" effect that is mesmerizing.
McCammon, Robert. Boy's Life
McCammon is a master storyteller and many consider Boy's Life to be one of his greatest achievements.
Growing up in a small Alabama town, eleven-year-old Cory Mackenson enjoys the pursuits of other boys his
age; until, that is, he and his father see a car plunge into a local lake with a dead man handcuffed to the steering
wheel. Suddenly, Cory is drawn into a deep mystery, and the secrets of his town, which have been formerly
well hidden, begin to show Cory that even in the most idyllic of places, menace lurks. If you like long historical
fiction, try McCammon's Speaks the Nightbird and its three sequels.
MacLean, Alistair. The Guns of Navarone
A thrilling story in which the Allied troops during World War II send in a small group of covert operatives to
disable German forces on the fictional island of Navarone. The soldiers must fight against almost
insurmountable odds in a race against time. Other thrillers by Alistair MacLean include Ice Station Zero and
Where Eagles Dare.
Meyers, Walter Dean. Monster
Sixteen-year-old Steven Harmon is incarcerated for murder, even though he only acted as a lookout during the
robbery that took a man's life. Is he guilty? Is he a "monster"? Told through the protagonist's diary entries and
the screenplay written in jail, Steven's story examines the idea of personal responsibility in a powerfully
perceptive manner.
Mitchell, Margaret. Gone with the Wind
This doorstop of book is for serious readers only! Considered one of the great American classics, Mitchell's
masterpiece recounts the story of headstrong Scarlett O'Hara during the American Civil War era. War,
romance, history, and one of the most remarkably drawn characters in literature…this book has it all. This
summer, find some quiet shade, pour yourself a tall glass of lemonade, and immerse yourself in the grand old
South.
Montgomery, Lucy Maud. Anne of Green Gables
When highly imaginative, vivacious, curious, and opinionated red-haired orphan Anne Shirley arrives on the
doorstep of Matthew and Marilla Cuthbert—a sensible, older farming couple—nothing in their lives will ever
be the same. Anne of Green Gables introduced what was to become one of the world's most beloved characters,
and Mark Twain himself once called Anne Shirley the "dearest and most moving and delightful child since the
immortal Alice."
Myracle, Lauren. Shine
When Cat's former best friend is found beaten and left for dead, she makes herself responsible for finding the
person accountable for the atrocity. Although she is warned to leave things alone, her desire to learn the secret
of what happened that night leads her into a personal journey that changes her life—and her view of
humanity—entirely. This novel by bestselling writer Myracle was described as being "gritty, devastating,
lovely, and wise" by author Tara Altebando.
Orwell, George. Animal Farm
Animal Farm is a cautionary tale about power and corruption that involves animals' overthrow of their abusive
master as an allegory for the Russian Revolution. Snowball, Napoleon, and Boxer are characters that are hard to
forget. Also consider George Orwell's seminal work, 1984, a terrific read for advanced readers.
Quinn, Spencer. Dog on It
The first book in a series of mysteries, Dog on It concerns two detectives Bernie, the head of the agency, and
Chet, his mongrel dog and dedicated private investigator. Fast-paced, humorous, and sharp, this series will
appeal to any reader who enjoys canines and who-dunnits. (And isn't that pretty much everyone?!)
Riggs, Ransom. Miss Peregrine's Home for Peculiar Children
A text in which photographs beautifully—and eerily—add to a highly original adventure story, Miss Peregrine's
Home for Peculiar Children concerns a young man's search for the truth behind his deceased grandfather's wild
stories about a childhood spent on a mysterious island off the coast of Wales during World War II. If you like
this book, look for Riggs's sequel, Hollow City.
Sewell, Anna. Black Beauty
Narrated by the titular horse, Black Beauty follows the journey of a carefree young colt as he is passed from
owner to owner until he is sold as a workhorse. Although the conditions in which he eventually finds himself
are brutal, he refuses to let his spirit be
broken. Sewell's classic about this indomitable horse is essential reading for anyone who loves animals…or
loves a moving story.
Smith, Betty. A Tree Grows in Brooklyn
The story of Francie Nolan's coming-of-age in the Williamsburg section of Brooklyn in the early 1900s was
called "one of the best books of the [20th] Century" by the New York Public Library. Similar to Scout Finch in
Harper Lee's To Kill a Mockingbird, Smith's protagonist strives to make sense of the world around her and her
place in it. For fans of historical fiction and/or stories that delve into workings of the human heart, this novel
succeeds on every level.
Stevenson, Robert Louis. Treasure Island
An action-packed yarn in which young Jim Hawkins climbs upon a sea-faring vessel and faces not only
bloodthirsty pirates but the infamous Long John Silver himself. To this day Treasure Island remains one of the
best and most popular adventure tales ever written. "Shivers me timbers!" Other titles of interest by Robert
Louis Stevenson include Kidnapped and The Strange Case of Dr. Jekyll and Mr. Hyde.
Swann, Leonie. Three Bags Full
When George, a caring and compassionate Irish shepherd, is found dead, his flock of sheep decide to takes
matters into their own hands (or "hooves," as the case may be) and track down his killer in this lighthearted and
amusing murder mystery. One reviewer noted, "It's rather like Agatha Christie had rewritten The Wind in the
Willows. Additional bonus: The bottom of each page has sheep drawings that become a flipbook when the
pages are ruffled!
Westerfeld, Scott. Leviathan
A steampunk version of a global conflict involving walking war machines, a massive biological airshipecosystem that resembles a flying whale, and two teens from opposites sides that find themselves drawn to each
other through circumstance. Leviathan is the first book in a series. Recognized as one of the School Library
Journal Best Books of 2009 and ALA/YALSA 2010 Best Books for Young Adults. Also recommended are the
following volumes: Behemoth and Goliath.
Wolff, Tobias. This Boy's Life
Wolff's best-selling memoir about his years as a teenager in the 1950s is as darkly funny as it is heartbreaking.
Following a bitter separation, young Toby and his mother move across the country to seek their fortune hunting
uranium. When that doesn't pan out, they head to Seattle, where Toby's mother meets Dwight, the man who
will become Toby's stepfather. Wolff's search for identity and his desire to belong will resonate with readers
who sometimes believe they are alone in the world but who are relieved to realize that, in truth, they are not.
Wyndham, John. The Day of the Triffids
After a meteor shore blinds much of the world's population, survivors must pull together to rebuild society and
battle flesh-eating plants intent on annihilating the human race. A science fiction classic! Also recommended is
Wyndham's The Chrysalids.
Yancey, Rick. The Monstrumologist
Will Henry is the orphan apprentice of a doctor who studies monsters. When a mysterious specimen arrives at
the doctor's, the adventure of his young life begins. The first book in a series, The Monstrumologist has been
called "a cross between Mary Shelley and Stephen King." This "Victorian mystery" was awarded the YALSA
Best Book for Young Adults honor and won the silver medal in the Florida Book Awards. Other titles in this
series are The Isle of Blood and The Curse of the Wendigo.
Zindel, Paul. The Pigman
Two teenagers, who are bored with school and pretty much everything else in their lives, love playing pranks on
unsuspecting strangers. When they decide to trick old Mr. Pignati, they end up becoming friends with the man,
captivated by his love of life and all it has to offer. However, a seemingly harmless idea leads to disaster and
betrayal and changes everything forever. Two other popular Paul Zindel titles are My Darling, My Hamburger
and The Pigman's Legacy.
Ninth Grade through Twelfth Grade
Orwell, George 1984
Written in 1948, 1984 was George Orwell's chilling prophecy about the future. And while 1984 has come and
gone, Orwell's narrative is timelier than ever. 1984 presents a startling and haunting vision of the world, so
powerful that it is completely convincing from start to finish. No one can deny the power of this novel, its hold
on the imaginations of multiple generations of readers, or the resiliency of its admonitions—a legacy that seems
only to grow with the passage of time.
Brian Falkner Brain Jack
Seventeen-year-old Sam single-handedly hacks into a large telecommunication company (thought to be
impenetrable) and inadvertently takes out the world's infrastructure in his attempt to cover his tracks. He is
recruited by a secret government department staffed by former hackers to protect the Internet and is taken to
San Jose, CA. They find a malicious presence on the web that could destroy the world and must work as a
group to preserve life as we know it. The story takes place in the near future, and the technology has some
interesting new enhancements, most notably neuro helmets that allow one to control a computer with one's
mind.
Olivia Anne Burns Cold Sassy Tree
On July 5, 1906, scandal breaks in the small town of Cold Sassy, Georgia, when the proprietor of the general
store, E. Rucker Blakeslee, elopes with Miss Love Simpson. He is barely three weeks a widower, and she is
only half his age and a Yankee to boot. As their marriage inspires a whirlwind of local gossip, fourteen-year-old
Will Tweedy suddenly finds himself eyewitness to a family scandal, and that's where his adventures begin.
Cold Sassy Tree is the undeniably entertaining and extraordinarily moving account of small-town Southern life
in a bygone era.
John Connolly Conquest
Earth is no longer ours. . . .
It is ruled by the Illyri, a beautiful, civilized, yet ruthless alien species. But humankind has not given up the
fight, and Paul Kerr is one of a new generation of young Resistance leaders waging war on the invaders.
Syl Hellais is the first of the Illyri to be born on Earth. Trapped inside the walls of her father's stronghold, hated
by the humans, she longs to escape.
Lauren Oliver Delirium
Lauren Oliver's powerful New York Times bestselling novel Delirium—the first in a dystopian trilogy—presents
a world as terrifying as George Orwell's 1984 and a romance as true as Romeo & Juliet.
In an alternate United States, love has been declared a dangerous disease, and the government forces everyone
who reaches eighteen to have a procedure called the Cure. Living with her aunt, uncle, and cousins in Portland,
Maine, Lena Haloway is very much looking forward to being cured and living a safe, predictable life. She
watched love destroy her mother and isn't about to make the same mistakes.
But with ninety-five days left until her treatment, Lena meets enigmatic Alex, a boy from the Wilds who lives
under the government's radar. What will happen if they do the unthinkable and fall in love?
Delirium received starred reviews from Kirkus and School Library Journal, and was named a Best Book of the
Year by USA Today, Kirkus, Amazon.com, YALSA, and the Chicago Public Library and was selected as one of
NPR's Top 100 Best Ever Teen Novels.
Michael D'Orso Eagle Blue
Eagle Blue follows the Fort Yukon Eagles, winners of six regional championships in a row, through the course
of an entire 28-game season, from their first day of practice in late November to the Alaska State Championship
Tournament in March. With insight, frankness, and compassion, Michael D'Orso climbs into the lives of these
fourteen boys, their families, and their coach, shadowing them through an Arctic winter of fifty-below-zero
temperatures and near-round-the-clock darkness as the Eagles criss-cross Alaska in pursuit of their--and their
village's--dream.
David Levithan Every Day
In his New York Times bestselling novel, David Levithan, co-author of bestsellers Will Grayson, Will
Grayson and Nick and Norah's Infinite Playlist, introduces readers to what Entertainment Weekly calls a "wise,
wildly unique" love story about A, a teen who wakes up every morning in a different body, living a different
life. This new paperback edition features six additional chapters about A's earlier life.
Every day a different body. Every day a different life. Every day in love with the same girl.
There's never any warning about where it will be or who it will be. A has made peace with that, even
established guidelines by which to live: Never get too attached. Avoid being noticed. Do not interfere.
It's all fine until the morning that A wakes up in the body of Justin and meets Justin's girlfriend, Rhiannon.
From that moment, the rules by which A has been living no longer apply. Because finally A has found someone
he wants to be with—day in, day out, day after day.
With his new novel, David Levithan has pushed himself to new creative heights. He has written a captivating
story that will fascinate readers as they begin to comprehend the complexities of life and love in A's world, as
A and Rhiannon seek to discover if you can truly love someone who is destined to change every day.