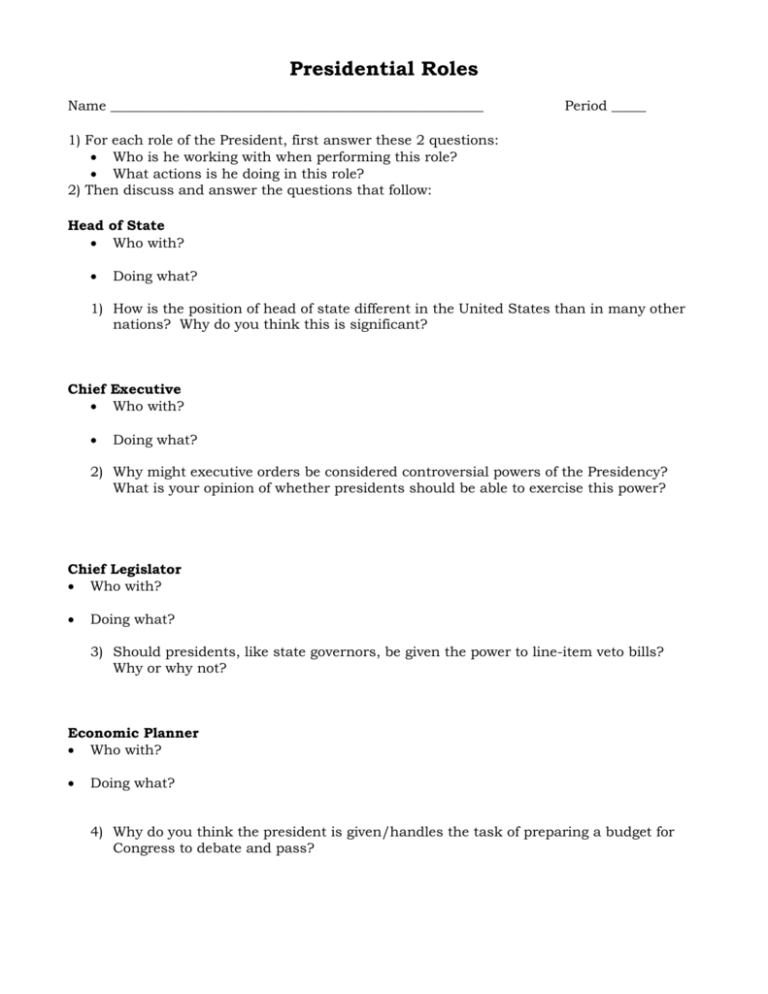 Presidential Roles
Name ______________________________________________________
Period _____
1) For each role of the President, first answer these 2 questions:
 Who is he working with when performing this role?
 What actions is he doing in this role?
2) Then discuss and answer the questions that follow:
Head of State
 Who with?

Doing what?
1) How is the position of head of state different in the United States than in many other
nations? Why do you think this is significant?
Chief Executive
 Who with?

Doing what?
2) Why might executive orders be considered controversial powers of the Presidency?
What is your opinion of whether presidents should be able to exercise this power?
Chief Legislator
 Who with?

Doing what?
3) Should presidents, like state governors, be given the power to line-item veto bills?
Why or why not?
Economic Planner
 Who with?

Doing what?
4) Why do you think the president is given/handles the task of preparing a budget for
Congress to debate and pass?
Party Leader
 Who with?

Doing what?
5) How might the president's duty as party leader conflict with that of chief executive (or
head of state), especially given the current make-up of Congress?
Chief Diplomat
 Who with?

Doing what?
6) Do you think that the US government should formally recognize the government of
Cuba? Why or why not?
Commander-in-Chief
 Who with?

Doing what?
7) What benefits exist as a result of the president's control of the armed forces? What
are the drawbacks?
Being as objective as possible…
**Of all presidential roles, which do you feel President Obama BEST performs? Why?
** If you had to choose one, which does he need to improve upon? Why?