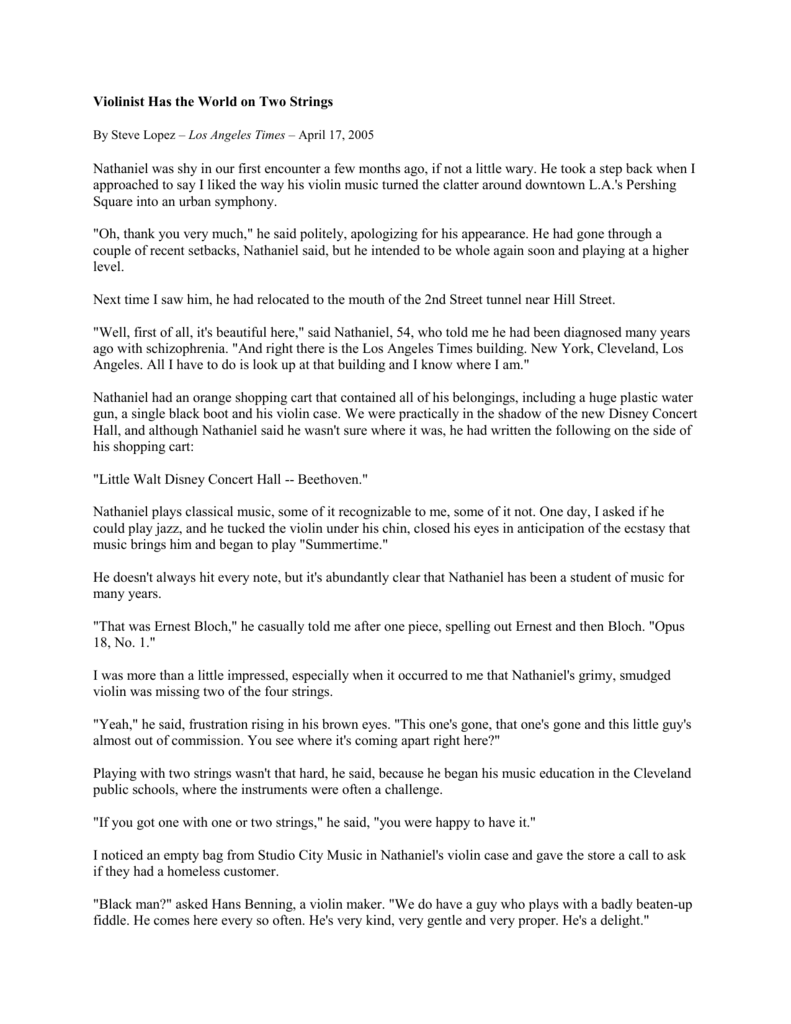 Violinist Has the World on Two Strings
By Steve Lopez – Los Angeles Times – April 17, 2005
Nathaniel was shy in our first encounter a few months ago, if not a little wary. He took a step back when I
approached to say I liked the way his violin music turned the clatter around downtown L.A.'s Pershing
Square into an urban symphony.
"Oh, thank you very much," he said politely, apologizing for his appearance. He had gone through a
couple of recent setbacks, Nathaniel said, but he intended to be whole again soon and playing at a higher
level.
Next time I saw him, he had relocated to the mouth of the 2nd Street tunnel near Hill Street.
"Well, first of all, it's beautiful here," said Nathaniel, 54, who told me he had been diagnosed many years
ago with schizophrenia. "And right there is the Los Angeles Times building. New York, Cleveland, Los
Angeles. All I have to do is look up at that building and I know where I am."
Nathaniel had an orange shopping cart that contained all of his belongings, including a huge plastic water
gun, a single black boot and his violin case. We were practically in the shadow of the new Disney Concert
Hall, and although Nathaniel said he wasn't sure where it was, he had written the following on the side of
his shopping cart:
"Little Walt Disney Concert Hall -- Beethoven."
Nathaniel plays classical music, some of it recognizable to me, some of it not. One day, I asked if he
could play jazz, and he tucked the violin under his chin, closed his eyes in anticipation of the ecstasy that
music brings him and began to play "Summertime."
He doesn't always hit every note, but it's abundantly clear that Nathaniel has been a student of music for
many years.
"That was Ernest Bloch," he casually told me after one piece, spelling out Ernest and then Bloch. "Opus
18, No. 1."
I was more than a little impressed, especially when it occurred to me that Nathaniel's grimy, smudged
violin was missing two of the four strings.
"Yeah," he said, frustration rising in his brown eyes. "This one's gone, that one's gone and this little guy's
almost out of commission. You see where it's coming apart right here?"
Playing with two strings wasn't that hard, he said, because he began his music education in the Cleveland
public schools, where the instruments were often a challenge.
"If you got one with one or two strings," he said, "you were happy to have it."
I noticed an empty bag from Studio City Music in Nathaniel's violin case and gave the store a call to ask
if they had a homeless customer.
"Black man?" asked Hans Benning, a violin maker. "We do have a guy who plays with a badly beaten-up
fiddle. He comes here every so often. He's very kind, very gentle and very proper. He's a delight."
I told Benning his name is Nathaniel Anthony Ayers, and he seems to know a thing or two about music.
"Yes, he does," Benning said. "He talks about the Beethoven sonatas and then slips back into another
world."
The reason he used to hang around Pershing Square, Nathaniel told me, was so he could study the
Beethoven statue for inspiration.
"I've never seen anything in my life that great," he said. "I'm flabbergasted by that statue because I can't
imagine how he's there. I don't know how God is operating."
When I asked more about his training, Nathaniel told me he had gone to Ohio University and Ohio State
University. He also said he'd played many times at the Aspen Music Festival, and he'd gone to Juilliard
for two years in the early '70s.
Juilliard? I asked.
"I was there for a couple of years," he said, as if it were nothing.
While waiting for a callback from Juilliard, I called Motter's Music House in Lyndhurst, Ohio. Nathaniel
told me he had bought many instruments there over the years, including the Glaesel violin he now owns.
"He's an outstanding player," said Ron Guzzo, a manager at Motter's. He saw a lot of Nathaniel over a
span of 20 years, because Nathaniel's instruments were often stolen from him on the streets. He would
work at a Wendy's or shovel snow to save up for another.
"As I understand it, he was at Juilliard and got sick, so he came back home. He'd sit out in our parking lot
on a nice day playing the cello, and we'd wonder where the heck that was coming from. It was Tony,"
Guzzo said, using Nathaniel's nickname.
Cello? Yes, it turns out Nathaniel started on the bass, switched to cello and has never had any training on
the violin. He switched to the latter after ending up on the streets, because it fits more neatly into his
shopping cart.
Everything he had told me about his life was checking out, so I figured Juilliard must be for real too.
Sure enough.
Nathaniel Anthony Ayers, who sleeps on the streets of the city, takes his meals at the Midnight Mission
and plays a two-string violin, attended the acclaimed New York City music school on a scholarship.
Nathaniel told me a bass player named Homer Mensch was one of his mentors at Juilliard. Mensch, 91, is
still teaching, and he immediately recalled Nathaniel.
"He had the talent, that was for sure," said Mensch, who remembered that Nathaniel had suddenly
disappeared, never to return. I told him Nathaniel's illness had begun while he was at Juilliard and he was
now a homeless violinist in downtown L.A.
"Give him my very best," said Mensch. "I would certainly like to hear from him."
Nathaniel has memorized the phone numbers of the people who inspired him. To recall the numbers, he
writes them in mid-air with his index finger. One day he gave me the home phone number of Harry
Barnoff, a bass player and former teacher who recently retired after 46 years with the Cleveland
Orchestra.
Barnoff was in tears at the memory of Nathaniel.
"Please," Barnoff pleaded, "you have got to go tell him how much I think of him and that I still remember
what a wonderful musician he was."
Barnoff says Nathaniel was a bit of a slacker when he was in junior high and taking lessons at the
Cleveland Music School Settlement. But with encouragement, Nathaniel set the highest possible goals for
himself.
"During the riots, he was in the music building, practicing. He really worked at it and got to where he
knew I had gone to Juilliard, and he wanted to go, too.... Next thing I knew, he got a scholarship."
Nathaniel had the potential to play with any of the major orchestras in the United States, Barnoff said. He
tried to help Nathaniel through his most difficult times, offering him work around his house and taking
Nathaniel's calls from mental hospitals and the streets.
Nathaniel was often in a state of distress, Barnoff says of his former student, until they began talking
about music. And then everything was right with the world.
"He once sent me a card saying he would give his left hand for me," Barnoff said.
I got hold of Nathaniel's sister, Jennifer Ayers-Moore, at her home in Fayetteville, Ga. She was relieved
to hear that her older brother is OK but disturbed to know he's on the streets -- again.
He was never the same after he got back from New York, Ayers-Moore said, and he has been in and out
of hospitals and group homes for three decades. Time after time, he has tested the patience of the people
who love him.
"It got to the point where he didn't want to talk to anybody and didn't want to be in reality. I couldn't
watch the movie 'A Beautiful Mind,' because every stitch of it reminded me of Nathaniel."
As do so many schizophrenics, Ayers-Moore says, her brother would improve with medication but then
refuse to take it and slip back into his tortured world.
"It was very difficult for my mother, because he would curse her out, call her names, threaten her. When
we went to visit her in the nursing home on her birthday, she looked at me and said, 'I miss Tony.' He was
her pride and joy, and she did everything she possibly could to help him."
Nathaniel talks often of his mother, expressing his love in his own way.
"She was a beautician," he said. "That's beauty. And music is beauty, so I guess that's why I started
playing."
Nathaniel came west after his mother's death five years ago. He hooked up with his estranged father and
other relatives but soon found the streets.
"It's an absolute dream here, and I notice that everyone is smiling," Nathaniel said at 2nd and Hill, where
he sometimes steps into the tunnel to hear the echo of his violin. "The sun is out all day, and the nights are
cool and serene."
Nathaniel often takes a rock and scrawls names on the sidewalk.
"Oh, those," he said. "A lot of those are the names of my classmates at Juilliard."
One day I asked about his hopes and dreams.
"Oh, that's easy," he said. "I need to get these other two strings, but I don't have the money right now."
He had no use for a house, he said, or a car or anything else.
"All I want is to play music, and the crisis I'm having is right here," Nathaniel said, pointing to the
missing strings and calling out the names of Itzhak Perlman and Jascha Heifetz, as if the renowned
violinists might hear his plea and send along the strings.
Nathaniel refused to accept money from me or freebies from Studio City Music. I suggested he go back to
Pershing Square, where passersby often dropped money in his violin case, but it didn't seem logical to
him.
When I brought him a new set of strings from Studio City Music, I had to insist that he not pay me for
them. He had trouble attaching the strings because his violin is in such bad shape. But by the next day, he
had jury-rigged them and was happy to give me a show at his Little Walt Disney Concert Hall.
I had invited two staffers from Lamp Community, a service agency for homeless, mentally ill men and
women. Maybe they could get his trust, I figured, and determine whether they could help him at some
point.
But as Nathaniel began to play, I doubted there was anyone or anything that could deliver the same peace
that music brings him. He was in his sanctuary, eyes half-mast in tribute to the masters.
As cars roared by and trash flew off a dump truck, Nathaniel was oblivious. He played a Mendelssohn
concerto, a Beethoven concerto and the Brahms double concerto for violin and cello, his bow gliding
effortlessly as it sliced through the madness.