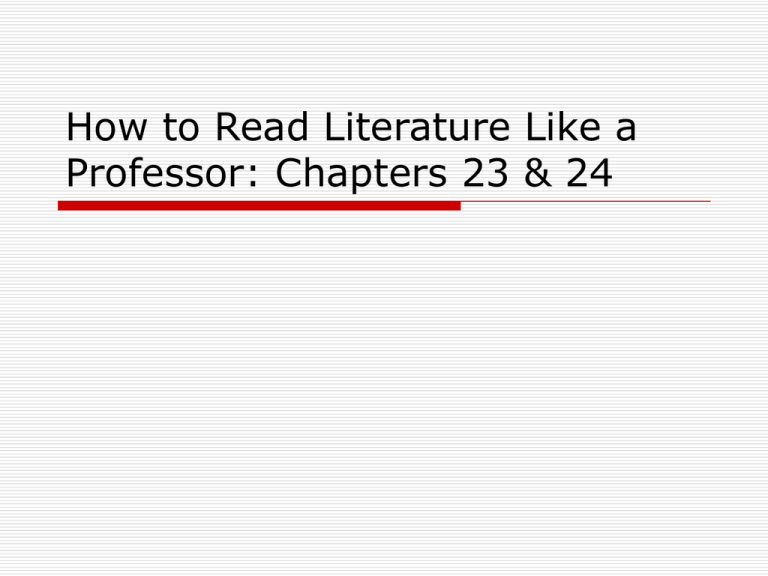 How to Read Literature Like a
Professor: Chapters 23 & 24
Chapter 23: It's Never Just Heart
Disease…
What was it about?
• When an author
mentions heart
disease, it's never
about heart disease.
Deeper thoughts.




Heart disease is sad emotions
Loneliness or pain
Heart represents all emotion
Heart has significance
Examples?





The Man of Adamant
By: Nathaniel Hawthorne
Man is upset with society
Moves into cave
Turns into stone
Chapter 24:…..And Rarely Just
Illness
What was it about?
 When writing, you
can not just use any
illness off the top of
your head.
What does that mean?
 Illness should effect the character's
appearance.
 Strong symbol
-Tuberculosis: Translucent skin,
darkened eye sockets, coughing up
blood
Key Points
 Not all diseases are
created equal
 It should be
picturesque
 Mysterious in origin
- Author John Keat's
Tuberculosis
 Strong metaphorical
possibilities
Examples?
James Joyce's "The Sisters"
Priest has stroke
Left paralyzed
There is "No Hope" for the priest
Paralysis shows suffering with no
action.
 Boy is effected





Thank You!