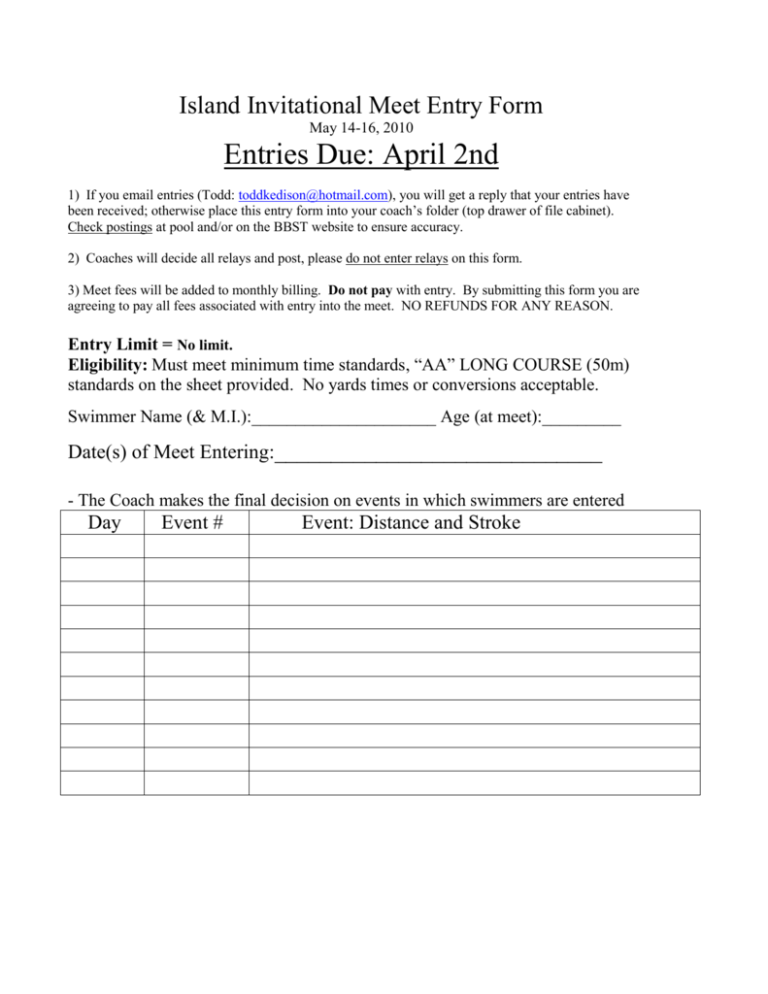 Island Invitational Meet Entry Form
May 14-16, 2010
Entries Due: April 2nd
1) If you email entries (Todd: toddkedison@hotmail.com), you will get a reply that your entries have
been received; otherwise place this entry form into your coach's folder (top drawer of file cabinet).
Check postings at pool and/or on the BBST website to ensure accuracy.
2) Coaches will decide all relays and post, please do not enter relays on this form.
3) Meet fees will be added to monthly billing. Do not pay with entry. By submitting this form you are
agreeing to pay all fees associated with entry into the meet. NO REFUNDS FOR ANY REASON.
Entry Limit = No limit.
Eligibility: Must meet minimum time standards, "AA" LONG COURSE (50m)
standards on the sheet provided. No yards times or conversions acceptable.
Swimmer Name (& M.I.):_____________________ Age (at meet):_________
Date(s) of Meet Entering:_____________________________
- The Coach makes the final decision on events in which swimmers are entered
Day
Event #
Event: Distance and Stroke
SCHEDULE OF EVENTS
Saturday Prelims Warm-up *: 8:00 AM Start: 9:00 AM
#Girls
Event
#Boys
15
100 Fly
16
17
200 Free
18
19
100 Breast
20
21
200 Back
22
23
50 Free
24
25
1500 Free (Top 8 per Gender for 12&U, 13/14, and 15&O) 26
Sunday Warm-up *: 8:00 AM Start: 9:00 AM
(all events are timed finals)
#Girls
29
31
33
35
37
11
25
Event
50 Fly
400 Free
50 Back
50 Breast
400 IM
800 Free (remaining heats after Friday)
1500 Free (remaining heats after Saturday)
#Boys
30
32
34
36
38
12
26
Qualifying time standards are Long Course AA times for each event, based on the age of
the swimmer on the first day of the meet. Any swimmer that qualifies to attend the meet
may enter the 50 Fly, 50 Back, or 50 Breast as there are no AA time standards for these
events. The time standards chart can be found at:
http://www.swim.bc.ca/admin/docs/Time%20Standards/2009-2010TimeStandards.pdf
Island Long Course Invitational
May 14-16, 2010
Saanich Commonwealth Place
4636 Elk Lake Drive
Victoria, BC
STARTING TIMES:
FRIDAY May 14
We will not be attending prelims on this day, as the ferry will arrive too late. We
will plan to do a team activity/dinner upon arrival in Victoria.
SATURDAY May 15
HEATS: Warm-Up: 8:00 am Start: 9:00 am Projected End Time: 2:30 pm
FINALS: Warm-Up: 5:00 pm Start: 6:00 pm Projected End Time: 8:00 pm
SUNDAY May 16
Timed FINALS: Warm-Up: 8:00 am Start: 9:00 am Projected End Time: 1:00 pm
ELIGIBILITY: Swimmers must achieve the minimum time standards for each event, "AA" in long Course.
Ask coach if you have questions. (Time Standards attached with this entry form).
1. Stroke 50s (Backstroke, Breaststroke, and Butterfly) do not have Swim BC AA time standards.
These events may be entered by a swimmer that qualifies for any other events in the meet.
2. No event limit.
FEES: $6.50 per individual. $9.00 surcharge per swimmer.
EVENTS:
1. No entry limit.
2. All events will be swum together during heats, but separated according to age groups (12 & U,
13/14, 15 & Over) in finals.
3. All relays are timed finals swum at the beginning of finals.
**You should make a reservation for the ferry from Anacortes to Sidney B.C. for
Friday, May 14th, 8:30am. This is the only ferry on Friday. You will want to make
a reservation for your return trip, too. *Remember to bring appropriate
documentation for entering Canada.
International Reservations: Vehicle reservations are recommended for travel to or from Sidney, BC
and must be made at least 24 hours in advance by calling206.464-6400 or 888-808-7977 (WA & BC) or
at www.wsdot.wa.gov/ferries.
International Travel: Travelers 16 years of age and older who enter the U.S. at land and sea ports of
entry are required to present a valid Passport. For U.S. and Canadian Citizens only, Passport Cards and
trusted traveler program cards– NEXUS, SENTRI and FAST–will continue
to be accepted for cross-border travel. Or, for U.S. citizens who are also Washington State residents, the
Enhanced Driver's License (EDL) will meet the requirements for proof of citizenship to re-enter the U.S.
from Canada by land or sea. U.S. and Canadian citizens who are 15 years old or younger will still be
allowed to travel with just a copy of their birth certificate, as will teens between the ages of 16-18 if they
are part of an adult supervised school, religious, cultural or
athletic group. If both birth parents are not traveling with children, you must have notarized
written authorization from the parent(s) along with a telephone number where they can be reached to
verify the authorization or proof of custody. Failure to provide such evidence may make you inadmissible
to Canada.
LOCAL HOTEL ACCOMODATIONS
Accent Inn
3233 Maple Street
Victoria, B.C. V8X 4Y9
Phone: 250-475-7500
Toll free 1 -800-663-0298
Fax: 250-475-7599
Ask for their "SPORTS RATE"
Howard Johnson
4670 Elk Lake Drive
Victoria, B.C. V8Z 5M2
Phone: 250-704-4656
Toll free: 1 -800-300-4656 (Ask about team rates)
Fax: 250-704-4655
Limited billeting may be provided to teams visiting from outside of British Columbia.
Please contact Sureen Gosal (sureen@islandswimming.com or (250) 294-9999)
prior to April 18, 2010 to request billeting assistance.