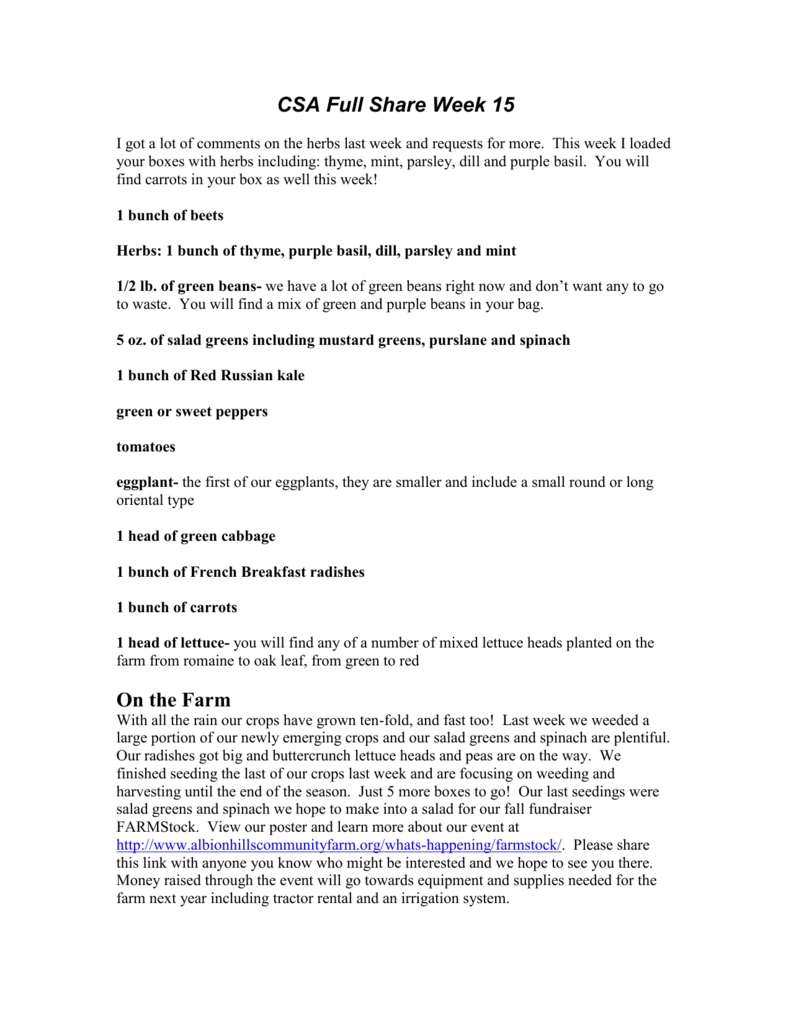 CSA Full Share Week 15
I got a lot of comments on the herbs last week and requests for more. This week I loaded
your boxes with herbs including: thyme, mint, parsley, dill and purple basil. You will
find carrots in your box as well this week!
1 bunch of beets
Herbs: 1 bunch of thyme, purple basil, dill, parsley and mint
1/2 lb. of green beans- we have a lot of green beans right now and don't want any to go
to waste. You will find a mix of green and purple beans in your bag.
5 oz. of salad greens including mustard greens, purslane and spinach
1 bunch of Red Russian kale
green or sweet peppers
tomatoes
eggplant- the first of our eggplants, they are smaller and include a small round or long
oriental type
1 head of green cabbage
1 bunch of French Breakfast radishes
1 bunch of carrots
1 head of lettuce- you will find any of a number of mixed lettuce heads planted on the
farm from romaine to oak leaf, from green to red
On the Farm
With all the rain our crops have grown ten-fold, and fast too! Last week we weeded a
large portion of our newly emerging crops and our salad greens and spinach are plentiful.
Our radishes got big and buttercrunch lettuce heads and peas are on the way. We
finished seeding the last of our crops last week and are focusing on weeding and
harvesting until the end of the season. Just 5 more boxes to go! Our last seedings were
salad greens and spinach we hope to make into a salad for our fall fundraiser
FARMStock. View our poster and learn more about our event at
http://www.albionhillscommunityfarm.org/whats-happening/farmstock/. Please share
this link with anyone you know who might be interested and we hope to see you there.
Money raised through the event will go towards equipment and supplies needed for the
farm next year including tractor rental and an irrigation system.
Words of Wisdom
Excerpts from On Food and Cooking: The Science and Lore of the Kitchen by Harold
McGee
Cool weather makes me think of tea. Though Canadians do not drink nearly as much tea
as the British, they seem to enjoy it more than their neighbors to the south. I included
some interesting information you may or may not know about tea and the exact science
used to create it.
-Green tea is made by cooking the fresh or briefly withered leaves to inactivate their
enzymes, then pressing them to release their moisture, and drying them in hot air or on a
hot pan. Oolong tea is made by allowing some modest enzyme transformation of leaf
juices. The leaves are withered until they become significantly wilted and weakened,
then they are lightly agitated to bruise the leaf edges, allowed to rest for a few hours until
enzyme action has turned the bruised edges red, pan-fired at a high temperature, rolled,
and finally dried gently at temperatures just below 100C. Black tea is made by allowing
a profound enzymatic transformtion of the leaf fluids. The leaves are withered for hours,
rolled repeatedly for as much as an hour, then are allowed to rest for between one and
four hours, during which enzyme action turns them a coppery brown and causes them to
emit the aroma of apples. Finally, the leaves are air-dried at temperatures around 100C
and become quite dark.
- The more the tea leaves are pressed, and the longer they're allowed to sit before the
enzymes are killed by heating, the less bitter and astringent and the more colored they
become. In oolong teas, about half of the small phenolics have been transformed; in
black teas, abut 85%
Recipes
CABBAGE, CARROT AND APPLE SALAD
FROM GOURMET MAGAZINE, OCTOBER 2000 - SERVES 6/ From Harmony Valley
Farm
(This recipe highlights the beautiful colors of carrots and red savoy)
3 Tbsp apple juice
2 Tbsp lemon juice
1 Tbsp olive oil
1⁄2 tsp caraway seeds, lightly crushed
1⁄2 head cabbage, cored and very thinly sliced (4 cups)
3 large colored carrots of your choice, very thinly julienned (2 cups)
1 each tart, crisp apple; quartered, cored, and sliced crosswise, 1/8 inch thick
3 Tbsp parsley, chopped
Whisk together juices, oil, and caraway seeds. Season with salt and pepper and
toss with cabbage, carrots, parsley and apple. Let stand at room temperature,
tossing occasionally, 40 minutes to allow flavors to blend and cabbage to wilt.
Winter Salad with Beets & Kale
by JENNIFER (ONLI NE) on MARCH 15, 2012/ Rising River Farm
Ingredients:
Dressing:
1 clove garlic – pressed
2 tsp raspberry jam
1 1/2 tsp grainy mustard
1 1/2 tsp apple cider vinegar
3 Tbsp Olive oil
Salad:
5 cups packed torn kale leaves (lacinato or Red Russian are best)
2 cups shredded beets
2 Tbsp salted, roasted pumpkin seeds
salt & pepper to taste
1. Combine dressing ingredients in a jar and shake to mix.
2. Toss kale and beets together. Sprinkle with salt and pepper and toss again.
3. Add dressing and toss yet again. Scatter pumpkin seeds on top and serve.
Rose-Heart Radish Salad
From Vermont Valley Farm
2-3 large radishes, peeled and sliced paper thin
1/4 cup coarse salt
1 1/2 cups vegetable oil
1/2 cup wine vinegar
1/2 onion, peeled and sliced thin
Salt and freshly ground black pepper to taste
Place radish slices in a bowl and sprinkle with the salt. Cover with a heavy
plate and refrigerate overnight. Drain off all the liquid and wash in cold
water in a colander. The slices will be transparent and tender. Prepare a
dressing by combining the oil, wine vinegar, onion, salt, and pepper, and
pour over the radishes. Refrigerate until ready to serve.
Tomato Green Bean Soup
By Isabella Cocilovo-Kozzi/ Vermont Valley Farm
Ingredients
1⁄2 cup chopped onion
1⁄2 cup chopped carrots
1 teaspoon butter
3 cups chicken or vegetable broth
1⁄2 lb. fresh green beans, cut into 1-inch pieces
1 garlic clove, minced
1 1⁄2 cups diced fresh tomatoes
1⁄4 cup minced fresh basil or 1 tablespoon dried basil
1⁄4 - 1⁄2 teaspoon salt
Directions
1. In a large saucepan, sauté onion and carrots in butter for 5 minutes.
2. Add garlic and cook for 1 minute, until fragrant.
3. Stir in the broth and green beans. Bring to a boil.
4. Reduce heat and simmer for 15 minutes or until vegetables are tender.
5. Stir in the tomatoes, basil, and salt. Cover and simmer 5 minutes longer.