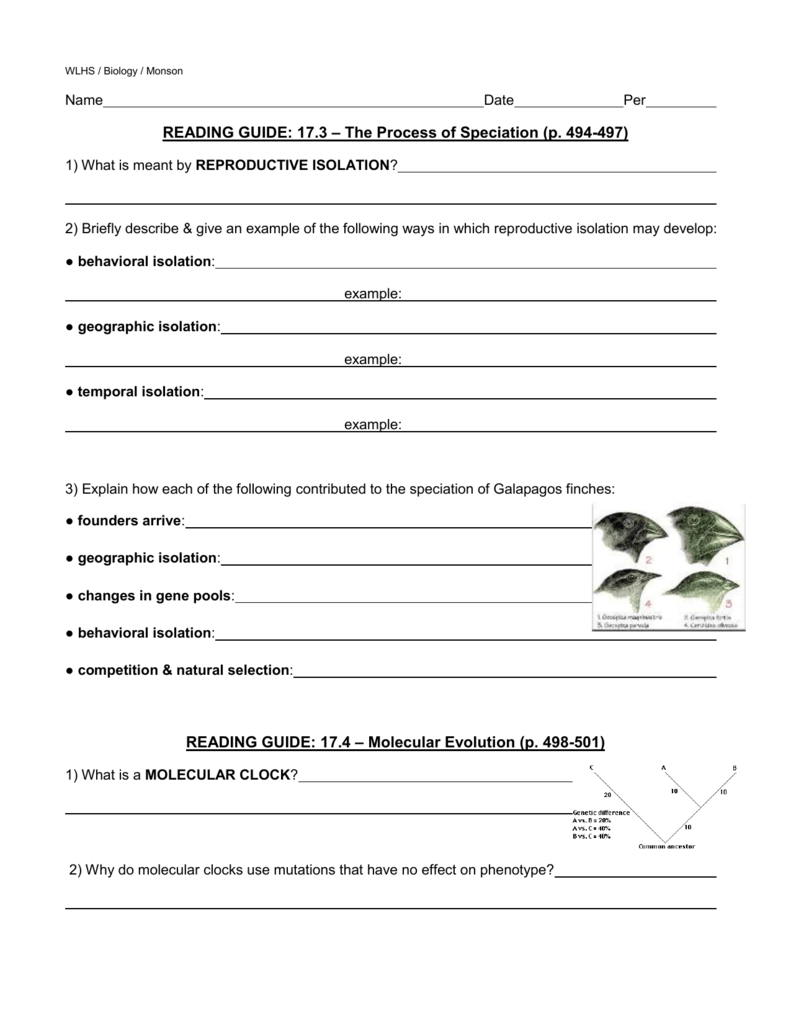 WLHS / Biology / Monson
Name
Date
Per
READING GUIDE: 17.3 – The Process of Speciation (p. 494-497)
1) What is meant by REPRODUCTIVE ISOLATION?
2) Briefly describe & give an example of the following ways in which reproductive isolation may develop:
● behavioral isolation:
example:
● geographic isolation:
example:
● temporal isolation:
example:
3) Explain how each of the following contributed to the speciation of Galapagos finches:
● founders arrive:
● geographic isolation:
● changes in gene pools:
● behavioral isolation:
● competition & natural selection:
READING GUIDE: 17.4 – Molecular Evolution (p. 498-501)
1) What is a MOLECULAR CLOCK?
2) Why do molecular clocks use mutations that have no effect on phenotype?
3) Study Figure 17.18. What evidence indicates that species C is more closely related to species B than
to species A?:
4) REVIEW: What are Hox genes? (what do they determine?)
5) Use the evolution of the insect body plan to explain the significance of Hox genes in evolution.
6) In evolution, why have small changes in Hox genes had a great impact?
7) MYSTERY: Read the "EPIDEMIC" excerpt on p. 505. Answer the following questions:
A) Explain why mutation and natural selection make developing new flu
vaccines necessary every year.
B) People do not need to receive a new measles vaccination every year. What does this suggest about
a difference between flu viruses and the measles virus?
C) Can you think of any other issues in public health that relate directly to evolutionary change?