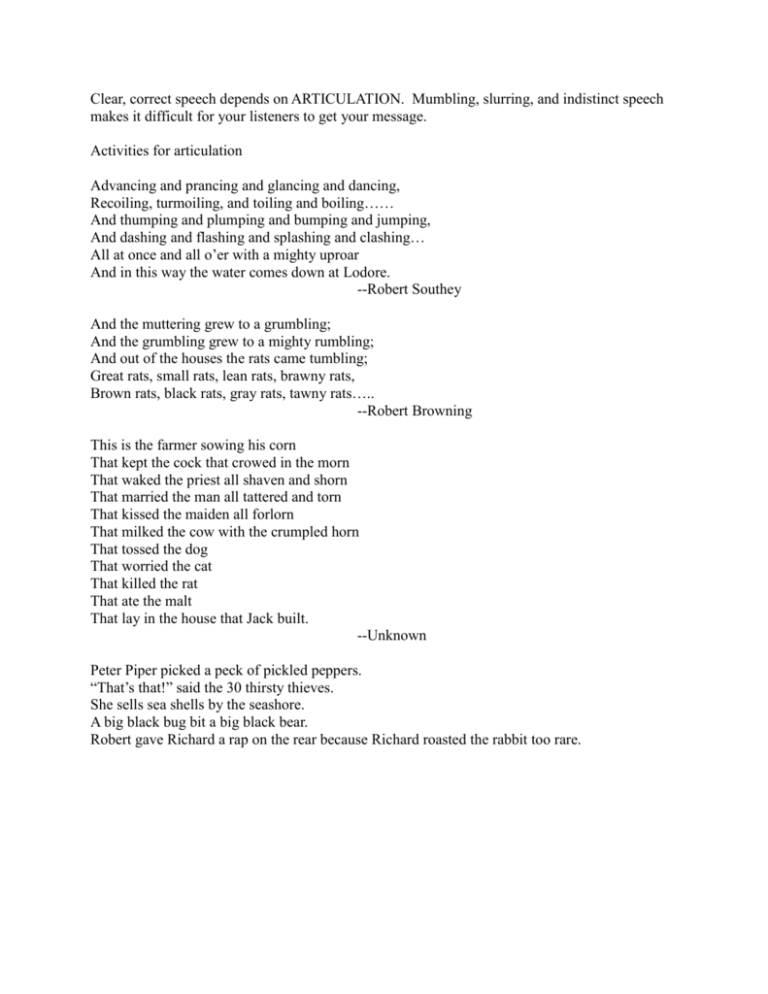 Clear, correct speech depends on ARTICULATION. Mumbling, slurring, and indistinct speech
makes it difficult for your listeners to get your message.
Activities for articulation
Advancing and prancing and glancing and dancing,
Recoiling, turmoiling, and toiling and boiling……
And thumping and plumping and bumping and jumping,
And dashing and flashing and splashing and clashing…
All at once and all o'er with a mighty uproar
And in this way the water comes down at Lodore.
--Robert Southey
And the muttering grew to a grumbling;
And the grumbling grew to a mighty rumbling;
And out of the houses the rats came tumbling;
Great rats, small rats, lean rats, brawny rats,
Brown rats, black rats, gray rats, tawny rats…..
--Robert Browning
This is the farmer sowing his corn
That kept the cock that crowed in the morn
That waked the priest all shaven and shorn
That married the man all tattered and torn
That kissed the maiden all forlorn
That milked the cow with the crumpled horn
That tossed the dog
That worried the cat
That killed the rat
That ate the malt
That lay in the house that Jack built.
--Unknown
Peter Piper picked a peck of pickled peppers.
"That's that!" said the 30 thirsty thieves.
She sells sea shells by the seashore.
A big black bug bit a big black bear.
Robert gave Richard a rap on the rear because Richard roasted the rabbit too rare.
Shakespeare's Love Sonnet CXVI
Let me not to the marriage of true minds
Admit impediments. Love is not love
Which alters when it alteration finds,
Or bends with the remover to remove;
O, no! It is an ever-fixed mark.
That looks on tempest and is never shaken,
It is the star to every wand'ring bark,
Whose worth's unknown, although his height be taken.
Love's not time's fool. Though rosy lips and cheeks
Within his bending sickle's compass come;
Love alters not with his brief hours and weeks,
But bears it out even to the edge of doom.
If this be error and upon me proved,
I never writ nor no man ever loved.
Shakespeare's Macbeth (Act IV – witches brew scene)
Double, double toil and trouble;
Fire burn, and cauldron bubble,
Fillet of a fenny snake,
In the cauldron boil and bake;
Eye of newt and toe of frog,
Wool of bat and tongue of dog,
Adder's fork and blind-worm's sting,
Lizard's leg and howlet's wing,
For a charm of pow'rful trouble,
Like a hell-broth boil and bubble.
Double, double toil and trouble;
Fire burn and cauldron bubble.