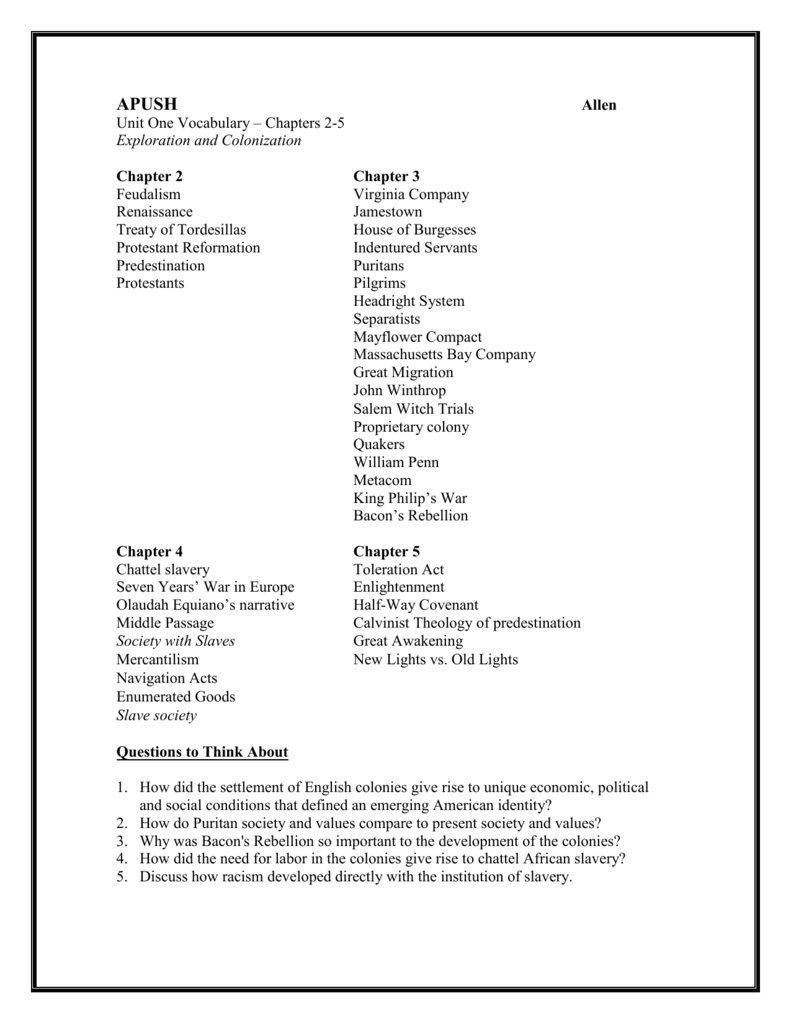 APUSH
Allen
Unit One Vocabulary – Chapters 2-5
Exploration and Colonization
Chapter 2
Feudalism
Renaissance
Treaty of Tordesillas
Protestant Reformation
Predestination
Protestants
Chapter 3
Virginia Company
Jamestown
House of Burgesses
Indentured Servants
Puritans
Pilgrims
Headright System
Separatists
Mayflower Compact
Massachusetts Bay Company
Great Migration
John Winthrop
Salem Witch Trials
Proprietary colony
Quakers
William Penn
Metacom
King Philip's War
Bacon's Rebellion
Chapter 4
Chattel slavery
Seven Years' War in Europe
Olaudah Equiano's narrative
Middle Passage
Society with Slaves
Mercantilism
Navigation Acts
Enumerated Goods
Slave society
Chapter 5
Toleration Act
Enlightenment
Half-Way Covenant
Calvinist Theology of predestination
Great Awakening
New Lights vs. Old Lights
Questions to Think About
1. How did the settlement of English colonies give rise to unique economic, political
and social conditions that defined an emerging American identity?
2. How do Puritan society and values compare to present society and values?
3. Why was Bacon's Rebellion so important to the development of the colonies?
4. How did the need for labor in the colonies give rise to chattel African slavery?
5. Discuss how racism developed directly with the institution of slavery.