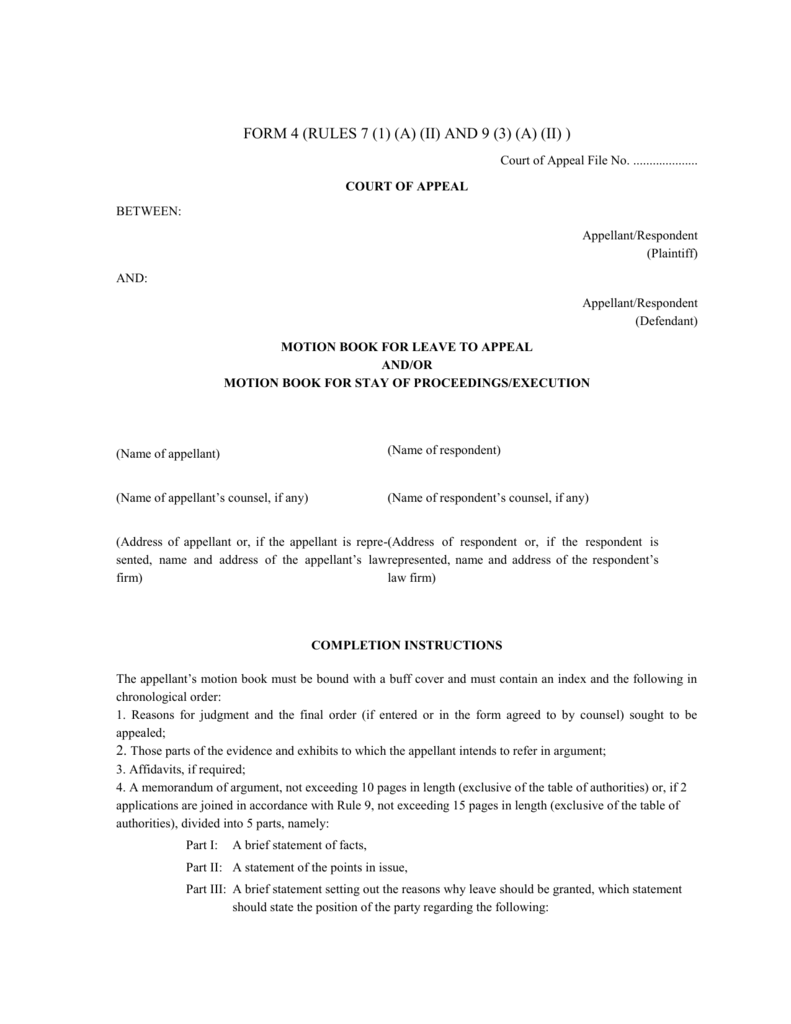 FORM 4 (RULES 7 (1) (A) (II) AND 9 (3) (A) (II) )
Court of Appeal File No. ....................
COURT OF APPEAL
BETWEEN:
Appellant/Respondent
(Plaintiff)
AND:
Appellant/Respondent
(Defendant)
MOTION BOOK FOR LEAVE TO APPEAL
AND/OR
MOTION BOOK FOR STAY OF PROCEEDINGS/EXECUTION
(Name of appellant)
(Name of respondent)
(Name of appellant's counsel, if any)
(Name of respondent's counsel, if any)
(Address of appellant or, if the appellant is repre-(Address of respondent or, if the respondent is
sented, name and address of the appellant's lawrepresented, name and address of the respondent's
firm)
law firm)
COMPLETION INSTRUCTIONS
The appellant's motion book must be bound with a buff cover and must contain an index and the following in
chronological order:
1. Reasons for judgment and the final order (if entered or in the form agreed to by counsel) sought to be
appealed;
2. Those parts of the evidence and exhibits to which the appellant intends to refer in argument;
3. Affidavits, if required;
4. A memorandum of argument, not exceeding 10 pages in length (exclusive of the table of authorities) or, if 2
applications are joined in accordance with Rule 9, not exceeding 15 pages in length (exclusive of the table of
authorities), divided into 5 parts, namely:
Part I:
A brief statement of facts,
Part II: A statement of the points in issue,
Part III: A brief statement setting out the reasons why leave should be granted, which statement
should state the position of the party regarding the following:
(a) the importance of the proposed appeal generally and to the parties;
(b) the utility of the proposed appeal in the circumstances of the parties;
(c) the prospects of success of the proposed appeal;
(d) if applicable, any statutory provision granting a right to appeal with leave.
Part IV: The nature of the order requested, and
Part V: A table of the authorities to be referred to, arranged alphabetically.
Appendices: If the appellant intends to rely on an enactment, copies of the relevant sections of the
enactment.