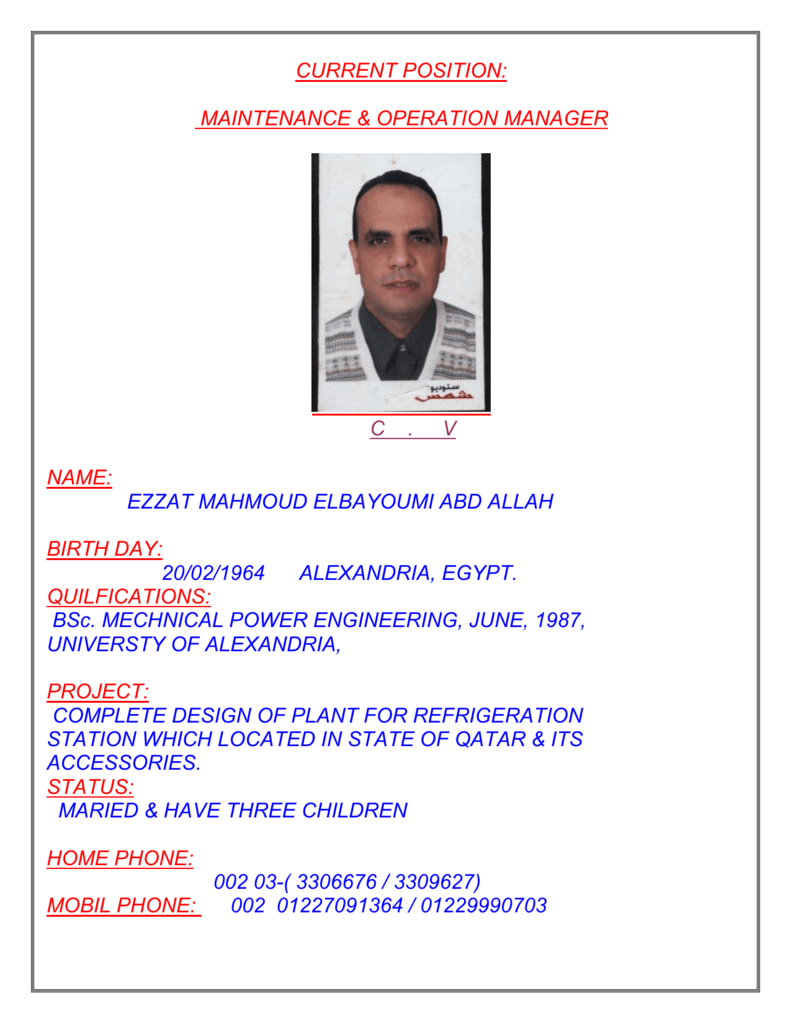 CURRENT POSITION:
MAINTENANCE & OPERATION MANAGER
C
.
V
NAME:
EZZAT MAHMOUD ELBAYOUMI ABD ALLAH
BIRTH DAY:
20/02/1964
ALEXANDRIA, EGYPT.
QUILFICATIONS:
BSc. MECHNICAL POWER ENGINEERING, JUNE, 1987,
UNIVERSTY OF ALEXANDRIA,
PROJECT:
COMPLETE DESIGN OF PLANT FOR REFRIGERATION
STATION WHICH LOCATED IN STATE OF QATAR & ITS
ACCESSORIES.
STATUS:
MARIED & HAVE THREE CHILDREN
HOME PHONE:
002 03-( 3306676 / 3309627)
MOBIL PHONE:
002 01227091364 / 01229990703
E-MAIL:
[email protected]
ADDRESS:
18, STREET 11, FROM TREET NO.16
EL-FALAKEE EL-GEDEDHA
- ALEXANDRIA, EGYPT
LANGUISHS:
ARABIC
: MOTHRLANGUISH
ENGLISH : VERY GOOD
COMPUTER& INTERNET:
VERY GOOD
PASSPORT NO.:
A 06448295 (VAILED TILL 16/03/2019)
NATIONALITY:
EGYPTION.
PRESENT POSITION:
1OPERATION & MAINTENANCE MANEGER:
EGYPTIAN PETRPOCHMICALES CO.
(ON SHORE & OFF SHORE ETHLYNE PLATEFORM)
PRRVISE POSITIONS:
1-CONSULTANT ENGINEER:
BADR EL-DIN PETROLUIM CO., (BAPETCO) OBAIYED LPG
2 -SITE &CONSTRUCTION MANAGER:
KAHROMICA CO.
In sidi krir power station (gas turbine) 750 mw which located at the west
Of Alexandria (Egypt)
PRESSONALTY SKILS:
1-TRAINNER FOR ALL MECHNICAL EQUIPMENTS, & HAVE TECHNICAL SKILS
ABOUT ELECTRIC & INSTRUMENTATIONS EQUIPMENTS.
2-FUTURE PLANNING.
3-SPARE PARTS (TECHNICAL ,ECONMICAL REQUIRMENTS & ACCEPTANCE).
4-EXELLANT FOR (P&ID),
OPERATION PROCESS& MAINTENANCE.
5-SAFETY VAVLES REPAIR &TESTED.
6-ROTATING EQUIPMENTS (PREVENTIVE& OVERHAUL MAINTENANCE)
7-STATIC EQUIPMENTS (PREVENTIVE & OVERHAUL MAINTENANCE)
8-GOOD SELECTION FOR SUITABLE TEAM FOR CERTAIN JOB.
9-VERY GOOD KNOLOWDAGE ABOUT SAFETY INSTRUCTIONS & ADVISOR.
10-ENGLISH (SPEAKING & WRITING).
11-WORKING UNDER PRESSURE.
12-WORKING WITH MLUTINATIONLITIES CLUTURES).
13-LEADDING &ADVISOR FOR ENGINEERS & TECHNITIONS.
14-COOPRATE WITH SAFTEY INSTRUCTIONS.
15-FUTURE PLANNING.
16-LOADING & UNLOADING SHIP
(LNG. POTABLE WATER, GAS OIL).
17-PLATFORM FIRE ALARM (EMERGENCY ABANDUM).
18-LIFE BOAT (DRIVING & ALL SAFETY INSTRUCTIONS).
19-Technical advisor.
20- Safety advisor.
Skills & Responsibilities:
1-Project mobilization.
2-Pre-installation check list.
3- Rigging and transportation preparation.
4-Foundation & anchor bolts preparation.
5-Heavy equipments preparation. (Cranes, fork lift, etc)
6-Leveling & adjustment machinery.
7-Grouting.
8-Final installation.
9-Pressure test & flashing.
10-Top management meeting.
11-Attending for all kinds of meetings.
12-Techencal reports.
13-Start up preparation.
14-Follow up for all construction activities.
15- Follow up for all site activities.
16-Establish procedures and guidelines for installation & inspection
For mechanical equipments.
17-Provide technical guidance to field engineers assigned to the project.
18-Provide technical direction to the field engineers.
19-Technical advisor.
TRAINING COURSES
 LIQUIFIED GAS, JETTY OPERATIONSAFETY,
 HAZARD CARGO HANDLING UNITS COUSE, U.K1989.
 MAINTENANCE & OPERATION ADVANCED COURSES
 FOR PUMPS, COMPRESSORS, DIESEL ENGINES.
 MAINTENANCE & OPERATION ADVANCED COURSES
 FOR VAVES, SAFTY VALVES, PIPES FITTINGS.
 MAINTENANCE & OPERATION ADVANCED COURSES
 FOR HEAT EXCHANGERS, DRUMS, ETHYLENE VESSELES.
 MAINTENANCE & OPERATION ADVANCED COURSES
 FOR CENTRAL AIR CONDITIONING UNITS.
 MICROFILM ADVANCED COURSE, AHRAM NEWSPAPERS.
 COURSES FOR ARTS OF THE SEA.
 FIRST AIDS ADVANCED COURSE.
 COMPUTER ADVANCED COURSE
 (WINDOWS, OFFICE & INTERNET)
 PETRPOCHMICALES INDUSTRIES
 & PVC APPLICATIONS.
 ENGLISH ADVANCED COURSE.
 ADVANCED COURSE FOR SECTION HEAD.
 ADVANCED COURSE FOR MANAGER
 ADVANCED COURSE FOR NEW ENERGY APPLICATIONS.
EXPERIENCES
 FROM 10/07/1988, WORKING AS OPERATION
 & MAINTENANCE ENGINEER, (SHIFT ENGINEER,
o ETHYLENE PLATEFORM, LPG).
 FROM 1995, WORKING AS SECTION HEAD
o MECH. ENGINEER (EPCO. ALEXANDRIA).
 FROM 1999, WORKING AS MAINTENANCE MANEGER
 (EPCO. ALEXANDRIA).
o FROM 2001 & 2002 WORKING AS CONSULTANT ENGINEER,
o BADR EL-DIN PETROLUIM CO., OBAIYED LPG
o FROM 2003 TILL NOW WORKING AS MAINTENANCE
 MANEGER (EPCO. ALEXANDRIA).
 TRAINING COURSES FOR NEW ENGINEERS
 & TECHNITIONS.
 REVIEW FOR THE REQUIRED SPARE PARTS.
 CARRING OUT THE ROUTINE & OVERALL MAIN.
 FOR ROTATING EQUIPEMENTS.
 PLANING FOR MECHANICALE EQUIPEMENTS
 ACCORDING TO THE VENDOR MAINT. SCHDULES.
 VERY GOOD COMPUTER SKILES.
 VERY GOOD ENGLISH SKILES.
 OVERALL MAINT. FOR PUMPS. D/G, VALVES,
o SAFTY VALVES, ETC FOR MECH. EQUIPEMENTS.
 ROUTINE MAINT. FOR TURBINE.
 TECHNICL REPORTS (DAILY, MONTHLY, ETC.)
 REDESINE, MODIFICATIONS, TROUBLE SHOUTING,
 FOR THE REQUIRED MECH. EQUIPEMENTS.
 REVIEW THE REQIRED SAFTY ROLES, SUITABLE
 TOOLS, AND OPERATION INSTRUCTIONS FOR THE
REQUIRED WORK WITH OUR MAINT. TEAM.
 WORKING WITH DIFFERENT NATIONALITIES.
EQUIPMENTS ENVOLVED
o DIESEL GENERATORES (MITSUBISHI, MERCEDES, CAT)
o SUBMERGED SEA WATER PUMPS,(WORTHINGTON)
o ETHYLENE PUMPS, (CRY STAR, FRANCE)
o FRESH & GAS OIL PUMPS,( WORTHINGTON)
o AIR COMP. (ATLAS COPCO)
o INERT GAS UNIT, (SMIT OVENS)
o UNLOADING ARMS, (WISE)
o DIESEL FIRE WATER PUMPS, (WORTHINGTON)
o GAS OIL SEPARATOR, (VERNISI)
o CENTRAL AIR CONDITIONING UNITS, (CARRIER)
o WASTE WATER TREATMENT UNIT, (HAM WORTH)
o ELECHTROCHOLINATION UNIT, (ANGL HEART)
o HEAT EXCHANGERS
o EHYLENE COMP. (SULZER)
o FREON COMP, (MYCOM)
o RELIEF VALVES, (CROSBY)
o FILTERS, STRAINERS.
o TANKS, DRUMS.
o MANUL VALVES (CROSBY)
o GAS COMP.
o RECYCLE COMP.
o TRUBO EXPANDER.
o GAS TRUBINE.