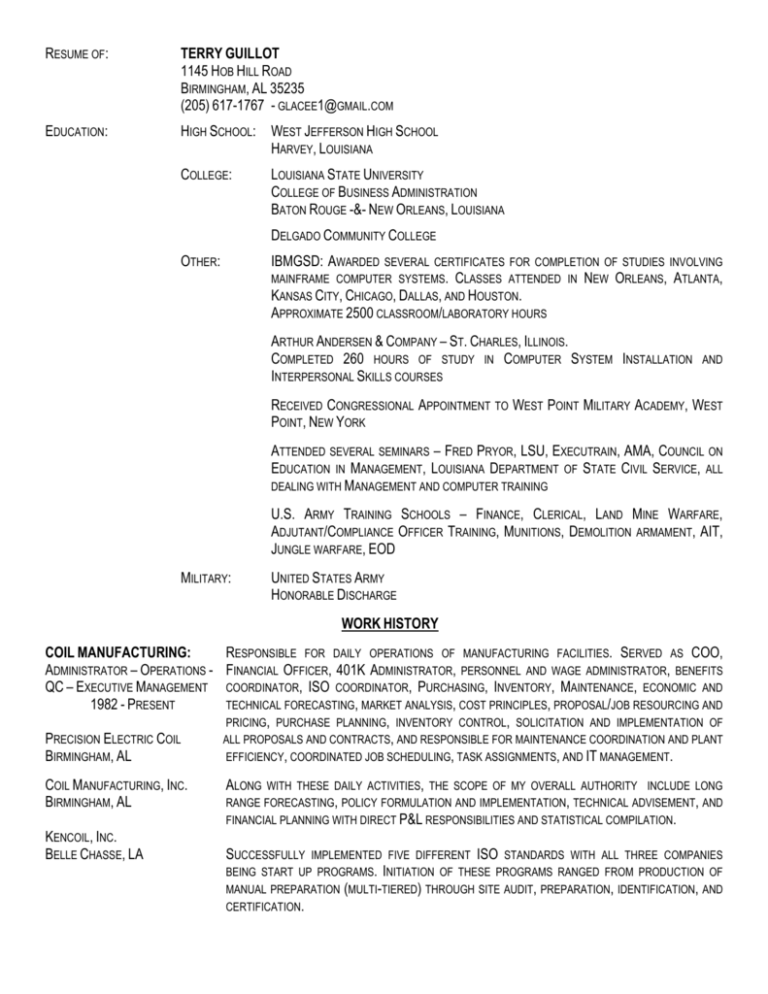 RESUME OF:
TERRY GUILLOT
1145 HOB HILL ROAD
BIRMINGHAM, AL 35235
(205) 617-1767 - GLACEE1@GMAIL.COM
EDUCATION:
HIGH SCHOOL:
WEST JEFFERSON HIGH SCHOOL
HARVEY, LOUISIANA
COLLEGE:
LOUISIANA STATE UNIVERSITY
COLLEGE OF BUSINESS ADMINISTRATION
BATON ROUGE -&- NEW ORLEANS, LOUISIANA
DELGADO COMMUNITY COLLEGE
OTHER:
IBMGSD: AWARDED
SEVERAL CERTIFICATES FOR COMPLETION OF STUDIES INVOLVING
MAINFRAME COMPUTER SYSTEMS. CLASSES ATTENDED IN NEW ORLEANS, ATLANTA,
KANSAS CITY, CHICAGO, DALLAS, AND HOUSTON.
APPROXIMATE 2500 CLASSROOM/LABORATORY HOURS
ARTHUR ANDERSEN & COMPANY – ST. CHARLES, ILLINOIS.
COMPLETED 260 HOURS OF STUDY IN COMPUTER SYSTEM INSTALLATION
INTERPERSONAL SKILLS COURSES
AND
RECEIVED CONGRESSIONAL APPOINTMENT TO WEST POINT MILITARY ACADEMY, WEST
POINT, NEW YORK
ATTENDED SEVERAL SEMINARS – FRED PRYOR, LSU, EXECUTRAIN, AMA, COUNCIL ON
EDUCATION IN MANAGEMENT, LOUISIANA DEPARTMENT OF STATE CIVIL SERVICE, ALL
DEALING WITH MANAGEMENT AND COMPUTER TRAINING
U.S. ARMY TRAINING SCHOOLS – FINANCE, CLERICAL, LAND MINE WARFARE,
ADJUTANT/COMPLIANCE OFFICER TRAINING, MUNITIONS, DEMOLITION ARMAMENT, AIT,
JUNGLE WARFARE, EOD
MILITARY:
UNITED STATES ARMY
HONORABLE DISCHARGE
WORK HISTORY
COIL MANUFACTURING:
RESPONSIBLE FOR DAILY OPERATIONS OF MANUFACTURING FACILITIES. SERVED AS COO,
ADMINISTRATOR – OPERATIONS - FINANCIAL OFFICER, 401K ADMINISTRATOR, PERSONNEL AND WAGE ADMINISTRATOR, BENEFITS
QC – EXECUTIVE MANAGEMENT COORDINATOR, ISO COORDINATOR, PURCHASING, INVENTORY, MAINTENANCE, ECONOMIC AND
1982 - PRESENT
TECHNICAL FORECASTING, MARKET ANALYSIS, COST PRINCIPLES, PROPOSAL/JOB RESOURCING AND
PRICING, PURCHASE PLANNING, INVENTORY CONTROL, SOLICITATION AND IMPLEMENTATION OF
PRECISION ELECTRIC COIL
ALL PROPOSALS AND CONTRACTS, AND RESPONSIBLE FOR MAINTENANCE COORDINATION AND PLANT
BIRMINGHAM, AL
EFFICIENCY, COORDINATED JOB SCHEDULING, TASK ASSIGNMENTS, AND IT MANAGEMENT.
COIL MANUFACTURING, INC.
BIRMINGHAM, AL
KENCOIL, INC.
BELLE CHASSE, LA
ALONG
WITH THESE DAILY ACTIVITIES, THE SCOPE OF MY OVERALL AUTHORITY INCLUDE LONG
RANGE FORECASTING, POLICY FORMULATION AND IMPLEMENTATION, TECHNICAL ADVISEMENT, AND
FINANCIAL PLANNING WITH DIRECT P&L RESPONSIBILITIES AND STATISTICAL COMPILATION.
SUCCESSFULLY
IMPLEMENTED FIVE DIFFERENT ISO STANDARDS WITH ALL THREE COMPANIES
BEING START UP PROGRAMS. INITIATION OF THESE PROGRAMS RANGED FROM PRODUCTION OF
MANUAL PREPARATION (MULTI-TIERED) THROUGH SITE AUDIT, PREPARATION, IDENTIFICATION, AND
CERTIFICATION.