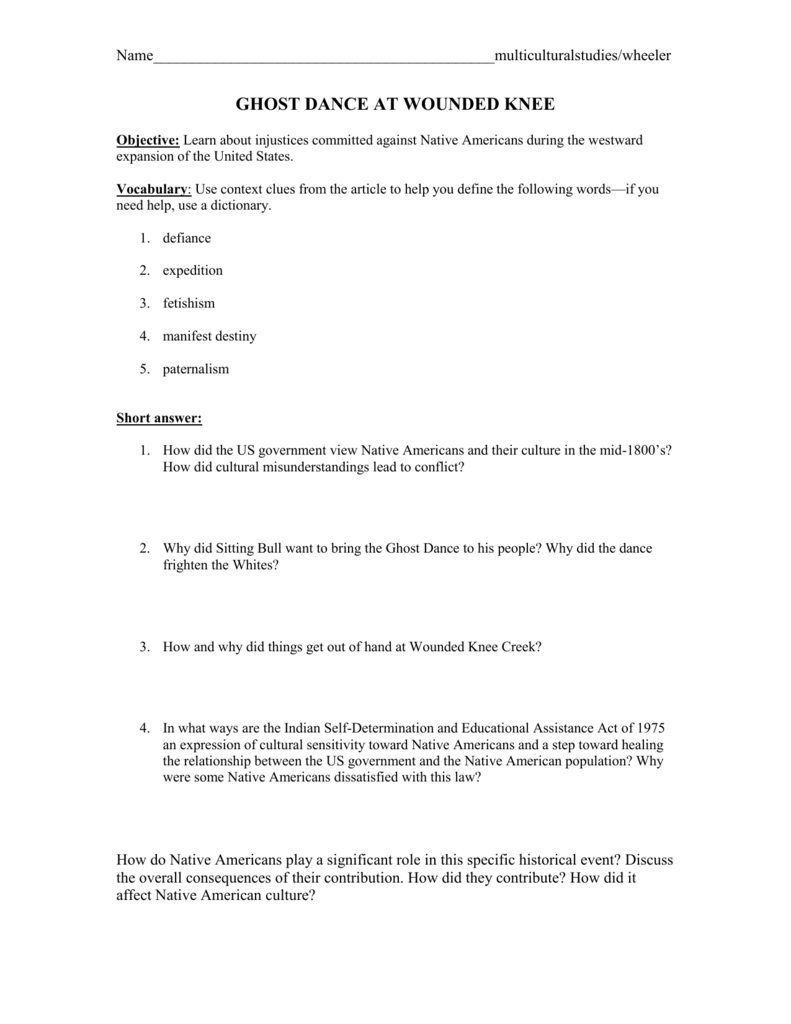 Name____________________________________________multiculturalstudies/wheeler
GHOST DANCE AT WOUNDED KNEE
Objective: Learn about injustices committed against Native Americans during the westward
expansion of the United States.
Vocabulary: Use context clues from the article to help you define the following words—if you
need help, use a dictionary.
1. defiance
2. expedition
3. fetishism
4. manifest destiny
5. paternalism
Short answer:
1. How did the US government view Native Americans and their culture in the mid-1800's?
How did cultural misunderstandings lead to conflict?
2. Why did Sitting Bull want to bring the Ghost Dance to his people? Why did the dance
frighten the Whites?
3. How and why did things get out of hand at Wounded Knee Creek?
4. In what ways are the Indian Self-Determination and Educational Assistance Act of 1975
an expression of cultural sensitivity toward Native Americans and a step toward healing
the relationship between the US government and the Native American population? Why
were some Native Americans dissatisfied with this law?
How do Native Americans play a significant role in this specific historical event? Discuss
the overall consequences of their contribution. How did they contribute? How did it
affect Native American culture?